There's a lot of time for players to get lost in their own heads while in the Stanley Cup playoffs bubble.
Sure, there are card games, video games and the perusal of new food delivery sources to occupy them. Anything to break up the hours spent in the same hotel room that has been home for months.
When the mind wanders, it can go to thoughts of what they're playing for. The Stanley Cup is four wins away for the Dallas Stars and the Tampa Bay Lightning, with Game 1 on Saturday night in Edmonton, Alberta, and former University of Wisconsin players on both sides.
"The biggest thing is the understanding that that's all right," former Badgers center Joe Pavelski said about Cup dreams, which he's living with Dallas. "That's why we're doing this. We're trying to get to the highest level, test our skills to feel that pressure but really test what we've got and go out and try to win four series. We're at that last step and it's going to be the toughest one."
When names are engraved onto the Cup after the series, either Pavelski or Tampa Bay defenseman Ryan McDonagh will be the 15th Badgers alumnus to be represented as a player.
Will it be the one who left the captain's role at his former team with a chance to help his new group reach the top?
Will it be the one whose first time in the Stanley Cup final ended in disappointment?
Pavelski and McDonagh share more than this chase of the Cup and the distinction of having been major contributors to the Badgers' last two Frozen Four appearances.
McDonagh, a steady defenseman who left for the New York Rangers after three years with UW and a NCAA runner-up finish in 2010, moved to the Lightning in a February 2018 trade. He then signed a seven-year, $47.25 million contract with Tampa that offseason.
Pavelski, a heart-and-soul center from Plover who won the 2006 national title with the Badgers in his second of two seasons with the team, committed to a three-year, $21 million deal with Dallas last offseason after 13 seasons with San Jose.
Each gave up the captaincy when leaving his previous team but that's only a formal designation of leadership that hasn't stopped either from being out front. Tampa Bay has played through the playoffs without captain Steven Stamkos, who had core muscle surgery in March.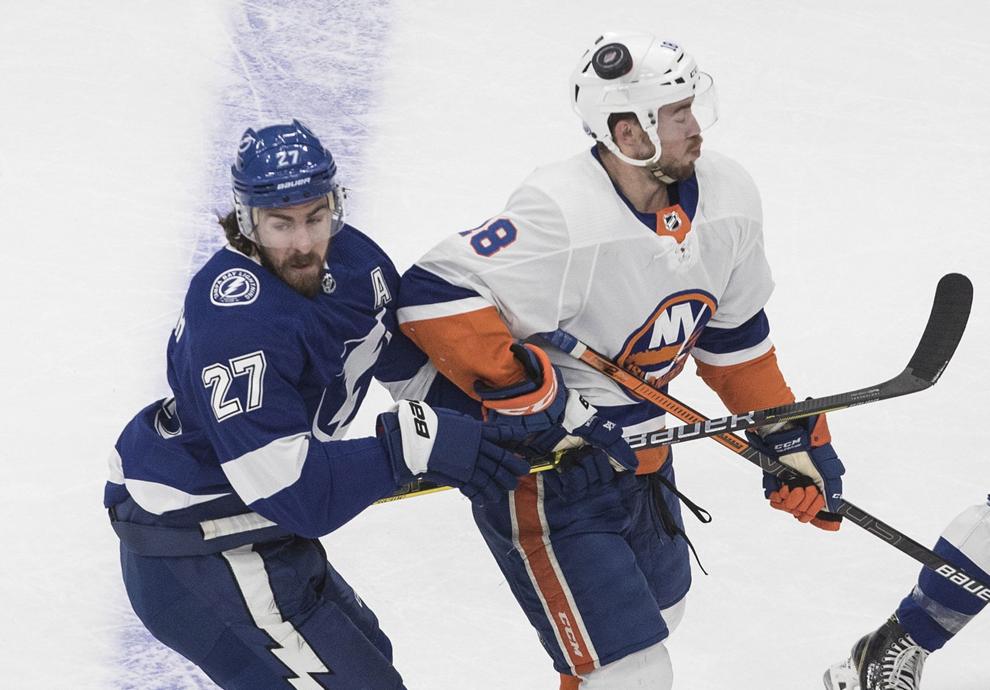 "Ryan is a calm, veteran presence," said Lightning coach Jon Cooper, whose path to the NHL bench included a stop with the United States Hockey League's Green Bay Gamblers. "Always says the right thing. Has a really good feel for the room.
"There's times when you don't have your captain other guys emerge. You go down the list, it's been a collective group. And's Ryan's been one of those guys that has been leading the way in that department as well."
This will be the eighth time that former Badgers players are on both sides of the Stanley Cup Final and play at least one game. The last was 2017, when Pittsburgh's Justin Schultz bested Nashville's Craig Smith.
A year before that, it was Pavelski's Sharks on the losing end of the Final against Schultz. Pavelski, 36, takes into his second chance at the Cup the knowledge of how fast things go.
"Once you get to games, you just can't waste opportunities," he said. "You don't want to waste games. So there's a certain level of focus that really has to dial in. It's been very exciting. It's been fun to be part of this run so far. We definitely have an understanding that there's more out there for us."
McDonagh was in the 2014 Final when the Rangers lost to Los Angeles.
"We had a goal here to give ourselves this opportunity, and now that we're here, we've finally made it to this spot, it feels really good," McDonagh said in a TV interview. "But we haven't accomplished what we set out for and that's what we're going to do next, hopefully."