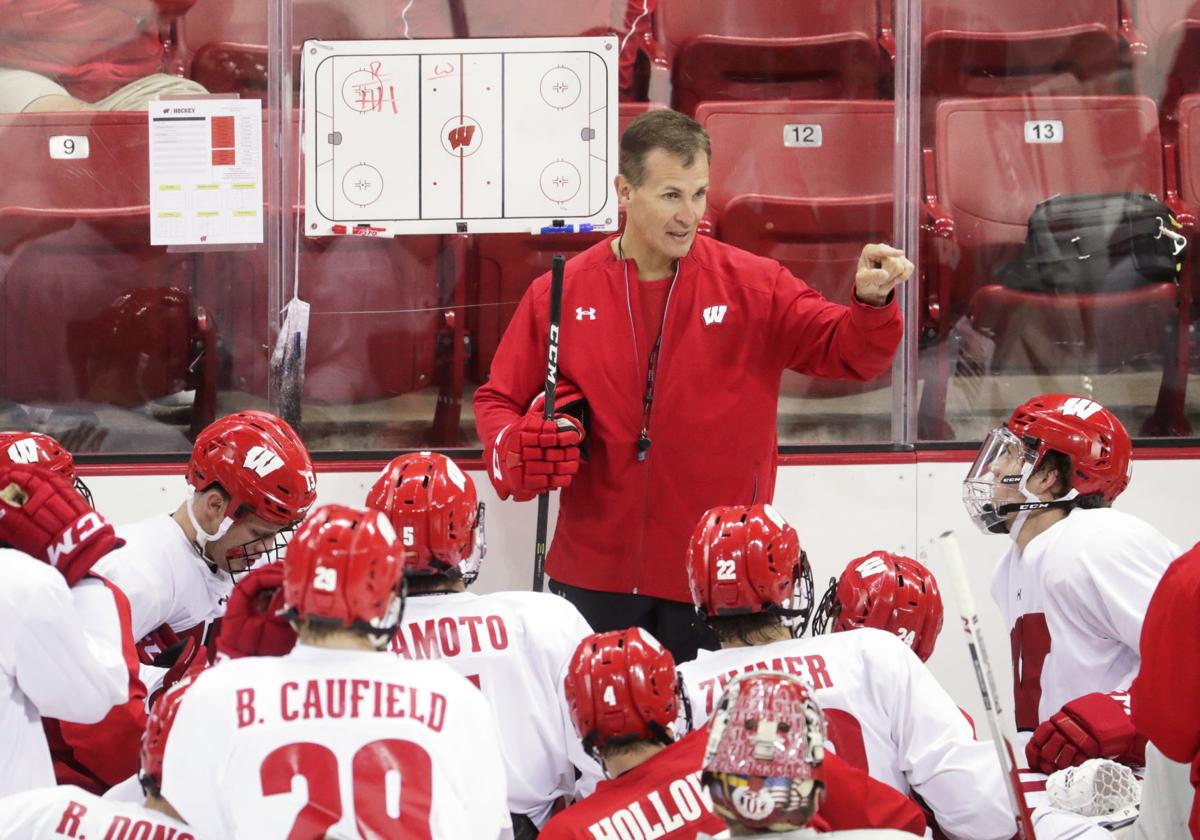 Like in the past three seasons, the University of Wisconsin men's hockey team has given itself a lot of work to do in the second half with its play in the first half.
This wasn't supposed to be like the past three seasons.
With three first-round NHL draft picks and a likely 2020 first-rounder added to a improved corps, the Badgers were expected to be a player in the race for the Big Ten Conference championship and an NCAA tournament at-large berth.
Even before the last weekend of the first half, those opportunities are hanging on by a thread.
A loss to last-place Michigan on Sunday at the Kohl Center left the Badgers just one step ahead in sixth place, 10 points behind leader Penn State one-third of the way through the conference schedule.
With a series at Michigan State on Friday and Saturday remaining before UW shuts down for the rest of 2019, the team has sunk to the middle of the pack in the PairWise Rankings that determine at-large selections for the 16-team NCAA tournament.
Sunday's 3-1 loss to the Wolverines dropped the Badgers from 23rd to 30th. A victory would have moved them up to 21st.
Players have talked about stringing together victories to go on a run but haven't been able to follow through.
"Eventually, talk is cheap," captain Wyatt Kalynuk said. "I think you can say everything you want and after every loss you can say the same things, but eventually you've just got to go out and do it."
Despite a highly anticipated influx of talent with freshman first-round picks Alex Turcotte and Cole Caufield and 2020 top prospect Dylan Holloway at forward, plus the return of 2018 first-round selection K'Andre Miller on defense, old issues have kept surfacing.
Defensive-zone play has been subpar at times. Recently, UW has been caught flat-footed at the start of games.
In three of the past four contests, Badgers opponents have taken a two-goal lead in the opening 30 minutes.
You have free articles remaining.
"It just has been frustrating for the players and frustrating for us as coaches to watch three games in a row where you just don't come out of the gate and have a lot of energy into your game," Badgers coach Tony Granato said. "You're sitting back watching and waiting."
UW is 7-8-1 through 16 games, the same .469 winning percentage as it had at this point last season before it swept Michigan State at home to wrap up 2018. In each of Granato's first three seasons, the Badgers were one game above .500 at the break before falling short of an NCAA spot.
This season's team can do no better. Doing worse — something that seemed unlikely with the talent and expectations — is still on the table.
10 for Caufield
Caufield's power-play goal Sunday made him the 15th Badgers freshman in the past 20 seasons to score at least 10 goals but the first to do so before Christmas.
The last UW rookie to reach double digits before the break was Dany Heatley, who scored 15 in his first 18 games in 1999-2000. Heatley reached 10 goals with the second of three against Michigan State on Nov. 26, 1999, his 13th game.
Caufield's 10th goal — his first in five games — came in his 16th contest. He had 45 shot attempts between his ninth and 10th goals — 21 were saved, 11 were blocked, 11 went wide and two hit the post, including one earlier Sunday that turned into a Michigan goal at the other end of the ice.
"It feels good to see the puck go in for the first time in a while," Caufield said Sunday. "But I wish I could have done more. I wish the other ones would have went in."
Caufield leads NCAA rookies with 10 goals, 18 points and 64 shots on goal.
Holloway was one of four collegians on a 31-player selection camp roster unveiled Monday by Hockey Canada.
Holloway was one of four collegians picked as part of a 31-player selection camp next week to pick Canada's team for the World Junior Championship.
The Badgers haven't had a player skate for Canada in the under-20 tournament since defenseman Cody Goloubef in 2009.
Holloway, an 18-year-old center who's expected to be a first-round pick in the 2020 NHL draft, is tied for ninth among Badgers scorers with seven points from three goals and four assists. He wasn't among 43 players included in Canada's summer development camp.