The University of Wisconsin men's hockey team's connections to the Eau Claire area got a little stronger on Friday.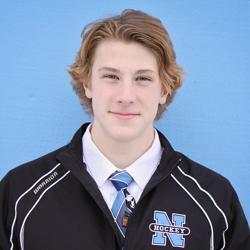 Zach Urdahl, a high-scoring 17-year-old forward from Eau Claire North, made a nonbinding oral commitment to the Badgers. He can join as early as the 2020-21 season.
UW already has one player from Eau Claire — freshman defenseman Ty Emberson — and has commitments from two others from the area: Urdahl's Eau Claire North teammate Sam Stange and Altoona's Daniel Laatsch, who's playing for the USA Hockey National Team Development Program.
I'm extremely honored and excited to announce my commitment to play D1 college hockey at the University of Wisconsin! A big thank you to my teammates, coaches, friends and family for helping me reach this point! #OnWisconsin pic.twitter.com/82YDQlqNEM

— Zach Urdahl (@ZUrdahl) December 22, 2018
Urdahl made a recruiting visit with the Badgers in October. Since then, he finished his Upper Midwest High School Elite League season with nine goals and 17 points in 21 games for Team Wisconsin.
His scoring has accelerated in his junior season for Eau Claire North. He has recorded a hat trick in three of his last four games and scored twice in the other.
As players give oral commitments to the University of Wisconsin men's hockey team, we'll add them here with their stats.
In 10 games this season, he has 20 goals and six assists. Stange, a senior, is right behind him on the team scoring chart with 11 goals and 25 points.
The Lincoln Stars own Urdahl's United States Hockey League rights through the 2018 draft.