The power play had briefly gone cold, or whatever passes for cold with one of the best groups in the country.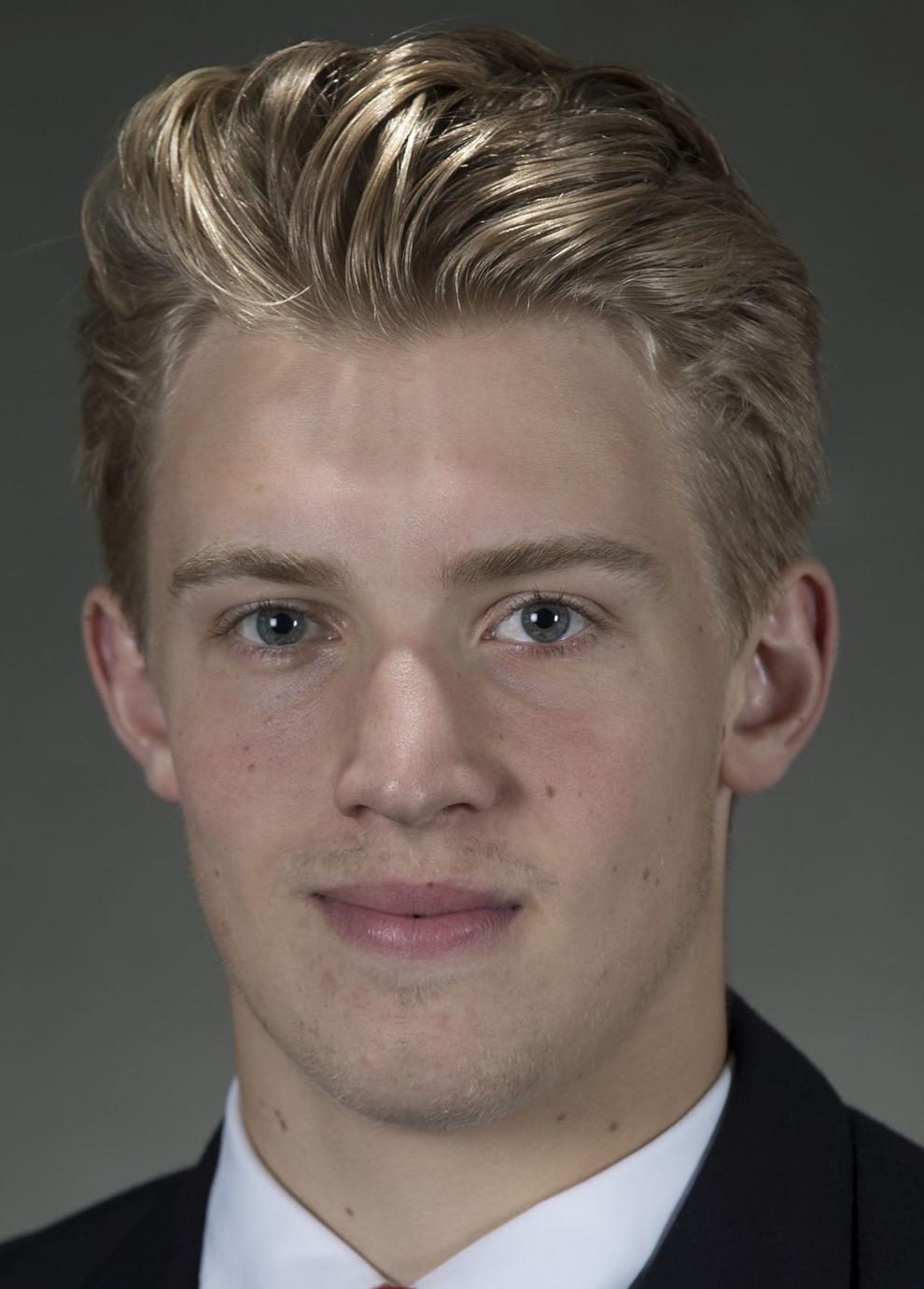 The University of Wisconsin men's hockey team needed the man advantage to deliver in overtime Friday night and Dylan Holloway came through.
Holloway's goal 42 seconds into the extra session for a 2-1 Badgers victory against Ohio State ended an intense game at LaBahn Arena where special teams play provided the turning points.
"I think it resembled a little bit of a playoff game," Holloway said. "Guys were pretty intense right from the start. When the season gets down to the end here, we know what's coming up next. We're just gearing up for the playoffs."
Holloway fired off a pass from Linus Weissbach and got it past Buckeyes goaltender Tommy Nappier as the Badgers won in overtime for the first time in three tries this season.
The fifth-ranked Badgers stayed within striking distance of first-place Minnesota in the chase for the Big Ten championship. UW has three games remaining to Minnesota's two and trails in winning percentage .750 to .690.
"Tonight was important," Badgers coach Tony Granato said. "If we can win (Saturday), it puts pressure on them to have to win to win the Big Ten."
The winner was Holloway's second goal of the game and 10th of the season. In 15 games since rejoining UW after playing for Canada in the World Junior Championship, the sophomore has eight goals and 21 assists. UW is 11-3-1 in those 15 contests.
"On paper and from the outside, it probably seems insane what he's doing," Badgers goaltender Robbie Beydoun said. "But just seeing this guy in practice every day, it doesn't surprise me at all."
Ohio State's bench was livid after the overtime goal because the penalty timer didn't start running at the start of the extra session. But the 4-on-3 goal happened before Gustaf Westlund would have been released from the penalty box for a slashing infraction committed in the final minute of regulation.
Holloway scored on the Badgers' first and sixth power plays but in the middle Ohio State got aggressive with its penalty kill and disrupted what has been a free-flowing UW top unit.
The Buckeyes killed a major penalty that covered parts of the second and third periods after Collin Peters was ejected for making contact with Cole Caufield's helmet on a hit.
"They were giving us some looks we haven't seen so far yet this year," Holloway said of the Ohio State penalty kill. "It's just good to adapt to that. Their goalie made some big saves."
Ohio State earlier had a five-minute power play when UW defenseman Tyler Inamoto was called for a major interference penalty on a hit after Dalton Messina passed the puck. The Buckeyes gave back two of the minutes with a penalty of their own but then had a brief 5-on-3 advantage when Tarek Baker was penalized.
The Badgers got to the end of the two-man disadvantage thanks to blocks by Brock Caufield and Anthony Kehrer but Ohio State struck soon after. Westlund fired through traffic and past Beydoun for a 1-1 tie.
At 16-8-1 overall, the Badgers (14-6-1 Big Ten) are eight games over .500 for only the third time in five seasons under Granato. The others were toward the end of the 2016-17 season.
UW was just 4-11-1 against the Buckeyes in the last four seasons entering Friday but Ohio State (6-16-1, 6-15) has hit a prolonged slump. Friday's loss was its 10th in 13 games since the start of January. In all 10 losses, it has been held to two goals or fewer.
"This was a tough loss," Buckeyes coach Steve Rohlik said. "The guys fought hard all game and got better as the game went on. We took too many penalties and ultimately their power play came through at the end."
Holloway put the Badgers ahead less than five minutes into the first period with a wrist shot from the left circle. That gave UW a power-play goal in eight of its last nine games, a stretch in which it's converting on 42% of man-advantage chances.
The last of Beydoun's 30 saves was a glove stop on Mark Cheremeta from the slot with less than three minutes remaining in regulation after the puck took an odd bounce.
"If he doesn't make that save, maybe the result's a little different," Holloway said.
Beydoun conceded that the Badgers didn't play their best game but saw it as a building block.
"This is playoff hockey," he said. "No matter who we're playing, games are tight at this time of the year. It's a good challenge and a good learning opportunity for us to find a way to win these close games."
First period: W — Holloway 9 (Weissbach, C. Caufield), 4:45 (pp). Penalties: Messina, OS, 3:47; Weissbach, W, 7:35; Leslie, OS, 9:29; O'Connell, OS, 16:10.
Second period: OS — Westlund 5 (Gabriele, Preston), 17:27 (pp). Penalties: Inamoto, W (major), 12:18; Westlund, OS, 13:16; Baker, W, 16:54; Peters, OS (major, game misconduct), 18:17.
Third period penalties: Ahcan, W (minor, misconduct), 9:52; Dunlap, OS, 9:52; Team, OS, 14:14; Westlund, OS, 19:23.
Overtime: W — Holloway 10 (Weissbach, C. Caufield), :42 (pp).
Saves: OS (Nappier 16-7-13-0) 36; W (Beydoun 8-14-8-0) 30. Power plays: OS 1-for-3; W 2-for-6.
---
Photos: Badgers men's hockey team defeats Ohio State in overtime