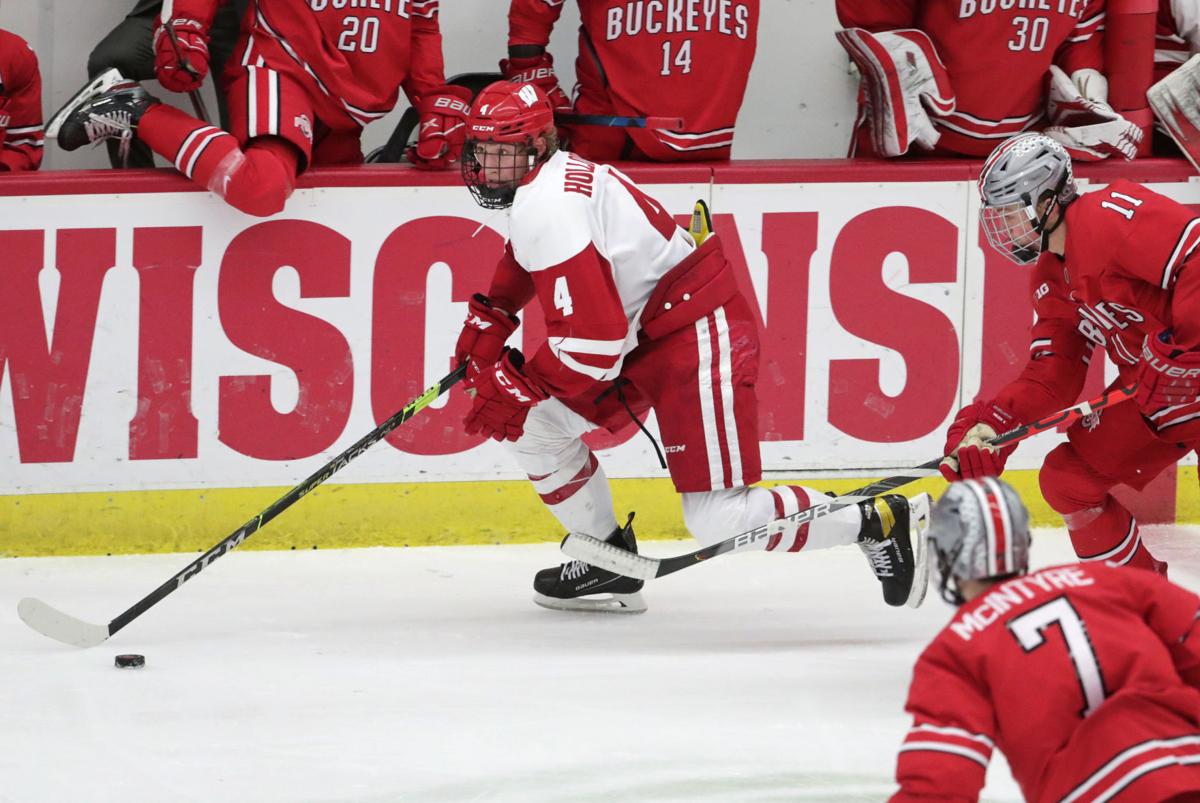 All four players who averaged at least a point per game for the University of Wisconsin men's hockey team in the 2020-21 season have departed.
The latest was second-team All-American center Dylan Holloway, who signed Friday with the Edmonton Oilers. His three-year, entry-level contract with the NHL team starts in the 2021-22 season because he's sidelined by a broken thumb suffered during the Big Ten tournament.
Holloway was a finalist for the Hobey Baker Award that teammate and fellow first-round NHL draft pick Cole Caufield won. Both decided to leave the Badgers after their sophomore season.
UW also lost high-scoring forwards Linus Weissbach and Ty Pelton-Byce, both seniors who signed pro contracts instead of returning for an extra year of NCAA eligibility. Defenseman Ty Emberson signed with the NHL's Arizona Coyotes.
Holloway, 19, said he was ready to take the next step in his career after finishing third on the team and fifth nationally with 35 points in 23 games.
"I felt the way I developed this year made the decision a little easier," he said. "I've got a really good program here in Wisconsin. ... But I thought for me the best decision was just to go pro so I can further develop and try to make the Oilers."
Holloway's point totals might have been greater had he been with the team the whole season and not suffered a late injury. He missed eight Badgers contests in November and December while trying out for Canada's World Junior squad.
He brought back a silver medal from the under-20 event and launched into a remarkable second half with UW. He had 21 points during an eight-game scoring streak that finished with a five-point outing at Minnesota on Feb. 6.
His production tailed off in the postseason while he played through a broken thumb that he suffered on an innocent-looking play early in the Big Ten semifinals against Penn State on March 15. He jammed his hand into the boards while forechecking and had to play the championship game against Minnesota with a hard cast.
"It was a weird injury," Holloway said. "I feel like there's been bigger hits in the game that could have made me way more injured but for some reason it was just that little play that tweaked it in just the right spot. ...
"I couldn't really do much (with the puck). ... I couldn't really stickhandle that well. I just shoveled the puck. I just tried to do my best and skate and forecheck as best as I could, finish my hits. But I knew going in that I wasn't going to be able to do things with the puck like I'm usually able to do."
UW, which won the Big Ten regular-season title, lost the playoff championship game to the Gophers and was ousted from the NCAA tournament in the first round by Bemidji State. Coach Tony Granato said there was never a thought from Holloway that the injury would keep him off the ice and said the Bragg Creek, Alberta, native went "above and beyond."
"That's why Dylan Holloway is Dylan Holloway," Granato said. "He's a warrior. He's a competitor. He was not going to miss those games and tell his teammates, 'Hey, I can't play today. You guys go out there and get a win.' He was going to find a way to get out there. Whether it was limited and he had to adjust, he was still effective."
The Oilers selected Holloway at No. 14 overall last year despite a muted freshman season in terms of points — just 17 in 35 games. He was Canada's Junior A player of the year in 2018-19 for a 40-goal, 88-point regular season with the Okotoks Oilers of the Alberta Junior Hockey League.
The high-scoring ways resumed in his second season with UW, when he teamed with Roman Ahcan and Brock Caufield on the second line and was a key component to the national-best power play.
The Badgers will have a new look up front in 2021-22 after seeing their top four scorers leave. The changes weren't unexpected, however, and Granato said UW will have to be a grittier team to return to the NCAA tournament in 2022.
He would have loved to have Holloway, Cole Caufield, Weissbach and Pelton-Byce back for another season but it probably wouldn't have been the right career moves.
"From the program standpoint, you want to make them feel like they have to come back or should come back or they need to come back but that's not right," Granato said. "As their coach and knowing the game and understanding the game, when you get great players and they have great years, that's just the way the game is. It's what college is for. It's about preparing people for a life after, to have opportunity."
Badgers centers will have opportunities to move into bigger roles next season. UW has added one veteran in Bowling Green transfer Max Johnson. Tarek Baker is planning to return for a fifth season, according to sources. Owen Lindmark has proven to be a dependable pivot but has been asked to play in the top two lines only rarely.
Brock Caufield and Dominick Mersch have played center occasionally over their first three seasons with UW.
Beydoun signs in ECHL
Badgers goaltender Robbie Beydoun signed with the Fort Wayne Komets of the ECHL on Friday.
Beydoun played the 2020-21 season with UW as a graduate transfer from Michigan Tech and had a .919 save percentage and 2.66 goals-against average.
Beydoun and senior forwards Jason Dhooghe, Pelton-Byce and Weissbach aren't returning to the Badgers for the extra season allowed by the NCAA. Baker and defensemen Tyler Inamoto and Josh Ess are planning to use the waiver, according to sources.
Look back on State Journal coverage of Badgers men's hockey games in the 2020-21 season
Read stories from University of Wisconsin men's hockey games in the 2020-21 season.