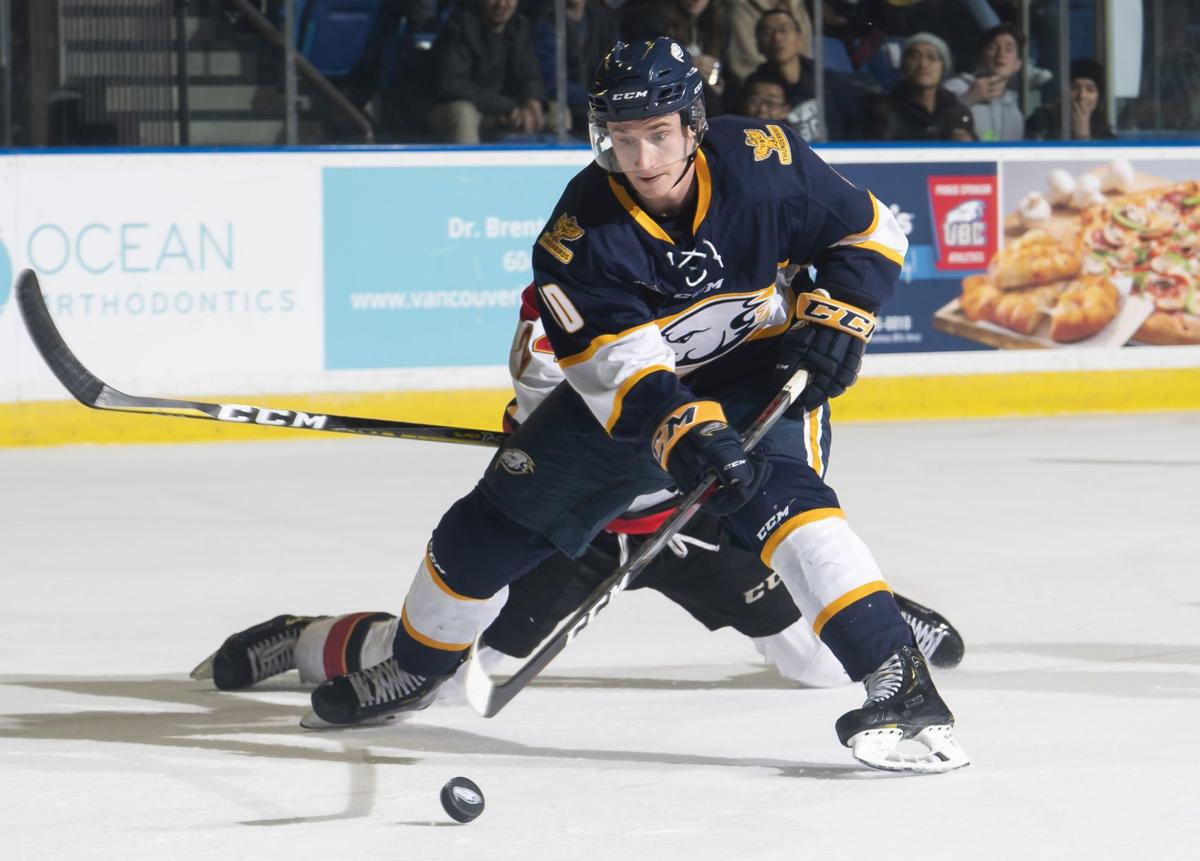 On one side was a coach looking for an outlet to get his young team games under its belt before the real push begins.
On the other was essentially the same thing, only with a different definition of young.
In short, that's how the University of Wisconsin and the University of British Columbia found each other for a groundbreaking set of exhibition games scheduled for Friday and Sunday in Vancouver, British Columbia.
Badgers coach Tony Granato and Thunderbirds coach Sven Butenschon are linked by more than just having played in the Olympics — Granato for the U.S. in 1988, Butenschon for Germany in 2010. Both went into the summer hoping to find an early start for programs that will take on a new look in the fall.
UW's transformation has been well documented: A seven-person freshman class includes four players that were drafted in June — two of them in the first round — and another who's a top prospect for next year. The majority of the class is 18. One player each is age 17, 19 and 21.
With UBC, the seven new players have a different career path. While the NCAA penalizes those who have played in the Canadian major junior system with ineligibility, Canada's U Sports welcomes them.
So of those seven newcomers to the Thunderbirds, five are age 21 and two are 20. Six have played at least some of the past five seasons in the Western Hockey League with a total of 1,393 games.
"The WHL has done a great job with their scholarship program so they've been able to play at a high level in the 'Dub,' chase their dream at that level," Butenschon said. "Maybe those NHL contracts weren't there when they're done. But now they get to go to an elite school like UBC and so they've kind of done the best of both."
Granato sought a way to give his players some experience before the season starts in October. The one the NCAA allows is with a foreign tour, permissible once every four years during the academic summer vacation. The Badgers have never before taken such an opportunity in men's hockey; other school sports have.
The UW coach approached athletic director Barry Alvarez, who pressed him for details before signing off.
"For our program, for college hockey, to kind of show off what we think is going to be a real exciting year for us and kick it off this way, (I'm) really excited about it and thankful that Coach Alvarez was on the same page as me thinking this was a good idea," Granato said.
The concept worked on UBC's side, too. Butenschon was searching for exhibition trips to make before his team's conference season begins in late September, but UW's visit works out better.
"It was just a perfect match where I was hoping to have some cool exhibition games against NCAA teams," he said. "(Granato) was looking to do an international trip, and it just really fit."
A decade ago, talk of games between the Badgers and the Thunderbirds centered more on the prospect that UBC might one day join NCAA Division II and field Division I hockey programs. The Western Collegiate Hockey Association, which at the time included UW as a member, showed some interest in the British Columbia school.
But after consultations and a public report, the school decided in 2011 to stay within the Canadian athletic system. Simon Fraser University in nearby Burnaby, British Columbia, meanwhile, moved to the NCAA and has considered fielding a varsity hockey program but hasn't yet made that leap.
Butenschon, who played three years in the WHL in the mid-1990s before starting a 17-year pro career that included 144 NHL games, said he's happy with the U Sports level. But he hopes for more opportunities to get his team exposure; a series against the Badgers could help.
"It's just like a bit of a hidden gem, I think, for hockey," Butenschon said of UBC and U Sports. "And hopefully, this will be a good little kick-start to get word out there, especially in Vancouver."
UBC players have taken note of the volume of NHL draft picks on the Badgers roster (12) and the high-level talent within in (three first-round picks plus 2020 first-round prospect Dylan Holloway).
Butenschon referenced those details in response to a question about whether his team has a point it wants to make this weekend.