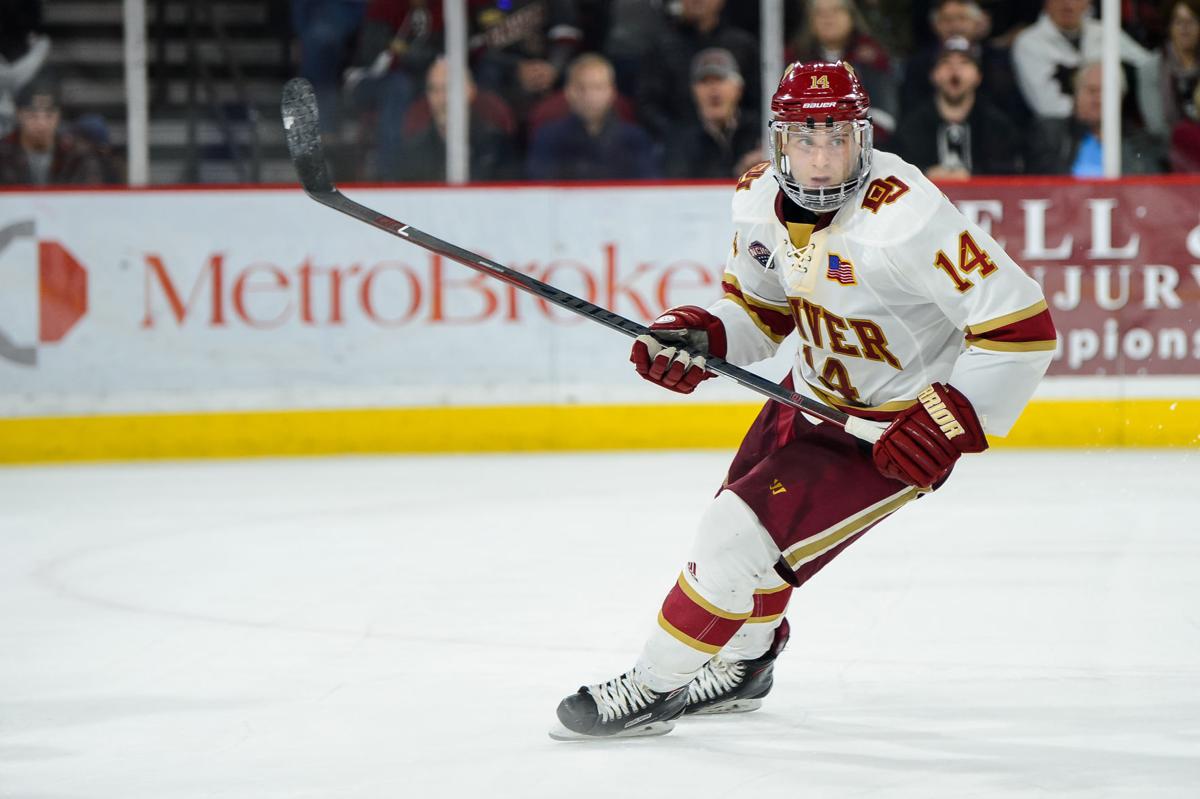 Three teams that played in the NCAA men's hockey tournament last season returned fewer than 50 percent of their goal-scoring in 2018-19.
It hasn't been the recipe for disaster that it could have been.
The Badgers host the Pioneers in a non-conference series Friday night and Saturday night at the Kohl Center.
No. 8 Denver comes to the Kohl Center to play the University of Wisconsin on Friday and Saturday as an example that heavy talent losses don't always condemn a team to mediocrity.
The Pioneers are 10-4-2 and sixth in the PairWise Rankings after losing their top three scorers, their stalwart in goal and their head coach after the 2017-18 season.
Forwards Henrik Borgström, Troy Terry, Dylan Gambrell, the top three scorers last season, all signed pro contracts with eligibility remaining. So did forward Logan O'Connor and defenseman Blake Hillman.
Jim Montgomery left to coach the NHL's Dallas Stars, but his replacement, 29-year-old David Carle, has pulled the pieces together this season to continue the Pioneers' string of success. They haven't missed the NCAA tournament since 2007 and haven't had a losing season since 2000.
From the way that Badgers coach Tony Granato describes Denver, it's not hard to see why.
"I see a team that's very consistent on how they play, shift after shift, night after night, no matter what building they're in," Granato said. "They have an identity on how they play. They have pride in it. And they make it hard on the other team. They make it really hard. Both net fronts — they know that that's a key area to win games and they're committed to fighting for every inch of ice."
The other 2018 NCAA tournament teams that lost more goal-scoring than they returned were Clarkson (11-6, 17th in the PairWise) and Northeastern (12-3-1, 12th).
The Pioneers have used a balance of an offense that's ranked 11th nationally in scoring average and a defense that's ranked 10th. They're tied for fourth with a first-period scoring margin of plus-10 (18 goals scored, eight allowed), while UW has allowed two more goals than it has scored in the opening 20 minutes.
Denver is just 4-4 in the National Collegiate Hockey Conference but is 6-0-2 in non-conference games, second to Quinnipiac's 9-1 record. The Badgers are 4-4 outside of the Big Ten Conference, and finishing below .500 in that category would make it significantly more challenging to be in the mix for an at-large NCAA tournament spot.
Caught on video
Badgers defenseman Tyler Inamoto talks about the return from break and the three weeks that the team gets to have as hockey-only before the spring semester begins:
Three more things
• Jack Gorniak will start the second half of the season as the left wing on Seamus Malone's line with Will Johnson. Gorniak finished the first half playing with Tarek Baker and Sean Dhooghe, but Linus Weissbach's return to the lineup put him back with Baker and Dhooghe.
• UW defenseman K'Andre Miller will miss the series to finish the World Junior Championship with Team USA in Vancouver, but Denver got back sophomore defenseman Ian Mitchell on Friday morning. Mitchell and Canada were eliminated in the quarterfinals on Wednesday. Mitchell skated in the Pioneers' Friday morning skate.
• For three weeks before the spring semester begins, the Badgers get to have their focus on hockey. And it's an important three weeks, with series against tough opponents Denver and Notre Dame wrapped around an exhibition game against the U.S. Under-18 Team. "It's really helpful because you've got no other distractions," said UW captain Peter Tischke, who won the team's weekly shootout Thursday on his 23rd birthday. "No homework, no classes to go to. We're just here at the rink, working with the coaches, doing extra stuff off the ice."
Put it in quotes
Granato, on Denver playing last weekend while the Badgers have been off for three straight weekends:
"I guess it's an advantage for us because we've got game film on them from last week but it's an advantage for them that they've got a couple games under their belts. So you try to take the positives out of it. We're rested. We know what's at stake. We're coming off of three really good weekends in a row. So I think we've established, if we're going to be successful, how we have to play."
Lining up
Here's the Badgers' projected lineup for Friday's game:
Jack Gorniak - Seamus Malone - Will Johnson
Linus Weissbach - Tarek Baker - Sean Dhooghe
Roman Ahcan - Dominick Mersch - Brock Caufield
Max Zimmer - Mick Messner - Jason Dhooghe
Extra forward: Matthew Freytag
Wyatt Kalynuk - Tyler Inamoto
Jesper Peltonen - Ty Emberson
Starting goalie: Daniel Lebedeff
Keep reading