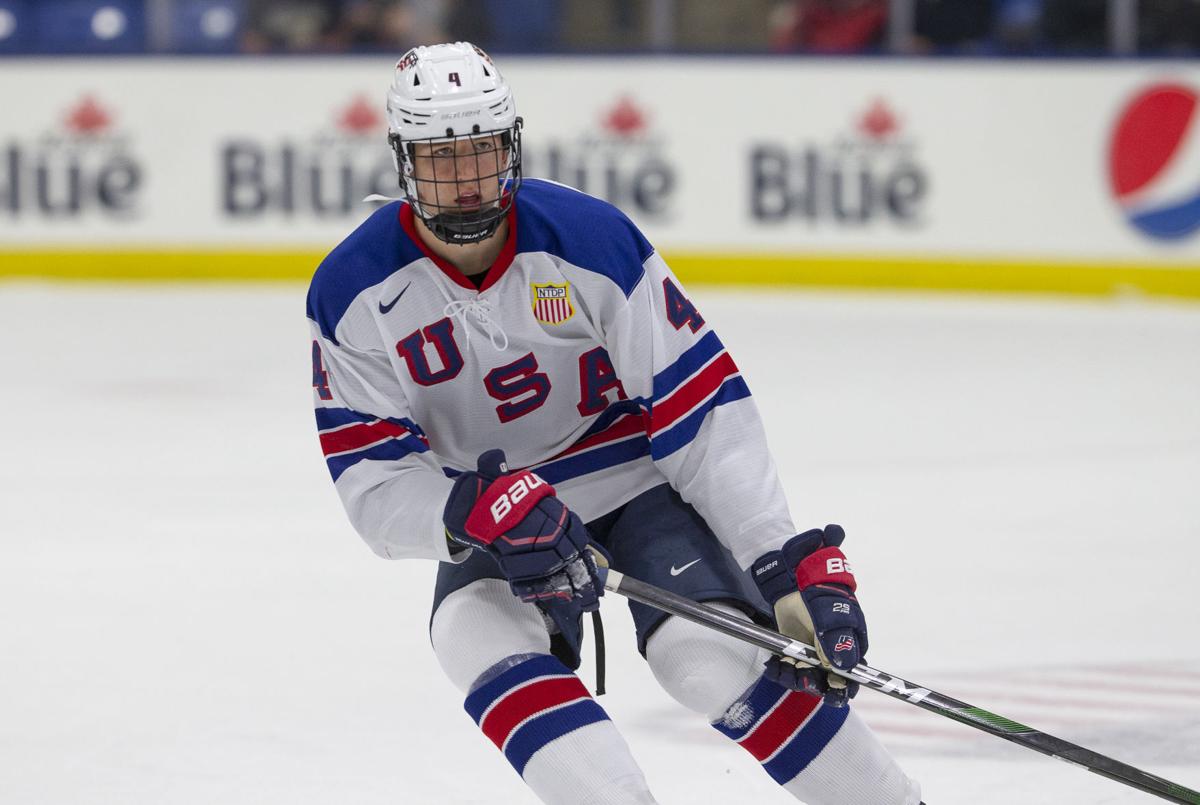 Daniel Laatsch didn't get much NHL draft attention coming out of the USA Hockey National Team Development Program in 2020.
The Pittsburgh Penguins decided to take a chance on the University of Wisconsin incoming freshman in the final picks of the 2021 draft Saturday.
Laatsch, an Altoona native who played last season with Sioux City in the United States Hockey League, was selected in the seventh round with the 215th of 224 picks in the draft.
His selection continued a streak where at least one Badgers player or recruit has been selected in rounds two through seven of the draft in every year since 1998.
Others will have to wait until next year or try to make the NHL as a free agent.
Recruits Joe Palodichuk (No. 109 among North American skaters in the final NHL Central Scouting rankings) and Luke Levandowski (112) are eligible again in 2022. So are incoming freshmen Caden Brown (152) and Jacob Martin (211).
Sophomore Cameron Rowe (13th among North American goalies) and incoming freshman Zach Urdahl were in their final draft year. They'll be free agents when they're done playing in college.
Laatsch said recently that his NHL draft conversations as a member of the NTDP last year were largely in group settings. He got a little bit more individual attention this year after the 6-foot-4 defenseman spent a season playing for former Badgers associate head coach Luke Strand in Sioux City.
"I just feel like my timeframe is a little bit longer so that extra year just to develop and put on a little weight and get bigger, faster, stronger just helped me to be prepared for last year and coming into this year," Laatsch said last week.
Laatsch and fellow incoming freshman defenseman Corson Ceulemans were the only Badgers connections in this year's draft.
Ceulemans, picked in the first round by Columbus on Friday night, admitted Saturday that he has some scouting work to do to learn about his future destination.
He can start to get to know Ohio's capital when UW plays Ohio State there this season.
Being selected at No. 25 overall by the Blue Jackets was so much more exciting than even he hoped it would be.
"I've never felt anything like it," he said. "It's probably one of the coolest things ever."
Ceulemans said he had a feeling the Blue Jackets were going to call his name when their Twitter account followed him in the commercial break before the selection was announced.
As of Saturday afternoon, he hadn't been in deep discussion with Blue Jackets officials other than getting calls with congratulations.
In the more immediate future for Ceulemans is a summer camp with Hockey Canada to try to help his chances at making the World Junior Championship team.
"All the guys that just got drafted are going to be there too," he said. "It'll be the best of the best. I'm looking forward to getting there and meeting the coaching staff and just getting my name out there for the team."