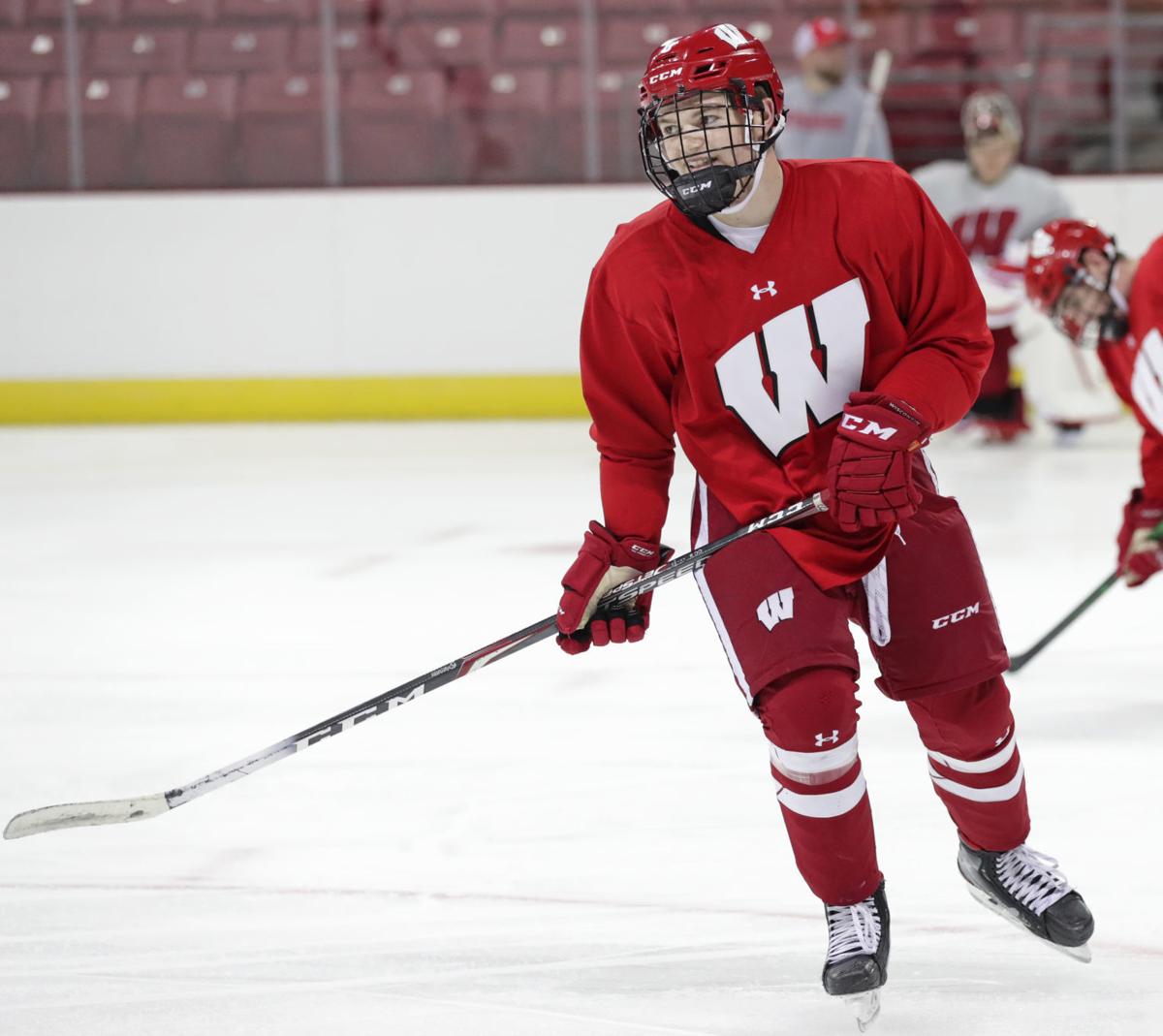 You probably wouldn't mistake the seven members of the University of Wisconsin men's hockey team's freshman class for a biker gang.
In a very tongue-in-cheek way, however, that's how they saw themselves once their first summer together got started in Madison.
Their homes for the summer academic session were in the lakeshore dorms, a distance from the more lively central campus area, Memorial Union Terrace and State Street. Knowing this, some veteran members of the Badgers suggested the newcomers get bikes to shorten the commute.
The degree to which those seven players bought into that idea provides some insight into how, through their individual paths to this point, they became one of the most decorated and anticipated incoming classes in program history.
Once they're in on something, they're all in.
"We traveled as a pack," forward Owen Lindmark said. "We might have looked like some losers out there, a little bike gang driving down State Street. But we had a lot of fun with it."
Every recruiting class is unique, but to underscore that there's never been a freshman class quite like the one that joins for the 2019-20 season isn't a stretch.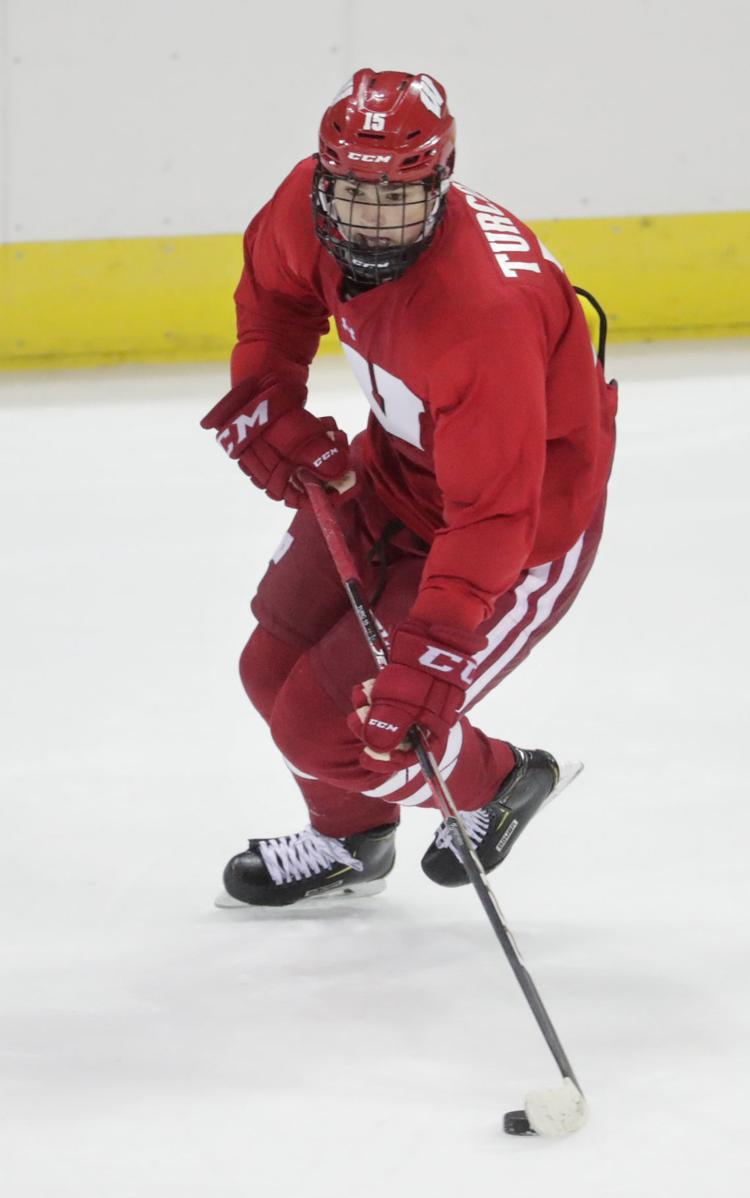 One scout called the group outrageous in its collection of talent. Alex Turcotte and Cole Caufield were selected in the top half of the first round in the 2019 NHL draft, and Dylan Holloway is trending toward the same outcome next year.
Lindmark and Ryder Donovan also were drafted in June. Defensemen Mike Vorlicky and Shay Donovan have taken vastly different paths to the blue line.
In the group is the third UW player to be picked in the draft's top five (Turcotte), record holder for goals at the USA Hockey National Team Development Program (Caufield), Canadian junior player of the year (Holloway) and a Minnesota high school state champion (Vorlicky).
"We've got a lot of special guys," Vorlicky said. "They all have a role and they see it. It's going to be fun to watch."
UW coach Tony Granato has sensed excitement from fans on the heels of a disappointing pair of seasons.
"And they should be" excited, he said. "We've been bragging up this year for a while, just based on the players that are coming in and based on the players we have in place."
The latter carries a high level of importance, too, even with a healthy amount of the attention this season going toward the newcomers who could push the Badgers' rebuild over the top.
Granato, who starts his fourth year leading an overhaul of a Badgers program he inherited on the heels four- and eight-win seasons, said he wouldn't have been completely comfortable with this year's group of freshmen joining the team two seasons ago.
"I don't think our foundation was right," he said.
Fighting for jobs
The players Granato and his staff brought to the team over the past two seasons were charged with instituting a makeover of the team's culture — its work ethic and accountability, primarily.
"Every day you're fighting for a job, every day it's a battle," junior forward Tarek Baker said. "Every day, it's like a game. Whether it's in the weight room, whether even in classes, all the little details of those things translate on the ice because we are student-athletes. So doing everything right on and off the ice is something we pride ourselves on."
When Granato took over in 2016, he quickly learned recruiting efforts were going to have to be directed a few years in the future. The top players to enter college over his first three seasons largely were already committed to other schools.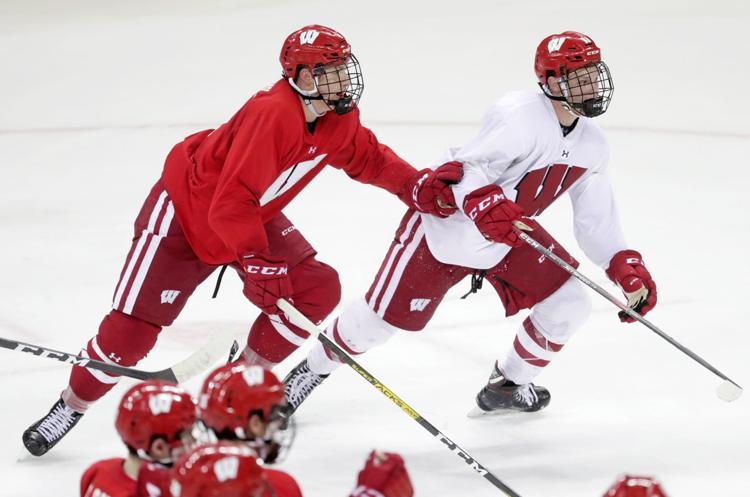 The Badgers looked toward the 2001 birth year, which featured Turcotte and Holloway. Caufield was already committed to Ohio State; he later changed his mind along with older brother Brock, now a Badgers sophomore.
UW found players that could fit into the detail-oriented culture, so when the freshmen arrived over the summer, the expectations didn't need much explaining.
"They already act that way," Baker said.
For some of them, it has been the way they have been brought up in hockey. Turcotte, Cole Caufield and Lindmark all came from the National Team Development Program, which produced 17 NHL draft picks this year, including No. 1 overall selection Jack Hughes.
Having a lot being asked of them is nothing new.
"I think it's good to have that pressure," Turcotte said. "It motivates me, and I know it motivates the other guys, too. I think it creates expectations, which is what you want. You don't want to go into the year having nothing to look forward to."
This season is only the second time that UW's freshman class has featured more than one first-round NHL draft pick. The first was in 2007 with a group that provides a few interesting comparisons.
Like Holloway, Kyle Turris was the reigning Canadian junior player of the year. He was the No. 2 overall pick that season.
Like Vorlicky, defenseman Ryan McDonagh was a state champion in Minnesota. McDonagh was the 12th selection in 2007.
Defenseman Brendan Smith, selected 27th, made it three first-round picks entering UW that year.
"I think it's a very similar feel," said Mark Osiecki, who was associate head coach for both teams. "The one thing you see right away — talent set aside, because they're all tremendously talented, obviously — is their compete factor. Their want for hockey and passion for hockey is just like that.
You have free articles remaining.
"You can see the intensity. Anything they do, the competition or the passion goes up another notch. So what they're able to bring and add into what's already been established, it's fun to watch."
Caufield in spotlight
Caufield has attracted the most attention of the bunch due to the hockey-mad following of the Montreal Canadiens, who selected him 15th after the right wing slipped down the draft board.
When the Badgers played exhibition games in Vancouver, British Columbia, as part of a foreign trip over Labor Day weekend, Canadiens fans made their presence known. After scoring four goals in two games, Caufield chatted and posed for pictures with some of the partisans outside UW's locker room.
"He's got a good personality for that," Brock Caufield said. "He's smiley. He doesn't really love the attention but he knows how to handle it."
The attention has been steady for Cole Caufield, especially since he broke the NTDP's records for goals in a career (126 over two seasons, passing Verona native Phil Kessel's 104) and a season (72 last season, better than Auston Matthews' 55).
En route to being named MVP of the Under-18 World Championship last season, Caufield tied the tournament record with 14 goals, putting his name next to Alex Ovechkin.
Ovechkin, Kessel and Matthews represent elite company, but being only 5-foot-7 in a game where size historically has been valued probably cost Caufield at least a handful of spots in the draft.
"He certainly overcomes his size with his heart, his natural scoring ability, his hockey sense, his compete and battle," Canadiens assistant general manager Trevor Timmins told reporters at the draft.
A Canadiens behind-the-scenes video from the draft showed a sports psychology consultant telling those assembled in a conference room for a team meeting that he was impressed by one statement Caufield made in an interview.
"I really like the fact that he said, 'If I could be bigger, I wouldn't be. I like the way I am, and I can get the job done with what I have,'" David Scott said.
Caufield expanded on his sentiment.
"I'm fine with where I'm at, and I'm good with what I have," he said. "I wouldn't want to be bigger. I think it helps me and gives me an advantage. And I've been dealing with it my whole life, so I've become more adapted to what I have and what I am."
Turcotte, a center, was the first big commitment under Granato in the summer of 2016. Over the past three years, his development of a game that makes him as adept in his team's end of the ice as in the offensive zone launched him to become the No. 5 pick by the Los Angeles Kings.
Only Dany Heatley (No. 2 in 2000) and Turris have been selected higher among Badgers players.
"If you watch practice, it takes you about three seconds to see which guys are the hardest workers, stick their nose in there, dive for every loose puck, battle," Granato said. "Turc's got into about four hack-and-whack battles with teammates because he competes so hard. When the puck's on the ice, he wants it. And he'll find a way to get it. So if it goes to the net and the other team gets it, he's on it to get it back. That's the competitiveness within him that I love."
Signs of depth emerge
Holloway, who was pressured from some back home in Alberta to play major juniors instead of NCAA hockey, is strong along the boards despite his young age — he just turned 18 in late September.
He scored 49 goals with 52 assists in 64 regular-season and playoff games for the Okotoks Oilers in the Alberta Junior Hockey League last season, wrapping up the award as Canada's top player at his level.
It's a sign of the depth the Badgers have this season that Holloway appears headed for the team's second power-play unit.
Ryder Donovan and Lindmark were selected in the fourth and fifth rounds of the draft, respectively, and start at different levels in college. Like Turcotte and Cole Caufield, Lindmark played games last season against college teams with the NTDP.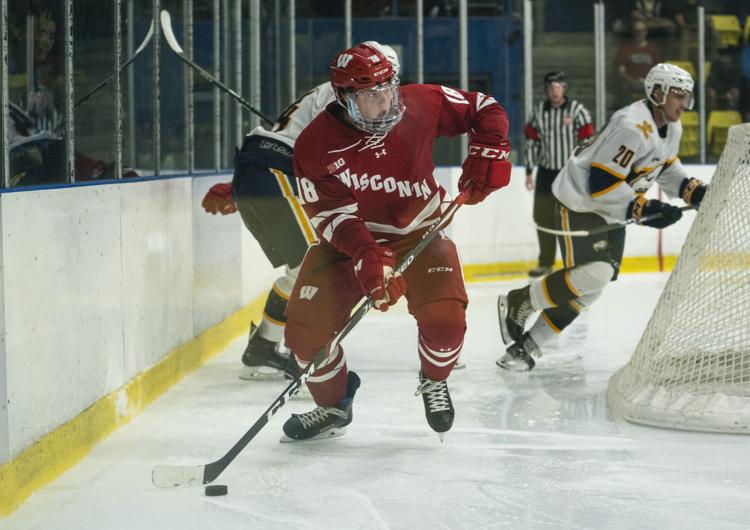 Lindmark was a lower-line center on a team well-stocked down the middle. He'll play a similar role this season with UW as a dependable faceoff player who's willing to play big minutes on the penalty kill.
Ryder Donovan, who originally committed to North Dakota before a change of heart, was a top-line center for Duluth East last season and got only limited use after the high school season with Dubuque in the United States Hockey League. So he'll need to accelerate his learning for the college game.
The same goes for Vorlicky, who won the state championship with Edina last March and then finished the season with the Madison Capitols. A quick defenseman who can play a heavy style, too, he was ranked but went undrafted in June, so he could benefit from the scouting that Holloway will get.
"For NHL teams and scouts, I think once they get a better look at him, they'll maybe look at him differently," said Badgers junior defenseman and captain Wyatt Kalynuk. "I don't think he'll go through the draft next year."
Shay Donovan, Ryder's brother, came to the Badgers as a depth defenseman after three seasons in the second-tier junior North American Hockey League.
Through summer workouts, the trip to Vancouver and preseason practices, the freshman class' close bond off the ice and a high determination on it have stood out to their teammates.
"They don't play like freshmen," Brock Caufield said. "They play like important players, and that's how it'll be all year."
After two straight losing seasons — 14-19-4 in 2017-18 and 14-18-5 last year — and four in the past five years, the Badgers are at a critical point entering 2019-20. They're hoping to reinvigorate a fan base that has turned out in smaller and smaller numbers at the Kohl Center, and this year's freshman class has been a marketing point since its core members signed last November.
In a larger sense, Granato thinks the team matches what Badgers fans want to see.
"When I got back, they said, when are we going to get the next Pavelski or the next Suter?" Granato said. "I said, you've got a couple in here now. If you want to watch players that are going to be NHL players for a long time, this would be a great season to pop your head in here and come regularly."
The ones that rode bikes around campus and Downtown Madison all summer are happy to be part of the push to a higher level for the Badgers.
"I know there haven't been the results that the program has wanted over the last few years, but we're going to have a really good team this year," Turcotte said. "We're going to be a good team for the next few years as well. I think there's a lot of things to look forward to as a Wisconsin fan. I think this is the start of something really special."