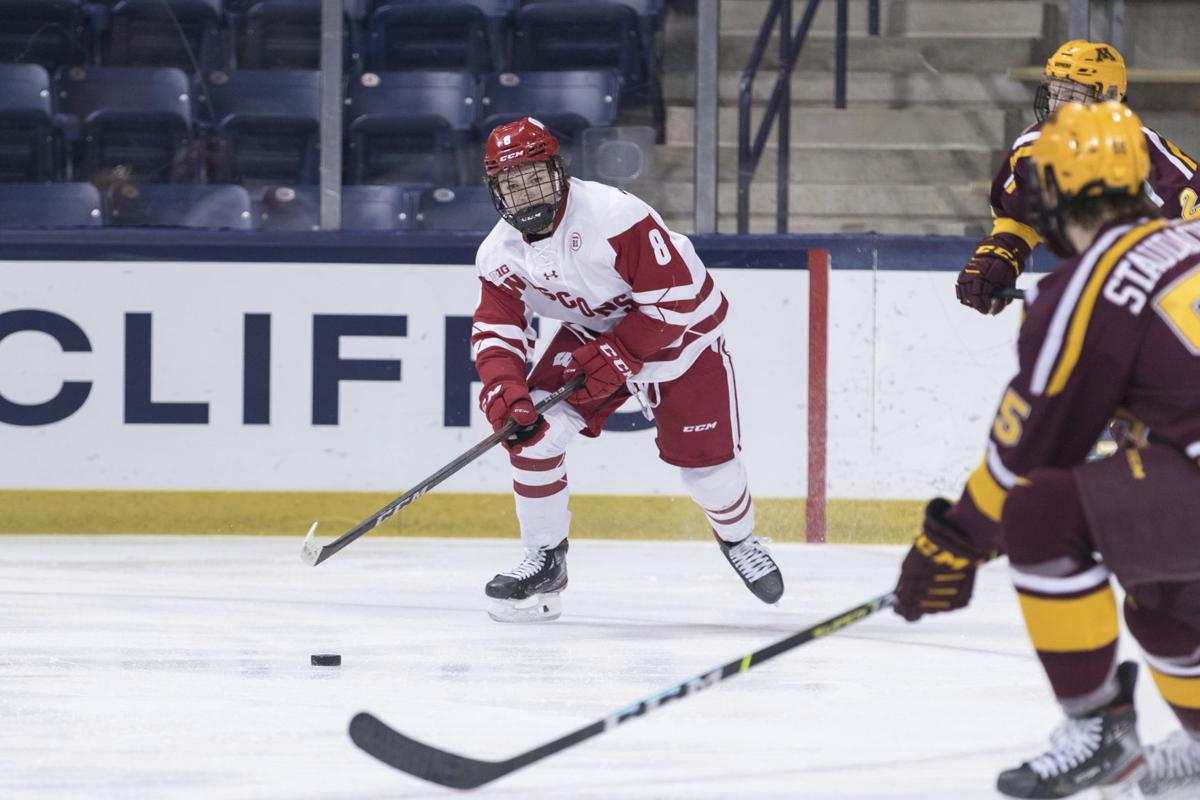 Cole Caufield is moving from the University of Wisconsin to pro hockey.
Caufield agreed to terms with the Montreal Canadiens on an entry-level contract Saturday, one day after his sophomore season with the Badgers ended with a loss in the first round of the NCAA tournament.
He leads NCAA men's hockey with 30 goals and 52 points and is the favorite to win the Hobey Baker Award as the nation's best player.
In 67 career games for UW, Caufield had 49 goals and 88 points. He was the first unanimous Big Ten player of the year after being the freshman of the year last season.
It appears that Caufield, the 15th overall pick of the Canadiens in the 2019 NHL draft, will start his pro career with their American Hockey League team in Laval, Quebec, after completing a quarantine upon arrival in Canada.
Caufield will make $70,000 per season at the AHL level in a standard, three-year contract that pays him $700,000 at the NHL level this season. His NHL salary bumps up to $832,500 in the next two seasons and he has a $92,500 signing bonus in each of the three years.
The Stevens Point native scored 11 times in his final six games with the Badgers, including twice in Friday's loss.
"I am really, really proud of him," UW coach Tony Granato said after Friday's game in Bridgeport, Connecticut. "I know it's a hard year when you've got your professional team sitting there waiting for you. It's hard to stay focused. It's hard to be challenged every game when every other team is looking at you and thinking, OK, we're going to figure out how to shut Caufield down tonight. He found a way every night this year to leave it on the ice for us, to set a great example for the rest of our team. And he's got a lot to be proud of. I know his teammates are proud of him."
The future for Badgers forward Dylan Holloway, also a top-10 Hobey finalist, is a little less clear. He played the last two games of the UW season with a broken thumb, Elliotte Friedman reported on Hockey Night in Canada on Saturday, and will have X-rays Monday to determine whether he'll sign with the Edmonton Oilers.
Holloway, who had the best faceoff winning percentage on the team, didn't take any in the Big Ten championship game against Minnesota on March 16 and only two in NCAA tournament first-round loss to Bemidji State on Friday.
Look back on State Journal coverage of Badgers men's hockey games in the 2020-21 season
Read stories from University of Wisconsin men's hockey games in the 2020-21 season.