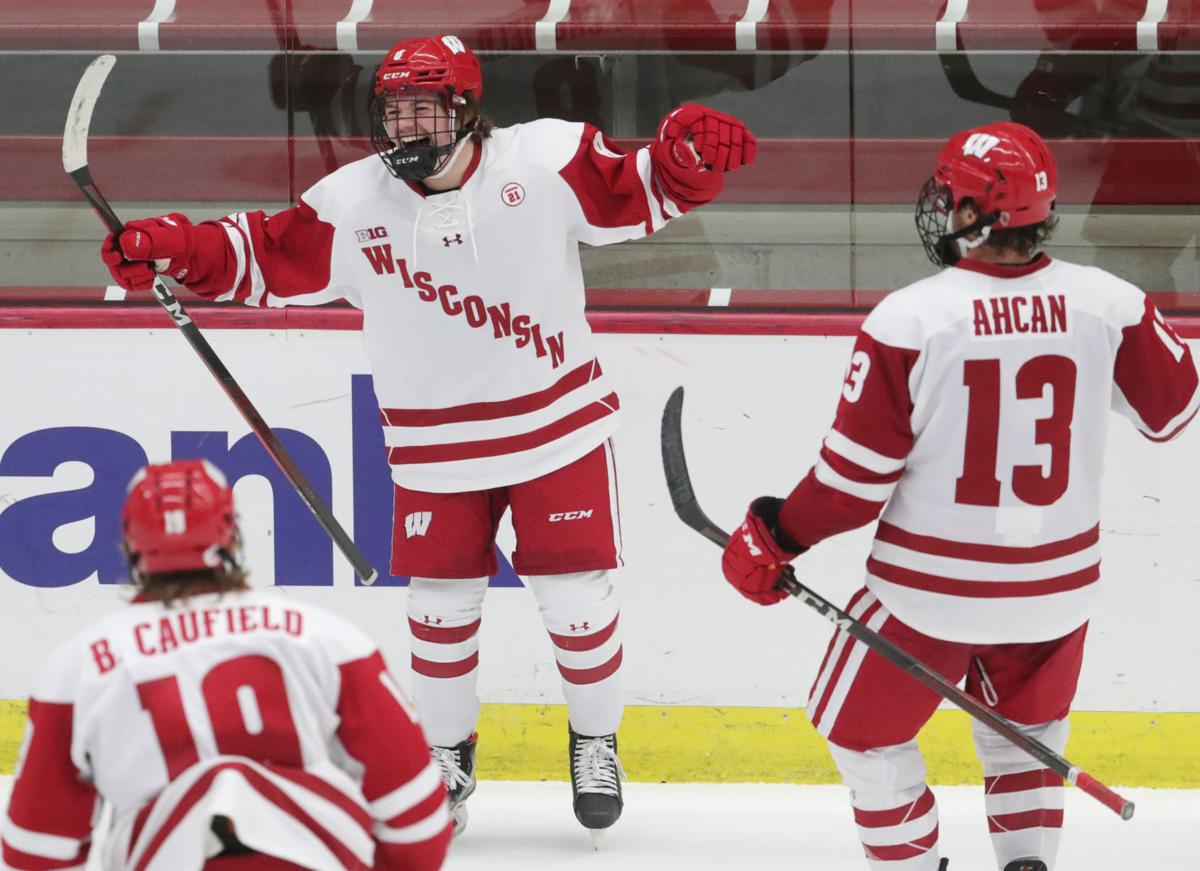 It now is a job for Cole Caufield, and he sounded ready for it.
He said he's excited to get his pro career started and thinks he's ready for the step up from college after a once-in-a-generation season for the Badgers.
"The work just starts now," Caufield said. "It's kind of surreal right now and sometimes you forget that it's happening."
Caufield was due to leave Wisconsin for Quebec later Monday and start a 14-day quarantine required for those arriving from outside Canada. A Canadiens spokesperson said under new government pandemic guidelines that he can train and play starting with day eight of the stretch.
The right wing will start his pro career with Montreal's American Hockey League team in Laval, Quebec, which has a game April 6 then plays again April 9. The latter is the same night that the Hobey Baker Award is scheduled to be presented on NHL Network.
Caufield is a safe bet to be in the Hobey Hat Trick when the top three vote-getters are announced Thursday, but it's unclear whether he would be available to be part of the live presentation at the end of the award show.
Badgers coach Tony Granato said after Friday's 6-3 loss to Bemidji State in the first round of the NCAA Tournament that he doesn't see anyone around college hockey with Caufield's resume for the award.
"I just couldn't be more proud of how far he's come as a player and understanding that being a superstar, there's lots that go along with it besides just scoring goals," Granato said. "He's a great teammate."
Caufield credited Granato with helping him understand the importance of being a good player when he doesn't have the puck on his stick. The improvements between his two seasons at UW were noticeable, and his goal-scoring boost — from 19 to 30 despite playing five fewer games — was a result.
"I think everybody knows I can score goals and do things in the offensive zone," Caufield said. "But for me personally, the No. 1 priority every game is to play in the (defensive) zone first and spend as little time in there as possible. Just having that mindset helped me grow a lot in all three zones and as a player all around."
Caufield said he's at 170 pounds — he was listed by UW at 163 as a freshman and 165 this season — and feels good physically after the college season. Players moving from college to the pros in the spring usually have a short time left in the season but there's still a month and a half left before the playoffs because the AHL and NHL were delayed.
One of the things that'll be studied closely with Caufield is how he handles playing against older competition in the pros. The AHL is just a steppingstone to the NHL and one of the most scrutinized teams in the world in Montreal.
"I drive myself with my own goals," Caufield said. "I'm just going to push myself every day to get better and just do what I can with myself to prove to everybody that I'm a good player and can handle the heat when that happens."
Caufield returned to the Badgers last year with the goal of being the best player at the college level. Regardless of whether the Hobey voters confirm that status, he's confident that he's in a better place in his career than he would have been if he departed the Badgers last offseason.
"Getting that extra time to put in the weight room to better yourself, I feel a lot more comfortable," Caufield said. "Last year, I feel like it would have been forced for me to sign and go then. But this year I feel a lot more comfortable. I feel more prepared and ready for the next step and I'm excited to take this next challenge on."