Answering whether the University of Wisconsin men's hockey team made progress this season in its climb from mediocrity depends on the lens you choose to use.
The Badgers finished fifth in the seven-team Big Ten Conference when they were picked by coaches for sixth. They were six points and one position better in the standings over last season in a league where the second spot and sixth spot were separated by the equivalent of one victory.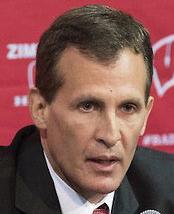 But that they were done with the season before the middle of March again is an indication that whatever progress the team made didn't move the needle in terms of end results.
UW will miss out on the NCAA tournament for the fifth straight season, the longest stretch in the program's 50 seasons of league affiliation. It finished under .500 (14-18-5) for the fourth time in the past five years.
Coach Tony Granato, however, looks at the big picture. His staff's plan when he took over nearly three years ago was to recruit high-end talent that, once in place, will provide a base for consistent success.
To him, this season was a valuable part in the rebuilding process even though it had more losses than victories. And the top-flight recruiting class that's set to join the team next season is a major piece.
"I don't look at the record. I look at where we're going," he said. "And we've taken the right steps."
The adherence to the long-term plan was tested before the season, which ended Sunday with a Game 3 overtime loss at Penn State in the Big Ten quarterfinals, even began. The Badgers lost center Trent Frederic to a pro signing after his sophomore year one year ago Wednesday.
Forward Sampo Ranta and defensemen Cole and Christian Krygier, all of whom were signed for this season, were denied admission to school last summer.
"We didn't panic and bring other players in just to fix it, to patchwork it to try to salvage something out of this season by adding a player to make this the most important season," Granato said. "What we made it was the most important season for the foundation of what's going to come after."
The Badgers sent one of the country's youngest rosters onto the ice this season and had young roster problems. Inconsistent efforts brought stretches where they won only once in nine games and once in 10 games.
In its last 12 contests when it held a lead in the third-period, UW saw its opponent rally to tie eight times.
The Badgers will be young again next season, with incoming forwards Alex Turcotte, Cole Caufield, Owen Lindmark, Dylan Holloway and Ryder Donovan all being 18 at the start of October and incoming defenseman Mike Vorlicky being 19.
But the Badgers are counting on two of the areas that showed youthful issues this season — penalty killing and goaltending — to be more settled in 2019-20 with players that will be in the roles having more experience.
UW both scored and allowed 89 goals at even strength but was minus-17 on special teams. At 74.3 percent on the penalty kill, the Badgers were last of 60 teams nationally.
Granato gave freshman goaltender Daniel Lebedeff the final 11 starts and 26 of 37 overall to see how he would respond. The results were mixed, with some good outings and five times where he was replaced mid-game.
"We didn't play our goaltenders the way you would play a normal season," Granato said. "We played to develop and grow. And the progress that we made because of that decision is what we're hanging our hat on as being another one of the positives out of this year."
Sophomore right wing Sean Dhooghe led the team with 15 goals, but he was the only player to reach double digits. The only other time in the 56-year modern era of the program UW has had only one 10-goal scorer was 2014-15, when Grant Besse had 11.
Wyatt Kalynuk was named the team's MVP, and the sophomore was only the fourth defenseman in 29 seasons of available records to lead the Badgers in shots on goal. The others — Justin Schultz 2011-12, Brian Rafalski in 1994-95 and Sean Hill in 1990-91 — have won Stanley Cups as part of long NHL careers.
Granato said he's "pretty confident" Kalynuk, a sophomore Philadelphia Flyers prospect, and New York Rangers first-round pick K'Andre Miller will return to the defensive corps next season. Miller, a finalist for the Big Ten freshman of the year award, was twice the national rookie of the month but missed the last nine games with a left leg injury.
Despite missing Miller, the Badgers had a season-best four-game winning streak through the first game of the playoffs. The highlights of the season largely came at the beginning — UW was 4-2 through six games — and the end, with forgettable stretches in the middle.
"It seemed like all year we had some bounces that maybe could have gone the other way," senior alternate captain Seamus Malone said after Sunday's 4-3 overtime loss at Penn State. "But there's nothing you can do about it. There's nothing you can change. We left it out on the ice. We played our hearts out. And I think we ended the season the right way."
UW has fallen from being one of college hockey's perennial contenders, but it's not the only program with a large trophy case that has struggled.
Of the seven teams that have won five or more NCAA championships, only Denver is securely among those who likely will take part in this year's national tournament. Michigan and UW are out, and North Dakota, Boston College, Boston University and Minnesota are trying to keep their seasons going through their league playoffs.
Being a historical powerhouse of college hockey doesn't mean as much in an era of opportunity for other programs to make names for themselves.
But Granato sees the change happening within the Badgers program that he envisioned when he started. He said he would have liked his team to have developed more playoff experience this year but is happy with the program's progress.
Still, that has a limited shelf life.
"If we had another year with this same record next year, I would be very disappointed," Granato said. "The expectations will be different."