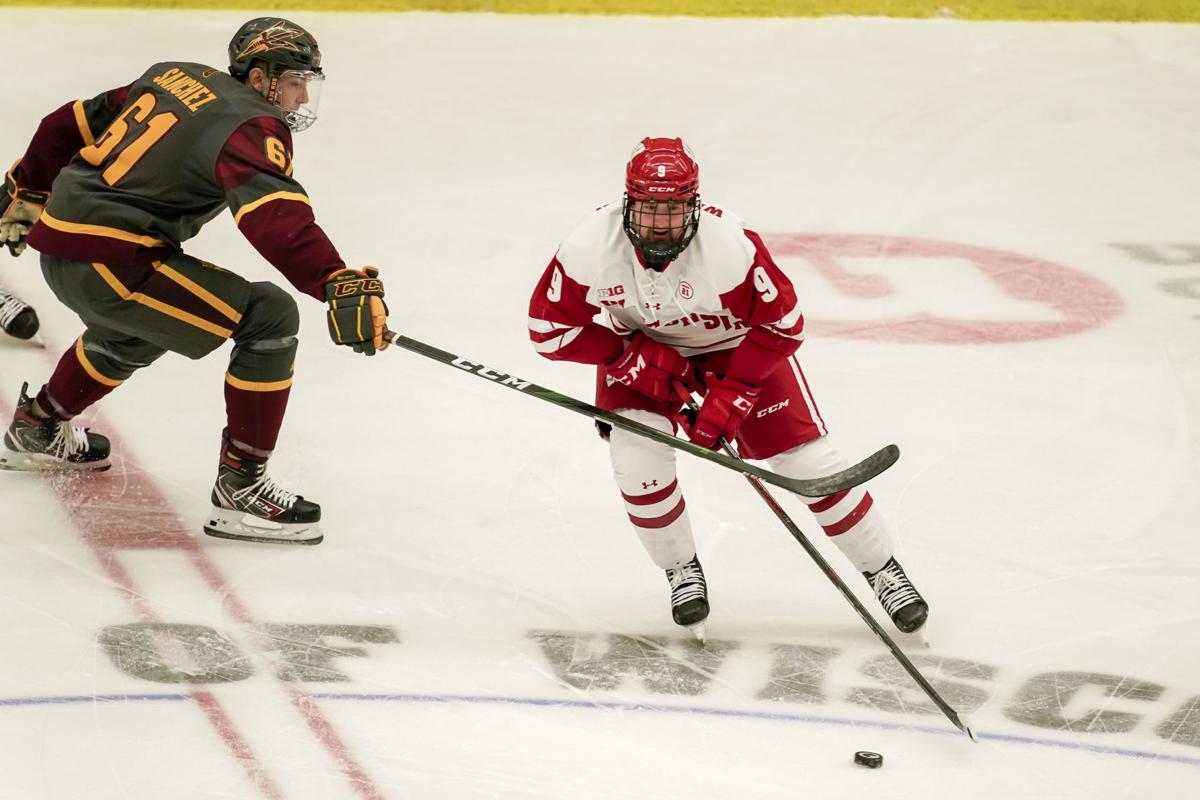 There should be no lack of incentive for the University of Wisconsin men's hockey team against Arizona State this time.
The Badgers left the first series between the teams this season humbled by a pair of losses and irritated by a perceived postgame slight.
That's only part of the landscape for games Friday and Saturday at LaBahn Arena. There are potential NCAA tournament implications for the Badgers, who can decrease the negative impact of two losses to the unranked Sun Devils while they were short-handed in late November.
Non-conference games between teams that aren't historical rivals don't often take place in highly charged surroundings. But the Badgers and Arizona State are due to meet for the fifth and sixth times in the last 12 months, enough to build some animosity.
Asked about motivation from the two losses against Arizona State in the first phase of the season, Badgers right wing Cole Caufield offered a flashback to a Sun Devils player performing a mock sweep of the ice with his stick during a postgame dustup.
"So we'll take that into consideration," Caufield said. "We know who he is."
The TV broadcast of that game indicated it was Sun Devils defenseman Jack Judson, who drew the ire of several Badgers players at the final horn of a 3-1 Arizona State victory Nov. 29 by sticking out his right leg against onrushing Badgers defenseman Anthony Kehrer.
"I think just as a competitor you remember that stuff, some of the gestures they were making at the end of the game," Kehrer said. "Obviously the series didn't go the way we wanted it to. I think it is in our minds this whole week as we prepare."
Arizona State coach Greg Powers recognized that the Sun Devils will meet up with a group that's "champing at the bit" to play his team. And he noted that the Badgers are at full strength in personnel, a far cry Thanksgiving weekend.
"We're going to have our work cut out for us," Powers said.
In a split with No. 1 Minnesota last Saturday and Sunday, the 12th-ranked Badgers had all of their forwards available for the first time since Nov. 14. Second-line center Dylan Holloway missed eight games while trying out for Canada's World Junior Championship team.
The Badgers lost four more forwards — Roman Ahcan, Tarek Baker, Dominick Mersch and Ty Pelton-Byce — because of COVID-19 protocols days before the first Arizona State series. The group of quarantined roommates had to watch from their apartment the games against the Sun Devils and the next series at Ohio State and communicate with teammates through a group chat.
"You want to be on the ice. You want to be able to help your team win games," Ahcan said. "When you can't do that you kind of just have to sit back and accept the fact that you can't do anything about it. Yeah it sucked, but we're past it and we're back now."
How much having a full roster tips the scales in the Badgers' direction remains to be seen in a series that's critical for UW in terms of national perception.
A severe decrease in non-conference games this season essentially has rendered meaningless the objective PairWise Rankings selection formula that has chosen at-large teams for the NCAA tournament since the mid-1990s. While the NCAA Men's Ice Hockey Committee hasn't decided on new criteria to use, it's almost a certainty that subjectivity will be included.
If you're making lists of pros and cons for the Badgers' chances at making the field two months from now, a pair of home losses to unranked Arizona State stand squarely atop the latter. It was the first time in six seasons as a varsity program that the Sun Devils engineered a road sweep of a ranked team.
Teams are being upended by COVID-19 throughout college hockey, so there's likely not going to be much sympathy from the committee for the Badgers' absences contributing to the losses. But UW can negate some of the damage with a strong second series against Arizona State.
"The eye test is going to be really important," Badgers coach Tony Granato said. "I think the committee's going to have to watch lots of these games to determine which teams they feel have earned that right."
If the six members of the committee are watching this weekend, the Badgers said they're going to see a different team than the one that was defeated twice by the Sun Devils.
UW didn't specifically discuss these games as an opportunity to better its NCAA tournament hopes, Granato said.
"We brought up the importance of the games and the fact that we need wins," he said. "We need to play well. And whether we're playing Arizona State or Michigan State or whoever, we've got to find ways to put together some really solid weekends."
Redemption is a motivator, too.
"We don't want anything less than two wins here. That's all we're going for," Kehrer said. "We'll take it game by game, but I think we definitely remember what we felt after that series and we don't want it to be happening again."
Fave 5: Sports reporter Todd D. Milewski picks his most memorable stories of 2020
This group of stories looks back on a Miracle, gets the details on the details of a jersey design and provides a window into an epic journey.