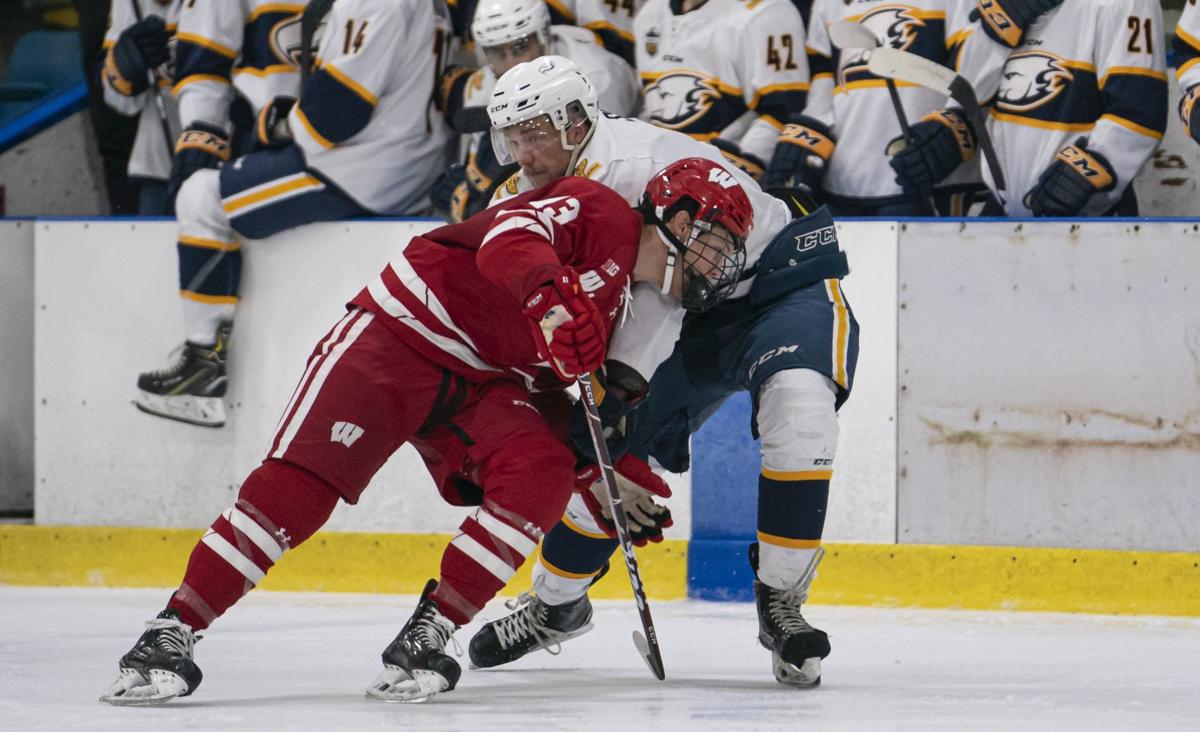 STATE COLLEGE, Pa. — For the second straight series between the University of Wisconsin men's hockey team and Penn State, a player has been suspended following the opening game.
On Friday, it was Badgers sophomore forward Roman Ahcan who got a one-game ban from the Big Ten Conference, which he'll serve in Friday's second game of the series.
Ahcan was issued a major penalty for interference and a game misconduct in the third period of the Badgers' 6-1 loss on Thursday. Instead of going for a loose puck in the corner, he hit Denis Smirnov, causing the Penn State forward to fall back into the boards.
A 6-1 defeat to No. 12 Penn State at Pegula Ice Arena in the Big Ten Conference opener left the seventh-ranked Badgers fuming about their effort and attitude.
Replays appeared to indicate the initial point of contact was Smirnov's chest or shoulder and not his head.
Ahcan is tied for second on the team with nine points and leads the team in plus-minus at plus-10.
His ejection came just 19 seconds of game time after he was released from the penalty box for a minor contact-to-the-head penalty that was reviewed as a potential major. He also was called for roughing after the whistle following the hit on Smirnov.
The 23 penalty minutes he received in the game ranked second in UW's record book, behind Dave Lindeen's 26 in a 1976 game at Michigan State.
"These guys were all over the place tonight," Ahcan said Thursday, apparently in reference to the referees. "We were going in for a battle, and I won the battle. He ended up on the ice, and I ended up off the ice."
Badgers coach Tony Granato said from his perspective on the bench, the play looked like two players going shoulder to shoulder.
"I thought it was two guys colliding, going for a loose puck," Granato said after Thursday's game. "It was a major right away. I'll look at it again. I saw it live, I didn't think a whole lot of it. I know it was in an area near the boards, which you never want to see a guy go down into the boards or anybody get hurt, that's for sure."
Smirnov received attention on the ice and went to the locker room after the play.