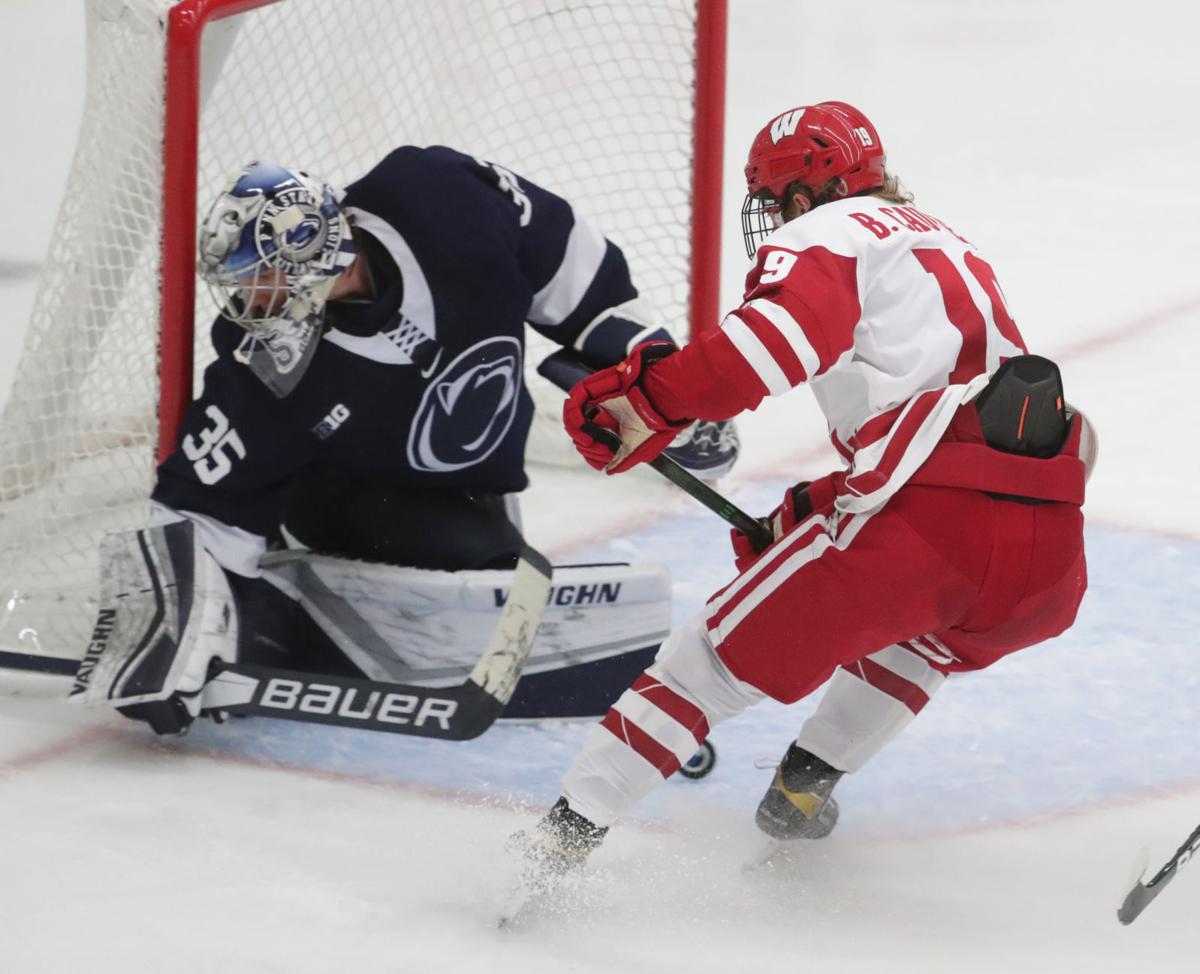 During a trying season for himself and his team, Brock Caufield came to a sobering realization.
He was getting toward the end of his already limited number of shifts on the ice and didn't have the energy in his legs to carry through to the finish.
The University of Wisconsin men's hockey forward made it a goal that a similar outcome wouldn't happen in his junior season. With the position that the Badgers have been put into, they're glad he did.
With five forwards out of the lineup, the work Caufield put in during the offseason has been critical because his minutes on the ice have skyrocketed. He has gone from a lower-line player to the top-line center, a member of the first power-play unit and one of the first off the bench for penalty kills.
A better diet, better conditioning and a dedication to becoming more explosive on his skates were in Caufield's summer formula for making sure an opportunity like this wouldn't be wasted.
"Quarantine was big for me since I got to focus on my body and focus on getting better," Caufield said.
Caufield's changed approach and changing role for the 14th-ranked Badgers again will be in focus on Thursday and Friday as they play a Big Ten series at No. 13 Ohio State.
Coming from different experiences last season, Caufield and his brother Cole moved from their family's Stevens Point home to Michigan for a stretch over the summer to work out at USA Hockey's facilities.
Cole Caufield lived up to his first-round NHL draft pedigree last season by becoming the Big Ten's leading scorer, a first-team all-league selection and freshman of the year.
Brock Caufield was stuck on the fourth line and was dropped from the lineup altogether on five occasions. He scored only one goal and assisted on just two others in limited ice time.
The offseason efforts made him faster and stronger. As a result, he started this season in a better head space.
"I think one of the biggest things I lacked last year was confidence in myself," Brock Caufield said. "You can't just have that; you've got to work for it. I think I did that this summer and it's showing on the ice."
Even before the Badgers lost four forwards to COVID-19 protocols last week, coach Tony Granato was raving about what he saw out of Caufield since last season.
"He came in this summer a whole different kid. Like, holy cow," Granato said. "I don't know if it was the month he spent with his brother in Plymouth or whatever. But his confidence in his shooting, his skating was a whole different level."
Caufield equaled last season's goal total by the second period of the second game of this season. He passed it three games later and has since added a third goal.
Being on the ice more is part of the reason why he's getting more opportunities to score. Playing for the last four games with his brother on one side of the top line and leading scorer Linus Weissbach on the other also is on the list.
Brock Caufield has been on the same team with his brother a few times but has had only limited chances to play on the same line or the same power-play unit.
"It's always great being around him but it's really cool to get to play with him, especially at a high level," Brock Caufield said. "And especially with Linus, too. He's a great player. We're trying to build chemistry and trying to be confident with each other. Obviously, we need to produce more so hopefully this weekend that shows."
The games against the Buckeyes start a road trip on which the Badgers will play four games in seven days. Cole Caufield will miss the back half of it and games Dec. 8-9 at Michigan State because the U.S. World Junior Championship camp starts Sunday.
That'll be another sharp curve in a winding first month of the season that for UW has included the last six games without center Dylan Holloway (Canada's World Juniors camp), five without center Ty Pelton-Byce (concussion and then COVID-19 protocol) and two sans forwards Roman Ahcan, Tarek Baker and Dominick Mersch (COVID-19 protocol).
The Big Ten altered its policy this season to waive travel roster size limits when a team is playing multiple road series on the same trip. That doesn't mean much right now to the Badgers, who were scheduled to travel Thursday with 20 players, two shy of the maximum allowed to dress for a game.
Players are in new roles and have to adjust quickly. Brock Caufield is one of the primary examples.
"You've got to have confidence in where you're put at and trust your teammates," Brock Caufield said. "Because we're put in this position and we've got to win games. That's what we're focusing on."
Get ready for Wisconsin Badgers men's hockey season with State Journal's in-depth coverage
Wisconsin State Journal reporter Todd D. Milewski breaks down everything Badgers fans need to know about the University of Wisconsin men's hockey team, the competition the Badgers face in the Big Ten, and other stories to watch during the 2020-21 season.