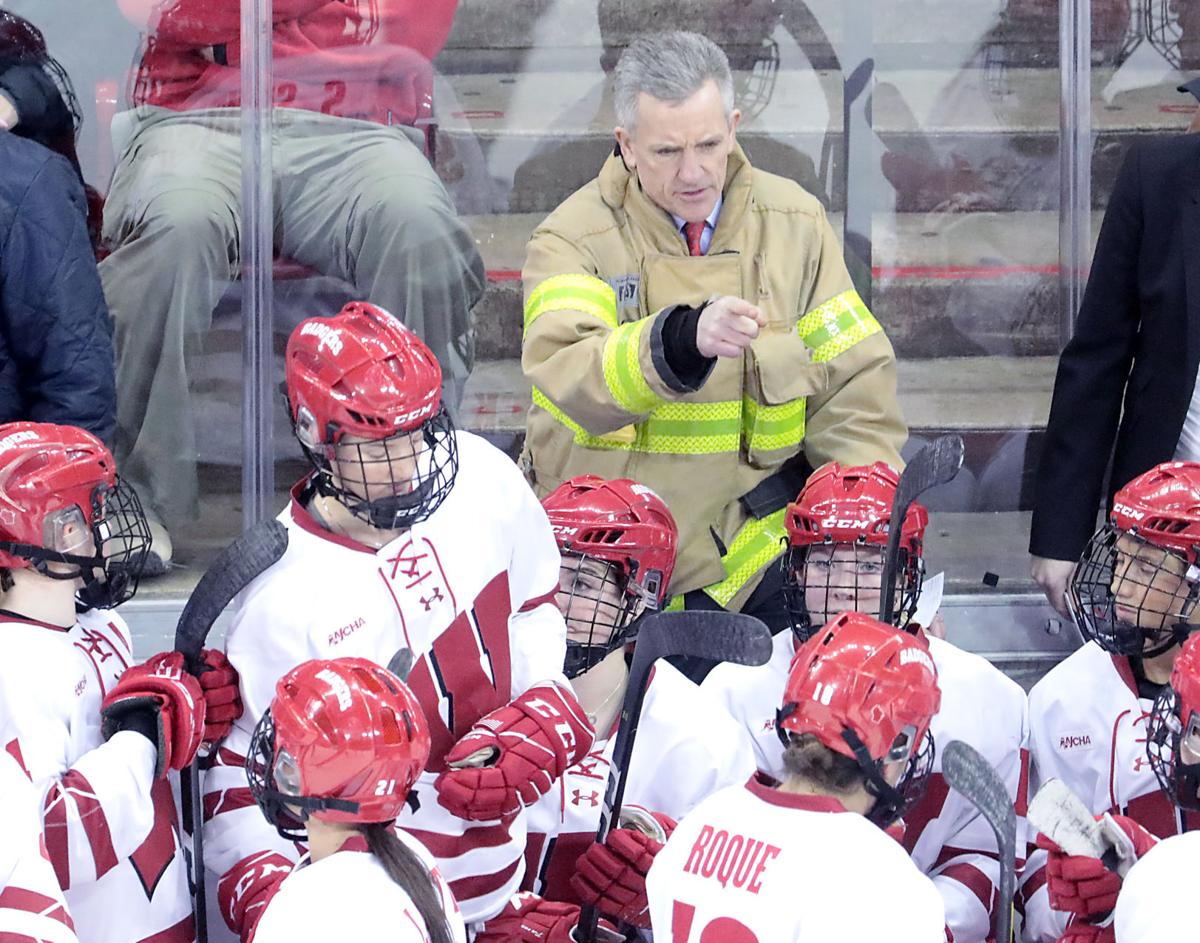 Mark Johnson watched some of his grandkids shuffle puzzle pieces on Christmas Eve and sympathized with the situation.
To be clear, the University of Wisconsin women's hockey coach doesn't have a 500-piece task ahead of him in building next season's roster. Unlike for the kids around his kitchen table, however, the number of pieces he's assembling seems to be a moving target and some might go missing before the job is done.
The Badgers on Tuesday announced three players in their signing class for the 2021-22 season: forwards Marianne Picard and Sarah Wozniewicz and defenseman Caroline (KK) Harvey.
But in discussing the incoming group, Johnson couldn't overlook the two elephants in the recruiting room. How many of the team's eight seniors will seek to use the extra year of eligibility allowed by the NCAA? How many of the top-ranked Badgers' stars will be plucked from the team for Olympic-year centralization?
He doesn't have clear answers on either — and may not for months. But in the three players that signed a National Letter of Intent with the Badgers last month, Johnson said UW should have college-ready talent.
"They'll be ready to go and having that international experience helps them I think probably more so with that group coming in this year than other kids," Johnson said. "Just because everybody's recruiting class that's coming in next year, you don't know how much hockey they've played."
Just like the Badgers have been limited to two games played as the schedule moves into 2021, the in-game development of recruits has been stalled for many teams.
Harvey, Picard and Wozniewicz all played in the 2020 Under-18 World Championship. Harvey was named one of the top three players for the gold medal-winning U.S. and later was the youngest player invited to a senior team evaluation camp.
Picard and Wozniewicz won silver with Canada. Wozniewicz plays at the Edge School for Athletes in Calgary, Alberta, for coach Carla MacLeod, a former Badgers player.
The Badgers also originally had a nonbinding oral commitment from Massachusetts forward Christina Vote for the 2021-22 freshman class. Her coach with the East Coast Wizards program, Scott Fusco, said Vote recently changed her commitment to Boston University.
Three players are due to enter the roster, but Johnson doesn't know how many will depart the 24-player group after this season. The NCAA has issued a waiver that doesn't count 2020-21 against anyone's eligibility clock, but it's up to each school and team to determine how that will work within scholarship limits.
UW has five forwards, two defensemen and a goaltender in its senior class. Johnson said he'll start to have individual discussions with those players in the coming weeks about their interest in returning.
"The one thing for sure is they're all not going to be able to come back," he said. "Some of them are going to want to move on, depending on the scholarships and what's going to be able to be done and what administrators want to do."
Johnson said at UW, football, men's basketball and men's hockey seniors might get preference for returning.
"Rightfully so, because we need those teams to be successful," he said. "And if there's a senior within that group that wants to come back and is going to help them be successful next year, they, in my opinion, should be able to do that. And so I think each individual case we'll talk about how comfortable the coaches are with it."
Forward Daryl Watts, the nation's leading scorer last season, is in the union of the Venn diagram of seniors who could have another season and those who could be in the mix for an Olympics spot.
Johnson wondered aloud whether Watts and fellow Canadian forwards Sophie Shirley would be part of a season-long centralization program leading up to the Games. The same question exists for U.S. forward Britta Curl, who was picked for last April's World Championship team before the event was canceled because of the pandemic.
"If I knew right now that they're going to be centralized, then my puzzle would be easier to put together," he said. "Those questions, I don't have answer to and probably won't until I'm guessing some time in June. So that makes my puzzle a little bit more confusing because now I'm trying to put it together, but I don't have enough pieces to put it together."