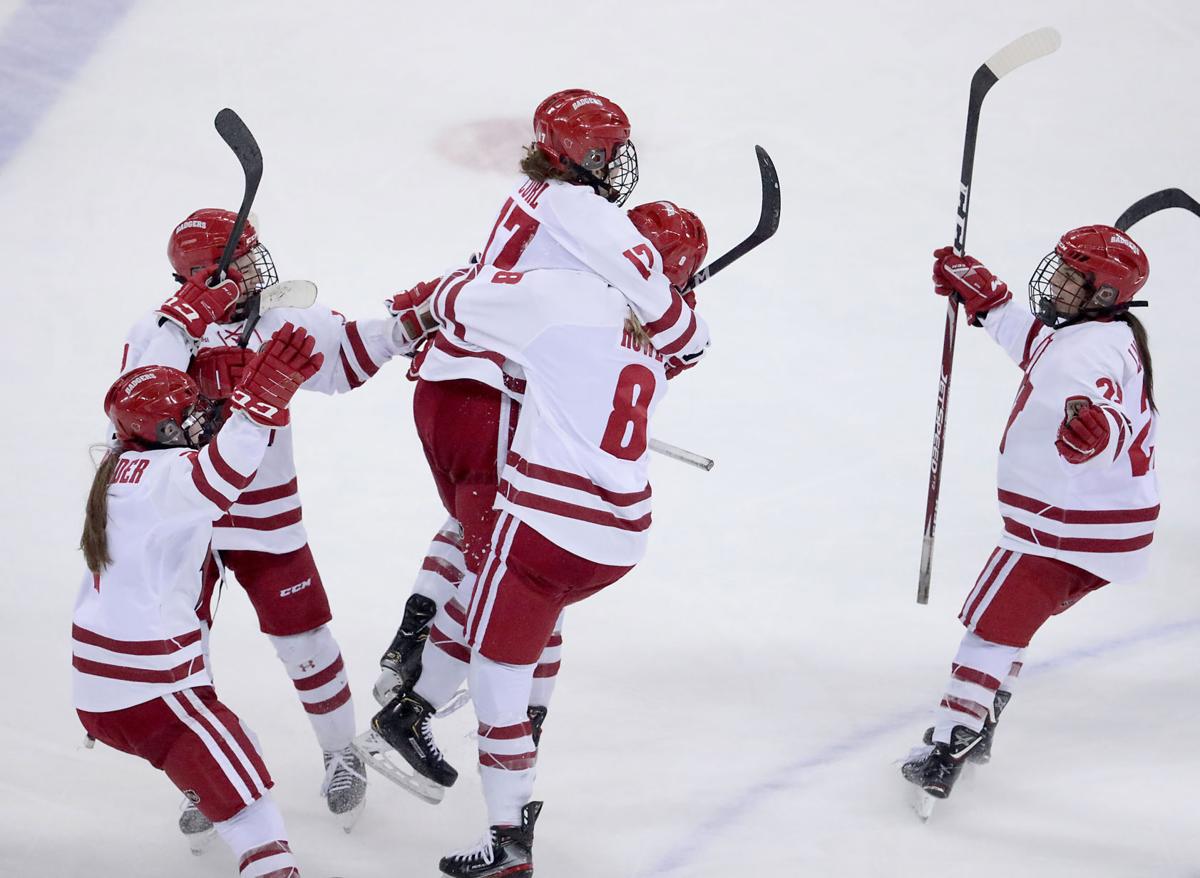 The University of Wisconsin women's hockey team's series at Minnesota was postponed Friday, less than 12 hours before it was supposed to begin because of at least two positive COVID-19 tests in the program.
UW and the Western Collegiate Hockey Association announced Friday morning the Friday and Saturday games between the top-ranked Badgers and the No. 3 Golden Gophers will be rescheduled later in the season.
Two Badgers players were confirmed positive for the coronavirus, senior associate athletic director Jason King said, and the school is awaiting results on one other player.
No UW women's hockey coaches or staff members have tested positive, King said.
The Badgers hadn't yet left Madison for Minneapolis when UW medical officials recommended to King on Friday morning the team call off the games.
The team's bus trip originally was scheduled for Thursday but was pushed back before being scrapped as the Border Battle joined a growing list of hockey games pushed back or wiped out because of the coronavirus.
"As we've seen around the country and in every sport, no one's immune from it," WCHA commissioner Jennifer Flowers said. "We can have the best protocols in place and, to be honest, the virus doesn't really care. I don't think anyone is surprised. Disappointed, no doubt. Obviously we all want to be playing as much as we can. When those opportunities get lost, it's disappointing."
Four of the 14 series that were part of the WCHA's initial schedule release through Dec. 19 have been postponed, impacting six of the league's seven teams.
Ohio State on Thursday called off its home series against the Gophers scheduled for Dec. 11 and 12 because it won't have enough players to meet minimums established by the WCHA.
The WCHA women's league requires in its return to competition protocols that 15 players, including at least one goalie, be available for a team to compete. The Buckeyes have 17 skaters and four goalies on their roster.
This weekend's WCHA series between Bemidji State and Minnesota State was postponed Monday because Bemidji State hasn't completed the league's protocols.
Nationally, nine of 41 women's teams and nine of 61 men's teams have canceled their Division I hockey season entirely because of the coronavirus.
The UW men's hockey team hasn't postponed any games but has been without four players for the last three contests because of COVID-19 protocols. One tested positive and the other three were considered close contacts.
Players who test positive must sit out of practice and competition for at least 21 days and undergo cardiac screening under Big Ten protocols. Close contacts to the person who tested positive are required to quarantine for 14 days even if they test negative.
Players from Big Ten schools test for the coronavirus six days a week using rapid antigen screenings. A positive result is confirmed using PCR testing.
A Badgers women's hockey player had a confirmed positive COVID-19 test earlier in the week, King said. The rest of the team was given PCR tests Thursday and another player came back positive. The roommate of one of the two who tested positive was quarantined and is the third person who was awaiting test results Friday.
UW is not identifying players who test positive or are quarantining as close contacts.
In a video call with reporters Monday to look ahead to the meetings with the Gophers, Badgers coach Mark Johnson offered a skeptical note because of a rising number of cases in Minnesota, where the games were scheduled to be played.
"So my big concern gets to be are we going to play Friday and Saturday?" he said. "We're preparing today to do what we need to do to get ready to get on the bus Thursday and go up and play against Minnesota Friday and Saturday.
"But as we all understand and probably all are doing is really taking one day at a time. When you get games in, that's a real bonus for your players and certainly for the other team you're playing against."
The status of the Badgers' home games against Minnesota Duluth on Dec. 11 and 12 and Ohio State on Dec. 18 and 19 has yet to be determined, King said.
"We take our direction from our medical personnel," he said. "They'll be the ones that direct us on where we go from here."
The WCHA has announced only the schedule for the pre-Christmas portion of the pandemic-delayed season.
---
Photos: Check out Badgers' 2019 NCAA championship rings