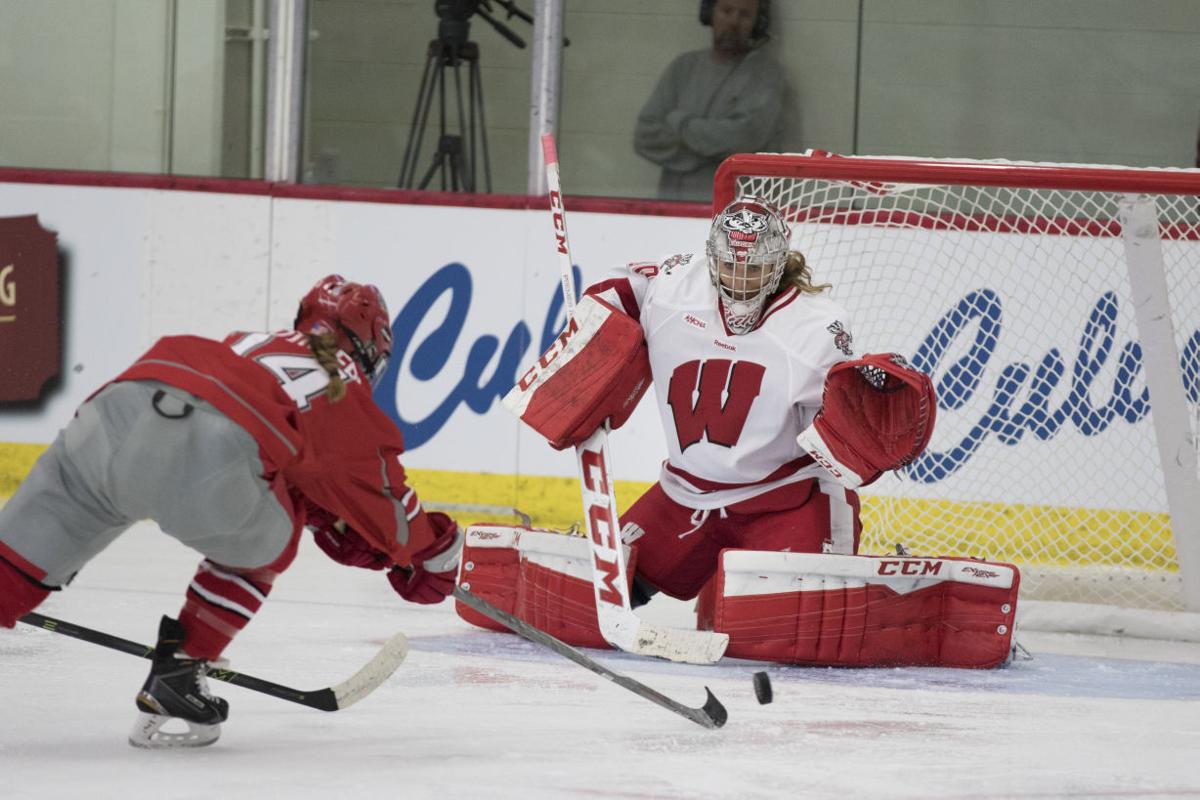 The University of Wisconsin women's hockey team could consider itself lucky that record-setting goaltender Ann-Renee Desbiens will miss only a few weeks because of a knee injury.
Things could have been much worse for Desbiens, the national leader in most goaltending statistics, and the top-ranked Badgers.
The senior is expected to miss four to six weeks with a left knee injury she suffered playing for Canada against the United States last Saturday.
Because the Badgers are off for the next two weekends for the end of the fall semester and the holidays, and with a non-conference series to open the second half, Desbiens could miss as few as two Western Collegiate Hockey Association games.
The injury looked serious when it happened in the first period of a nationally televised game in Plymouth, Michigan.
Desbiens went into the butterfly — knees on the ice and legs out to the sides — to face a slap shot by Team USA's Jocelyne Lamoureux-Davidson. When the puck trickled slowly behind her, she turned to look over her right shoulder and it appeared that her left knee buckled.
She was helped off the ice and underwent testing in Canada and more after returning to Madison. She's expected to continue to undergo testing and rehab in the coming weeks.
Desbiens leads NCAA hockey in goals-against average (0.75), winning percentage (.906) and shutouts (eight) this season.
No. 1 UW (17-2-1) returns from the break with a series at Lindenwood on Jan. 6-7, then hosts St. Cloud State on Jan. 13-14. A four-week absence would bring Desbiens back for the Jan. 21-22 series against North Dakota, while a six-week return would be Feb. 3-4 at Bemidji State.
The Badgers close the regular season with series against the other two teams in the top three of the WCHA standings: at home against Minnesota Duluth and at Minnesota.
Desbiens' injury evoked memories of one suffered by her UW predecessor, Alex Rigsby, in 2013.
Rigsby, who was the U.S. goaltender in the game Saturday in which Desbiens was injured, missed six weeks of the 2013-14 season because of a knee injury suffered on Nov. 30, 2013, at Minnesota Duluth.
Desbiens, who filled in for Rigsby for the Badgers in 2013-14, now has suffered two missed-time injuries this season.
On Oct. 29, she took a knee to the head in the final minute of a game at Minnesota State and suffered a concussion.
Desbiens played the following weekend at home against Bemidji State, earning two shutouts to take over the NCAA's career record. But she didn't travel for Nov. 18-19 games at Minnesota Duluth, and she also missed the following weekend's non-conference home games against Cornell.
Freshman Nikki Cece started those four games, going 3-1 with a .907 save percentage and 1.75 goals-against average.