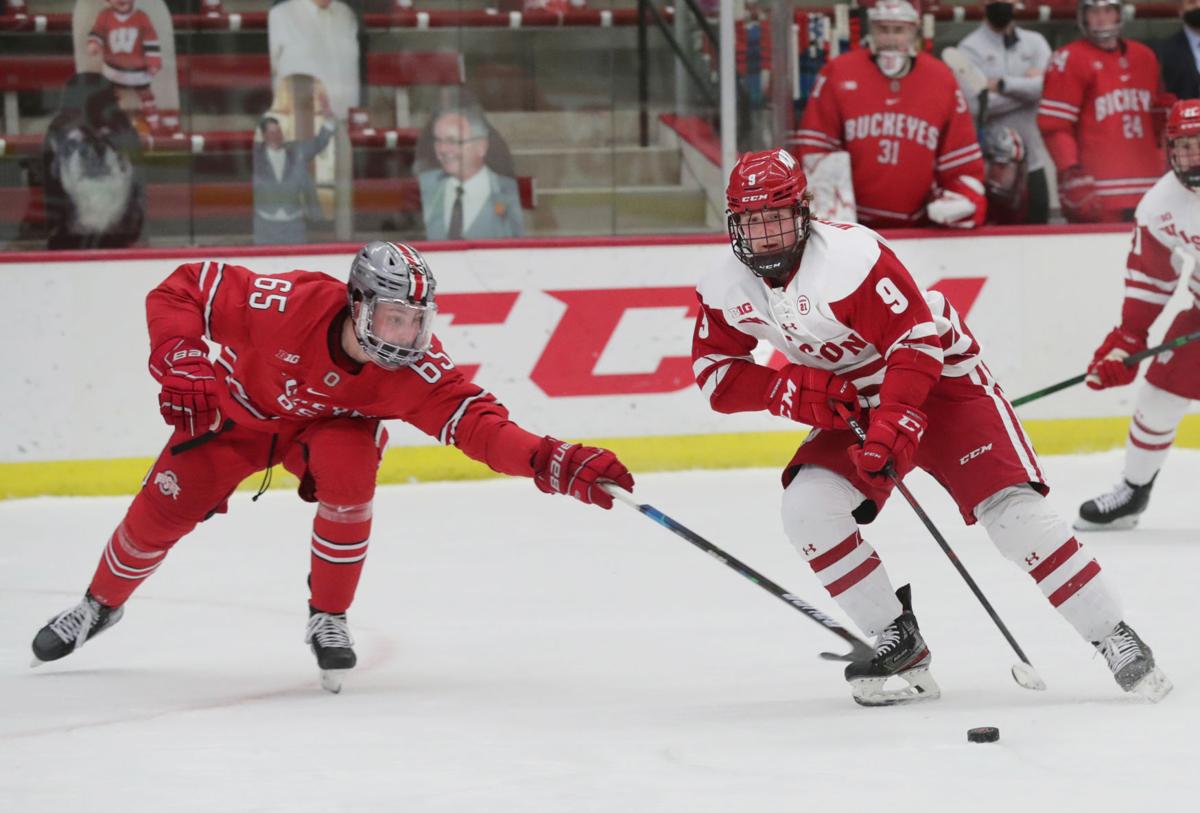 The specific brand of winning engineered by the University of Wisconsin men's hockey team in the 2020-21 season is not easily repeatable when the pieces scatter.
The combination of a once-in-a-generation leading scorer, a similarly rare power play and a motivated and motivating group of captains provided a narrow window for success.
Has it closed? The Badgers hope not, but the departure of key players mean they'll have to go about things in a much different way when next season arrives.
The scale probably will need to tilt from highly skilled to gritty for UW to return to the NCAA tournament in 2022. The team already has lost two of its top six forwards from this season; two more could be on the way out.
Sustainable college hockey programs can shift along with their roster makeup and take advantage of whatever a strength is in a particular season. The Badgers have to prove they're more than Cole Caufield and Co. to show their return to national prominence was more than a one-shot deal.
"I think that the blueprint of what the locker room's like and what our core values are as a group are in place," coach Tony Granato said. "Now it's our job as coaches and returning players to continue what we started this year and build on it."
The Badgers seemed to miss a great opportunity to reorient the program in 2020 when a collection of high-end talent finished in last place in the Big Ten. That experience gave the team's older players a pivot point that they used to keep the 2020-21 season on track. A Big Ten title and the team's first trip to the NCAA tournament in seven years resulted.
Losing Caufield to the pros after a likely Hobey Baker Award-winning sophomore season means another course change for the team. His center on the top line, senior Ty Pelton-Byce, also has departed.
Sophomore center Dylan Holloway, like Caufield a Hobey finalist, is deciding when to sign with the Edmonton Oilers after he used his speed and power to post 33 points over his final 19 games. Top line left wing Linus Weissbach, a senior, has a bonus year of eligibility because of the pandemic but also might look toward a pro career.
Caufield, Pelton-Byce, Holloway and Weissbach were responsible for 55% of the goals scored by UW this season. All four were part of the top power-play unit for a team that led the country with a 31.6% conversion rate.
"We're going to have to be better next year in different areas," Granato said. "We're not going to score probably 33% on our power play. That happens once every 20 years. So we're going to have to contribute and score different ways. We're going to have to be a different type of team."
If the Badgers are looking for a different way of scoring than quick-passing, pinpoint-shooting, highlight-reel goals, they're looking for more hard-working efforts from the likes of forwards Roman Ahcan, Dominick Mersch and Owen Lindmark.
UW could get back senior center Tarek Baker for his bonus season of eligibility. Senior defensemen Tyler Inamoto and Josh Ess are believed to be considering a return as well.
Heavy turnover could happen at the center position if Holloway and Baker join Pelton-Byce in not returning. Granato said incoming freshmen Caden Brown, Liam Malmquist and Brayden Morrison all are candidates to play down the middle along with returners Lindmark, Mersch and Brock Caufield.
Granato didn't rule out a look at the transfer portal to fill a position of need, though the Badgers would be better served to know who's coming back first.
More than 5% of college hockey players sought a move to a new team in March alone, and that avenue has paid off before for UW. Goaltender Robbie Beydoun arrived from Michigan Tech last offseason and helped stabilize a wayward position.
The exact makeup of the next roster might not be clear for a while, but Granato already knows the group will have to evolve.
"Next year we might have to be a team that's going to grind it out, be more patient, score more goals on the forecheck, be a grittier team, be a dirtier team around the net, things like that," he said. "We're going to have to adjust to what's needed to help us be successful."