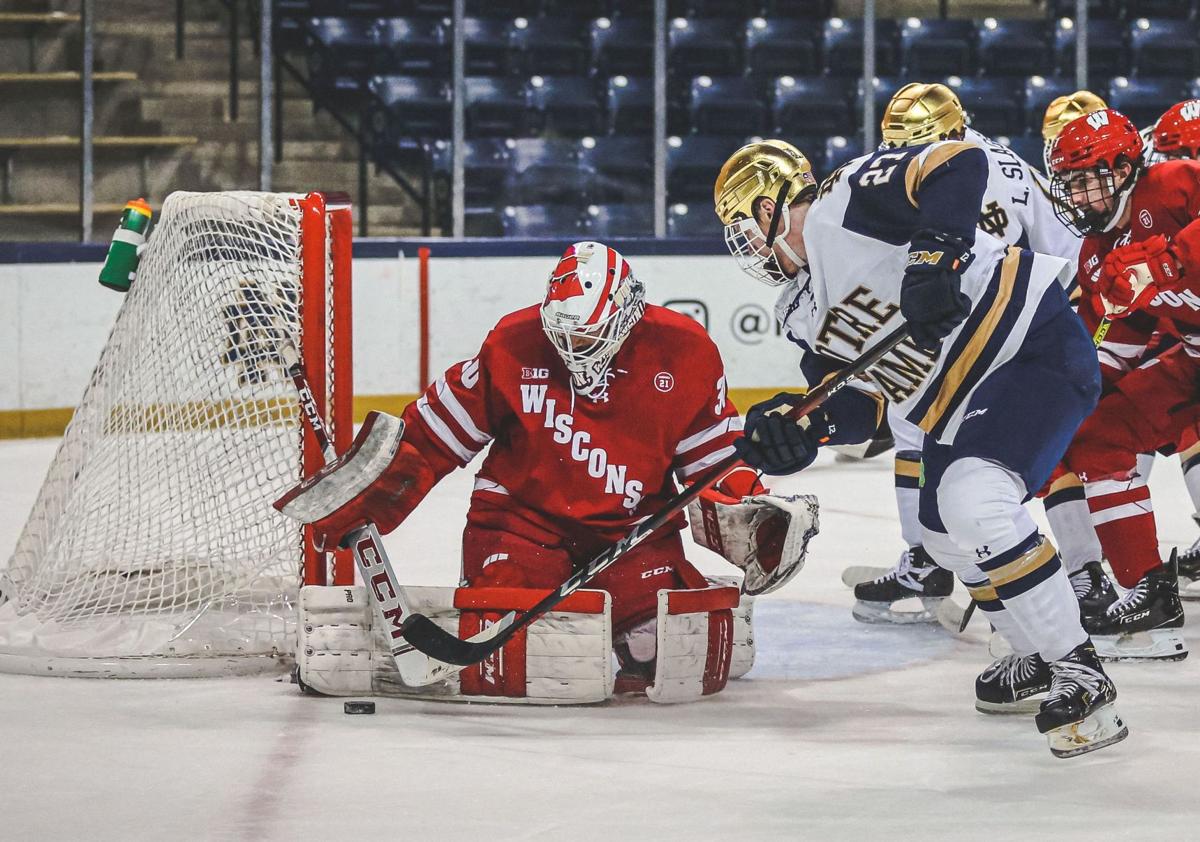 There's some extra time built into this week's schedule for Robbie Beydoun to look back before he looks ahead.
Beydoun and all other members of the University of Wisconsin men's hockey team have to quarantine in their Connecticut hotel from arrival Tuesday until two COVID-19 tests come back negative.
Three years ago, Beydoun was in Bridgeport for an NCAA tournament regional as a freshman backup goaltender for Michigan Tech.
One year ago, he was contemplating his future after entering his name into the transfer portal.
"It's pretty cool how it's coming full circle," Beydoun said. "Just seeing how much I've grown since the last time I was there. It's going to be a special experience specifically for me, too, just reflecting on the journey I've been through in my college hockey career."
Beydoun is scheduled to start in the Bridgeport regional opener against Bemidji State on Friday as UW continues a goalie rotation that has lasted nearly two months.
If the Badgers get past the Beavers and face either UMass or Lake Superior State on Saturday, it'll likely be freshman Cameron Rowe in the crease with a spot in the Frozen Four on the line.
Rowe was pulled from the Big Ten Championship Game against Minnesota on March 16 after allowing five goals in just over 38 minutes. But coach Tony Granato didn't pin the loss on Rowe, and his commitment to extending the life span of the platoon is evidence of continued faith in both goalies.
"Both of these guys have been very reliable and dependable and very confident all year," Granato said.
Beydoun didn't play in Bridgeport in the 2018 regional as Michigan Tech took top seed Notre Dame to overtime before losing. He started only 23 games over three seasons with the Huskies — three of them against Western Collegiate Hockey Association foe Bemidji State.
He played for the last time in his freshman and sophomore seasons against the Beavers, going 0-3 with a .902 save percentage and a 3.71 goals-against average.
What Beydoun remembers about Bemidji State is a similarity to a lot of WCHA teams: "Very hard working," he said. "They grind. They get bodies to the net. They get pucks on net from everywhere."
Managing the traffic around him and controlling rebounds are paramount, he said.
Beydoun and Rowe have been major parts of the Badgers' reversal of fortunes this season, and for the veteran it has been a good outcome for a graduate transfer year.
"It was really exciting for me just having the opportunity to come in and help turn around a team," Beydoun said. "I think that's something that everybody came into this year with, just that mindset of being sick of losing."
A Venn diagram of Division I men's hockey teams whose top two goalies both have a .920 save percentage or greater (five) and teams that split playing time with both getting at least a third of the minutes (11) has only the Badgers in the union.
A UW goalie hasn't posted a .920 save percentage since Joel Rumpel in 2013-14, the previous time UW made the NCAA tournament. Rowe is at .934, Beydoun at .922.
Rowe said his start against Minnesota in the Big Ten tournament final was "a tough pill to swallow" even without the added baggage of knowing there was a trophy on the line.
He said he abided by the 24-hour rule, whereby all is forgotten within a day of the outcome.
"For me, that next ice session has always been huge, where you're like, OK, I actually have moved on," Rowe said. "Because in that time you're not in your own head but you're thinking the last time I skated this was the outcome. But practice has been solid this week."
The Badgers' goalie platoon started the week after the only other time Rowe was pulled from a start this season, a loss at Penn State on Jan. 22. Since, Beydoun has started the first game of a series and Rowe has gone in for the second. UW is 11-2-1 over that stretch.
Beydoun has a .947 save percentage — fourth-best in the country — and two shutouts in seven starts during the rotation.
"It's just been a lot of fun," Beydoun said of his senior season after transferring. "Obviously, getting first place in the regular season, it's something that'll be cool to look back on. It's really just been more about the joy of coming to the rink every day and just getting to compete with these guys. That's what's been most special to me."
Look back on State Journal coverage of Badgers men's hockey games in the 2020-21 season
Read stories from University of Wisconsin men's hockey games in the 2020-21 season.