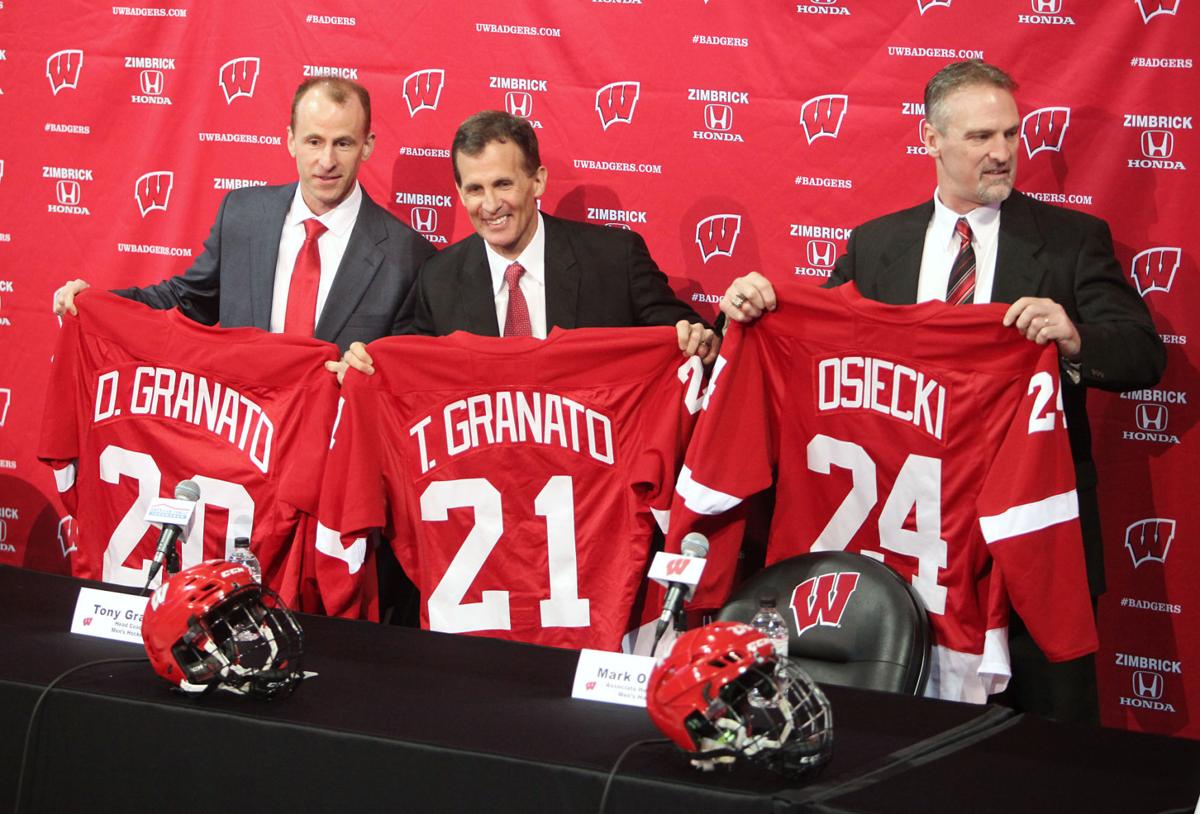 When Barry Alvarez began his search for the successor to Mike Eaves as University of Wisconsin men's hockey coach, his short list consisted of three names.
Wednesday afternoon one name not on that list, Tony Granato, was officially introduced as the fifth head coach in the program's modern history.
The selection process culminated with a combination news conference/pep rally at the Kohl Center, with Granato flanked on stage by two of those men whose names were on that original short list — his brother Don and Mark Osiecki, who were introduced as his associate head coaches.
For Badgers fans who have become demoralized over the past couple of dismal seasons, the trio represents hope of restoring the program to its former glory.
"It's a very unique hire," said Alvarez, the UW athletic director. "As I told them today, all but one of them was on my short list. Tony wasn't on my short list.
"Everyone that I talked to that I relied on, they all started the same way — 'Tony's the guy but he won't be interested because he's an NHL guy.' Then Oz and Donny and Mark Johnson, those are the guys that everyone I talked to, those were the names that came up.
"So we have every one of those guys in the program today. That's what makes it special. I think it brings excitement and energy to the program and we like to share that with the hockey fans and those that care about Wisconsin hockey."
Count Tony Granato as one of those who cherishes Badgers hockey and everything the program represents.
When Alvarez first contacted him seeking input on the position, Granato suggested his brother and Osiecki along with Johnson (who remains as UW's women's hockey coach) as logical candidates. And then Alvarez asked if he had any interest in the job.
"My initial reaction was, absolutely, but only on the condition that I could bring these two guys with me as my associate coaches," Granato said. "These two guys are the final piece on why I'm here."
But the biggest incentive was the opportunity to come home and lead the program for which he was a standout player from 1983-87.
"From the moment I left campus, always in the back of my mind and in my heart was, 'Please someday end back up in Madison,' " Granato said. "To come back and be part of the program again, I can't tell you what it means to me. Badger hockey, even though I've been out of the program for a long time, has never left my heart. I've followed it; I've cheered for it.
"The hockey players and the alumni and the people who have been involved in the program ... we have a special bond, a brotherhood, a fraternity of something that is really hard to leave. It's been with me ever since the day I left and to be back here representing that group as the next head coach means a lot to me."
When the notion of putting this coaching group together first took shape, it didn't take any arm twisting to get his brother or Osiecki to go along with the plan, even though each had good jobs. Don Granato has been coach with the U.S. National Team Development Program and Osiecki has been an assistant with the AHL's Rockford IceHogs, an affiliate of the Chicago Blackhawks.
"This is not a job you turn down," Don Granato said. "All three of us had pretty good jobs. We didn't need to leave our jobs. When Barry called Tony and Tony in turn called Mark and I, never mind those pretty good jobs. This is a great job.
"We feel that we'll be able to do something special here. The three of us have talked about coaching together for a long time ... a lot of fishing trips, a lot of golf courses."
Likewise, Osiecki said there was no hesitation to jump on board.
"This athletic department feels like family," he said. "The thing we talked about is, 'How much fun is it going to be to pull up to the Kohl Center each day?' There's nothing better than that. We've all worked in different areas; they've all been great. This is special."
The past couple years, however, have been anything but special as the Badgers endured the two worst seasons in its modern history. But Tony Granato believes things can turn around quickly, citing the tradition, facilities and fan base as substantial assets. And it all starts with recruiting.
"We're going after the best recruits and we're going to get them," he said. "I can't imagine a kid walking on this campus and wanting to go anywhere else."
He figures his staff will give him a leg up in that process. Don Granato has been coaching many of the top young players in the country and Osiecki developed a reputation as a great recruiter in his previous six-year stint as an assistant under Eaves at UW.
"Mark has a history of finding superstars that are still playing in the NHL," Tony Granato said. "We're looking for those type of players, that understand what the brotherhood of Badgers means, what it means to be a Badger.
"We want those guys that have that pride and the same feeling that I have, that the Suters have, that Scott Mellanby (has), the Richters, Mark Johnson ... everybody that's come through this program has something special that they will have with them the rest of their lives."
Don Granato will be in charge of the day-to-day operations of the program initially, as his brother and Osiecki finish out the seasons with their current teams. The Detroit Red Wings are in a battle for an NHL playoff spot with five regular-season games left.
But Tony Granato is also looking forward to getting on with the next step in his coaching career.
"I love my job in Detroit," he said. "I wanted to come home. When someone said, 'Why would you leave the NHL?' I said because I'm going back to Madison. That was an easy answer. I get to be a Badger again."