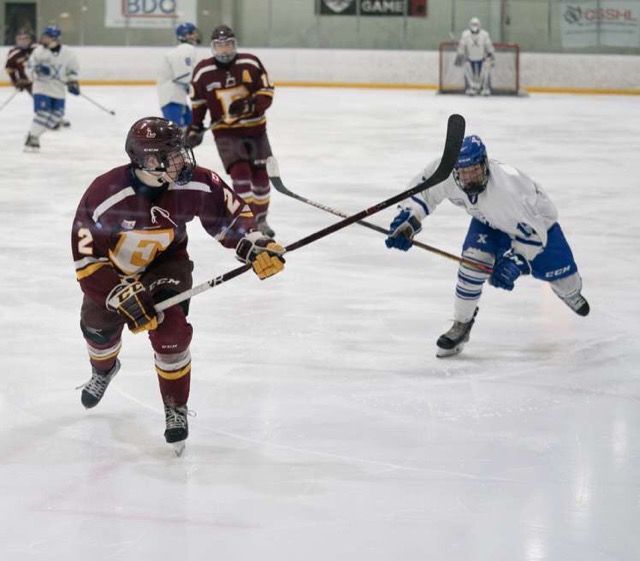 Aiden Fink grew up watching future NHL players develop through the major junior Western Hockey League in Alberta. There may have been a point when he saw himself taking that path, too.
Instead, the 15-year-old forward now sees himself going through NCAA hockey. Fink announced his nonbinding oral commitment to the University of Wisconsin, likely for either the fall of 2022 or 2023.
"I just thought I needed some more growth, more development," he said.
At 5-foot-9 and 149 pounds, Fink is going to camp with the Alberta Junior Hockey League's Brooks Bandits in September but also could play another season with the Northern Alberta X-treme in the Canadian Sport School Hockey League.
He's part of a trend of the Badgers recruiting Alberta players after a stretch when few came to Madison.
From 2005 to 2019, only two players from Alberta dressed for the Badgers: goaltender Scott Gudmandson (2007-11) and forward Cameron Hughes (2015-2019).
Since late 2016, when UW sophomore Dylan Holloway committed, four other Albertans have done the same: defenseman Corson Ceulemans in 2018, forward Brett Moravec in 2019, forward Brayden Morrison just after last Christmas and now Fink.
Fink said he heard from a handful of NCAA schools but the Badgers came in with an offer once rules allowed it at the start of August.
He said the Badgers coaching staff was the best fit for him.
"They get my game and they know how I play," Fink said.
He said his game is based on intelligence, skill and being hard on the puck.
In 29 regular-season and playoff games for Northern Alberta last season, Fink had 16 goals and 45 points. He said he has mostly played right wing in recent years.
As is common with 11th graders who commit, the timeline for Fink's arrival at UW is uncertain. He knows he needs to add weight over the next few years, whatever level he's playing at.
And he'd rather be a top performer at the junior level before considering making the jump to college.
"I don't really want to come into college when I'm playing bottom-line minutes when I could be in junior playing top line," Fink said.
Bohlin out
Wausau forward Josh Bohlin is no longer committed to the Badgers. He committed to the Badgers in 2017 but said the ending of the relationship was a mutual decision between him and the coaches.
Bohlin played for the North American Hockey League's Minnesota Magicians last season.
---
Wisconsin Badgers men's hockey recruiting tracker
As players give oral commitments to the University of Wisconsin men's hockey team, we'll add them here with their stats.
Players are listed in the order in which they committed.