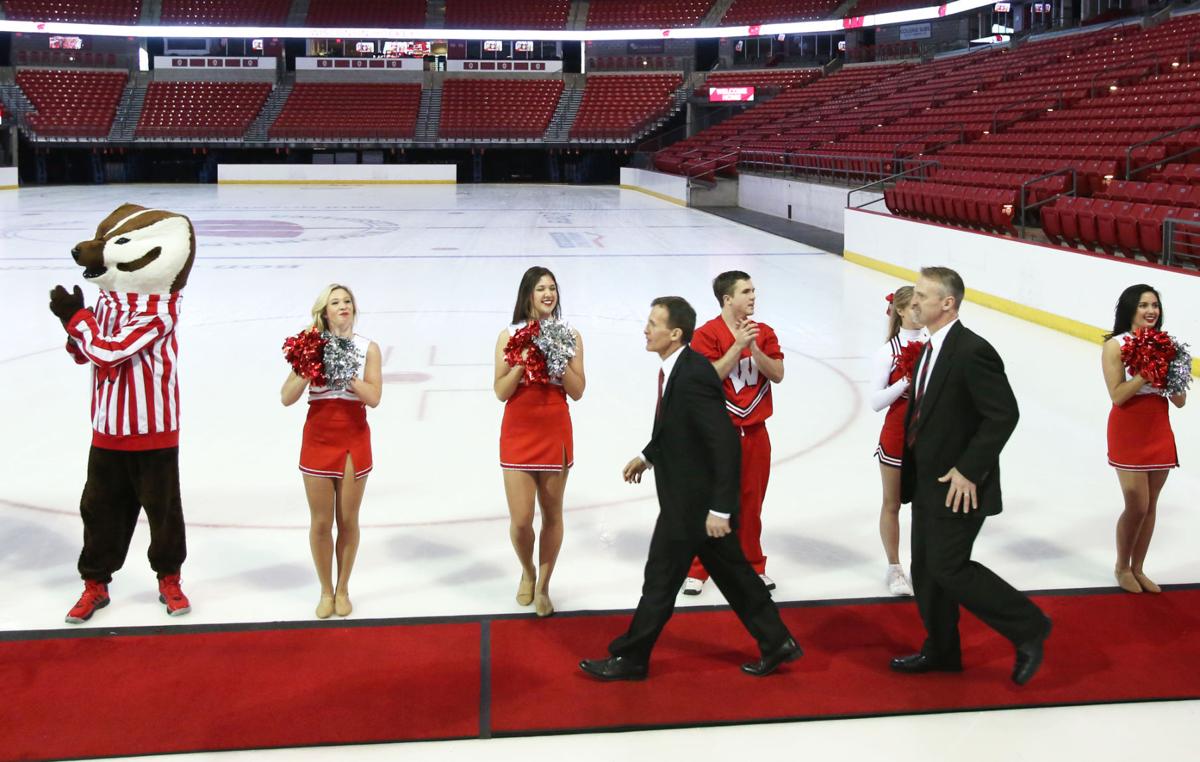 A recurring theme during the introductory news conference for University of Wisconsin men's hockey coach Tony Granato and his staff Wednesday was their determination to bring in elite level recruits in the coming years.
But for the immediate future, a good portion of their success will be determined by the group of players who were sitting in the stands at the Kohl Center along with a couple hundred fans.
For the most part, the incoming coaches and the returning players know each other mostly by name and reputation. But both sides of the equation expressed excitement at the prospect of getting to work at putting the program back on the right track.
"It's really exciting," sophomore forward Cameron Hughes said after the news conference and before the first team meeting with the coaches. "I'd heard of them but I didn't know too much about them. I just knew they had NHL experience.
"As soon as it happened, I had like 10 texts from people back home saying how lucky you are, how special it's going to be. Everything I've heard has been really awesome."
Granato said he had some familiarity with the players he's inheriting from former coach Mike Eaves and he watched them play this season when they came to Michigan, where Granato is an assistant coach with the Detroit Red Wings.
"There are some really good players," Granato said. "There are some good pieces in place. What needs to be done and will be said today, is the expectations individually and as a group need to be raised. The last results the past two years haven't been good enough for Wisconsin hockey. We're going to address that from the standpoint that we've got to be better.
"We're going to put together a plan that's going to be in place for these guys over the next 185 days before the first day of practice next year that there are things that they can do to make sure that they're ready for the challenge and opportunity that they're going to have. We have some great student-athletes here. We'll try to add to that and bring in more that can help them along the way so we can get to the level that we need to."
Luke Kunin, a Big Ten Conference all-freshman team selection this season after leading the team with 19 goals, has an advantage on most of his teammates, having played for new associate head coach Don Granato with the U.S. National Development Team. Former UW defenseman Mark Osiecki also was named an associate head coach.
"He's a great coach and I really learned a lot under him," Kunin said of Don Granato. "We won a world championship and that's all that matters. We want to win and they're all winners up there.
"I'm really excited with the group they brought in. Obviously, there's a great track record with all of these guys. Tony is in the NHL right now and he knows what it takes for guys to get there. That's where all of us are trying to end up, so the guys are really excited."
Kunin is expected to be a first-round pick in the NHL draft in June, but he said he plans to be back with the Badgers next season.
"This is the place I want to play until I'm ready to play in the NHL," he said. "We'll see what happens at the draft and I'm really looking forward to being back here and playing next year."
Junior Jedd Soleway, a seventh-round pick of the Arizona Coyotes in 2013, is excited to see what the new staff will do to reinvigorate the program.
"I don't think it's going to take long for them to make an impact on this program and we're happy to help," Soleway said. "As players, we respect Mike Eaves and we loved our time here with him. But at the same time, we're excited to move on and see if we can build a championship team, even next year.
"Obviously, there are those first impression anxieties. But all you can do is let your playing do the talking. Those guys have all the knowledge and if you're not at the level they want you to be at, they can help us get there. That's what professional hockey coaches do."
Be the first to know
Get local news delivered to your inbox!