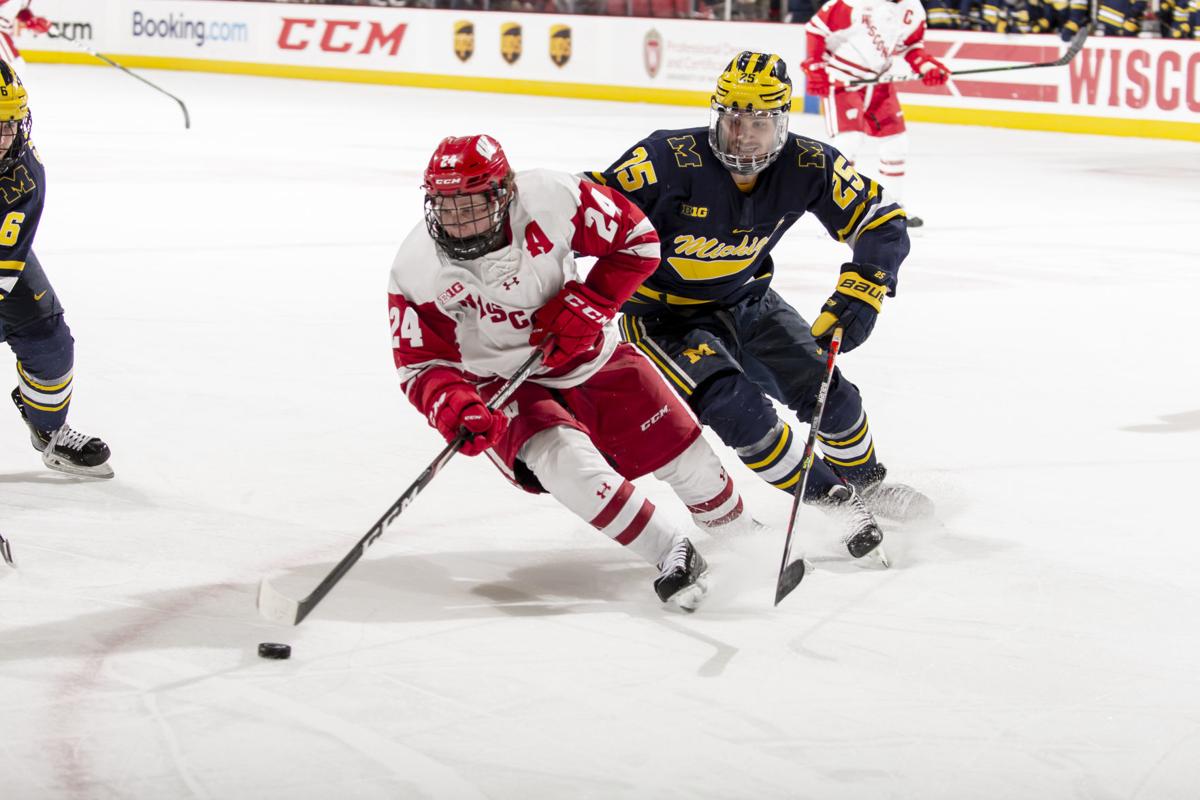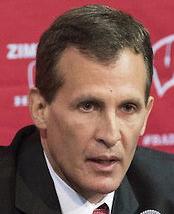 EAST LANSING, Mich. — A shortened final week of the first semester schedule opened Tuesday morning for the University of Wisconsin men's hockey team with a series of one-on-one battles in practice.
The intent, coach Tony Granato said, was to emphasize that the difference between winning and losing, between being a hungry team and a passive one, isn't when the puck is on a player's stick with a chance to shoot.
"The difference is winning battles," he said. "It is winning races. It is competing."
Granato knows this because he has seen two unranked opponents be better at it than his team over the last four games.
"I think it's been sloppy," he said. "We haven't been quite as committed. We played two teams that were hungrier than us. Why they were hungrier — they were more desperate based on what was going on in their season."
Those opponents, Minnesota and Michigan, had been in stretches of decline entering Big Ten Conference series against the Badgers. The Golden Gophers emerged with a home series win and the last-place Wolverines got a road split, earning their first league victory last Sunday.
Desperation and hunger are the buzzwords for the 19th-ranked Badgers this week as they close 2019 with a series at Michigan State on Friday and Saturday.
How, Granato was asked, can his team draw out more desire after what has been a disappointing first half of the season to date?
"If we don't have it now," he said bluntly, "then we're not going anywhere."
UW can't fix all of its problems in one weekend, but the baseline of what Granato is expecting from his players against the Spartans is a hard-nosed effort that will show they possess the passion that they have seen recently on the other bench.
Badgers players said it's in them.
You have free articles remaining.
"Everyone's got that burn in their stomach," sophomore forward Roman Ahcan said. "They don't like how we've been playing the past couple weekends, so I think that'll show in this next weekend here."
It's not only that the Badgers are 7-8-1 and sixth of seven Big Ten teams at 2-5-1-1 in league play that has been cause for concern. Granato said distractions have come into play.
UW could be sending its largest contingent of players in a generation to the World Junior Championship, an under-20 tournament that starts Dec. 26. Forward Dylan Holloway was picked for Hockey Canada's selection camp next week, where 31 players will vie for a spot on the 23-player roster.
USA Hockey will announce its preliminary roster Monday. UW forwards Alex Turcotte, Cole Caufield and Owen Lindmark, and defensemen K'Andre Miller and Ty Emberson are under consideration after taking part in the World Junior Summer Showcase in the offseason.
The Badgers haven't had more than three of their players at the World Juniors since Granato was one of four in 1984.
"I get it," he said. "Guys are wondering, worried, nervous and excited, having to get that all planned out and everything. So there's been a lot of other things that have gone on. We've got to focus on one thing right now."
That's Michigan State, a team that scored only one goal in losing twice at Ohio State last weekend. But the Spartans have produced impressive results when they have been able to frustrate opposing offenses: a 2-0 victory at high-powered Penn State on Nov. 8 and a series win against Notre Dame two weeks ago.
The Badgers let Michigan dictate the early tempo last weekend. Doing the same against Michigan State would give UW problems again.
"We've just got to attack them off the start," Ahcan said. "We can't wait around and play their game. We've got to play to our game plan. If we do that, we're a hard team to beat."
Granato used the words "crabby" and "irritable" in describing his team's mood days after losing to Michigan.
"Nobody's happy with being a .500 team at this point of the season," he said. "We all have higher expectations of where we should be as a group."
The gap between expectation and reality has been an eye-opener with the Badgers this season. Players said there's still a positivity around the group and a belief that they can get things under control.
"We're all in the same mindset, where it's do or die," Lindmark said. "It's all on us the rest of the year. We're going to dictate how we play. We're going to dictate how the outcomes of the games are.
"We know that it's all on us now. It's up to us to make sure that we turn the season around because there's still time to do it."