The experience upon which Trent Frederic is about to embark has a familiar feel but one important distinction.
It's another season for the University of Wisconsin men's hockey player, another opportunity to chase the personal and team goals.
You could argue, however, Frederic has never before played the role that he's ready to take with the 2017-18 Badgers.
The 19-year-old has been a valuable offensive player in the past few years, serving as the top-line center most of his freshman year at UW and playing with the ultra-talented National Team Development Program before that.
In those situations, he was never the guy up front, the one with the goal-scoring pedigree to lead the offense.
With last season's leading scorer, Luke Kunin, now in the pros, Frederic is the focal point of a team that expects to make another surge in distancing itself from a downward spiral.
He crafted that role for himself with a first-rate first season in college. Team success came along with it, and UW starts this season as a contender to be in the NCAA tournament in March.
"Last year, Luke Kunin was the guy but Trent came in to support him," said Bob Frederic, Trent's dad. "And then in the USA program, he was the supporting cast. He had big roles and was considered a really good player but wasn't the guy. This will be interesting to see how he becomes the guy this year."
The label isn't undeserved. Frederic is the team's leading returning scorer, a first-round NHL draft pick and already has a history of being involved in some of the most high-leverage situations.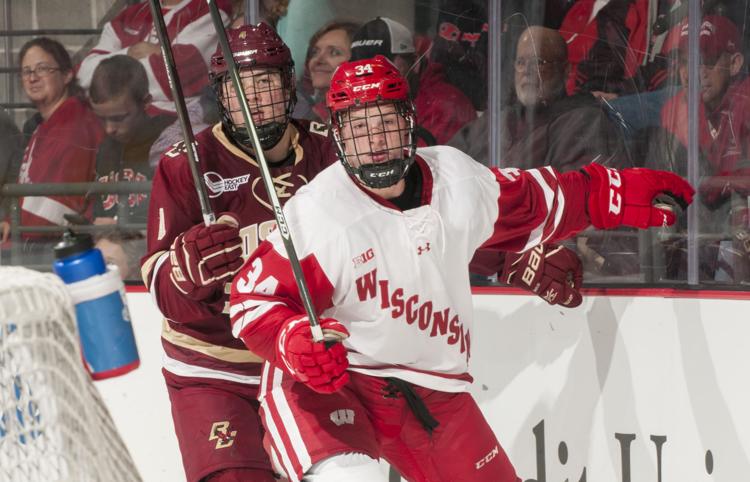 When the Badgers were in a close game late last season, Frederic often would get sent over the boards to take key faceoffs. Seven of his 15 goals were in special teams play, where he added pressure minutes to his resume.
The scrutiny of being the guy might not be familiar to Frederic, but a lot of his surroundings are.
The push-the-play style and confidence-building coach Tony Granato brought with him in his debut last season struck chords with the 6-foot-2 center.
"It involves a lot of skill and more creativity," he said. "It's definitely the most fun style of hockey I've played.
"Last year, they gave everyone confidence. No matter who you are, you don't have to dump (the puck) in. You can make a play with it. ... For me, they made me feel comfortable. And when I made mistakes, they said don't worry about it. As a coaching staff and as a group they made it pretty easy."
When he was at his best, Frederic made it look pretty easy. The work to pry the puck away from an opponent or to find space in front of the net to get off a good shot made him stand out.
"He's a phenomenal player with a tremendous work ethic that is extremely bright," Granato said. "When you've got those three things together, you understand what your role is, what's expected of you every play, I think it's pretty easy to have success."
Quick decision to return
There's always some mystery with the future of NHL draft picks when an offseason starts, and that's especially the case for those picked in the first round like Frederic was by the Boston Bruins in 2016.
Yet Frederic made it known he'd be coming back for a second season at UW minutes after the first ended.
Amid the team's chagrin with losing to Penn State in double overtime in the Big Ten Conference championship game last March, Frederic was already talking about a bright future for the program.
With Kunin and Frederic leading an offense that ranked ninth nationally, UW finished 20-15-1 last season, beating the combined victory total of the disastrous two previous seasons by eight.
The Badgers were in the mix for an at-large NCAA tournament spot until they stumbled through the final weekends, and the loss in the league championship game prevented them from earning the automatic bid.
Frederic's breakout season included acknowledgment as the Big Ten's top freshman and a second-team forward. His selection to the all-freshman team was the only unanimous pick for any Big Ten postseason award.
Before the team boarded a bus headed for home and the offseason after the loss to Penn State, Frederic headed off the speculation that was going to be coming his way.
"I'm planning on being back here," he said, "winning the Big Ten and the national championship."
Looking back at it six months later, why was he so confident of that eventuality?
"I knew we were going to have a good team and I know I want to be in college just as long as I can," Frederic said as this season approached. "I have a great coaching staff. I need to get better as a player and a person. So I'm just focused on Wisconsin right now and then whatever happens down the future happens. That's just how I took it. I kind of knew from Day 1 I'm going to try to stay here as long as I can."
There's an understanding, however, that for first-round draft picks, time in college often is short.
Of the six UW forwards besides Frederic who have been first-round NHL picks, only Jack Skille played two seasons of college after the selection. Kunin, Dany Heatley and Patrick Flatley all were with the Badgers for two years, but their NHL rights were claimed after their freshman season.
Nationally, it has become uncommon for a first-round forward to spend more than two seasons in college after his selection — just three of 17 NCAA players drafted in the opening round between 2010 and 2015 did so.
Teams often want to see their high-round talent grow in a pro environment and to get younger years on a salary cap-friendly entry-level contract. Frederic said he hasn't felt that kind of rush from the Bruins.
"In meetings, they say it's no pressure. Do your thing and when you think it's time to come, it's time to come," he said. "So it's nice how they gave me that option. My parents have my back and my coaches have my back. They know what's best for me."
The Bruins drafted Frederic with knowledge of his strong defensive play as a center and hopes the offensive play was in there, too.
They started to see the latter develop at UW, Bruins player development coordinator Jamie Langenbrunner said. But he said there's no definitive timeline for Frederic.
"Our philosophy is we want the kid to have his plan, and if it matches up with when ours hits, great," Langenbrunner said. "If he wants to play at Wisconsin for four years and keep on developing that way, we're not one to push anybody in any which direction."
High-level guidance
The right coaching is critical for player development at young ages, and Frederic had decorated mentors in multiple sports while growing up in St. Louis.
In hockey with the Blues AAA program, there were two. One was Jeff Brown, who played more than 800 NHL games as a defenseman for seven teams. The other was U.S. Hockey Hall of Fame inductee Keith Tkachuk, a longtime member of Team USA rosters who finished his 1,290-game NHL career in St. Louis.
At one point in youth football, Frederic's quarterback coach was former NFL signal-caller Gus Frerotte.
And he was coached in Little League baseball by Mike Matheny, who became the St. Louis Cardinals manager in 2012.
The latter had a big influence on Frederic's approach to sports, Bob Frederic said. Respect for the game was a key takeaway.
But all of them contributed to making Trent Frederic a multi-sport star.
"He was very fortunate with growing up and having those guys give part of their lives and seeing how they handled things," Bob Frederic said. "As a parent, it was fun to see. It was easy to sacrifice our time to get him to practices and games knowing that these guys know what they're talking about, know what they're doing."
Saying the Frederics are a versatile athletic family might be underselling things. Bob and Gaye Frederic grew up playing sports, and three of their children — K.C. (volleyball, Oregon State), Gene (football, Memphis) and Grant (hockey, Miami) — preceded Trent as college student-athletes.
In high school, Trent followed football practice at De Smet Jesuit with a night at hockey workouts. On many weekends, a Friday night football game preceded a trip to meet with the rest of the Blues AAA program wherever they were playing.
Things pointed toward hockey for good when he was a high school sophomore. A tournament with the Blues in Boston in October 2013 opened doors for Frederic with USA Hockey, leading to an opportunity to play with the National Team Development Program starting in his junior year.
"That weekend," Bob Frederic said, "we knew that things were taking off pretty good for him."
Draft changes course
There have been a series of memorable events since then. The two years with the NTDP put him into international play, from which he collected a set of medals. He won silver at the Under-17 World Hockey Challenge in 2014, gold at the U18 Five Nations tourney in 2015 and bronze at the Under-18 World Championship in 2016.
His strong play in a secondary offensive role set the stage for his jump up the draft board later in 2016. Boston took him at No. 29 overall after NHL's Central Scouting had him as only the 47th-best skater out of North American leagues.
The hand-wringing over that pick from Bruins fans was fueled by projections Frederic wouldn't be more than a second- or third-line player at the pro level, responsible more for defensive play than producing goals.
That was where he played with the NTDP — behind more highly touted forwards — so it seemed like a natural transition.
"He was positioned on that (U.S.) team to be a solid, two-way player to play against the other team's line," Granato said. "So his mindset was different than those players. We had to change that a little bit and say, hey, your upside is producing and scoring and making plays."
Frederic did all of those last season and maybe changed his outlook. He can do it to a new degree this season as the guy.
"His development, his progress last year made a big step," Granato said. "And I think he can have just as big a step this year."
Langenbrunner said he thinks Frederic will face this new challenge the same way he has others in his career: "He'll face it head on and he'll find a way to get through it."
"It has been one of those things where he has kind of been the second fiddle," Langenbrunner said. "We don't see him as that type of guy. We see him as a front-line type of player.
"It's a great opportunity for him. I know he's excited for it. He's excited for what Wisconsin will be like this year, and the opportunity for him is to add another dimension to his game that hasn't been there — as the go-to guy."