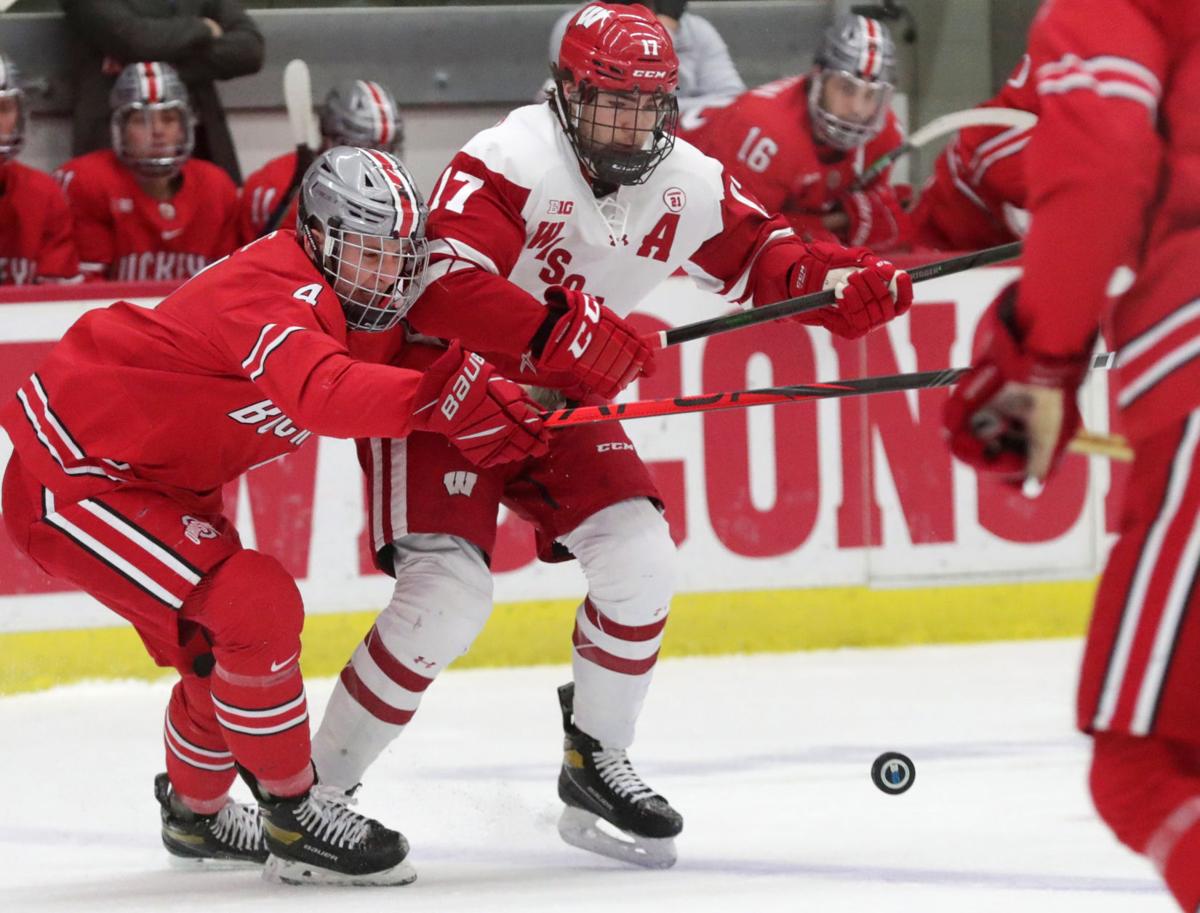 Tony Granato was chatting with his old coach a few weeks ago when the subject of the NCAA tournament came up.
The University of Wisconsin men's hockey team has been on pace to break a six-year absence from the field of 16 for most of the second half of the season. Where the Badgers would play, however, went down to Sunday's unveiling of the bracket.
Barry Melrose mentioned to Granato, who played for him with the NHL's Los Angeles Kings, that he was set to work on the ESPN broadcasts of games in Bridgeport, Connecticut.
"I've got to be honest: I don't think they're sending us to Bridgeport," Granato recalled telling Melrose.
Not only did the committee put the Badgers there, it gave them the regional's No. 1 seed.
UW will make its first NCAA tournament appearance in seven years against Bemidji State at noon on Friday in Bridgeport.
UMass and Lake Superior State also were assigned to the Bridgeport regional and will play at 5:30 p.m. Friday. The semifinal winners play at 3 p.m. Saturday on ESPNU for a spot in the Frozen Four.
North Dakota, Boston College and Minnesota were safe bets to be regional No. 1 seeds. The fourth came down to UW (20-9-1), Minnesota State (20-4-1) and perhaps UMass (16-5-4). A selection process that was subjective for the first time in nearly a quarter century and a vote by committee members put the Big Ten regular-season champion Badgers in that spot.
"As a committee we just voted that they had played a very, very difficult schedule," NCAA Division I Men's Ice Hockey Committee chair Mike Kemp said of the Badgers. "They had done well within their schedule within the conference. They had done well with some quality wins. That was the deciding factor."
Granato left things open-ended with his players when he talked to them during their practice earlier Sunday, saying UW will take on whatever gets sent its way.
"We didn't really have any expectations going into today," Badgers captain Ty Emberson said. "It's a 16-team tournament so you've got to win four games to win the whole thing. Whoever we play, we play. I think we were all just excited to see our names up there."
UW last played in the NCAA tournament in 2014 before bottoming out as a program with a two-season span that generated only 12 wins combined.
Granato will make his first national tournament appearance as either a player or a coach. The four-year absence from 1984 to 1987 during Granato's playing career was the program's longest before the six years away that ended Sunday.
"I'm thrilled," said Granato, who's in his fifth season coaching UW. "This program and these fans and our boosters and all the people that follow our team, this is what they're used to."
The Badgers advanced to the Frozen Four as a No. 1 regional seed in 2006 and 2010. They lost to North Dakota in the first round in 2014.
UW won its only NCAA tournament meeting against Bemidji State 4-0 in the 2006 regional semifinals in Ashwaubenon. Joe Pavelski had a hat trick and Brian Elliott earned the shutout to start the Badgers on the path to their sixth NCAA championship.
They're 6-0-1 all-time against the Beavers, who are 15-9-3 and lost to Lake Superior State 4-1 in the Western Collegiate Hockey Association semifinals. UW and Bemidji State shared time in the WCHA from 2010 to 2013.
The other No. 1 seeds, in order, went to North Dakota in Fargo, Boston College in Albany, New York, and Minnesota in Loveland, Colorado.
Regional winners advance to the Frozen Four, April 8 and 10 in Pittsburgh.
The Badgers' six-year tournament appearance drought wasn't close to being the longest extinguished this season. Lake Superior State won the Western Collegiate Hockey Association playoffs to secure a spot for the first time since 1996.
Another long absence won't be ending after all. St. Lawrence (6-8-3) stunned Quinnipiac in overtime Saturday to win the ECAC Hockey title. The Saints' last NCAA appearance was in 2007.
But St. Lawrence announced before the field was revealed Sunday that it won't be competing in the NCAA tournament. Coach Brent Brekke tested positive for COVID-19 and the team couldn't accept the automatic bid because of New York state and NCAA quarantine rules.
That development passed the ECAC's automatic spot to Quinnipiac, which was on the bubble as an at-large team, and might have opened the door for Notre Dame to extend its season as the fourth Big Ten team in the 16-team field. The Fighting Irish finished fourth in the Big Ten standings but lost to Penn State at home in the playoff quarterfinals.
Granato has championed the strength of the Big Ten, an argument that was reinforced by the league getting two No. 1 seeds and tying the National Collegiate Hockey Conference for the most teams in the tournament. Michigan is the second seed in Fargo.
"I'm happy as heck that we got four teams in," Granato said. "I think we deserved four teams in there. Notre Dame might have back-doored it because of how things played out. But they can beat anybody. They can make their way to the Frozen Four."
Look back on State Journal coverage of Badgers men's hockey games in the 2020-21 season
Read stories from University of Wisconsin men's hockey games in the 2020-21 season.