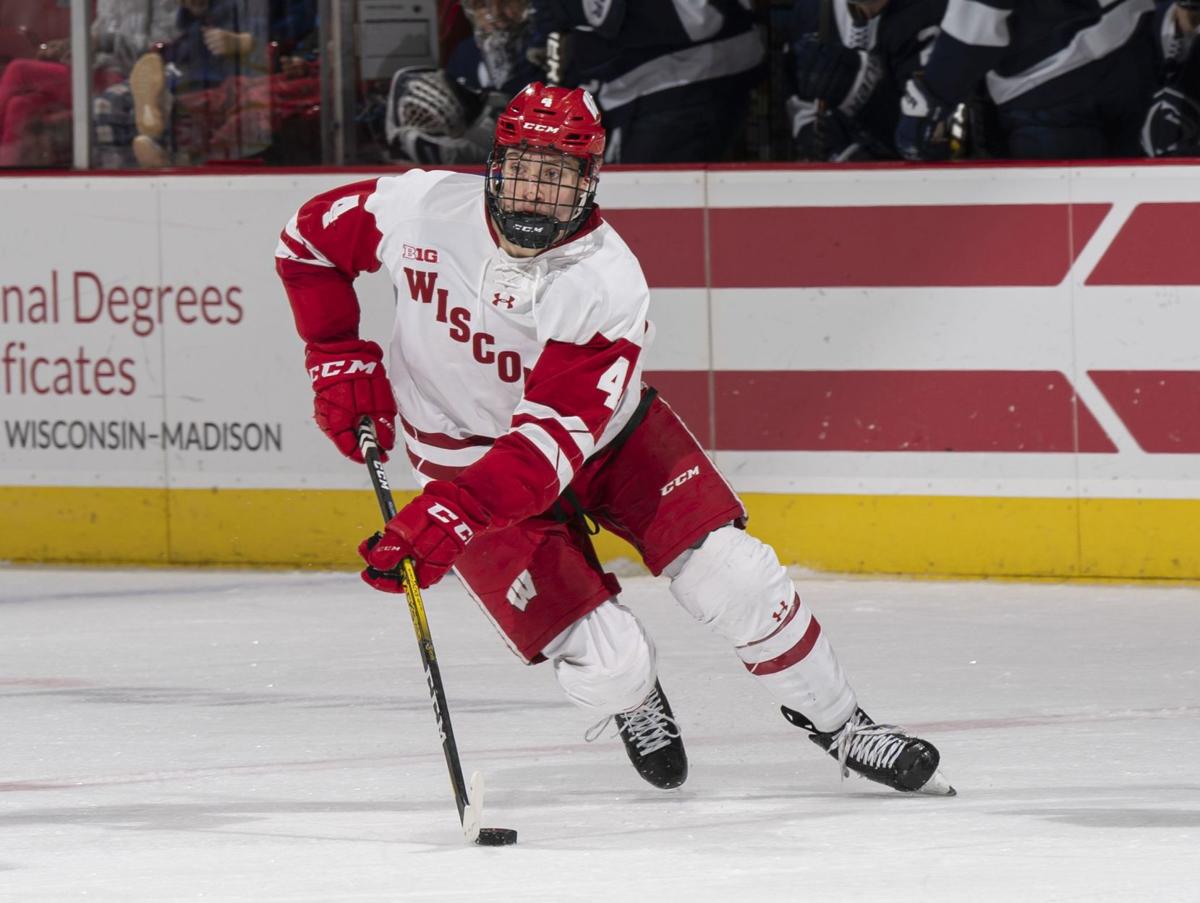 Dylan Holloway has been invited to Hockey Canada's selection camp for the World Junior Championship, opening up a potential quandary for the University of Wisconsin sophomore forward because of the scheduling.
His sophomore season with the University of Wisconsin is on track to begin Nov. 13. Canada's selection camp opens Nov. 16.
If Holloway attends the entire camp and is selected for Canada's team, he could miss up to eight weeks with the Badgers.
Holloway, a first-round pick of the NHL's Edmonton Oilers this year, took part in the evaluation camp for last year's World Juniors but wasn't picked for the team.
The World Junior Championship holds a special place for players from Canada, where the tournament is a staple of the annual hockey calendar. After he was cut last season, Holloway said he reflected on things that happened in the evaluation camp — "stuff I can improve on so next year hopefully I'll be one of the better players and get selected to the team," he said.
This year's event is scheduled to take place Dec. 25 to Jan. 5 in a bubble in Edmonton. Canada's camp in Red Deer, Alberta, will include practices, intrasquad games and contests against a team of Canadian university players. It runs until Dec. 13; the team then will enter the Edmonton bubble.
The Badgers schedule hasn't been released but Granato confirmed that the team will play on the opening weekend of Nov. 13-14.
UW also has players in consideration for the U.S. World Juniors team. Forward and Badgers returning leading scorer Cole Caufield is expected to be part of the event for a second straight year. Forwards Owen Lindmark and Sam Stange also were part of USA Hockey's evaluation camp.
The U.S. team is planning on getting together around Dec. 9, which would give players four weekends of play with the Badgers before leaving.
UW and Michigan, which has six players under consideration for the World Juniors, have asked Big Ten schedulers for as few games as possible during the tournament. The Badgers have been able to limit the number of games they have played without World Juniors competitors in recent years but a longer absence because of Canada's camp and the tournament bubble could make that more difficult this time.
---
Wisconsin Badgers men's hockey recruiting tracker
As players give oral commitments to the University of Wisconsin men's hockey team, we'll add them here with their stats.
Players are listed in the order in which they committed.