As a new captain was named by the University of Wisconsin men's hockey team Wednesday, the previous holder of the title moved on.
Ty Emberson will be the Badgers captain in the 2020-21 season, and defenseman Wyatt Kalynuk will leave to sign a professional contract with one year of eligibility remaining.
Emberson, a defenseman who's played two seasons with the Badgers, will have three senior alternate captains with him in the leadership group: forwards Tarek Baker and Ty Pelton-Byce and defenseman Tyler Inamoto.
That Kalynuk wasn't included in the group when it was announced was a red flag about his status with the Badgers for next season. The seventh-round pick of the NHL's Philadelphia Flyers in 2017 hasn't publicly addressed his plans; on Wednesday, he declined comment through a UW spokesperson.
But Badgers coach Tony Granato said that Kalynuk, a first-team All-Big Ten Conference selection in 2019-20, is planning on signing professionally.
"I'm all for doing what players think is right for them," Granato said. "At this point, Wyatt thinks right now it's better for him to turn pro, and I support that.
"As much as we'd like to have him back here, part of college hockey and part of recruiting great players is the fact that you understand that, unfortunately, sometimes they are ready before their four years expire."
Kalynuk, 23, is the third player from the 2019-20 Badgers roster to leave for the pros with eligibility remaining. Center Alex Turcotte and defenseman K'Andre Miller signed with Los Angeles and the New York Rangers, respectively.
In three seasons with the Badgers, Kalynuk directed the power play and used his skating ability to close down opposing players. He had 19 goals and 78 points in 110 collegiate games.
He turned down an offer to sign with Philadelphia last summer after being a second-team All-Big Ten pick as a sophomore.
Without Kalynuk, the Badgers are expected to have eight defensemen on their roster next season. Emberson, Inamoto, Josh Ess, Mike Vorlicky, Jesper Peltonen and Shay Donovan are returning. Anthony Kehrer and Luke LaMaster are due to join the team as freshmen.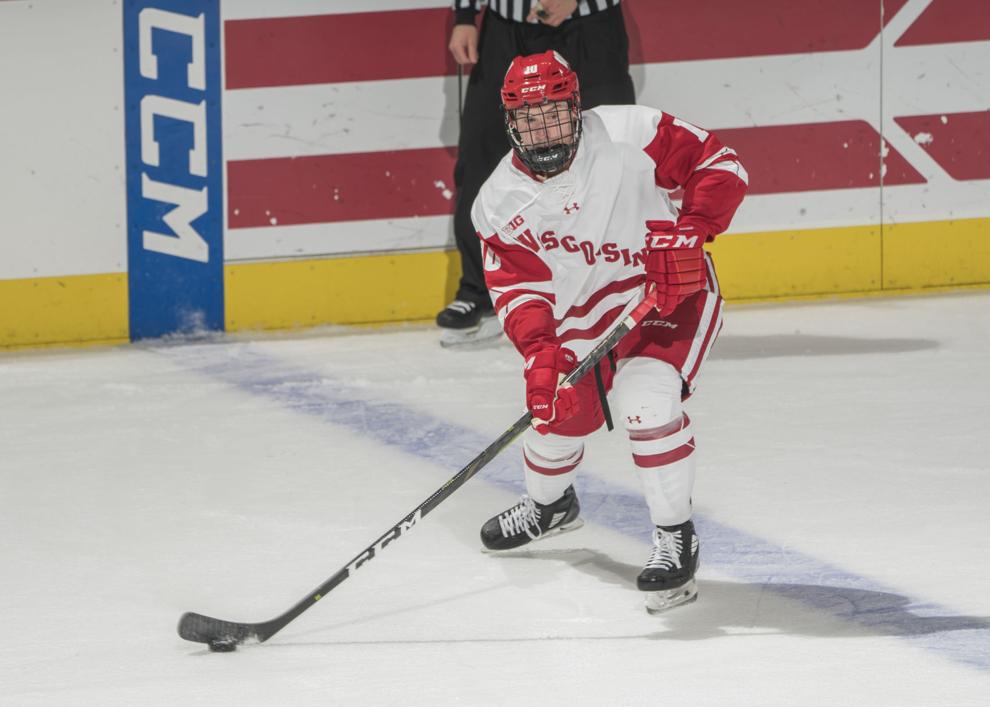 "I've learned just being in Madison the past couple of years how important it is to represent the Badger family with pride and honor," Emberson said. "Being able to join that group (of UW captains) is pretty special for me."
Emberson has scored five goals and 21 points in 70 career games with the Badgers. He has been a physical presence in his own zone but also has been called upon occasionally for power-play duties as a right-handed shot.
Granato said the UW staff originally considered making Emberson one of the captains before last season.
"He's honest on his evaluation of himself and others," Granato said. "I think he's gained a ton of confidence. Right when he got here, we looked at each other as coaches and said, this guy's got a 'C' written all over him at some point."
Baker, from Verona, also was an alternate captain last season, when the Badgers finished last in the Big Ten and 14-20-2 overall.
Pelton-Byce, a Madison native who transferred from Harvard and became eligible last season, will be the second member of his family to wear a letter on his Badgers sweater. His father, John Byce, was an alternate captain in 1988-89 and 1989-90.