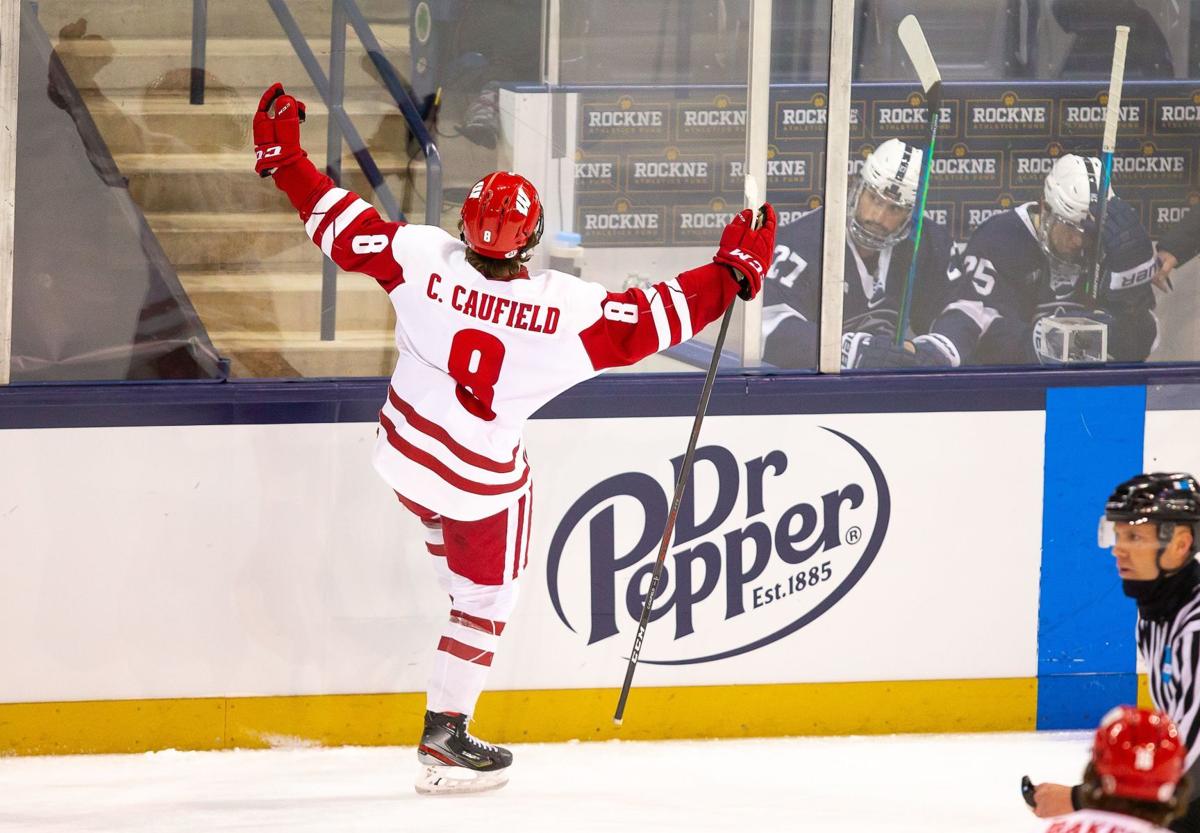 SOUTH BEND, Ind. — There was no dispute in the Big Ten: Cole Caufield was the player of the year.
The University of Wisconsin sophomore right wing was a unanimous pick for the award by league coaches and media members, the Big Ten announced Tuesday before the playoff championship game between the fifth-ranked Badgers and No. 4 Minnesota.
UW's Tony Granato joined Caufield in the individual awards, winning his second Big Ten coach of the year honor after leading the Badgers to the regular-season title.
Caufield and Badgers sophomore center Dylan Holloway were picked for the All-Big Ten first team. Senior left wing Linus Weissbach was a second-team pick while senior center Ty Pelton-Byce and junior defenseman Ty Emberson earned honorable mention.
Goaltender Cameron Rowe was picked for the all-freshman team.
Caufield is the eighth UW player to win a conference player of the year award. The first seven came in the Western Collegiate Hockey Association: Mike Eaves (1978), Mark Johnson (1979), Curtis Joseph (1989), Gary Shuchuk (1990), Duane Derksen (1992), Steve Reinprecht (2000) and Jamie McBain (2009).
The Stevens Point native won his second consecutive Big Ten scoring championship with 43 points in 24 league games, 10 points better than second-place Weissbach. He scored two goals on the final day of the regular season to rally the Badgers to the Big Ten title and finish with 24 in conference play. That also was 10 better than his closest competitor, Notre Dame's Alex Steeves.
The list of 10 finalists for the Hobey Baker Award as national player of the year is scheduled to be released Wednesday. Caufield's exploits throughout the season — but particularly at the end — have made him the leading candidate.
The Badgers went from worst to first between 2020 and 2021, and the voting panel rewarded Granato for the turnaround. He also was the coach of the year in 2017, when he directed the Badgers to a second-place finish in his first season.
Here's the full list of Big Ten postseason awards (*-unanimous selection):
First team
Sampo Ranta, F, Minnesota; Cole Caufield*, F, Wisconsin; Dylan Holloway, F, Wisconsin; Cam York, D, Michigan; Jackson LaCombe, D, Minnesota; Jack LaFontaine, G, Minnesota
Second team
Thomas Bordeleau, F, Michigan; Alex Steeves, F, Notre Dame; Linus Weissbach, F, Wisconsin; Owen Power, D, Michigan; Spencer Stastney, D, Notre Dame; Strauss Mann, G, Michigan
Honorable mention
Matty Beniers, F, Michigan; Kent Johnson, F, Michigan; Ben Meyers, F, Minnesota; Scott Reedy, F, Minnesota; Sammy Walker, F, Minnesota; Alex Limoges, F, Penn State; Ty Pelton-Byce, F, Wisconsin; Nick Blankenburg, D, Michigan; Dennis Cesana, D, Michigan State; Brock Faber, D, Minnesota; Ryan Johnson, D, Minnesota; Ty Emberson, D, Wisconsin; Drew DeRidder, G, Michigan State
All-freshman team
Matty Beniers, F, Michigan; Thomas Bordeleau*, F, Michigan; Kent Johnson, F, Michigan; Owen Power*, D, Michigan; Brock Faber, D, Minnesota; Cameron Rowe, G, Wisconsin
Player of the year
Cole Caufield*, F, Wisconsin
Defensive player of the year
Goaltender of the year
Jack LaFontaine, G, Minnesota
Freshman of the year
Thomas Bordeleau, F, Michigan
Coach of the year
Big Ten Sportsmanship Award honorees
Jack Becker, Michigan; Tommy Miller, Michigan State; Cullen Munson, Minnesota; Matt Hellickson, Notre Dame; Austin Pooley, Ohio State; Oskar Autio, Penn State; Brock Caufield, Wisconsin