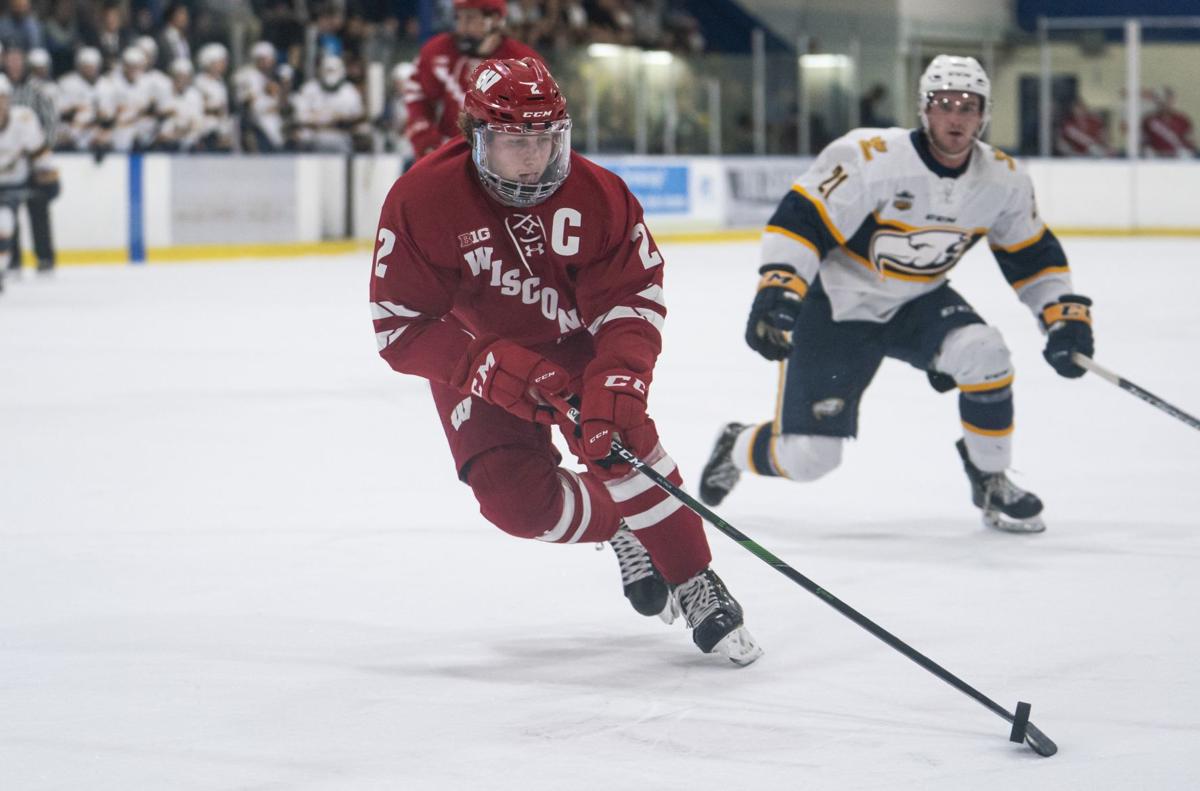 Wyatt Kalynuk has been to three offseason development camps with the Philadelphia Flyers since the NHL team drafted him in 2017.
That's three opportunities for the University of Wisconsin defenseman to measure his growth against players with a similar pro-game track. The progress has been such that Kalynuk can see where being stronger helps his confidence level.
"You're not so much worried about how big and strong other guys are," he said. "You know that you're big enough now. And even if you're still not the biggest guy, you've learned enough to where you can be one of the better defenders."
Kalynuk, who joined the Badgers as a 20-year-old freshman in 2017 and who turned 22 in April, is considered a late bloomer in terms of pro readiness. But the gap is closing, even if Kalynuk doesn't think he's quite there yet.
A strong junior season could be the final step to the next level for Kalynuk, the captain for 2019-20.
Some think he already could be starting to make a name for himself in the pros instead of leading a college team.
"I think he could play at the next level right now," said Badgers associate head coach Mark Osiecki, who works with the team's defensemen.
When that topic came up with the Flyers soon after last season ended, Kalynuk said he made it clear he wanted at least one more year with the Badgers.
But his reasoning was deeper than just having a chance to be captain of a team that could capture a lot of attention because of a high-talent level.
"He thought he wasn't really physically ready for the pro level," said Kjell Samuelsson, the Flyers' director of player development. "If he had turned pro and he thinks he's weaker and can't compete with these guys on that level, you put yourself in a hole right away. That could mess with your head pretty good."
Kalynuk already gets high marks for his puck movement and his ability to start the rush from the defensive zone. He was the Badgers' top-scoring defenseman in his first two seasons, with 25 points each year.
He'll again be looked to play a role on the power play, a spot where his production sagged last season. After recording 14 power-play points as a freshman, he had only eight as a sophomore as the team's success rate fell.
The part of Kalynuk's game that will be scrutinized for improvement is his in-zone defending. And that's something that improved strength can only help so much in today's game.
It used to be defensemen could get by through playing heavier than their opponents, with referees looking past clutching and grabbing. Now, body positioning and quick skating are the tools of the trade.
You have free articles remaining.
Osiecki drills that into UW's defensemen through on-ice work and video study.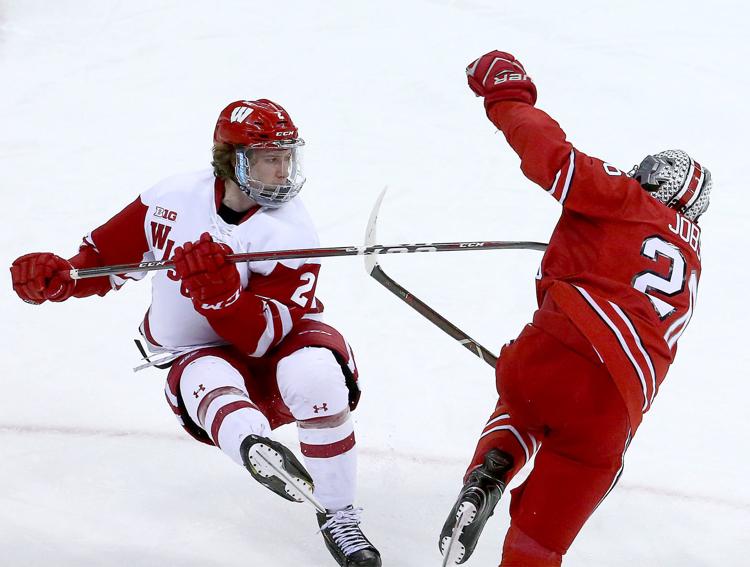 "The biggest thing for Wyatt, for how efficient he is on his skates, there were times as a younger player, he would get out of position just because he's so efficient with his feet," Osiecki said. "But now the mindset is how quick can you get to that spot because of his feet? And, without even knowing it, you're defending in that area because you know the area. I think he's been awesome with that in getting better with it."
At 6-foot-1, Kalynuk isn't what would be considered large for his position. The 189 pounds listed next to his name is on the light end of the team's defensemen.
"I'm still not the biggest guy out there," he said. "But learning to defend the way I defend now from when I played junior hockey is a lot different. Just using positioning more than trying to overpower guys, because guys are too heavy, you're not going to move them around. So being in good position is just as effective as moving guys."
The defensive corps returns six players from last season, with Kalynuk, Tyler Inamoto and Josh Ess entering their junior seasons. K'Andre Miller, Ty Emberson and Jesper Peltonen are sophomores.
All but Peltonen have been drafted by an NHL team. Miller was a first-round pick of the New York Rangers in 2018 whose promising first college season ended early because of a knee injury.
Freshmen Mike Vorlicky and Shay Donovan enter a defense Kalynuk hopes will be dependable.
"I think there's going to be a a lot expected out of us," he said, "but there should be."
UW has to replace the leadership of graduated defenseman Peter Tischke. In steps Kalynuk as captain, something Samuelsson hopes doesn't take away from the better parts of his game.
"Lead the way on the ice," Samuelsson said. "Play the right way and then don't do anything you're not capable of doing. Don't be a rah-rah guy because they asked you to be a leader. The way you play, you can be a leader on the ice with playing the right way."
There's reason for the Badgers to make sure Kalynuk doesn't try to bite off more than he can chew this season. Osiecki said he noticed Kalynuk grew frustrated with things that were out of his control.
"You could feel him shouldering it. You can't shoulder it," Osiecki said. "And that's part of the maturing process for him. I think that's where maybe he's probably saying that he needs more time to understand some of that stuff."
Kalynuk looks at his current situation as captain of an NCAA hockey team with pro prospects blooming and considers himself fortunate.
"I don't know if it was something I expected or even looked forward to," said Kalynuk, a native of Virden, Manitoba — population just over 3,000. "I think it's a really good opportunity. I think everybody that's on this team, we're lucky to be in the position we are. Now it just comes down to going out and doing it. On paper, ranking wise, we're going to be ranked pretty high. But it means nothing if we don't go out and play.
"With the history of this program, and the way they were 10 years ago, I think that's the way it should be. This past couple years, we weren't quite there. And I think this year could potentially be a big jump for our team and this program. We've got the guys, we've got the skill, we've got the coaching staff. We just need to go out and do it."