Coach Tony Granato doesn't see the two-week shutdown of activities for the University of Wisconsin men's hockey team ordered Wednesday as a big deal.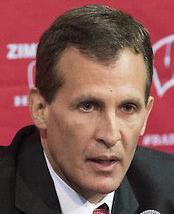 "It's the right thing to do at this time with what's going on on campus," Granato said Thursday.
As college hockey conferences confirmed Thursday that the 2020-21 season wouldn't start on time because of the COVID-19 pandemic, Granato said he couldn't disclose how many members of the Badgers men's hockey team had tested positive to trigger the temporary shutdown.
He said there was a "spike, just like what's going on in our community."
Granato said the halt to preseason activities wasn't a sign of panic but a following of the coronavirus prevention protocols that were put into place when UW Athletics started bringing players back to campus for workouts over the summer.
A meeting Wednesday set the course of action with football and men's hockey.
"This was all part of the planning and the understanding that this was a possibility of happening just based on everybody arriving back in town a few weeks ago," Granato said.
Among 734 athletes who have returned to campus since June, 58 have tested positive through samples taken by the athletic department, according to data released Thursday by UW Athletics. Another 25 athletes tested positive for the coronavirus at other testing sites since they first returned to UW.
With those figures combined, the 83 athletes who have tested positive represent more than 11% of Badgers athletes on campus.
The announcement of the pause for football and men's hockey doesn't impact competition because neither sport has games scheduled. Football's fall season was postponed by the Big Ten Conference on Aug. 11, and men's hockey won't start its season in early October as planned.
Men's and women's hockey league commissioners formally acknowledged a delay to the start of the season on Thursday. The conferences will individually address how things will move forward for their teams.
The National Collegiate Hockey Conference was the only league to set a potential start date, with a statement from the league saying the 2020-21 season will begin on or after Nov. 20.
The Big Ten, home to the Badgers men's team, did not address when the season could start.
The Badgers women's hockey team had planned to open the season at home Sept. 25-26 against Lindenwood, while the men's team had a home series scheduled against Michigan Tech for Oct. 3-4.
Granato struck an optimistic tone on the chances of getting the season off the ground.
"We're going to play hockey this year," he said. "It's a confident statement by everybody that's been involved in all these discussions and all the planning that's going on behind the scenes to make this work."
The goal of Big Ten coaches, he said, is to play a full, 34-game schedule with postseason tournaments. Whether that includes non-conference opponents in the regular season has yet to be determined.
The revelation of a pause in team activities with the Badgers, however, is a reminder that any plans are subject to heavy revisions because of outbreaks during the season.
Western Collegiate Hockey Association women's league commissioner Jennifer Flowers said she feels more optimistic that a season will take place than she did before. But setting a proposed date for a start "just doesn't seem responsible right now," she said.
The seven-team WCHA women's league, which includes the Badgers, has two major bullet points to address, Flowers said. One is having a return-to-play protocol involving testing that all of the schools can meet; the other is working with the schools' multi-sport conferences.
Getting revenue-generating Big Ten football playing is a key part of the process for the WCHA women's league, she said.
"There are many factors right now that still exist that have nothing to do with hockey," Flowers said. "We are just trying to evaluate them to figure out where we fit."
In a statement issued by UW, women's hockey coach Mark Johnson said the delay was the right step because of health and safety concerns.
"Last week, we were able to hold practices for the first time in 179 days since we found out that our 2019-20 season was cut short due to the COVID-19 pandemic," Johnson said. "In the short time that I've had with our players, I know they are ready for any challenges that await them and they will be ready whenever we are able to play games."