Annie Pankowski led a triumphant last lap around the LaBahn Arena rink for University of Wisconsin women's hockey seniors who have never known anything but the feeling the Badgers left with on Saturday.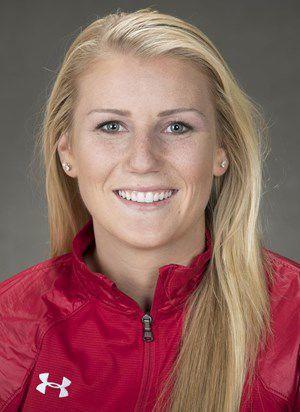 It was fitting. Pankowski also paved the path for another NCAA quarterfinal victory.
She scored the top-ranked Badgers' first two goals in a 4-0 victory over Syracuse that clinched a sixth straight Frozen Four appearance.
When it was done, five of the six Badgers seniors were the last ones on the ice. After a quick group hug and a few words, they took a skate around in front of a sellout crowd.
"We knew we wanted to have a special moment," Pankowski said. "We really just wanted to thank the fans. If you get a chance to play in this arena, in front of these fans, it's an incredible opportunity.
"I'd be lying if I said I didn't just stop crying before I came in here. It's hard to take that jersey off for the last time in this arena. But I'm so proud of this group. This senior class has been so much fun to be a part of."
The Badgers haven't lost an NCAA quarterfinal game in the collegiate careers of their senior class. They also haven't won an NCAA title since 2011, something they'll be looking to change next week in Hamden, Connecticut.
Pankowski, a senior who's a finalist for the Patty Kazmaier Award as the country's top player, notched her fourth multiple-goal game of the season and 18th of her career with a pair of goals in the second period after Syracuse stymied UW in the first.
Kristen Campbell made a breakaway save in the opening period when the game was scoreless, one of 15 stops that sealed her ninth shutout and school record-tying 33rd victory of the season.
UW (33-4-2) will play Clarkson, which defeated the Badgers in the 2017 NCAA title game and repeated as champions in 2018, in the national semifinals on Friday.
The Badgers tied Minnesota (2012-17) for the longest stretch of Frozen Four appearances and extended their unbeaten streak to 12 games (10-0-2).
But that wasn't a given after Syracuse (13-22-3) kept UW at bay in the opening period despite a 14-4 advantage in shots. UW wasn't able to play at its typical pace, coach Mark Johnson said, and needed to refocus in the second period.
"I just talked about, this is when we need to take over the game, the start of the second period," Johnson said.
Seniors Emily Clark and Pankowski connected on two plays to heed their coach's advice.
You have free articles remaining.
Register for more free articles
Stay logged in to skip the surveys
Clark pushed the puck to Pankowski off the right boards, and Pankowski found room high between Syracuse goaltender Ady Cohen and the near post from low in the circle to break the scoreless tie 2:33 into the period.
"When we get that first one, it's a little bit of a breath for everyone," Pankowski said. "I felt it on the bench, for sure."
Ten minutes later, Clark made another nice pass off the boards, this time on the left side after a faceoff win. Pankowski beat Cohen with a low shot.
"That's what you look for in your leaders," Johnson said of Clark and Pankowski, who joined forwards Sophia Shaver and Sam Cogan and defensemen Maddie Rolfes and Mikaela Gardner as seniors playing their last game at LaBahn. "They're seniors. They've been around the block. They've been in big games before."
Abby Roque and Presley Norby delivered third-period goals for the Badgers, who improved to 6-0 in NCAA quarterfinals at LaBahn Arena with a scoring margin of 28-2.
UW outscored Syracuse 15-2 in a two-game sweep at LaBahn Arena in early December, but the Badgers found it much more difficult to hit the net this time. The Orange conceded shots on goal but defended in net front well and got timely saves from Cohen, who made a career-high 43 saves.
"For a while today, we battled pretty hard," Syracuse coach Paul Flanagan said. "We knew this was a tall order. ... But I thought our kids did a real good job. We really dug down deep and played with a lot of heart. At the end of the day, Wisconsin just had a bit more."
Syracuse (13-22-3) wasn't able to mount sustained challenges on Campbell, but the junior had to stop a breakaway try in the opening period. She made a left-pad save on Abby Moloughney's rush up the middle of the ice to keep the game scoreless.
"In that moment, you're not even thinking, you're just reacting to the situation," Campbell said. "It was good momentum for me to get into the game by seeing a pretty clean shot on net."
First period penalty: Polaski, S, 7:02.
Second period: W — Pankowski 24 (Clark, Mauermann), 2:33; Pankowski 25 (Clark), 12:19. Penalties: Roque, W, 5:27; Clark, W, 18:30.
Third period: W — Roque 10, 12:16; Norby 11 (Shaver, Rowe), 18:53. Penalty: Pankowski, W, 10:13.
Saves: S (Cohen 14-17-12) 43; W (Campbell 4-5-6) 15. Power plays: S 0-for-3; W 0-for-1. Att. — 2,423.