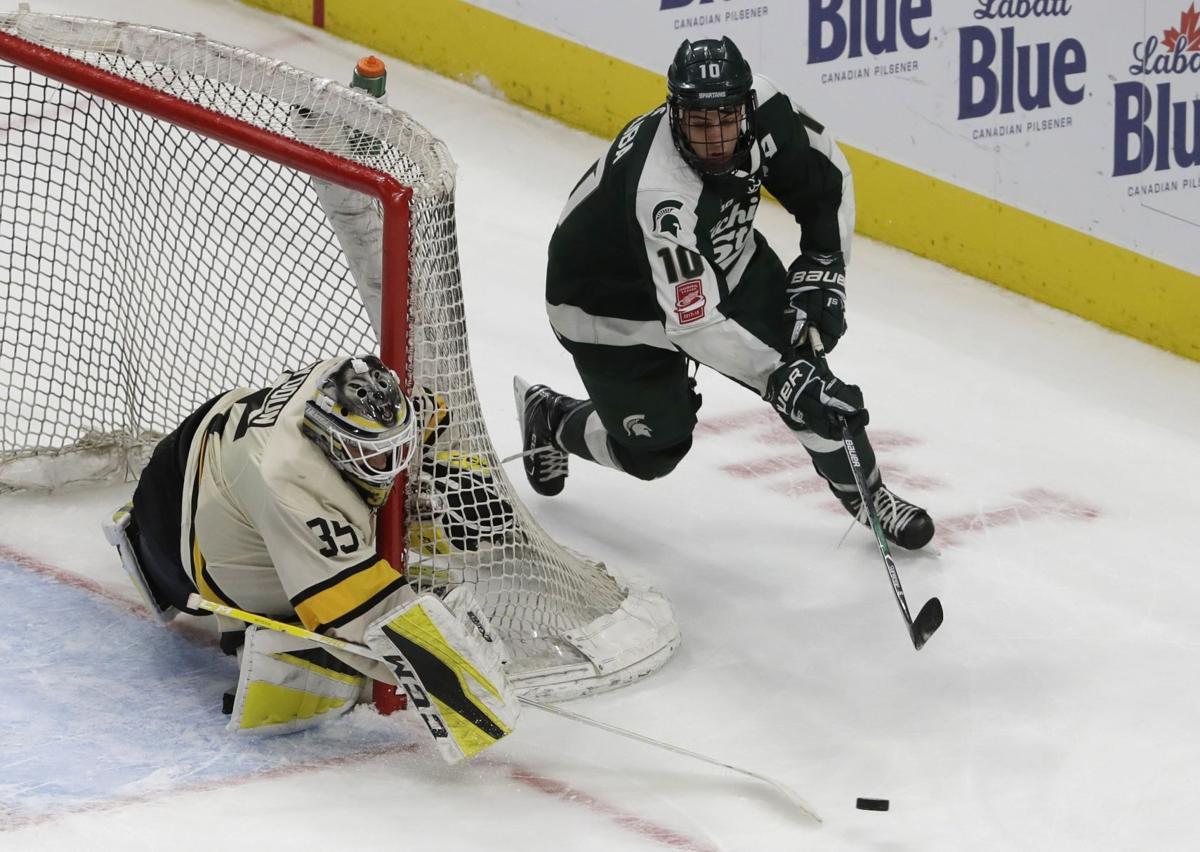 There are two sides to the narrative surrounding the goaltending position with the University of Wisconsin men's hockey team entering the 2020-21 season.
One is that the Badgers have been among the worst in NCAA Division I men's hockey in a key goaltending metric in the last five years.
The other is that none of the three goalies on this year's roster has had anything to do with those results.
The latter is a rarity. With graduate transfer Robbie Beydoun and freshmen Cameron Rowe and Ben Garrity at the position, the Badgers don't have a goalie that was on their eligible roster in the previous season for the first time in 46 years.
Although there were a few years with heavy goalie turnover since then, neither Bob Johnson nor Jeff Sauer nor Mike Eaves experienced the all-new scenario that coach Tony Granato will with the Badgers this season.
Granato said that Beydoun is likely to get the first start of the season Friday at No. 20 Notre Dame based on his three years of college experience. Still, there's again some mystery around what the Badgers will get from the goaltending position.
"I think what they've done in practice, they all have proven that they want to be the guy that starts the first game," Granato said. "They're working to be that guy."
UW is the only NCAA Division I men's program that has posted a team save percentage below .900 in each of the last five seasons. It has finished only one of those with a winning record, Granato's first in 2016-17.
The .887 save percentage in 2019-20 was the lowest of the five-year stretch and ranked 58th of 60 teams nationally.
More goes into the save percentage than just the performance of the goaltenders, who can bear the statistical burden for mistakes made by forwards and defensemen. But it's also not a stretch to say that the Badgers need improvements and stability in the crease to have a chance at a better season.
"With all three of us being new here, it's a clean slate," Rowe said. "There's no pressure — but there's pressure. There's going to be a lot of eyes or just people saying things. Three new goalies coming in, we need to step up and be big. But at the same time I believe all of us are comfortable doing that. It's a challenge that we're looking at positively."
The Badgers have gone through a fair amount of turnover at goaltender in the last six years but a complete remake between seasons is unusual for the program.
In the fall of 1988, UW brought in freshmen Curtis Joseph and Duane Derksen to play almost all of the minutes but also had seldom-used senior John Lambie on the roster.
Twenty-three years later, Joel Rumpel and Landon Peterson arrived for their first seasons but joined junior third-stringer Mitch Thompson.
The 1964-65 season, the second of the program's modern era, was the last where the Badgers didn't return a goaltender from the previous year's roster. UW featured sophomores Ben Hall, Gary Johnson and Jon Sundby in an era before freshmen were allowed to play.
This year's transformation was complete after Daniel Lebedeff, who played most of the minutes in goal over the last two seasons with the Badgers, signed with a pro team in his native Finland in the offseason.
"Him leaving to play pro right now probably was the right decision from the standpoint that we needed to have a different guy back there this year to start our season," Granato said. "I think our team needed that. I think our program needed that.
"And then Robbie came along as a transfer and we thought he would be a guy that could step in and be a guy that could really help us. It's not the long haul but it's a short-term fix that we think is to the most important position."
The Badgers are reshaping how they recruit goaltenders, a small position group where teams don't have the margin for error that they do with forwards and defensemen.
Rowe, 19, and Garrity, 20, came aboard this season. Noah Grannan is projected to take Beydoun's spot next season as a 19-year-old after mirroring Rowe's path of playing a year in the United States Hockey League after two with the USA Hockey National Team Development Program.
Granato said the Badgers coaching staff will put a higher priority on recruiting experienced goaltenders in future seasons.
With the departures of Lebedeff and seniors Jack Berry and Johan Blomquist after last season, Beydoun, Rowe and Garrity are tasked with reversing the downward trend with Badgers goaltending statistics.
Beydoun moved to UW after three seasons with Michigan Tech in which he started only 23 times. He appeared in only five games last season while playing behind Matt Jurusik, who transferred away from the Badgers when Kyle Hayton arrived as a grad transfer in 2017.
At the same time that he's one of the newest players on the team, Beydoun also is the oldest at 24.
"I've been really enjoying it because it's like a fresh start," Beydoun said. "It's a new group of guys but you're also a veteran at the same time."
Rowe's 2019-20 campaign with Des Moines in the USHL was below average statistically — a .899 save percentage and 3.52 goals-against average in 33 games — but he said the experience was helpful.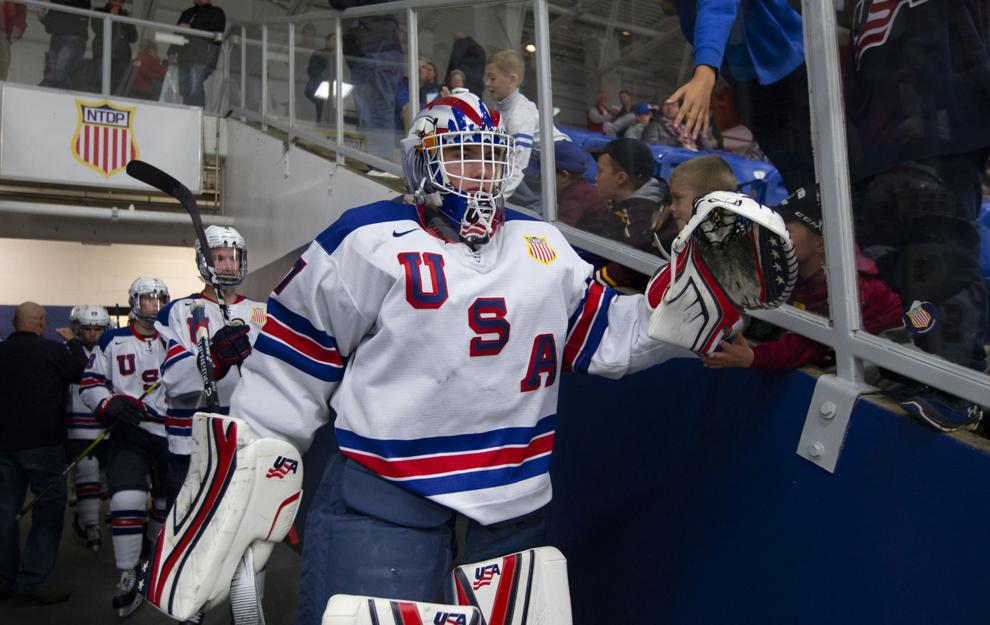 "I think that was huge for me in Des Moines, especially having a semi-frustrating season there," Rowe said. "Just rolling with the adversity, understanding the situation that this is part of a much bigger picture, I think, was huge to learn during that time."
After two seasons with Minot of the Tier 2 North American Hockey League, Garrity is a long shot to play significant minutes for the Badgers.
Beydoun got to UW after graduating from Michigan Tech in three years. Rowe had been committed to Omaha and North Dakota before landing with the Badgers. Garrity arrived four years after his initial recruiting visit to Madison.
Their experiences are varied but they now share the goal of putting Badgers goaltending back into a good light.
"The past for goalies, it's all in the back of our heads but we don't really talk about it," Garrity said. "We know what we have to do. We know what's been going on the last few years. So we're pushing ourselves and trying to get ready to change that."
---
Catch up on what you might have missed in the Badgers men's hockey 2020 offseason
Catch up on what you might have missed in the Badgers men's hockey 2020 offseason
The COVID-19 pandemic caused the longest Badgers men's hockey offseason in 51 years. Here's what the State Journal has covered since the 2019-20 season ended.