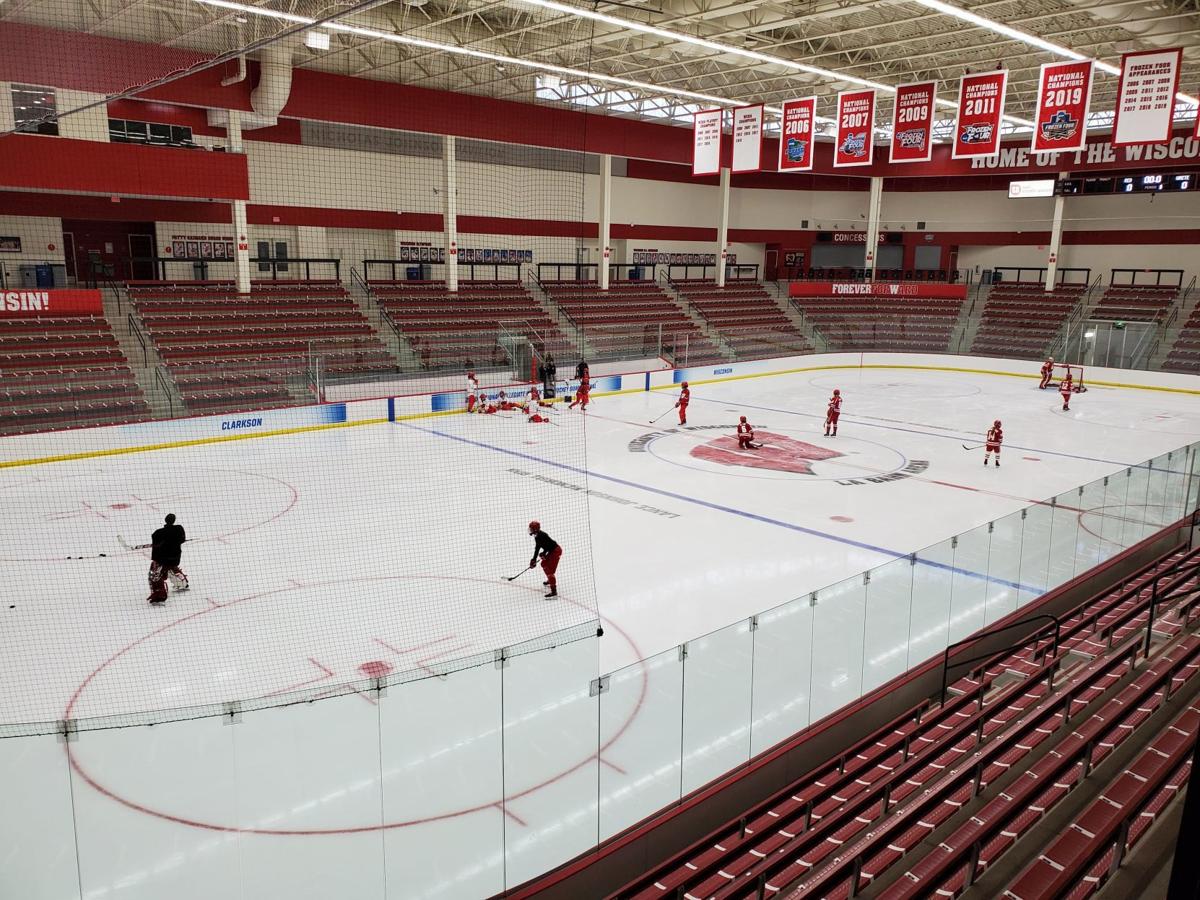 They were in the center circle on the LaBahn Arena rink, some sitting on the ice, some sprawled out on their back.
Later, there were hugs. There were tears.
All seasons and college careers end, but rarely has it happened in as unusual a way as it did Thursday for the seniors on the University of Wisconsin women's hockey team.
"Most of them were in tears prior to me even saying a word," Badgers coach Mark Johnson said of a locker room meeting Thursday afternoon.
The NCAA said it eliminated all of its remaining championships for the school year to avoid contributing to the spread of the COVID-19 coronavirus pandemic.
UW players digested the news, then they took to the LaBahn Arena ice during what would have been their practice time. It was there where they were due to play Clarkson in an NCAA quarterfinal game on Saturday.
The seniors were wearing their red jerseys. Someone brought the 2019 NCAA championship trophy out to sit perched atop the boards in front of their bench.
They had already absorbed a shock. A day earlier, the Badgers learned what was to be the seniors' last game at LaBahn had to be played in front of a limited number of spectators and not the raucous atmosphere they were used to.
Johnson said that Thursday was a whirlwind of a day, with another cancellation coming in from around the sports world seemingly every few minutes. Around 3:15 p.m., the Badgers got the word that everything that was potentially ahead of them this season had vanished.
"Then reality all of a sudden set in, and now we're not going to get another game," Johnson said. "Looking at my seniors, it's not a good day. It's not a good day for them. But it's part of life. You never know what's coming your way. Unfortunately, the news we got today is really sad."
It wasn't a good day for Clarkson, either. The team was traveling from Potsdam, New York, to Madison on Thursday, starting its journey with a bus trip to Montreal for seats on two commercial flights.
A victory Saturday would have given the Badgers an NCAA-record seventh straight Frozen Four appearance, breaking a tie with Minnesota. Their season, which included the Western Collegiate Hockey Association regular-season championship, finished at 28-5-3.
Badgers senior center Abby Roque was one of the top three vote-getters for the Patty Kazmaier Award as the best player in the country. That award ceremony was scheduled to be during the Frozen Four on March 21; USA Hockey hasn't announced how it will be presented now.
UW was ranked second in the country behind Cornell and had the nation's leading scorer in junior Daryl Watts heading into the NCAA tournament. What would have happened will remain a mystery.
UW players weren't made available for interviews on Thursday, but sophomore defenseman Nicole LaMantia wrote on Twitter that she was "completely devastated this year has ended like this and to not know what these next two weeks had in store for this group."
Be the first to know
Get local news delivered to your inbox!