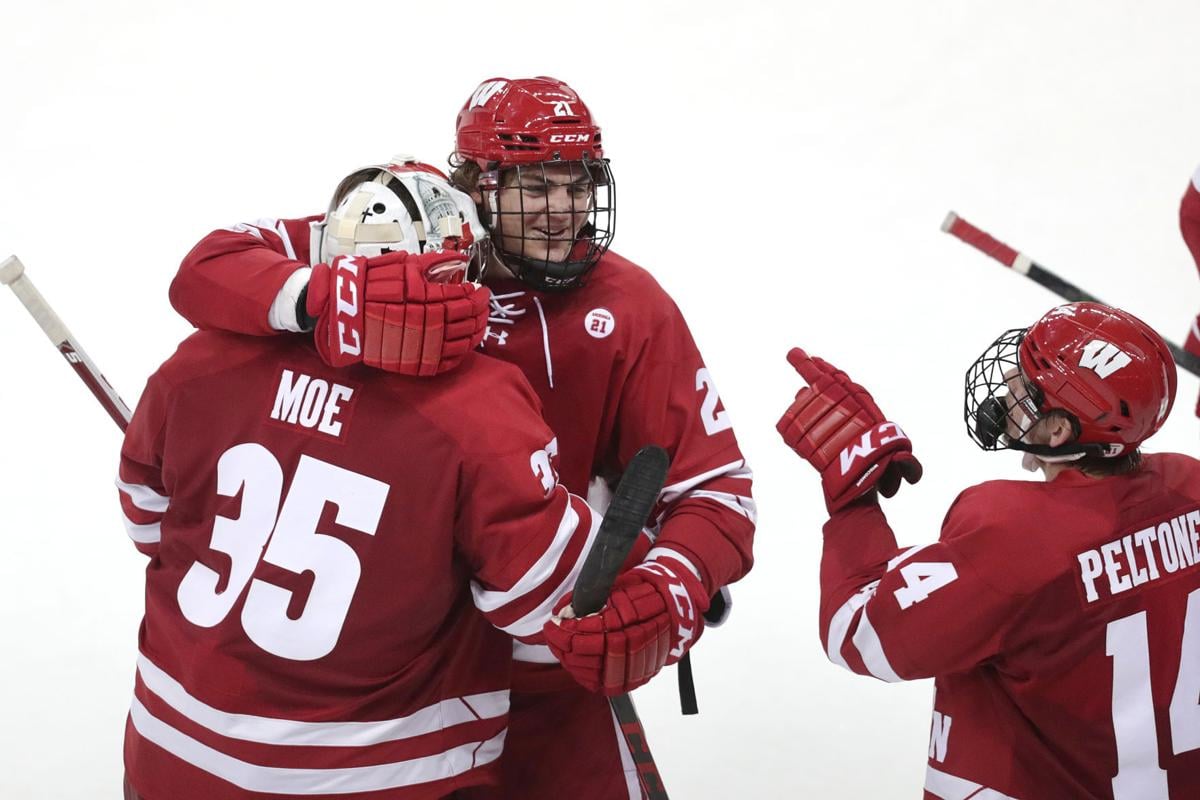 After playing eight of its last 10 games on the road — and going 1-7 in them — the University of Wisconsin men's hockey team doesn't have to leave the state to play for nearly two months.
The next 10 regular-season games include eight at the Kohl Center, starting with non-conference contests against Clarkson at 7 p.m. Friday and 6 p.m. Saturday. UW also has the Holiday Face-Off in Milwaukee on Dec. 28-29.
Here are five things to know about the games between the Badgers (4-10) and the Golden Knights (7-4-2):
More sacrifice sought
Coach Tony Granato identified two shortcomings as contributing to the Badgers' national-worst penalty kill (61%). One was a deficiency in shot-blocking, and the numbers prove that to be true.
When they had the eighth-best penalty kill last season (86%), the Badgers blocked 34% of opponent shot attempts. That has fallen to 26% this season.
"We've got to get back to the basics and fundamentals of understanding that when you're short-handed, it's got to be the sacrifice of being in position to block shots over and over and over again," Granato said.
"Last year, we were much more consistent on our shot blocking. We were much more consistent when we got a puck we got it down 200 feet. There was little things in our PK that were exceptional last year that we've been very sloppy on (this year) that we'll have to get better on so the numbers get better."
Another area for improvement, Granato said, is in personnel. Using veteran forwards Tarek Baker and Brock Caufield on both the power play and penalty kill in addition to being the top two centers probably is asking too much.
Granato wanted experienced players on the penalty kill early in the season — even if it meant more work for them — but the strategy hasn't paid off. Look for a more varied crew of forwards to take part.
UW is 1-10 this season when allowing a power-play goal. Clarkson has scored on the power play in four straight games and is 5-for-17 in that span.
The first 40
Being outscored by large margins in the opening two periods has saddled the Badgers with deficits that have been too much to overcome more often than not.
UW has been outscored 14-3 in the first period and 24-9 in the second. The team's save percentage in the middle frame is a ghastly .843.
The Golden Knights, meanwhile, are outscoring opponents 12-6 in the first period and 18-10 in the second.
From the infirmary
The Badgers could get forward Max Johnson back in the lineup; he has missed the last three games after absorbing an open-ice check Nov. 12 at Notre Dame.
Defenseman Jake Martin's absence because of a non-COVID illness is expected to last at least another two weeks. And defenseman Corson Ceulemans' status for this weekend's games is unsure after he missed Thursday's practice with a non-COVID illness.
Big obstacle
If the Badgers are going to get to the net for scoring chances this week, they'll have to get through a Clarkson team whose regular six defensemen average 6-foot-2, 196 pounds and 78 games of college experience.
UW hasn't had much success this season against physical, veteran teams. That'll have to change against the Golden Knights, who have 11 fourth- or fifth-year players.
One of them is Zach Tsekos, who leads the team with eight goals. Sophomore Alex Campbell scored three goals last weekend, one in a tie at Quinnipiac and two in a victory at Princeton.
The last meetings
The Badgers and Golden Knights split a series at the Kohl Center in October 2019. Owen Lindmark rescued UW with a goal late in the second game after Clarkson rallied from a 3-0 deficit to tie.
UW leads the all-time series 6-5-2, not including a 1997 victory in the Ice Breaker Tournament that was ruled to be an exhibition game. The teams played NCAA tournament series in Potsdam, New York, twice, with the Badgers advancing in 1981 and the Golden Knights moving on in 1991.