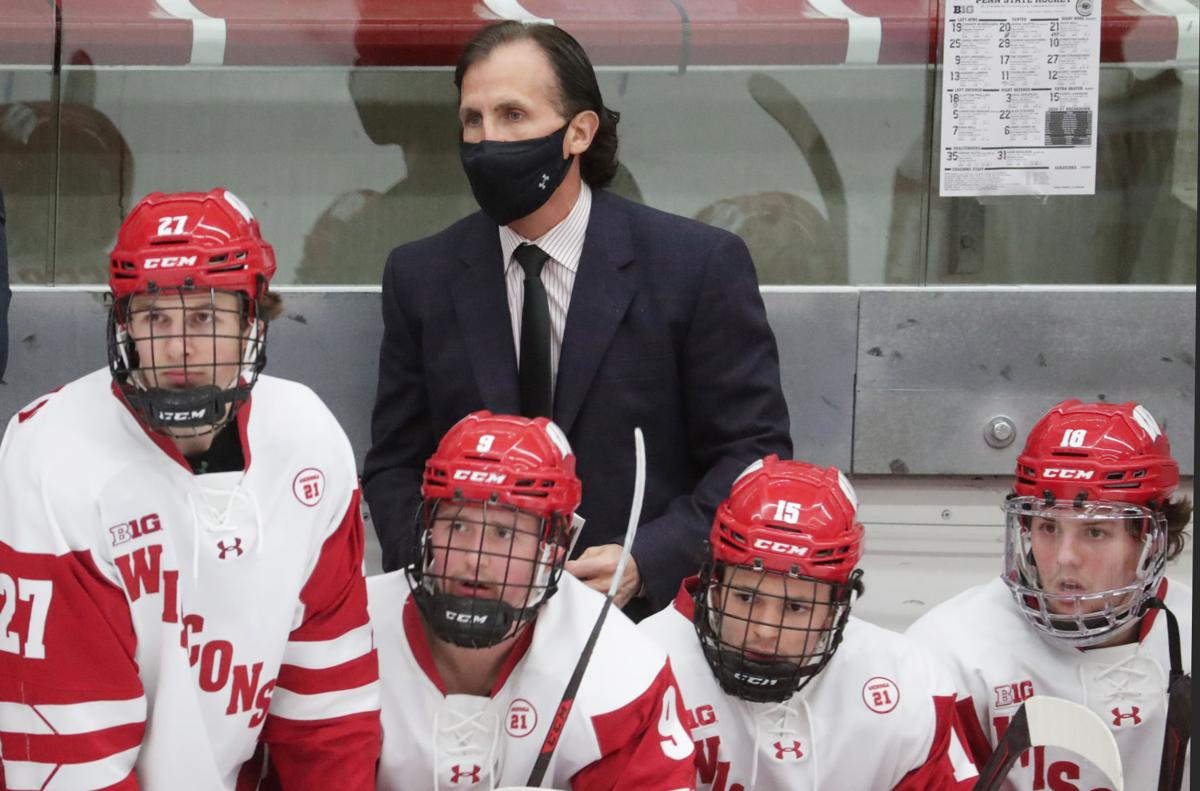 Tony Granato is reportedly in the mix for a move back to the NHL.
General manager Ron Francis also is thought to be considering former Tampa Bay and Arizona coach Rick Tocchet and Boston assistant Joe Sacco, per the report. The Kraken begin play next season and have an expansion draft July 21 to select players from other teams' rosters.
Granato came to the Badgers in 2016 after 14 seasons in NHL coaching. He spent parts of three seasons as coach in Colorado; the rest of the time was as an assistant with the Avalanche, Pittsburgh and Detroit.
Here's three reasons why the Kraken might consider Granato to be their first coach.
He's at a high point in his UW tenure
Granato started his college coaching career by being named Big Ten coach of the year in 2016-17 when he directed the Badgers to a second-place finish. UW was sixth, fifth and seventh in the seven-team league in the next three seasons.
UW returned to the NCAA Tournament for the first time in seven years in 2021 behind a Big Ten regular-season championship team and the dynamic season of Hobey Baker Award winner Cole Caufield. Granato again was named the Big Ten's top coach.
Granato's profile as a college coach is at its peak five years into his tenure even though the Badgers were an upset one-and-done in the NCAAs. Colleges increasingly are being eyed as sources for new NHL coaches. UMass' Greg Carvel, Providence's Nate Leaman and Minnesota Duluth's Scott Sandelin have been among the names floated for pro openings after winning the NCAA championship.
Granato hasn't taken the Badgers to that level — he's 82-82-13 in five seasons with only one NCAA Tournament appearance — but he has what those others don't: NHL head coaching experience. The attention UW received last season probably helped push his name back up some coaching lists.
There's a Cole Caufield effect
Caufield's impact on the Montreal Canadiens since he signed with the team after UW's season ended has been noticeable. It's more than scoring goals and setting them up; there's an extra boost of energy with the right wing in the lineup.
His elite-level offensive traits emerged before the Stevens Point native debuted with the Badgers in 2019, but the development of Caufield as more of a full-ice player has been partially attributed to his time under Granato at UW. Caufield isn't yet used in key defensive situations for Montreal and he still has work to do in coverages, but he took a major leap between his freshman and sophomore years.
Granato's brother Don, who finished last season as interim coach with the NHL's Buffalo Sabres, has been known for his work with young players; it seems to run in the family. If the Kraken plan to go with a young roster, a coach who knows how to relate to them could be a good fit.
There's already a Granato on staff in Seattle
Seattle made history in September 2019 when it hired former U.S. Olympic captain Cammi Granato, Tony Granato's younger sister, as the first female pro scout for an NHL team.
Pro scouts generally don't have much input into coaching decisions, so it seems unlikely that Cammi Granato has a voice in the process. But if you're going with one Granato, maybe there's room for two.
Look back on State Journal coverage of Badgers men's hockey games in the 2020-21 season
Read stories from University of Wisconsin men's hockey games in the 2020-21 season.