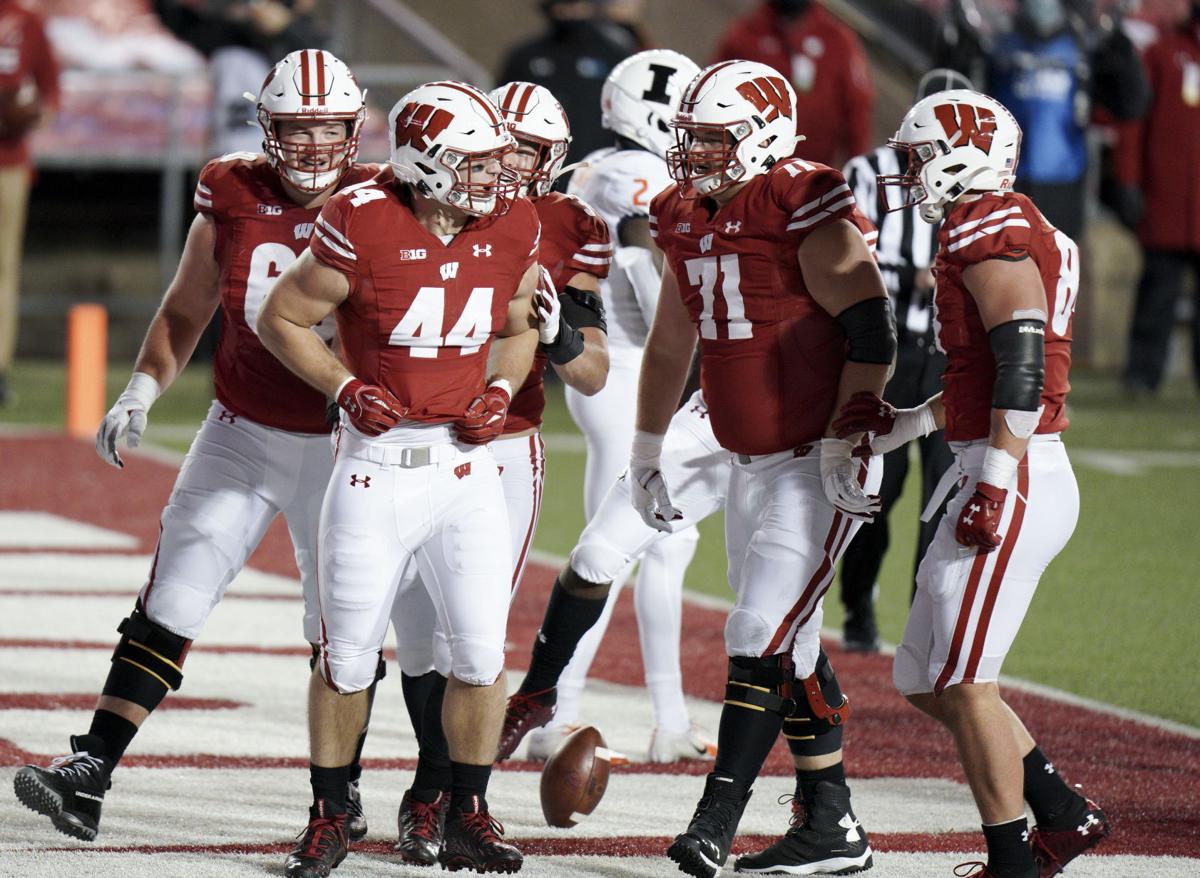 The University of Wisconsin football season to this point has felt like rush-hour traffic on the Beltline.
Start and stop. Slowly get moving, then stop again. Get a head of steam, screeching halt.
The Badgers hope that cycle can end soon, starting with Saturday's game against a desperate Michigan team at Michigan Stadium. The No. 13 Badgers (1-0) finally get back on the game field after a COVID-19 outbreak within the program canceled two games and shut down in-person activities for more than a week.
College football marched on as the Badgers were idle.
"It's been kind of weird and sad a little bit just not being able to play," senior receiver Kendric Pryor said.
"I don't pay too much attention to the rankings, but like, I do look and see where we're at each week. It definitely sucks a little bit to know we were No. 9 and just not being able to play dropped (us), just keeps dropping. But that's just something we can control, so you've got to kind of control the things you can control."
UW has the chance to get its season back on track against the Wolverines (1-2). All of the Badgers' goals are still in front of them — they can still win the Big Ten Conference West Division and earn a spot in the conference title game, and they can still earn a College Football Playoff bid.
While the focus of November so far has been stopping the program's COVID-19 outbreak, the team must now turn its attention toward winning games.
"The last couple weeks have been rough. In this kind of year it seems like it's kind of normal," junior linebacker Jack Sanborn said. "We're excited to get back after it; it's something we've all been looking forward to. We knew it was going to come sooner or later. Just to start up this week, we're all really excited for the opportunity that we have at hand."
Finding a way through frustration
During the program's pause on team activities, players had to find ways to stay in shape on their own. A majority of the team wasn't allowed to work out at UW's facility, so they reverted to things they did this spring and summer before UW's campus allowed athletes to return for training.
Pryor said he hooked up TRX suspension training equipment to a door in his place to perform body-weight workouts and used resistance bands as well. He ran outdoors to keep in condition.
"You don't want to sit on your butt for seven to 14 days and come back and play like we're going to play Michigan," he said.
The COVID-19 outbreak was another significant disruption in a season full of them for the Badgers and the Big Ten as a whole. When COVID-19 began spreading in the United States this spring, UW shut down its campus, nixing spring football practices. Just weeks after the Badgers got the full team together for fall training camp, the conference announced it was canceling the season. Then after adopting strict medical protocols and relaunching the season, teams had little more than a month to prepare for games to begin.
After getting one game played — a 45-7 drubbing of visiting Illinois — the Badgers must find a way to restart their engines again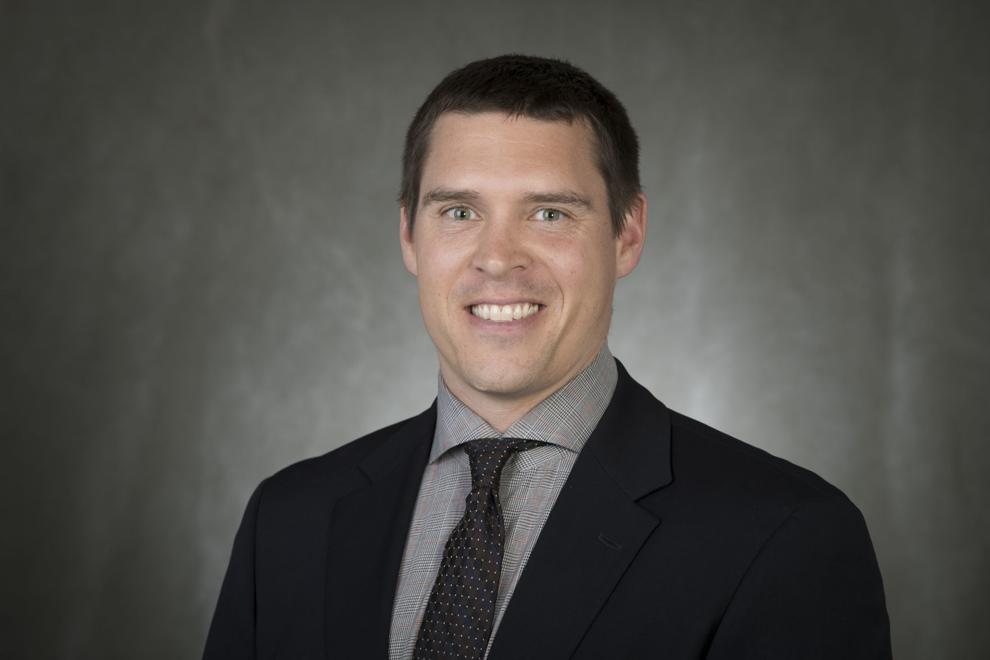 "It just feels like you can't build any momentum. That's the biggest thing. You try to push your guys through it. As coaches, you're feeling the same frustration. You're prepping for multiple games and all of a sudden, they're not happening. The biggest thing I'm trying to push to those guys is … you have that frustration, you have those emotional highs and lows, now you have you push past it," defensive coordinator Jim Leonhard said.
"We all felt it. The whole state, the whole program is going through that, the whole country, right? As far as riding the wave of the ups and downs. We know we're going to get an opportunity to play, so guys are excited. It's awesome the last couple days to get back on the field and feel like you're building to get on that (game) field again. The guys are excited. They realize that it's a blessing to be able to play this fall. We didn't think we were going to be able to have it. You have frustration, but at the same time, you're on the field, you're getting ready to go up to Michigan and play a great team. You're seeing as we're getting into the game plan the guys getting more focused and locked in and moving on past that frustration back to the excitement of getting out there and playing in big games."
Adjusting after the outbreak
The path back to the playing field for UW began last Friday and Saturday, when a sharp decrease in positive COVID-19 tests allowed the team to get together for small group workouts at Camp Randall Stadium. Those conditioning workouts essentially became position-group sessions.
Offensive coordinator Joe Rudolph said those days were invaluable in getting prepared to play again.
"I don't know how well we'd have jumped right back into just a regular practice and those two days of individual work, even though we were kind of distanced in that and we weren't allowed out there together, I thought it really helped the guys get back to the movements and the body positions and just some of the basic drill work that helped a little bit leading into this week," he said.
When practices began this week, UW coaches were in a unique position of trying to balance knocking the rust off players who hadn't practiced in weeks with preparing for an opponent who hasn't missed any games yet this season.
"It's unique because in one sense you go, 'Oh it's just like a bye week, you have a little extra time to prepare for them.' But your guys, they've got to get that rhythm back. You're creatures of habit, you're used to being on the field almost every day and all of a sudden you take a break, seven-, 10-day break, whatever it was, where you don't touch the field. It just takes you a little bit of time mentally to click back it. You lose your technique a little bit," Leonhard said.
Despite the adversity, Sanborn said he was happy with how the team approached its circumstances.
"These are times that none of us have ever been in, none of us thought we were ever going to be in. I thought we approached it well. Each week it's, 'OK, onto the next week, who's our next opponent?' After Nebraska was canceled, onto Purdue, looking at Purdue, getting ready for that. Then that one ended up getting canceled and then right away it was, 'We're onto Michigan, let's get ready for Michigan,'" he said. "It's obviously different, weird. But I think our team is doing the best that we can."
UW researchers are working with the Centers for Disease Control and Prevention to trace the source of the outbreak. Getting those results may take weeks. But the Badgers say they're being vigilant about taking the precautions they can to prevent losing more games to the virus.
Coach Paul Chryst said they're using more buses, bringing less people and won't have a team meeting at the hotel Friday night.
Knowing what they've lost already, the Badgers say they're staying vigilant to prevent another outbreak.
"You can do everything you can possibly to try to stay away from people, keep a small bubble, but you never know. You can get it from anyone, which is the scary part," Pryor said.
"It just makes you keep doing it, keep your mask on in the building, social distancing, all of that. Make sure you're watching like every time you touch something. Simple things. You can't prevent it, but you can try to do as much as you can to not get it and that's all that we can do."
---
Who has the edge when the Badgers take on Michigan?
Who has the edge when No. 13 Wisconsin travels to Michigan?
WHEN THE BADGERS HAVE THE BALL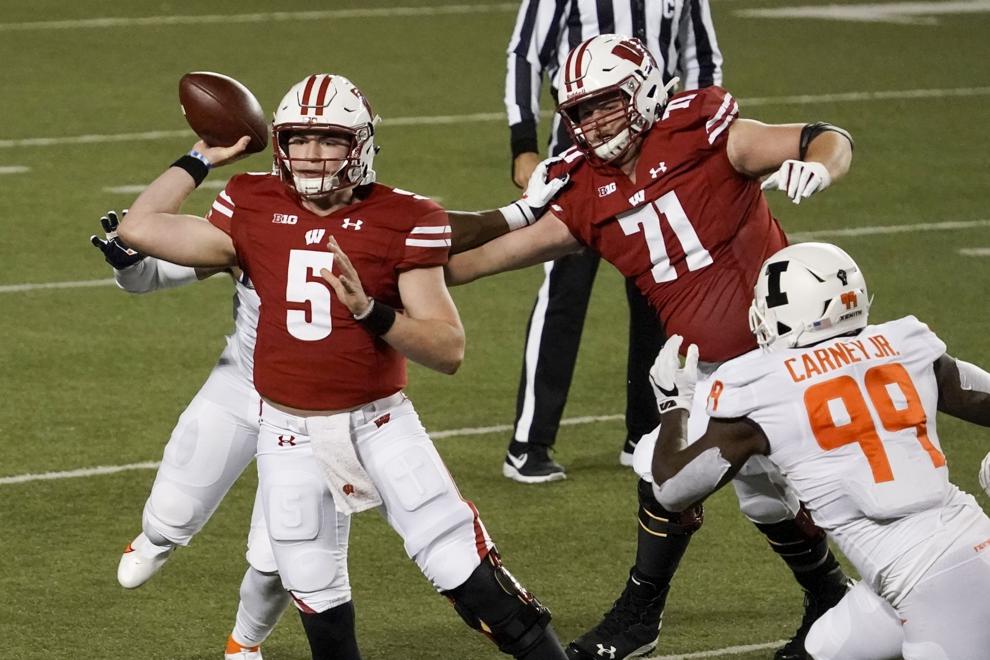 After a star-making performance in his starting debut, redshirt freshman quarterback Graham Mertz (above) may be eligible to play this week after sitting out of game action for 21 days after a positive COVID-19 test. Mertz had to clear physical tests this week before he could practice and coach Paul Chryst said Mertz's status will be determined by how he looks in practice.
If Mertz can play, expecting another near-perfect showing from him is a bit ridiculous, but after seeing what Michigan has allowed opposing quarterbacks the past two weeks, nothing is out of the question. Michigan allowed over 300 yards and three touchdowns apiece to Michigan State's Rocky Lombardi and Indiana's Michael Penix Jr. If Mertz can get back in a rhythm with his receivers after a hiatus, the passing attack could be in line for a big game.
UW's rushing attack was a bit slow out of the gate, averaging 3.4 yards per carry against Illinois, but Badgers coaches and players believed they had chances for big plays that they missed. Garrett Groshek had the most productive day on the ground in the opener, gaining 72 yards. The ground game needs to get back to form against Michigan, which has allowed over 100 yards rushing in each of its three games, but is only surrendering 3.2 yards per carry.
The Wolverines are anchored by a stout defensive line that features standouts Kwity Paye and Carlo Kemp, but they're struggling to put pressure on passers. Michigan hasn't recorded a sack in the past two weeks. Aidan Hutchinson, another stud defensive lineman, is out indefinitely after breaking his leg last week against Indiana.
EDGE | UW
WHEN THE WOLVERINES HAVE THE BALL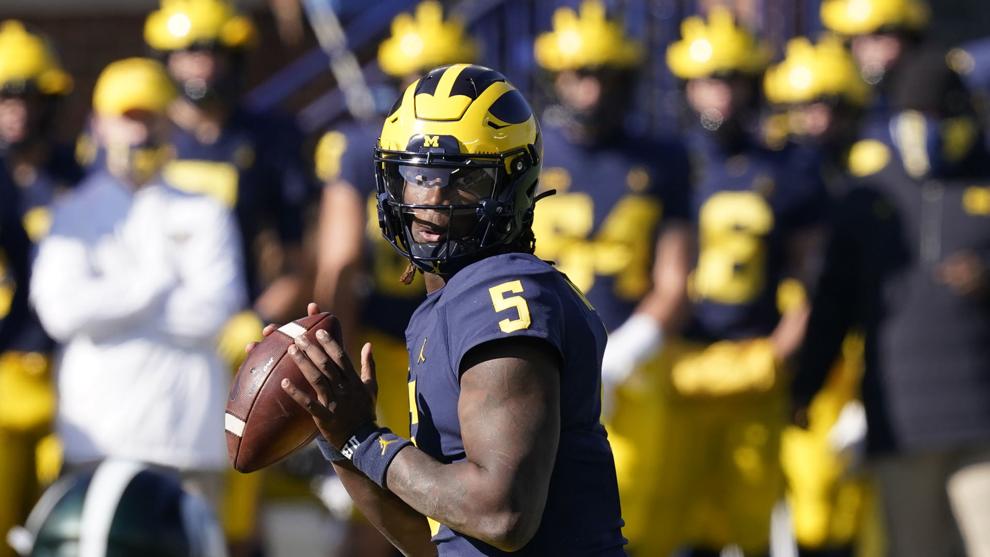 The Michigan offense in its second year with coordinator Josh Gattis has been subject to quarterback Joe Milton's (above) performance — as he goes, the Wolverines go. Milton — a 6-foot-5, 243-pounder out of Pahokee, Fla. — has been inconsistent at best. He'll flash tremendous arm strength and touch one possession, then miss an open target on another.
He's averaging 289.7 yards per game and his average completion goes for 13.4 yards, but he's completing just 60.8% of his throws in an offense designed for efficient QB play.
Milton adds another threat to Michigan's rushing attack, which is led by junior Hassan Haskins, but a number of backs get touches for the Wolverines. Six players have rushing touchdowns this year and the team averages 5.1 yards per carry.
UW's defense pitched a shutout against Illinois — the Illini's only points came on fumble returned for a touchdown — and showed strong secondary play, particularly from cornerback Rachad Wildgoose. If the Badgers have a majority of their defensive starters available, they should be able to corral the Wolverines' offense.
EDGE | UW
SPECIAL TEAMS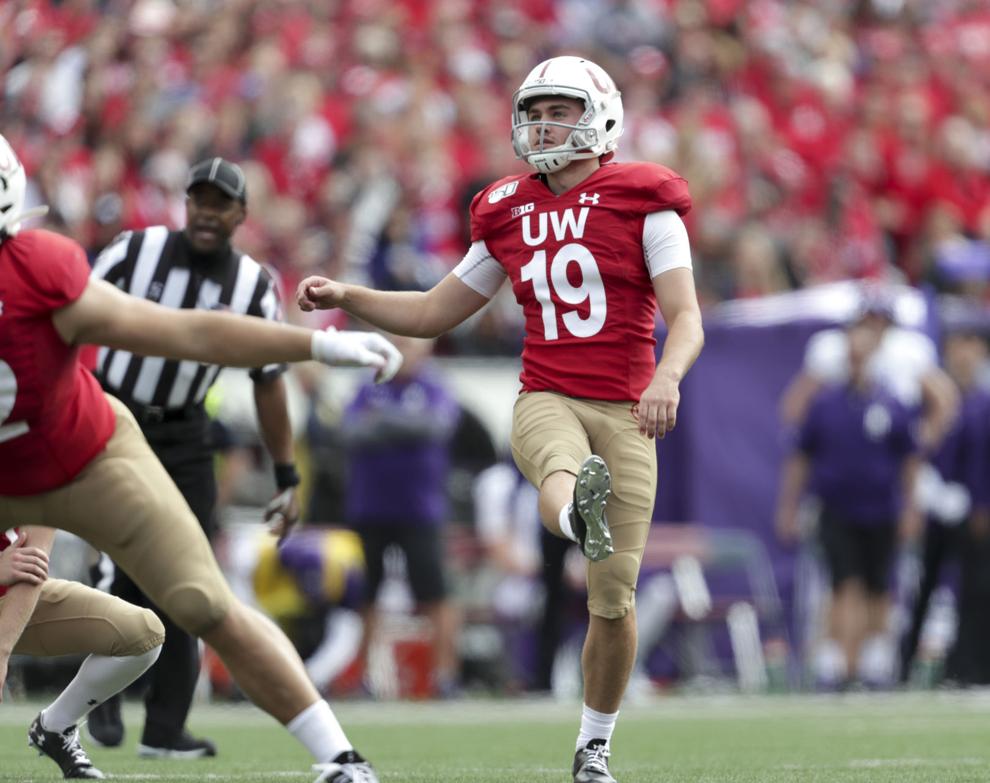 UW's special teams were a major question mark heading into the opener, but the unit was up to the task. Punter Andy Vujnovich had an up-and-down day, highlighted by a 60-yard punt in his first attempt. He finished with an average punt of 46 yards. Kicker Collin Larsh (above) made all six of his PAT attempts and added a short field goal late in the game. The coverage teams, revamped after some roster turnover, allowed one kickoff return of 20 yards, but stymied everything else short.
However, if the kicking spots are affected by the virus outbreak among the team, the reserves are true freshmen Gavin Meyers and Jack Van Dyke.
Wolverines punter Brad Robbins is averaging 49.4 yards per punt, best in the Big Ten, and has pinned seven of his 11 tries inside the opponent's 20-yard line. Placekicking has been an issue for Michigan — Jake Moody is 0-for-3 on field-goal attempts this year.
Return man Giles Jackson ranks third in the conference with 11.3 yards per punt return and fourth with 18.4 yards per kick return.
EDGE | PUSH
COACHING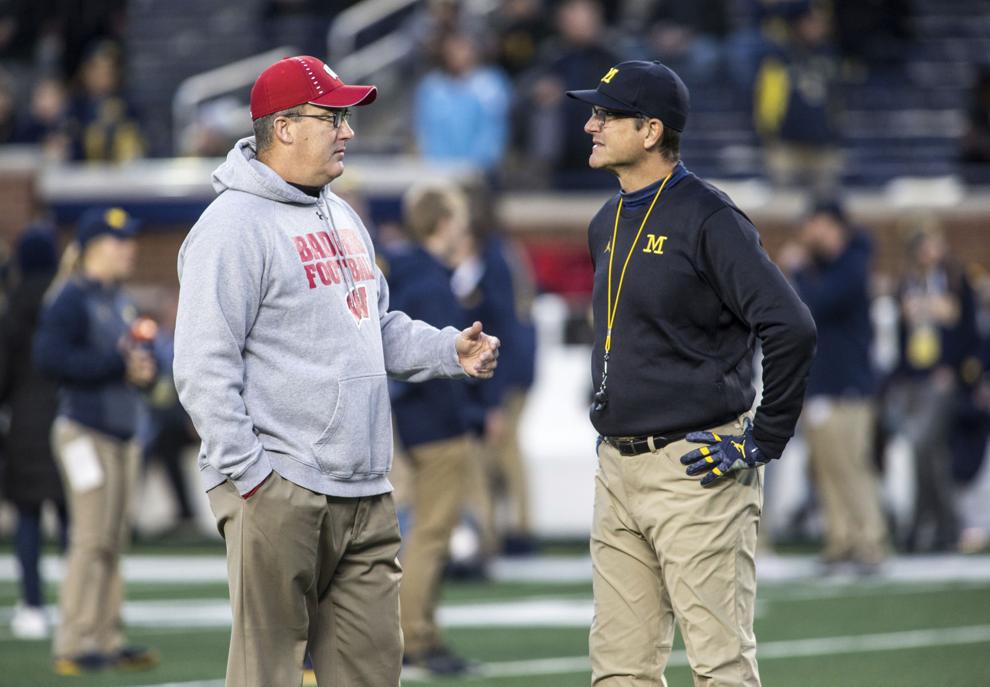 UW had seemingly a perfect game plan for the Illini on both sides of the ball. Mertz picked apart Illinois' Cover 2 defense and exploited the defense's aggressiveness in the red zone to get Jake Ferguson wide open for two touchdowns. UW's defense didn't allow a point, and let up a total of 218 yards. The Badgers were again stingy on third downs, allowing Illinois to convert just 2 of 10 chances.
Paul Chryst and his assistants will need to scheme players open against Michigan defensive coordinator Don Brown's man-coverage-heavy approach.
Michigan's Jim Harbaugh is coaching in the final year of his contract with the program, an exceedingly rare act in college football. Frustration is mounting in Ann Arbor regarding the football program's inability to contend with Ohio State and other top teams in the conference.
EDGE | UW
INTANGIBLES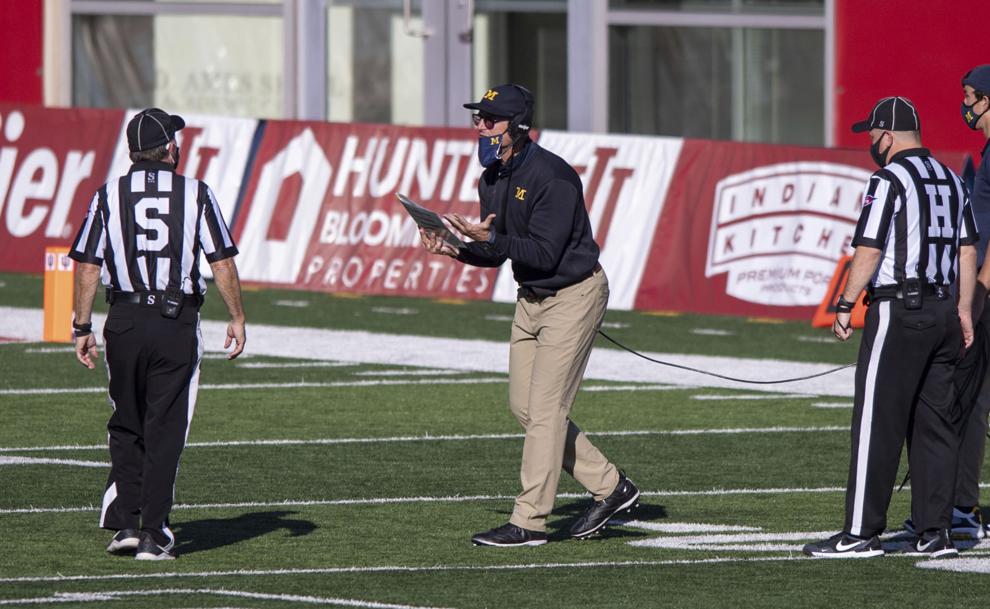 This game will be defined by how the Badgers respond to their COVID-19 situation. If Mertz is available, he'll need to apply the same focus and attention to detail that he showed in throttling Illinois. If it's anyone else under center, the offensive line and rushing threats will need to take a step forward from Week 1 to get the offense moving.
This could be a pull-out-all-the-stops game for Michigan, because their schedule the rest of the way is tougher than it once appeared. Rutgers, Penn State, Maryland and Ohio State follow the Badgers on Michigan's slate. Rutgers and Maryland are proving to be tough outs already this season, Penn State is in dire straits and Ohio State is still Ohio State.
The Big Ten is reportedly considering allowing limited fans into stadiums in the second half of the year, but "The Big House" will be void of fans this week.
EDGE | MICHIGAN
STATE JOURNAL PICK
It's difficult to make a prediction not knowing who the Badgers will put on the field Saturday. However, the Wolverines haven't shown much to inspire optimism against top-tier opponents in the Big Ten this season. UW is one of those top-tier teams with a healthy roster, so we'll see what kind of patchwork the Badgers have to do on their starting lineup due to the COVID-19 outbreak.
If Mertz can play, UW has seen the blueprint in the past two weeks to attack Michigan's secondary and takes advantage. If Mertz is out, the Badgers' defense may need to win a slugfest.
BADGERS 31, MICHIGAN 24
THE NUMBER (UW)
X: How many players are out for UW due to the COVID-19 outbreak and contact tracing.
THE NUMBER (MICHIGAN)
2: Giveaways this season for the Wolverines, tied for the fewest in the Big Ten.
KEY STAT (OFFENSE)
Yards per carry: UW's 3.4 yards per carry in the opener against Illinois were the team's lowest since a midseason loss at Ohio State last year, and the fourth-lowest in the past three seasons
KEY STAT (DEFENSE)
Third-down conversions: UW allowed the Illini to convert 2 of 10 third-down chances in the opener and Michigan comes in ranked eighth in the conference on third down, converting at a 38.9% clip.