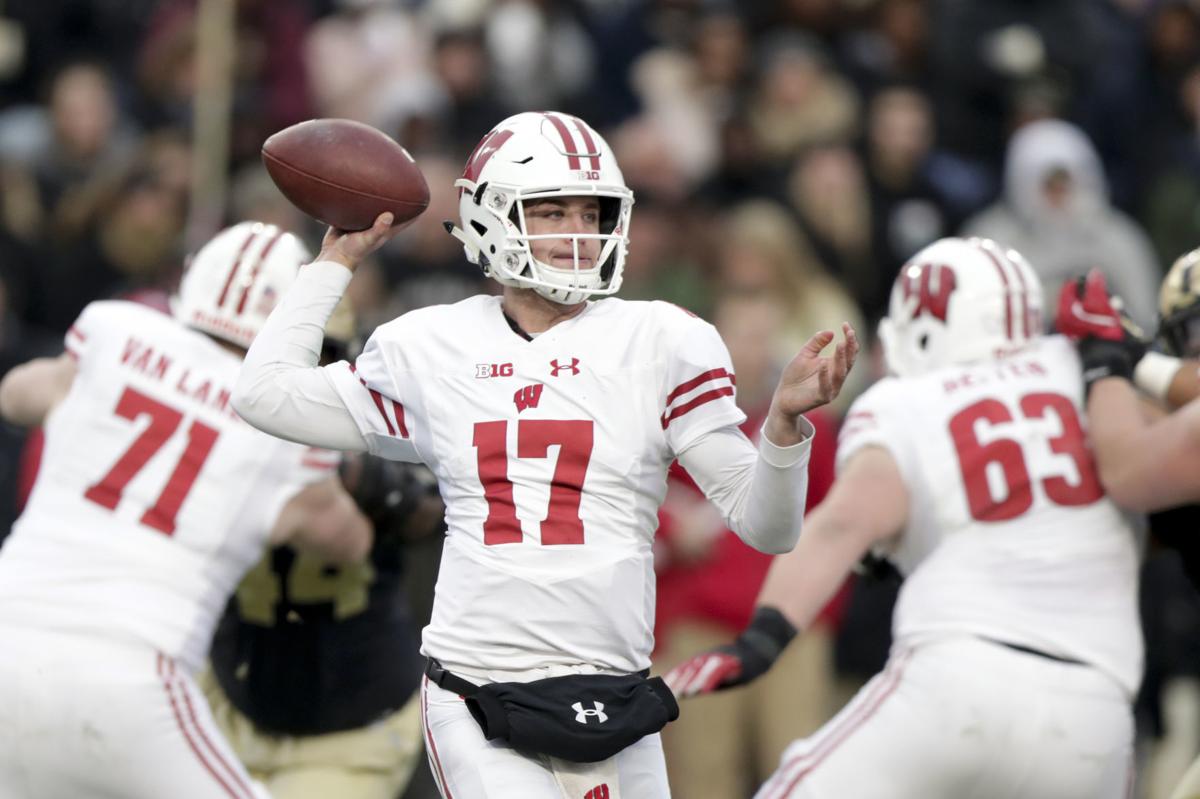 Leading up to the start of fall camp Aug. 1, State Journal beat writer Jason Galloway will break down the University of Wisconsin's top five position battles for the upcoming season. Today, in Part 5, he takes a look at the Badgers' quarterbacks.
The Badgers' three-year starter transferred to Florida State for his senior season. He endured a rocky 2018 for UW, as he struggled for consistency and missed time with a head injury.
His departure opened up a true quarterback competition for the first time since 2016, and it doesn't necessarily mean the Badgers' quarterback play will regress.
Coan played in five games last year, starting four, while Hornibrook was out with his head injury. He completed 60.2 percent of his passes for 515 yards with five touchdowns and three interceptions.
UW's offense floundered in his first couple starts at Northwestern and Penn State, but Coan gave reason for optimism during his final two games against Purdue and Miami. Coach Paul Chryst said during Big Ten Media Days that Coan's finish to the year "spoke volumes to the guys."
The junior took nearly all first-team reps during the spring practices that were open to the media, and he enters August as the clear favorite to enter this season as the Badgers' No. 1 quarterback.
Mertz, who enrolled early in January, could legitimately challenge Coan. He comes to Madison as one of the highest-rated and most hyped recruits in recent memory.
The true freshman holds all the physical tools to be successful right away, although he'll need to prove he's mastered UW's offense in the months leading up to the season. He understandably needed help with play calls and signals during spring practice scrimmages, and it'll be interesting to see if that's no longer the case throughout fall camp.
While Coan's domination of first-team reps this spring puts him in a strong position, that type of workload was likely never possible for an early enrollee like Mertz. He took more team reps than you typically see from a true freshman quarterback working through his first collegiate practices, and it wouldn't be farfetched to see reps between Coan and Mertz even out from the get-go in August.
Chase Wolf, Fr.
Danny Vanden Boom, So.
While Mertz appears like the most likely challenger to Coan, both Wolf and Vanden Boom also had their moments during spring practice.
Wolf stands out as the most mobile of UW's quarterbacks and showed off a strong arm in the spring. Vanden Boom, who played some garbage-time snaps in three games last year, appears to be improving every offseason.
This is the deepest group of quarterbacks UW's had under Chryst, and it's possible Wolf or Vanden Boom could be given the opportunity to compete this fall.
Regardless of who ultimately starts, the Badgers need more from the quarterback position than they did last season.
Coan's final two games of 2018 provide at least some evidence that he could develop into a strong option. Preparing over an entire offseason as the potential starter should help as well.
Expectations will be through the roof for Mertz if he wins the starting job, although there are sure to be some growing pains with a true freshman at that position.