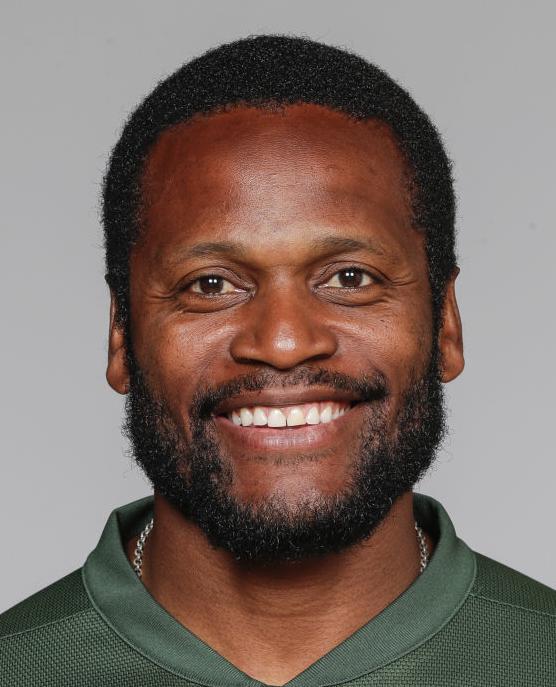 The University of Wisconsin football program announced it hired Whitted, a former NFL receiver and veteran college coach, as its wide receivers coach on Wednesday.
"We're excited to add Alvis to our staff," UW coach Paul Chryst said in a release. "What he's done as a coach and his experience as a player obviously stood out, but as we went through the process and got to know more about him and who he is, the more impressed we were. It became clear that he made a big impact on the coaches and players he's been around, and I'm excited for him to have the opportunity to help our players continue to grow."
Whitted, 45, played nine seasons in the NFL, appearing in 123 games, including 24 starts. He had 74 catches for 1,030 yards and six touchdowns. The North Carolina State product was drafted in the seventh round by Jacksonville in 1998. Whitted played for the Raiders in their Super Bowl XXXVII loss to Tampa Bay.
A longtime special teams ace, Whitted returned kicks during his college and pro careers. He also competed in track in college.
"This program is first-class in every way and I'm thrilled to be part of it," Whitted said of UW.
"From my first conversation with coach Chryst, it just felt right. He's a down-to-earth, genuine guy who comes so well-regarded in our profession. Then, when I had the opportunity to talk to the players, I knew it was the right fit. I'm excited to be back in college and making an impact on young men's lives. I can't wait to get going. I'm ready to get to work."
Whitted entered the college coaching field in 2010 when he joined the staff at NCAA Division III Millsaps College. He was a quality control coach at UCLA in 2011 before landing at Colorado State. He served as the Rams' wide receivers coach for seven seasons before joining the Packers in 2019.
Green Bay played in the NFC Championship Game last season but fired Whitted on Jan. 30 after one season.
Whitted had been Colorado State's wide receivers coach for seven seasons before joining the Packers staff. During Whitted's stint at Colorado State, Rashard Higgins in 2014 and Michael Gallup in 2017 were finalists for the Biletnikoff Award, given annually to the nation's top college receiver.
Whitted said he likes to lead by example and build relationships and trust with his players.
"It is a privilege to play this game and all I want for my players is to play for each other and play for something bigger than themselves, which is the team," he said.
---
An early look at the 2020 Wisconsin Badgers offense
How UW fills holes key for Wisconsin Badgers' 2020 offense
QUARTERBACKS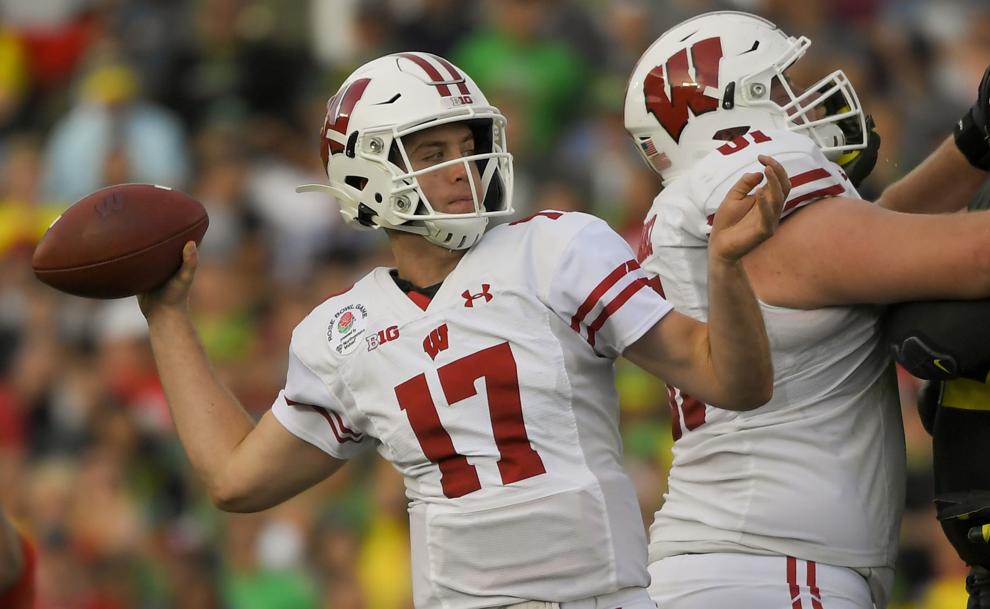 Key returners: Jack Coan (sr.), Chase Wolf (redshirt soph.), Graham Mertz (redshirt fr.), Danny Vanden Boom (redshirt jr.)
Recruits in 2020 class: None
Projected starter: Coan or Mertz
The big question for the quarterback room will be the same one that dominated the offseason a year ago — who will start? Will Jack Coan (above) hold onto his starting role after a solid season in which he completed 69.6 percent of his passes for 2,727 yards, 18 touchdowns and five interceptions? Or will Graham Mertz earn the right to take the reins?
After Coan won the competition during fall camp last season, Mertz only saw action in nonconference blowouts against Central Michigan and Kent State. But with Coan nursing injuries in the week leading up to a pivotal Big Ten Conference matchup against Iowa, Mertz took the first-team reps and was ready to play, according to offensive coordinator Joe Rudolph.
The QB battle won't be decided until fall camp, but it will be one to watch.
RUNNING BACKS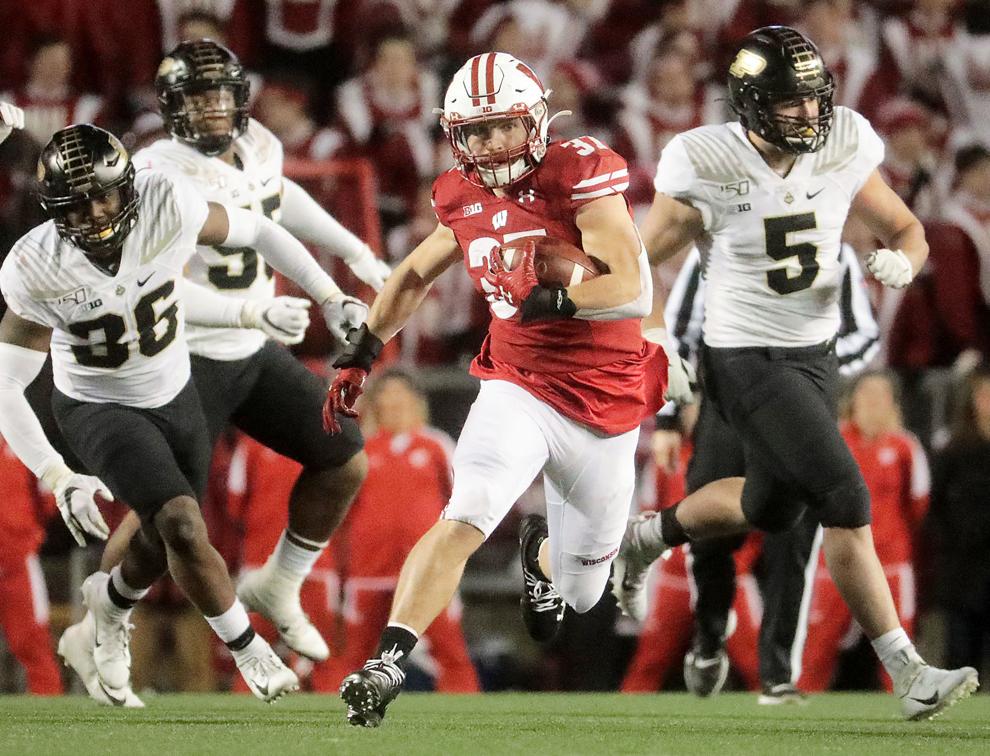 Key returners: Garrett Groshek (sr.), Nakia Watson (redshirt soph.), Isaac Guerendo (redshirt soph.), Julius Davis (soph.)
Key departures: Jonathan Taylor (NFL)
Recruits in the 2020 class: Jalen Berger (four-star)
Projected starter: Platoon
While it was expected after a stellar three-year career at UW, Jonathan Taylor's declaration for the NFL draft leaves the Badgers without an obvious answer in the backfield.
Garrett Groshek (above) is the most experienced and will play a variety of roles, especially on passing downs, but Nakia Watson's development this offseason will be key. He's shown flashes of being an explosive back, but was inconsistent in his ability to read the offensive line's blocking.
Without a star like Taylor, the Badgers will likely use a bevy of backs to try to replicate Taylor's production. If Jalen Berger — a New Jersey recruit who has skills as a receiver as well — can make an impact early, UW should be deep at an important position.
FULLBACKS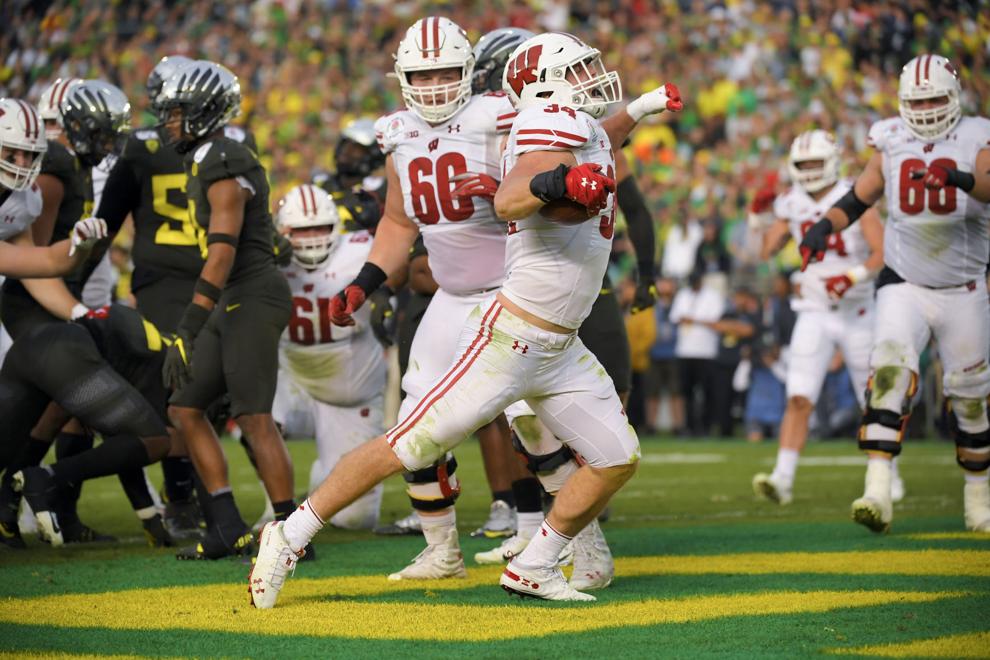 Key returners: Mason Stokke (redshirt sr.), John Chenal (jr.), Quan Easterling (soph.)
Recruits in the 2020 class: None
Projected starter: Stokke
Mason Stokke (above) really made his mark for the Badgers over the last month of the season, helping open holes for Taylor and even as a receiving target. After recovering from a midseason concussion, Stokke played the most of any of the fullbacks. Stokke tallied 51 yards and two scores, including one in the Rose Bowl, while John Chenal had 65 yards and a TD on 18 carries.
How often the Badgers use a fullback next season will be something to watch. If the running backs don't show better feel for reading lead blocks, they might not be as keen on using two-back sets.
WIDE RECEIVERS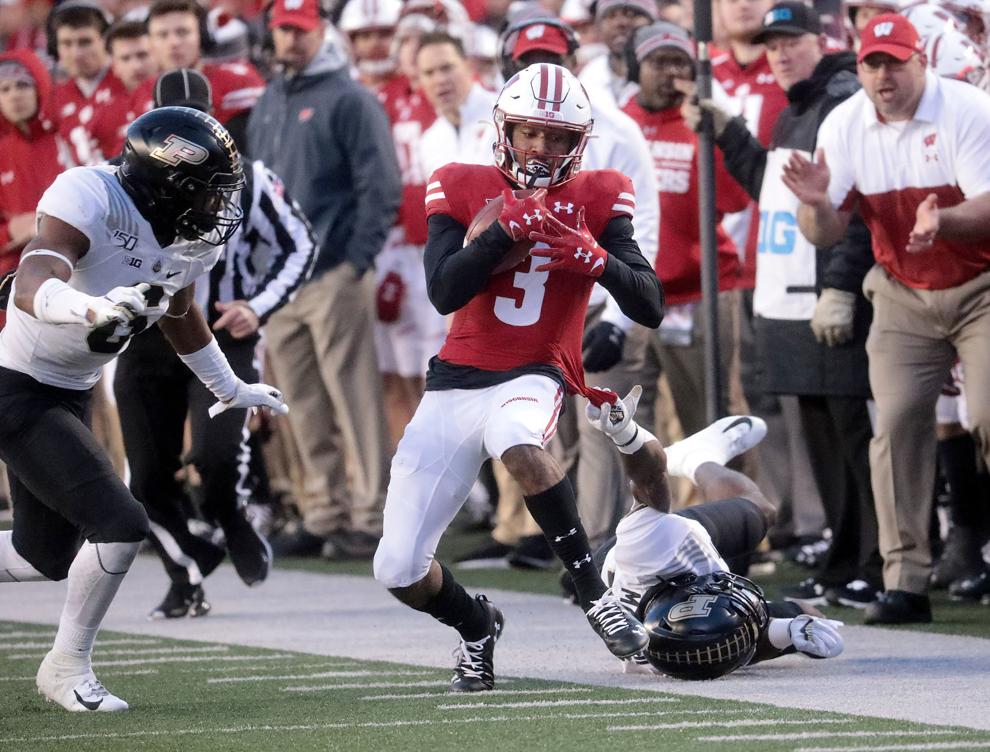 Key returners: Jack Dunn (redshirt sr.), Adam Krumholz (redshirt sr.), Kendric Pryor (redshirt sr.), Danny Davis (sr.)
Key departures: A.J. Taylor (graduation), Quintez Cephus (NFL), Aron Cruickshank (transfer)
Recruits in the 2020 class: Chimere Dike (three-star athlete), Isaac Smith (three-star), Devin Chandler (three-star)
Projected starters: Davis, Pryor
When Quintez Cephus declared for the NFL draft and Aron Cruickshank entered the NCAA transfer portal, one of UW's deepest positions quickly became one of its thinnest.
Danny Davis and Kendric Pryor (above) are the most experienced returners and have proven playmaking ability, but beyond that, the Badgers are going to be looking for underclassmen to step up and earn roles. One name on the roster to look for is A.J. Abbott, a three-star recruit who hasn't played much yet but could seize an opportunity. Three incoming freshman will also have quicker paths to the field if they prove themselves.
The Badgers are rarely active in the transfer market, but this situation may necessitate taking a look.
TIGHT ENDS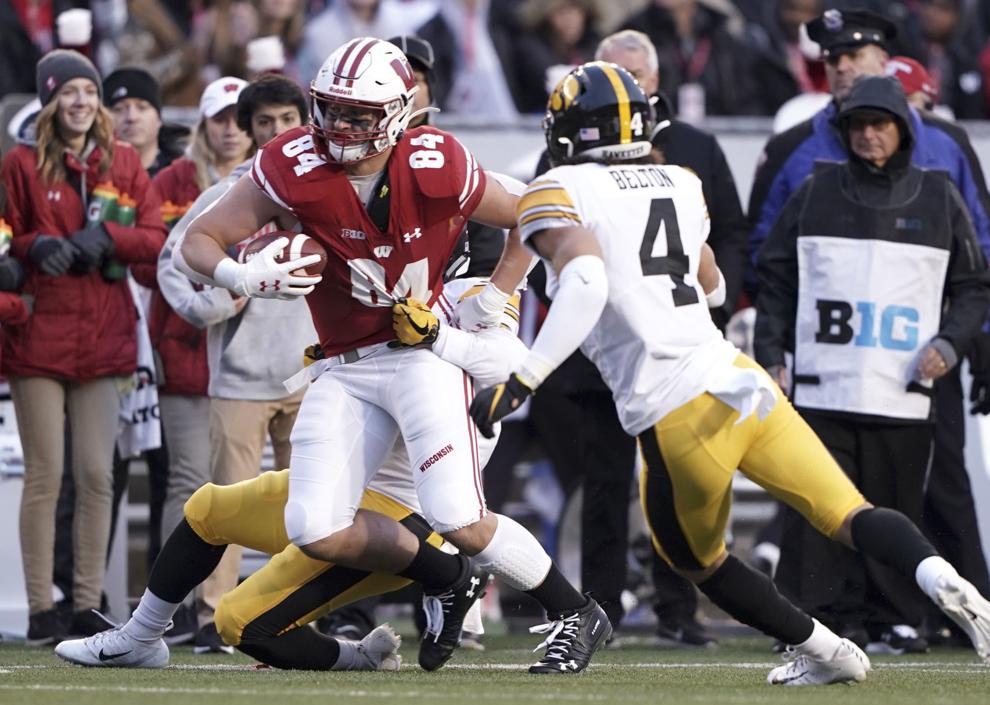 Key returners: Jake Ferguson (redshirt jr.), Cormac Sampson (redshirt soph.) Clay Cundiff (soph.), Hayden Rucci (soph.)
Recruits in the 2020 class: Cam Large (three-star), Cole Dakovich (three-star)
Projected starter: Ferguson
A season filled with injuries left the Badgers with two tight ends — Jake Ferguson (above) and Cormac Sampson — coaches felt comfortable playing. Ferguson was UW's second-leading receiver last season with 33 catches, 407 yards and two touchdowns, and he was the only tight end on the roster to catch a pass.
He's a reliable option at the position, but the No. 2 spot is an intriguing one. Sampson made the switch from offensive lineman back to tight end, the position he was recruited at, due to UW's injuries and he did well in his blocking role. But Clay Cundiff, Hayden Rucci and incoming freshmen Cam Large and Cole Dakovich are better receiving options.
If Sampson were to move back to offensive line, those players could slide in and play early. If Sampson stays at tight end, UW will have one of its deepest tight end rooms in years.
OFFENSIVE LINE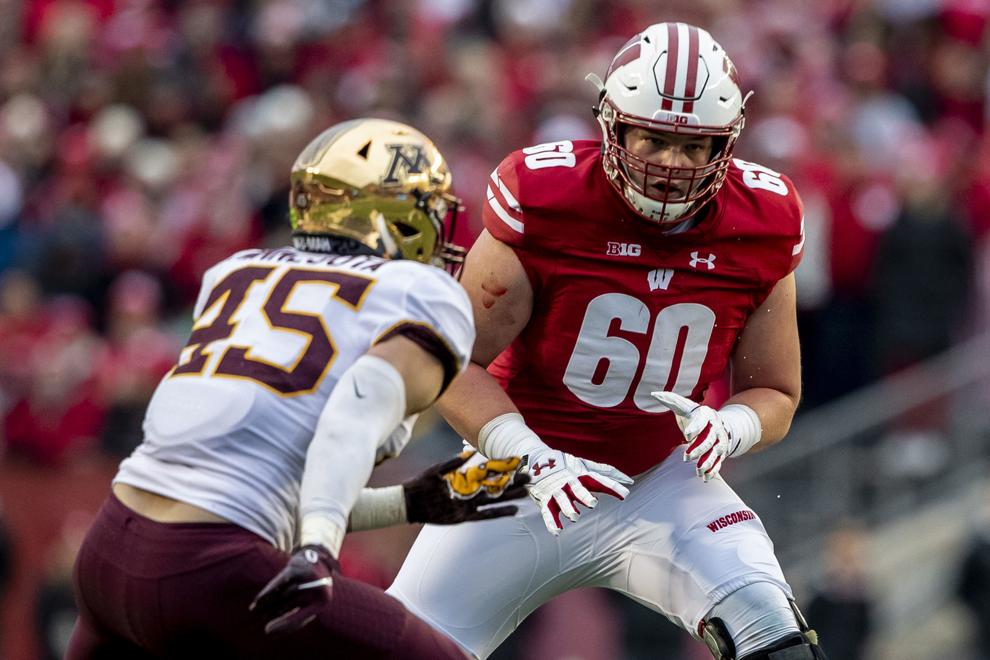 Key returners: Cole Van Lanen (redshirt sr.), Tyler Beach (redshirt jr.), Kayden Lyles (redshirt jr.), Logan Bruss (redshirt jr.), Josh Seltzner (redshirt jr.), Logan Brown (soph.)
Key departures: Tyler Biadasz (NFL), David Moorman (graduation), Jason Erdmann (graduation)
Recruits in the 2020 class: Jack Nelson (four-star), Trey Wedig (four-star), Dylan Barrett (three-star), Ben Barten (three-star), Tanor Bortollini (three-star)
Projected starters (left to right): Van Lanen, Lyles, unknown, Beach/Bruss, Beach/Bruss
The offensive line will be somewhat of a question mark for the second season in a row, but the Badgers have more experienced options for a number of positions than they did heading into 2019.
Cole Van Lanen returning at left tackle will help anchor the line, with Kayden Lyles, Tyler Beach and Logan Bruss (above) all having a good amount of snaps under their belts to fill roles. Center is the biggest vacancy after Tyler Biadasz left a year early for the NFL.
Some center options include Cormac Sampson, who was working at center during training camp before the need at tight end became too great, and Josh Seltzner. Seltzner played guard the first half of the season but could make the transition.
A talented class is coming in to help restock the shelves, and if five-star 2019 recruit Logan Brown can get healthy after battling injuries throughout the year, the Badgers will have a bright future up front.