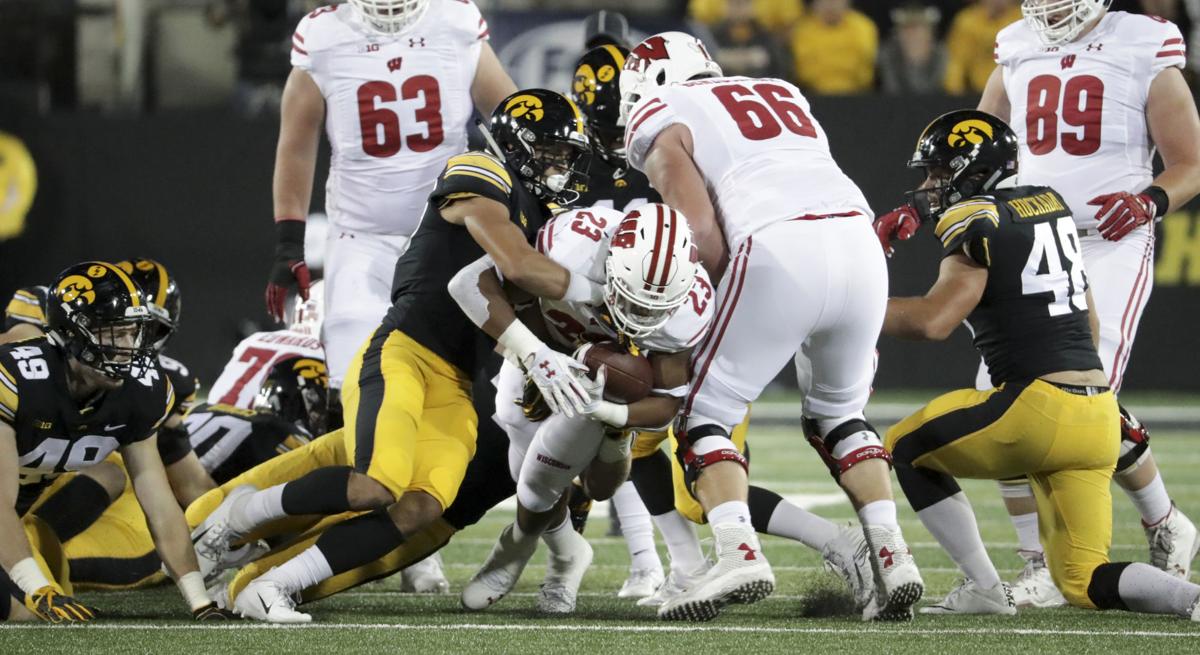 IOWA CITY, Iowa — The University of Wisconsin football team needed late-game heroics for the second straight week Saturday at Kinnick Stadium.
This time, an uneven performance from the Badgers didn't matter in the end.
Quarterback Alex Hornibrook gave UW a lead when he fired a 17-yard touchdown pass to A.J. Taylor with 57 seconds remaining, and Alec Ingold's 33-yard rushing score in the final moments secured a 28-17 victory, saving the Badgers (3-1, 1-0) from a disastrous start to their season.
"That's what we play for," Hornibrook said. "Those are the moments, rivalry game, you're down, you've got a couple minutes left — we were excited. We couldn't wait to get that drive going. ... I was just happy to see the guys fighting until the last second today."
UW began its game-winning drive on its own 12-yard line before Taylor's score 10 plays later. Hornibrook found Kendric Pryor for a 28-yard gain to the Iowa 42-yard line, and Garrett Groshek's 5-yard pass barely picked up a first down on third-and-5 from the Hawkeyes' 37.
The Wisconsin Badgers beat the Iowa Hawkeyes, 28-17, on Saturday night in the teams' Big Ten opener at Kinnick Stadium in Iowa City. 
Hornibrook connected with tight end Jake Ferguson for 12 yards and another first down before Taylor's touchdown.
"Honestly, what I was supposed to do, I should have gone outside the backer," Taylor said of his touchdown catch. "But I kind of just relied on my instincts and I decided to cut inside and just straighten it up. When I did it, Alex read me very well. He threw it in there and we made it work."
Badgers inside linebacker T.J. Edwards intercepted a pass that bounced off Ihmir Smith-Marsette's hands with 0:38 remaining, leading to Ingold's touchdown that ensured UW would keep the Heartland Trophy for the third straight year.
Wisconsin State Journal reporter Jason Galloway collected some of the best tweets after the Wisconsin Badgers beat the Iowa Hawkeyes, 28-17, o…
Iowa (3-1, 0-1) threatened to score on its first drive after targeting redshirt freshman cornerback Deron Harrell, who made his first career start in place of Caesar Williams. Tight end T.J. Hockenson broke away from Harrell on a crossing route for a 24-yard gain to the Hawkeyes' 47-yard line, and officials flagged the converted wideout for pass interference two plays later.
Redshirt freshman safety Scott Nelson also missed a tackle on the drive, allowing Smith-Marsette to escape around the edge for a 20-yard gain.
The Badgers stuffed Nate Stanley's quarterback sneak on fourth-and-1 from the 5-yard line, however, ending an 80-yard possession without allowing any points.
UW piggybacked on the momentum by driving 95 yards to take the game's first lead. Hornibrook found Ferguson for a 17-yard gain on third-and-7 from the Badgers' 36-yard line, and a clever play-action fake three plays later opened up a 33-yard pass to Ingold down the near sideline on third-and-2.
Ferguson broke open in the end zone for a 6-yard score on another play-action fake the following snap, getting the Badgers on the board 29 seconds into the second quarter.
It was the first of three touchdowns for Hornibrook, who finished 17-of-22 passing for 205 yards with no interceptions.
"We wanted to take away the run and we did a pretty good job on that," Iowa safety Amani Hooker said. "We wanted (Hornibrook) to have to make plays, and he made plays."
The Hawkeyes nearly found themselves in field-goal range again before Edwards took down running back Mekhi Sargent's jet sweep attempt three yards behind the line of scrimmage on third-and-6 from the UW 39.
Iowa finally capitalized the next time out. Stanley bought time on third-and-9 before launching a 46-yard pass to Hockenson, and tight end Noah Fant caught a 21-yard touchdown pass on the next play, tying the game at 7 with 5:08 left in the first half.
Badgers safety D'Cota Dixon forced a fumble and recovered on Kyle Groeneweg's 23-yard punt return later in the second quarter, but a holding call on left guard Michael Deiter wiped out a third-down conversion and erased the Badgers' opportunity for a score before the half.
Hockenson, who finished with three catches for 115 yards, broke free for another bomb to begin the third quarter. Off a third-and-1 play action, Stanley found him behind the defense for a 45-yard gain to the Badgers' 6-yard line.
"The DBs fought like crazy," Edwards said. "They kept putting their nose down and going to work. You appreciate that out of those young guys, and I know next time they're going to make those plays."
On third-and-goal from the 2 after Hockenson's big gain, UW inside linebacker Ryan Connelly blew up a toss play for a loss of four, forcing Iowa into a 24-yard field goal.
The Badgers' offense needed a mental error from a Hawkeyes to regain the lead. After two straight three-and-outs to end the second half, UW went backwards from two penalties — a 12-men in the huddle flag and an intentional grounding call.
On the ensuing punt, following a failed third-and-26, Iowa tight end Shaun Beyer's foot made contact with the ball as it rested on the 10-yard line, allowing Badgers true freshman Travian Blaylock to recover.
UW lost more yardage when the Hawkeyes tackled Kendric Pryor four yards behind the line of scrimmage on an end around. Hornibrook successfully threw to Danny Davis' back shoulder on third-and-goal from the 12, however, and Davis made a nice move just before the goal line to find the end zone and give the Badgers a 14-10 advantage.
Iowa continued to move the ball with relative ease and took the lead right back. Fant scored his second touchdown of the night on a 1-yard catch with 1:37 left in the third quarter.
Mistakes continued to hold back UW's offense. Officials brought back a 15-yard completion to Davis because of a hold on Jason Erdmann, who filled in at center after starter Tyler Biadasz left with an injury in the third quarter.
Hornibrook then found an open Ferguson on third-and-3, but Ferguson dropped the pass, forcing a punt in Iowa territory.
The Badgers' defense continued to give UW chances, though, and its offense came through in the final minute, capturing a much-needed victory after last week's upset loss to BYU.
"The guys stepped up and made plays when they had to and overcame different situations," UW coach Paul Chryst said. "You go from the beginning of it when the defense had a big stop and the offense answers with a score, and then you go to the fourth quarter. A heck of a drive offensively, but our defense gave us a couple shots at it.
"I'm extremely proud of this group, this team. ... It wasn't a perfect game by any means, but it was a great team win for us."