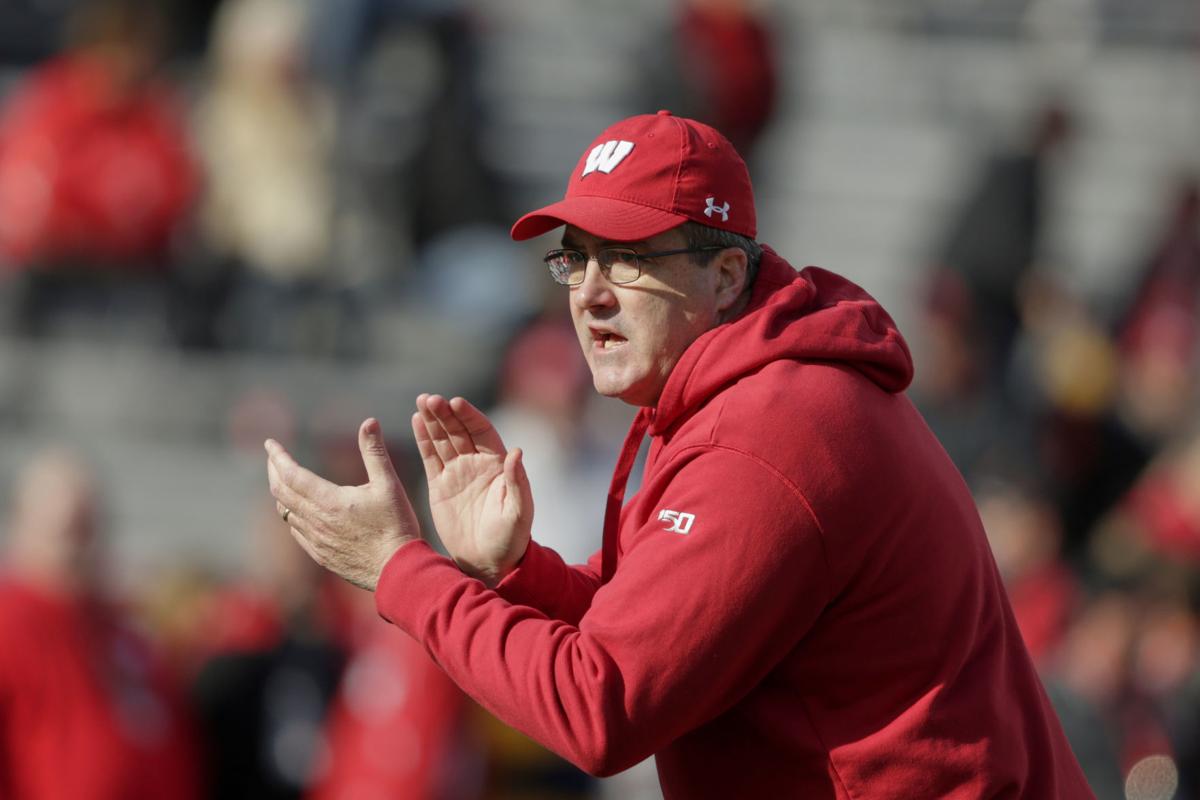 Some of the requirements for being the new University of Wisconsin wide receivers coach were simple.
So Chryst reached out to his former center, Travis Frederick, whose Dallas Cowboys teammate Michael Gallup was one of the two players Whitted helped turn from prospect to first-team All-American. Frederick helped Chryst and company get in touch with Gallup.
"Obviously, very impressed getting to know him. I'm excited for our players to have him as their coach," Chryst said Monday at a news conference. "We were able to reach out to a couple of the guys that know this place, played here, that are on teams with (former CSU players), just getting their perspective. Travis Frederick. It was fun getting that reply.
"I think it's a combination, certainly, of his background and helping us schematically. The biggest thing is the development of players. That's where I'm excited."
Whitted spent last season coaching the Green Bay Packers' receivers, learning under head coach Matt LaFleur, one of the NFL's new wave of young, offensive minds running teams. Chryst said Whitted's knowledge as both an NFL coach and seven years as a player in the league will help the Badgers.
With A.J. Taylor graduating, Quintez Cephus leaving a year early for the NFL and Aron Cruickshank transferring, the depth the group had last season is gone and the options are less proven.
Four experienced players entering their senior seasons figure to be the key figures at the position — Danny Davis, Jack Dunn, Adam Krumholz and Kendric Pryor — but there's a lot of question marks beyond that. There are even question marks in that group, such as what kind of role they'll fill, Chryst said, suggesting that Pryor may see more snaps at slot receiver than in the past.
Dunn will miss spring practice with a left leg injury, which creates even more opportunities for a group of young receivers to make inroads with Whitted and compete for snaps.
"A.J. Abbott, Taj (Mustapha), Stephan Bracey, I'm anxious to see," Chryst said. "We've got one new early enrollee in (Chimere Dike). That group, it'll be a really good spring for them. Emmet Perry has been injured most every part of it, can he stay healthy?
"It'll come from that room, but (we) don't know who it is, right?"
Practices moved back
Chryst said Monday that the Badgers won't start official spring practices until Sunday, March 22, when the players return from UW's spring break.
The Badgers finished winter strength and conditioning work last week and Chryst said he felt the players needed the recovery time. They'll do some conditioning work on the McClain Center turf this week before leaving campus.
"I think we need this week to try to make the most of spring practices. You talk with the group a lot, they have four phases to prepare you for the season. Each phase is really important, but I think each phase you've got to kind of ratchet up a bit. They had a productive and good winter, phase two is spring ball and we want to make the most of that. We'll give them two weeks to get prepared for it," Chryst said.
Offensive line expected to shuffle
For the second spring in a row, the Badgers will need to retool their offensive line after a number of departures. But UW will have a number of options that have snaps under their belts to fill those roles.
"They're all going to work — that's one (group), if you're trying to keep score at home, that O-line's going to shuffle during the spring. They'll all get opportunities," Chryst said. "It is a group that a lot of them have good experience and you try to find the best five."
Kayden Lyles — who missed the Rose Bowl due to a leg injury — won't participate in spring practices as he's recovering from right and left leg injuries. He'll be a factor at guard once healthy after making four starts last season.
Returners, specialists wanted
The Badgers will need to find new kick and punt returners in spring.
Dunn handled punts in all but one game last season, and Cruickshank was UW's kick returner. Davis served as a punt returner last season as well, but Chryst said UW needs to find more candidates for the return jobs.
"Spring is a good time to see who that pool will be. Right now, it's going to be a lot of names," Chryst said. "We don't have to solve it in the spring, but we've got to find out who that pool's going to be."
Chryst also said the program was "working through it" in regards to the eligibility of transfer punter Andy Vujnovich. The junior came to UW from Division III University of Dubuque, but the Badgers are still working to clear him to play next season.
From the infirmary
Along with Dunn and Lyles, six other players will not be participating in spring practices due to injuries: nose tackles Keeanu Benton (core) and Bryson Williams (left leg); long snapper Josh Bernhagen (left leg); safeties Eric Burrell (left arm) and Scott Nelson (left leg); and running back Brady Schipper (right and left arm).