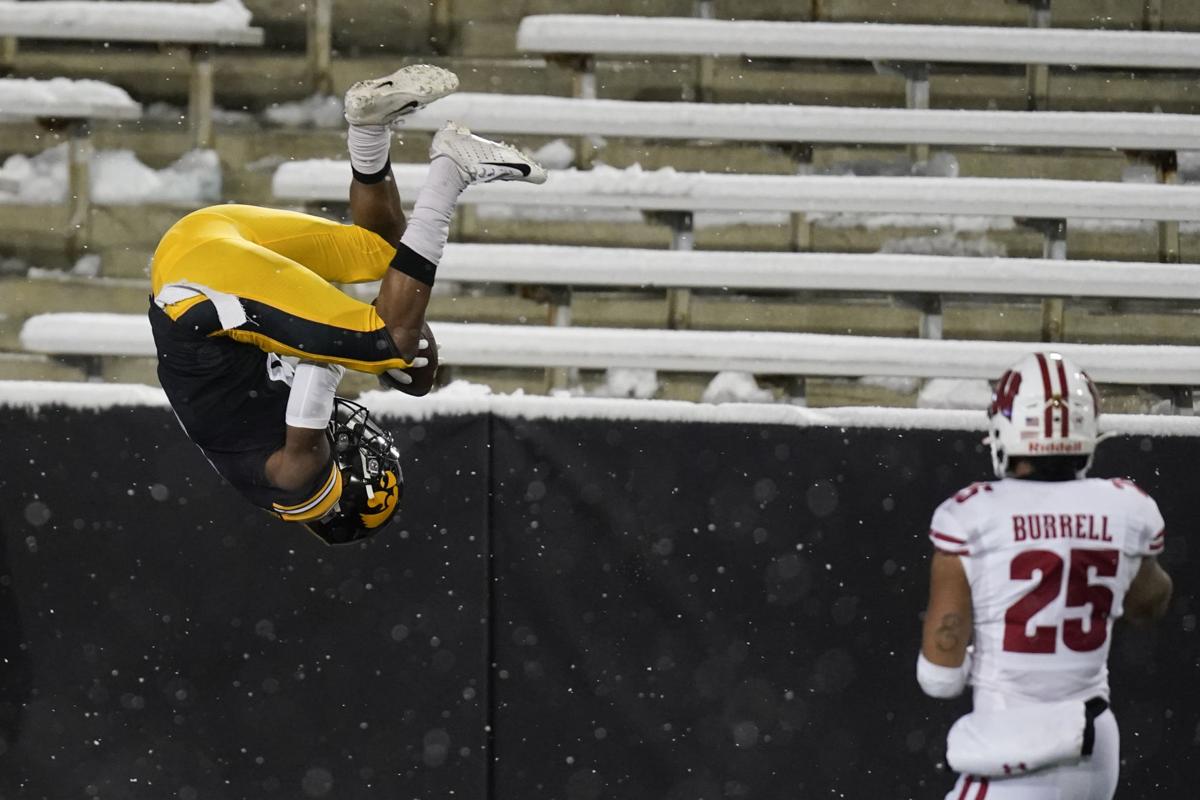 The only player who could stop Iowa wide receiver Ihmir Smith-Marsette, it turned out, was himself.
Smith-Marsette may have put up even bigger numbers had he not injured himself while showboating late in the third quarter. He returned to the sidelines wearing a protective boot covering his left foot, but by that time Smith-Marsette had done enough damage against a UW defense that faded in the second half.
"Defensively, we did some things really well," UW coach Paul Chryst said, "and there were a couple, obviously, big plays that they were able to take advantage of."
Considering how inept the UW offense was for the third consecutive game, the defense had to be almost perfect if the Badgers were going to emerge with their fifth consecutive victory in the series.
Iowa exited the first half with two field goals and a 6-0 lead, with Jim Leonhard's unit holding strong in a sudden-change situation after quarterback Graham Mertz turned the ball over on UW's opening possession of the game.
But, as Chryst said, the Badgers gave up too many explosive plays in the game.
Iowa had seven "chunk" plays — 15 yards or longer — for a total of 241 yards. The Hawkeyes had only 97 yards on their other 50 plays from scrimmage.
"It's tough," UW safety Scott Nelson said. "It's frustrating. I think it was a lot of little things that happened. There wasn't many big busts or anything like that, just technique wise. Trying to learn from that, improve from that and not let it happen again because we've done a good job limiting big plays this season."
Smith-Marsette presented the biggest issue for the Badgers (2-3), and he did an equal-opportunity dismantling of the UW secondary.
He beat UW cornerback Faion Hicks for a 38-yard gain on Iowa's opening series of the second half.
Three plays later, Smith-Marsette beat cornerback Caesar Williams for a 19-yard touchdown grab that helped Iowa (6-2) build a 14-0 lead.
Finally, Smith-Marsette lined up in the slot and flew past UW safety Eric Burrell for a 53-yard catch and score that extended the Hawkeyes' lead to 21-7 with 1 minute, 23 seconds left in the third quarter.
Smith-Marsette did a flip on his way into the end zone and landed awkwardly, prematurely ending his day.
"If you want to play man coverage against Ihmir, you can get burned," Iowa quarterback Spencer Petras said. "And that's in no way a slight to anyone — they're a really good team — it's just Ihmir is really fast and a really good player."
UW had done a solid job against the run until Tyler Goodson broke free for an 80-yard run that completed the scoring in the fourth quarter.
Afterward, while nobody was blaming the defense for another defeat, its members were left feeling like they hadn't done enough.
"Obviously, I think we're frustrated with the result of everything," Nelson said. "But kind of trying to stay positive, trying to continue to go out there and just put your best foot forward, trying to make plays I think is the main thing. If you can make plays and give yourself a chance to win, I think that's the biggest thing. Trying to focus on your job, trying to focus on executing your job and trust in the scheme and trying to make plays."
---
Photos: Badgers falter as Hawkeyes claim Heartland Trophy