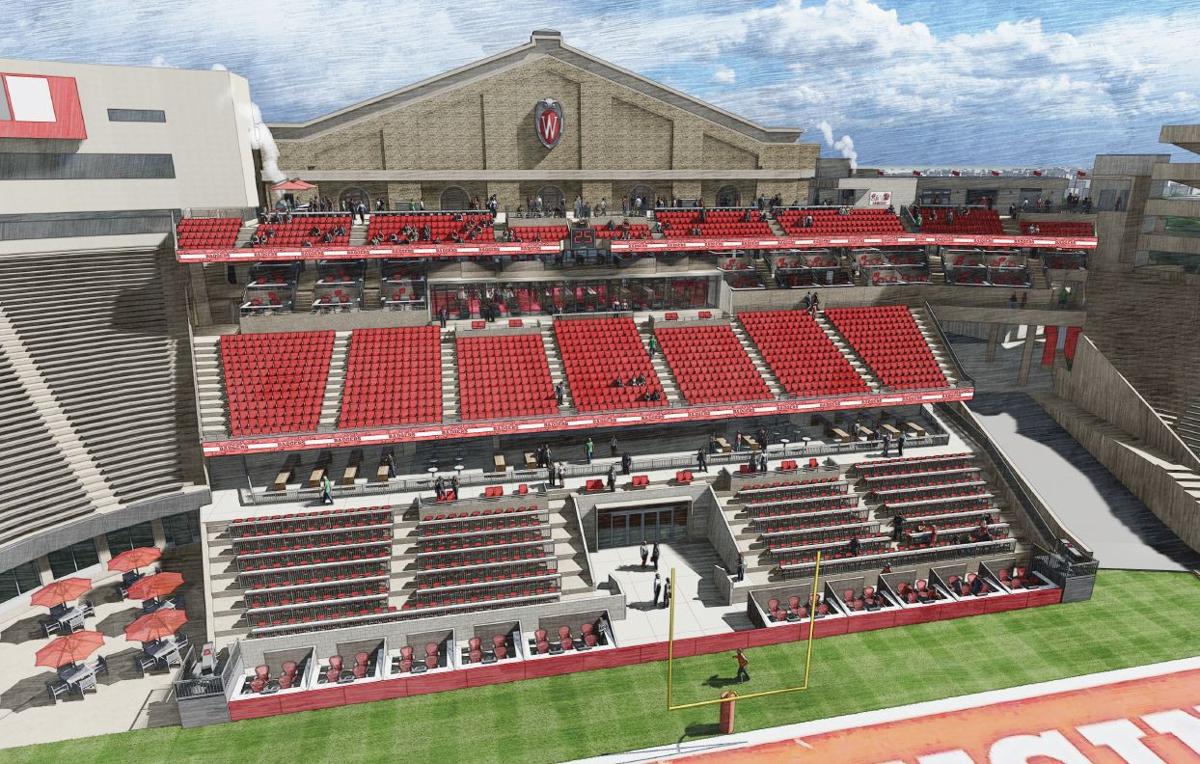 One of the major construction projects being planned by the University of Wisconsin athletic department is temporarily on hold.
Renovation of the seating section behind the south end zone at Camp Randall Stadium has been pushed back by a year, UW announced Thursday.
The $77 million project that planned to transform rows of bleacher seating into indoor club spaces, small loge boxes and rows of chairback seating now is likely to start in 2021 and be ready for the 2022 season.
The athletic department framed the delay as a scheduling issue and not primarily because of economic concerns.
"We are obviously operating in a time of great uncertainty," UW athletic director Barry Alvarez said in a statement. "Given our construction timeline and the timing around when decisions had to be made, we felt it was best to be prudent and delay the project for a bit."
Alvarez added that he was "thrilled" with the level of sales for the new seating, saying that the school has commitments for more than 75% of the loge box inventory.
"Once finished, this will be a transformative project for Camp Randall," Alvarez said.
The school was planning to start major components of the premium seating renovation immediately following the final home game of the 2020 football season, scheduled for Nov. 21.
New schedules haven't been announced, but senior associate athletic director Jason King said the Camp Randall project delay wasn't to accommodate any potential for the 2020 football season to be pushed back.
UW already was facing a tight construction window to have the south end zone project done by the start of the 2021 season, scheduled for Sept. 4.
Already having experienced a coronavirus-related delay with the production of new windows at the Field House, King said UW understood it couldn't afford to have a similar issue at Camp Randall.
"With all that uncertainty, and us needing to start moving on the project here soon for long lead items, we just felt like it was more appropriate at this point in time to pause the project," King said.
Like most college athletic departments, UW would be under major financial challenges if the coronavirus pandemic forces the cancellation of the football season. Football has been responsible for more than 50% of UW Athletics' total revenue in recent seasons, bringing in more than $90 million in the 2018-19 season.
But it was preparing for a revenue drop of at least $4 million for the 2019-20 fiscal year that closed at the end of June and looked for cost savings. UW was hoping to save $2.8 million through voluntary pay cuts for its highest earners and a Work-Share program for around 350 other employees.
The athletic department also has construction projects ongoing or in the works at its two other major venues, the Field House and the Kohl Center. Those aren't being altered at this point, UW said.
---
Bevy of returning players should bolster Badgers' 2020 defense
Bevy of returning players should bolster Wisconsin Badgers' 2020 defense
DEFENSIVE LINE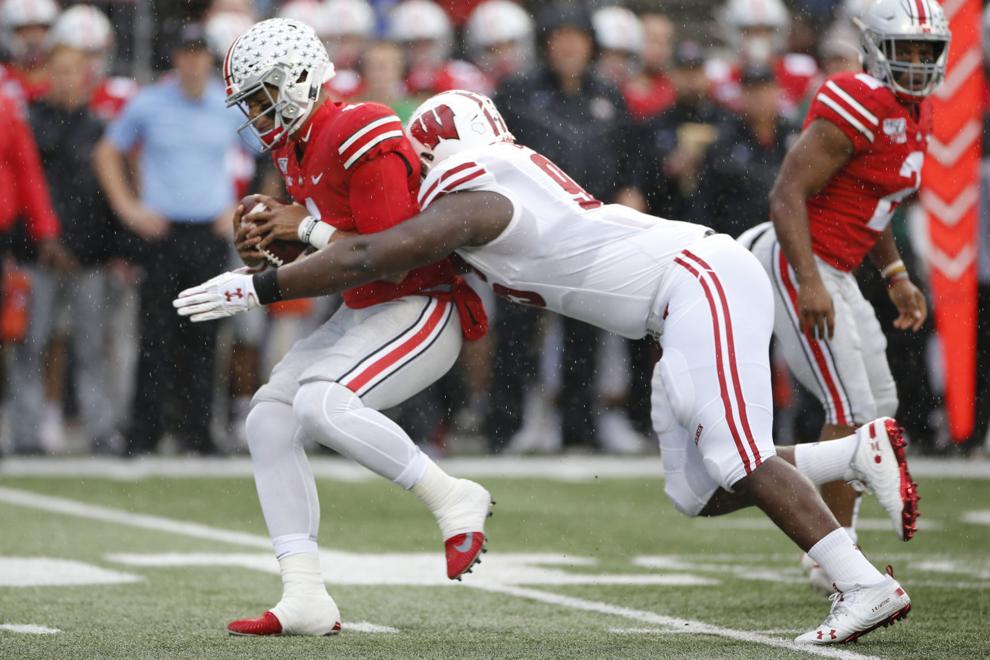 Key returners: Isaiahh Loudermilk (redshirt sr.), Garrett Rand (redshirt sr.), Matt Henningsen (redshirt jr.), Bryson Williams (jr.), Keeanu Benton (soph.).
Key departures: David Pfaff (graduation), Gunnar Roberge (graduation).
Recruits in 2020 class: James Thompson Jr. (three-star), Cade McDonald (two-star).
Projected starters: Loudermilk and Rand at end, Benton at nose tackle.
The Badgers' defensive line held up well throughout the season with the exception of nose tackle Bryson Williams, who suffered two knee injuries and missed eight games. Ends Isaiahh Loudermilk and Garrett Rand were at their best late in the season, especially against Minnesota in the regular-season finale and against Ohio State in the Big Ten Championship Game.
Freshman Keeanu Benton (above), who hails from Janesville, made a big impact filling in for Williams. He showed quick feet and strong moves to create a pass rush, and enough strength to hold double teams on the line.
If UW can maintain the solid rotation at end with Loudermilk, Rand and Matt Henningsen, and have Williams come back healthy to rotate with Benton, the line should be one of the strong points of the defense.
INSIDE LINEBACKERS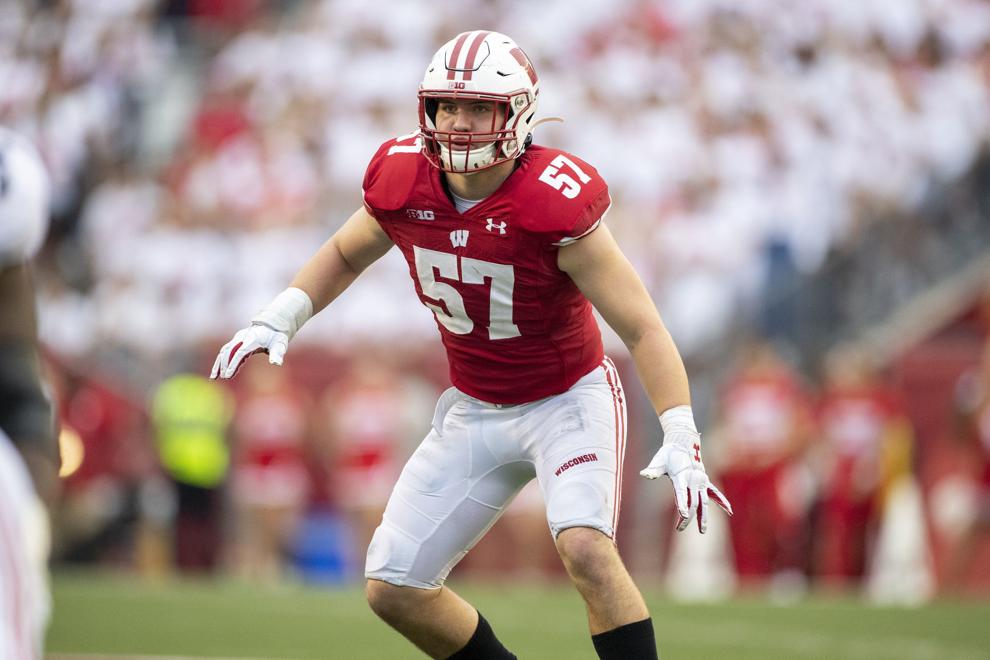 Key returners: Mike Maskalunas (redshirt sr.), Jack Sanborn (jr.), Leo Chenal (soph.).
Key departures: Chris Orr (graduation).
Recruits in the 2020 class: Malik Reed (three-star), Jordan Turner (three-star), Preston Zachman (two-star).
Projected starters: Sanborn and Chenal.
Chris Orr was unquestionably the heartbeat of the defense in 2019. Just check out the second half of the Big Ten Championship Game — without Orr on the field, UW wasn't able to consistently bring pressure up the middle and more time to pass for Ohio State's Justin Fields spelled disaster.
With Orr graduated and chasing an NFL opportunity, the Badgers appear to have a replacement ready in Leo Chenal. Chenal played in 11 games, missing three due to a concussion, but was solid in limited reps. He has the explosiveness, size and physicality needed to be a force as a starter at inside linebacker. Jack Sanborn (above) will be back and will likely take over some of the leadership void left by Orr.
Mike Maskalunas provides depth and an experienced voice in the room, and defensive coordinator Jim Leonhard said incoming freshman Malik Reed won't "have a huge adjustment coming to Wisconsin" because he's "extremely powerful."
OUTSIDE LINEBACKERS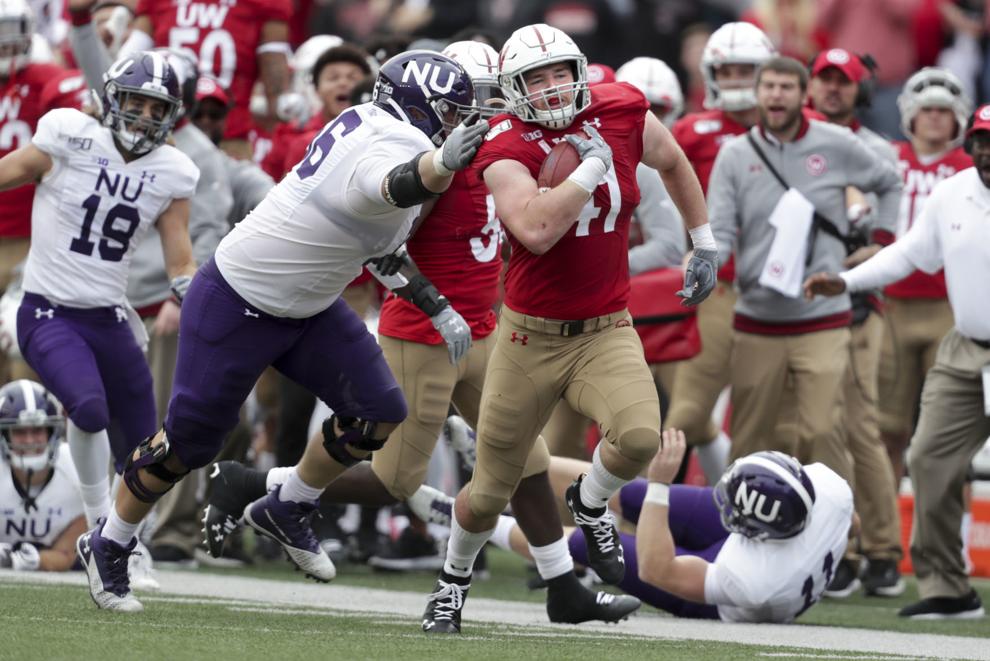 Key returners: Noah Burks (redshirt sr.), Izayah Green-May (redshirt jr.).
Key departures: Zack Baun (graduation), Tyler Johnson (graduation), Christian Bell (transfer).
Recruits in the 2020 class: Nick Herbig (four-star), Kaden Johnson (four-star), Aaron Witt (three-star).
Projected starters: Burks and Green-May.
It'll be difficult for one player to make up the production that Zack Baun leaves behind, but the Badgers are going to need at least one outside linebacker to emerge as a strong pass rusher next season.
Noah Burks (above) was steady in the outside linebacker spot opposite Baun last season, but Green-May fell out of the rotation after a training-camp thumb injury took a while to heal. Leonhard said that Green-May, who stands 6-foot-6, has to "do things a little bit differently because of his size, height and weight. So he's got to learn how to be physical within his frame."
If that can happen this offseason, Green-May could slide into the spot Baun left open.
The recruiting class at outside linebacker, which includes four-star prospects Nick Herbig and Kaden Johnson, arguably is the best of any position for UW this year. Expect those young players to earn themselves chances on the field.
CORNERBACKS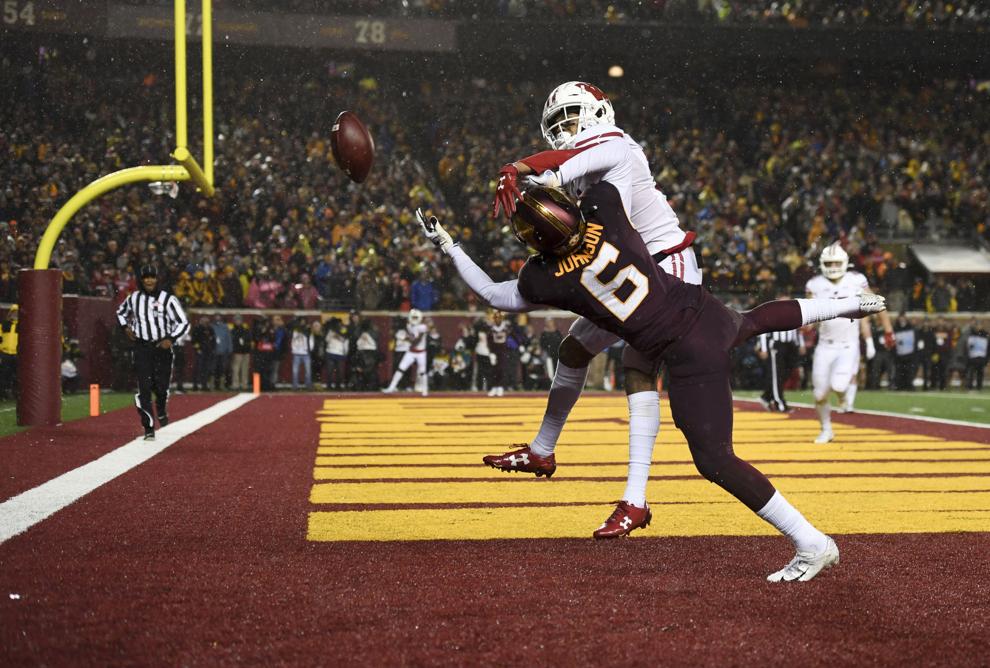 Key returners: Caesar Williams (redshirt sr.), Faion Hicks (redshirt jr.), Deron Harrell (redshirt jr.), Rachad Wildgoose (jr.), Donte Burton (redshirt soph.), Semar Melvin (redshirt fr.).
Recruits in the 2020 class: Max Lofy (three-star).
Projected starters: Williams and Hicks on the outside, Wildgoose in slot.
The UW secondary had ups and downs in 2019, but played well in some of the biggest moments of the season. The regular-season finale against Minnesota was arguably the best start-to-finish performance for the group, but even that game saw the Gophers hit a deep touchdown pass on their first possession.
Caesar Williams (above) came on strong the second half of the season and claimed a starting role, while Faion Hicks and Rachad Wildgoose were fairly consistent throughout the year. Those three figure to be in the starting roles heading into next year, but Leonhard has shown that he will ride the hot hand at corner.
Semar Melvin will factor into that rotation, and could start as well. He did not play in the Rose Bowl and appeared in just four games so he can use 2019 as a redshirt season and have four more years of eligibility.
Leonhard said the cornerback group's youth was a factor in a small recruiting class, with Colorado native Max Lofy being the only incoming freshman.
With pass-rush being a question mark at this point, UW will need its cornerbacks to be better in 2020.
SAFETIES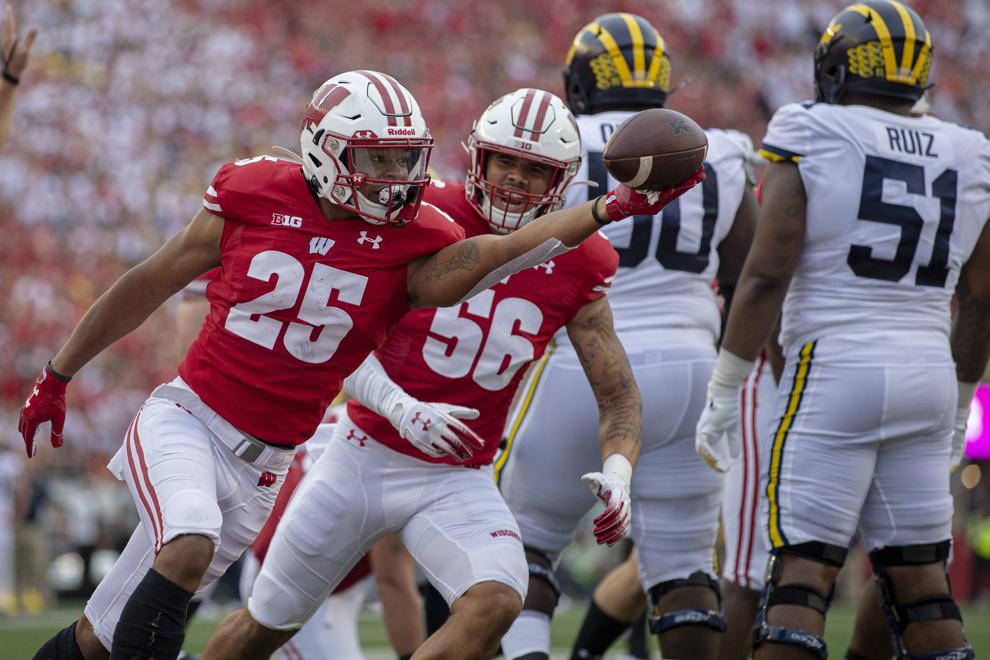 Key returners: Eric Burrell (redshirt sr.), Collin Wilder (redshirt sr.), Madison Cone (sr.), Scott Nelson (redshirt jr.), Reggie Pearson (redshirt soph.), John Torchio (redshirt soph.).
Recruits in the 2020 class: None.
Projected starters: Nelson and Pearson.
Projecting starters at safety is difficult — had Scott Nelson not been injured against South Florida and lost for the season, he might've been the every-game starter in a larger rotation. But Eric Burrell (above) played well after assuming the starting role and provided some highlight plays. The one knock on Burrell was his inconsistent tackling, which led to some big plays for opponents.
Reggie Pearson proved to be a physical presence in his first full year as a starter, while reserves Collin Wilder, Madison Cone and John Torchio all played in a number of games.
Safety is one of the deeper groups on the roster next season for UW. That should allow Leonhard some flexibility in his defensive packages next season. A handful of times in 2019, Leonhard used a safety as a linebacker to add more speed to the front seven, and a healthy safety corps should allow him to try more variances.