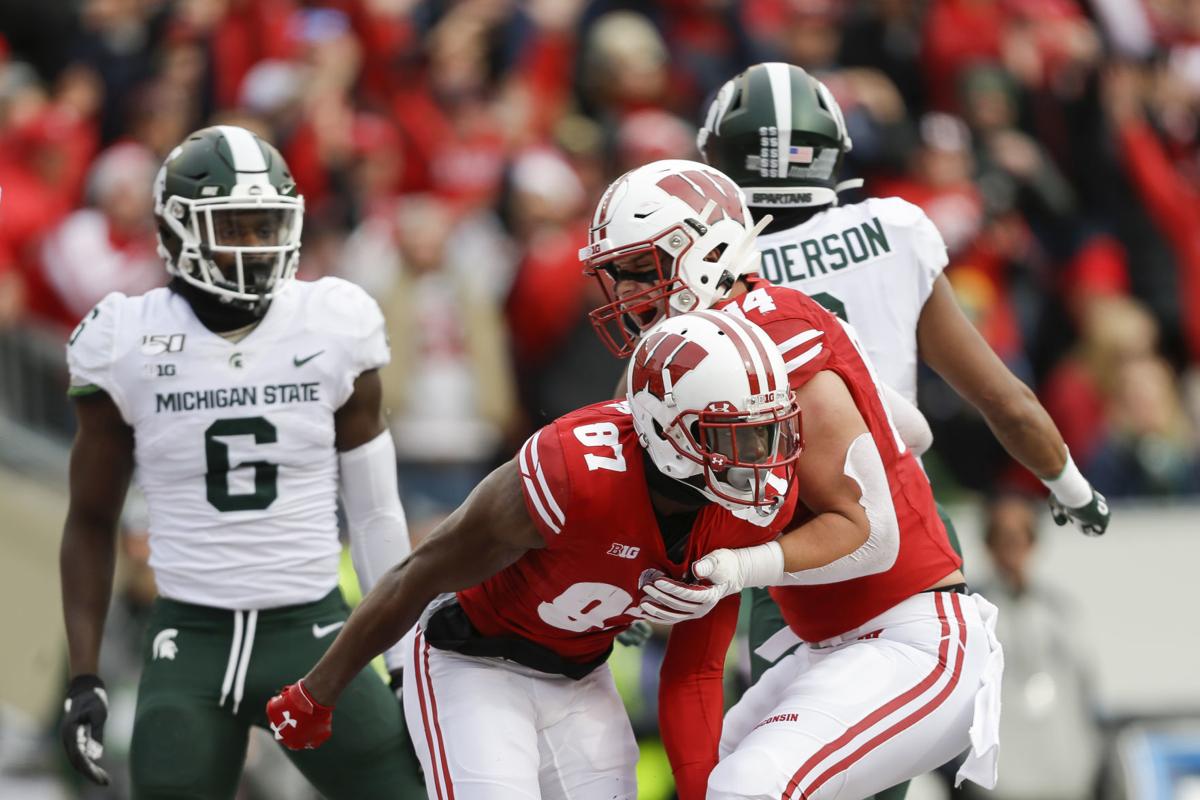 Jack Coan released a dart of a throw over the middle of the field shortly after taking the pistol snap.
It was high and in the direction of junior receiver Quintez Cephus — a combination of locations that the University of Wisconsin quarterback has learned to trust. His throw may have looked errant at first, but it was where only Cephus could even attempt to make a play on it.
Cephus reached up with his left hand to snare it, but it bounced off. He was able to get a second swat at it, this one with his right hand. That hit centered the ball on his chest, and he wrapped his arms around it while being tackled by Michigan State's David Dowell on Saturday at Camp Randall Stadium.
The result of the acrobatic catch was a 19-yard touchdown, No. 6 UW's second score in what would become another blowout, this one a 38-0 runaway win against the Spartans.
It's the kind of play that Cephus' athleticism and skill allow him to make, and the kind of play UW (6-0, 3-0 Big Ten Conference) didn't have receivers make last season when Cephus was away from the team while dealing with sexual assault allegations. It was Cephus' first touchdown since Week 2 against Central Michigan.
Cephus said that was the first time throughout the week of preparation that Coan had thrown him the ball against that particular defense.
"We didn't get a look like that that he threw it to me the whole week. But Jack really just trusted me and put it up there," Cephus said. "Anytime you can make a play like that, it helps with your confidence."
Cephus' impact is more than just his 19 catches and 291 receiving yards — both team highs. Having Cephus, a true No. 1 receiver and down-the-field threat, changes how defenses defend UW. Michigan State was determined to slow down tailback Jonathan Taylor, and did an effective job of it before the game was so lopsided Taylor stayed on the sideline.
But the focus on Taylor allowed Cephus and the rest of the receiving corps to go to work on the Spartans secondary, which was often put in one-on-one matchups. Cephus' touchdown catch was one such example, as Dowell was the only defender within 4 yards of Cephus at the point of the catch.
"They switched it up. They played a lot of zone, then played more man than we thought. But you always want to take advantage of man-to-man matchups, and we were able to do that today. We fed off of it," Cephus said.
Both deserve credit for the touchdown strike, as Coan was smart with the throw and Cephus made an extremely difficult catch. Both agree that making plays like that is a product of trust.
"He's an amazing player, definitely a big-play threat. He's one of those guys that I have complete trust in. I know if I put the ball in his area, usually something good's going to happen," Coan said of Cephus.
Being a UW receiver this season has been a test of patience. The top four players at that position have proven they can make plays given opportunities, but know those opportunities must be spread around.
Cephus played a big role in receiver Kendric Pryor's 66-yard touchdown run on a jet sweep. He flattened Michigan State safety Xavier Henderson with a drive block, and Pryor did the rest. Pryor credited blocks from Cephus and tight end Jake Ferguson for springing him.
"That's a big energy boost for our team. You just want to do whatever you can do to help your teammate, see Kendric succeed. I wanted to make sure my guy wasn't a problem on that run," Cephus said.
Cephus isn't putting up big statistics each game, but he says the offense being productive is the main goal.
"Just keeping yourself focused on team first. Not getting caught up in what you are getting individually," Cephus said when asked about staying ready after quiet weeks. "Just showing up every day and working at it and knowing that your time will come."
Be the first to know
Get local news delivered to your inbox!