Matt Henningsen shared a GIF on Twitter this week that likely encapsulated the feelings of many in the University of Wisconsin football program.
The short, looping video clip from the 2002 film "Lilo & Stitch" shows Stitch standing in the rain, lip quivering and on the verge of tears. Henningsen, a junior defensive lineman, shared this sentiment while retweeting the announcement that the No. 10 Badgers had canceled their second consecutive game as the program attempts to stop a COVID-19 outbreak.
UW's football program had 27 active cases of coronavirus, with 15 players and 12 staff members having contracted the virus as of Tuesday morning. The program is expected to give an update to their numbers Saturday, which could give an indication of how likely it is the Badgers will play next week at No. 23 Michigan.
While hope remains UW can get its season back on track after this disruption, frustration with the Badgers' situation is evident in the Big Ten Conference. UW canceled games against Nebraska and Purdue, which not only denied those teams' players one of their limited opportunities to play this season, but also kept the nearly 100 healthy UW players off the field.
Some Nebraska fans floated a theory last week that the Badgers were ducking the Cornhuskers, a team UW has beaten in seven straight meetings. That's been debunked by the program's active cases continuing to climb and the cancellation of this week's game against Purdue, which UW has beaten in 14 consecutive matchups.
But a scroll through Twitter replies will tell you many people believe the Badgers should be playing this weekend. So why aren't they? That answer includes data, decisions the conference left in institutions' hands and fear of the unknown.
Positive tests outweigh all
One source of frustration for those outside the UW program is that games have been canceled with 15 Badgers players known to be out due to the virus. There may have been more players held out after contact tracing efforts identified them as close contacts requiring isolation, but that number of players is not being released by the program.
UW has the highest publicly announced total of players with active COVID-19 cases in the conference. At least 25 players at Florida contracted the virus last month when the Gators had an outbreak that led to postponed games.
Coach Paul Chryst said Thursday in an interview on WIBA 1310 that because the team has played only one game — and hasn't been able to practice since Oct. 27 — it has few football injuries, and no one position group has been affected disproportionately by the outbreak.
Other Big Ten teams have played with a similar number of players out from a combination of COVID-19, contact tracing and injuries.
Minnesota has been without a number of starters, including three of its specialists, due to COVID-19, according to a report from Yahoo Sports' Pete Thamel. Gophers coach P.J. Fleck said his team is dealing with positive cases, but the individuals affected have not been announced. Illinois had two players, quarterback Brandon Peters and tight end Griffin Moore, test positive last week and was without a total of 14 players against Purdue last Saturday.
"As we said, we don't have a whole lot of positives, but we have enough through contact tracing to wound our team a little bit but those guys, the guys who were out will be out this week (against Minnesota) also," Illinois coach Lovie Smith said Monday.
Teams can bring only 75 players to road games, so the Badgers already will be without 38 of their players for games away from Camp Randall Stadium.
But Alvarez said Tuesday the virus not being contained and its spread not slowing created a risk too great to play.
"We've continued to have positive tests daily," he said. "Just didn't feel as though we had our arms around it, had things controlled as I thought we needed. Again, keeping your priorities in order, the health and safety of our student-athletes and staff is top priority."
The primary concern across the league is potential spread during a game. UW researchers still are tracking down the source of UW's outbreak, and they're also working with doctors at Illinois to see if the virus was spread during the season opener between the two teams Oct. 23.
The pandemic is at its worst in the country and Wisconsin, with a daily record of more than 120,000 new cases in the United States, including more than 6,000 new cases in Wisconsin.
Purdue was scheduled to play UW this week and played Illinois last week. Boilermakers coach Jeff Brohm was the first coach in the conference to make it public he'd contracted the virus, so he knows firsthand how the virus can be spread even when teams attempt to mitigate risks.
"Every precaution we can think of, we're going to take because there have been some pop-ups on the team we're getting ready to play and the team we played this past week. So that is a concern," Brohm said Monday.
The Big Ten opened the door
The Badgers are the only Big Ten team to cancel games this season. However, there have been 46 FBS games postponed or canceled due to the virus since Aug. 26.
UW has justified its decisions to cancel games this year as data-driven and because of a rise in positive tests.
Big Ten protocols state a team cannot practice or play for at least seven days if its seven-day rolling average of virus positivity rate surpasses 5% among the team and 7.5% among the team population, a situation designated as "red/red" on the league's color-coded chart. Positivity rate is calculated by dividing the number of positive tests by the total number of tests administered.
Alvarez said both last week and this week that the games were canceled despite the Badgers' team positivity rate not surpassing 5%, and the program was in the "orange/red" range on the league's chart. So it was UW's decision to not play the games, not the Big Ten's protocol dictating the cancellations.
When the Big Ten announced it was playing football this fall after postponing the season, it released an overview of the guidelines its medical subcommittee put forth. In this document, teams that fall into the "orange/red" range are to "consider viability of continuing with scheduled competition."
Alvarez said at news conferences following both cancellations that the program needed to stop the outbreak before playing again.
"There's no one who wants to be on that field more than I do," Alvarez said Tuesday. "But I'm not going to lose track of priorities. We don't leave ourselves much wiggle room right now and we know that, but hopefully we can get this corralled and we can get back on the field and playing."
No flexibility
When the Big Ten unveiled its truncated schedule after its initial decision to postpone the football season, most reactions focused on what the new slate lacked: bye weeks.
The league set out to play nine games in nine weeks, despite evidence that sports being played outside of bubble scenarios had multiple and sometimes drastic disruptions to their schedules because of the virus. In baseball, the Miami Marlins and St. Louis Cardinals both had outbreaks that forced the teams to sit out more than a week of games. They made up those contests with doubleheaders and by filling open dates for the final month of the season.
The NFL's resources far surpass the Big Ten's and the pro league's protocols have been shared with the Badgers and other college teams as a model for mitigating virus risks. Still, 25 of the 32 NFL teams have had players or staff members test positive for the virus at some point since play began in September, and by Week 6 the league exhausted its ability to change its schedule without pushing back the postseason or adding postseason teams.
UW and other Big Ten schools don't have schedule flexibility and won't unless the conference again amends its schedule, which seems unlikely. Alvarez said Tuesday that Big Ten athletic directors had not discussed moving games to Sunday or Monday if it allowed a team dealing with virus issues to play.
Without open dates or the ability to reschedule games, teams like the Badgers and their foes are left with a canceled game and no way to make up that lost opportunity.
"Would we like to possibly have back where we had some open weeks to be able to make some adjustments? Yes," Brohm said Monday. "The contact tracing, it's still part of play. At first, at least in my mind, I thought the daily testing was going to try to help eliminate that, but there is still contact tracing issues when they're away from the field and they're not at the building. Making sure everyone does that properly is very important. You don't want teams to spread the virus and you don't want teams to spread it to other teams."
---
FAQs regarding the Badgers' COVID-19 outbreak
You asked, we answered: 8 key questions about the Wisconsin football team's COVID-19 outbreak
How many Badgers have contracted COVID-19?
As of Nov. 7, the Badgers football program has 30 active cases of COVID-19 — 17 student-athletes and 13 staff members — since Oct. 21.
The program only identified one of those cases, saying head coach Paul Chryst has contracted the virus. Sources told the State Journal that offensive coordinator Joe Rudolph and quarterbacks Graham Mertz (above) and Chase Wolf were among those to test positive.
UW athletic director Barry Alvarez said during a news conference that the program had one positive test in the first few weeks of daily testing. Then one student-athlete tested positive on Wednesday, Oct. 21, followed by 29 more people within the program from Oct. 24-Nov. 7.
Why are the canceled games no contests if the Badgers aren't at "red/red" levels?
Because UW's decision was based on its COVID-19 testing numbers, the games are considered no contests and won't be counted on the team's records.
Big Ten protocols state that games are considered no contests if they're canceled due to a program reaching what has been called "red/red" levels. Those levels are defined as a seven-day rolling average of a team's positivity rate over 5%, and a seven-day rolling average of a team population positivity rate over 7.5%
UW officials have stated that the Badgers are at "orange/red" levels, meaning they have an average team positivity rate between 2-5% and an average team population positivity rate over 7.5%.
Per Big Ten protocols, a program must "proceed with caution and enhance COVID-19 prevention" and "consider viability of continuing with scheduled competition" if it reaches "orange/red" levels. Alvarez said UW decided to pause its team activities and cancel the games to stop the spread of the virus and "get their arms around it."
Will they schedule make-up games?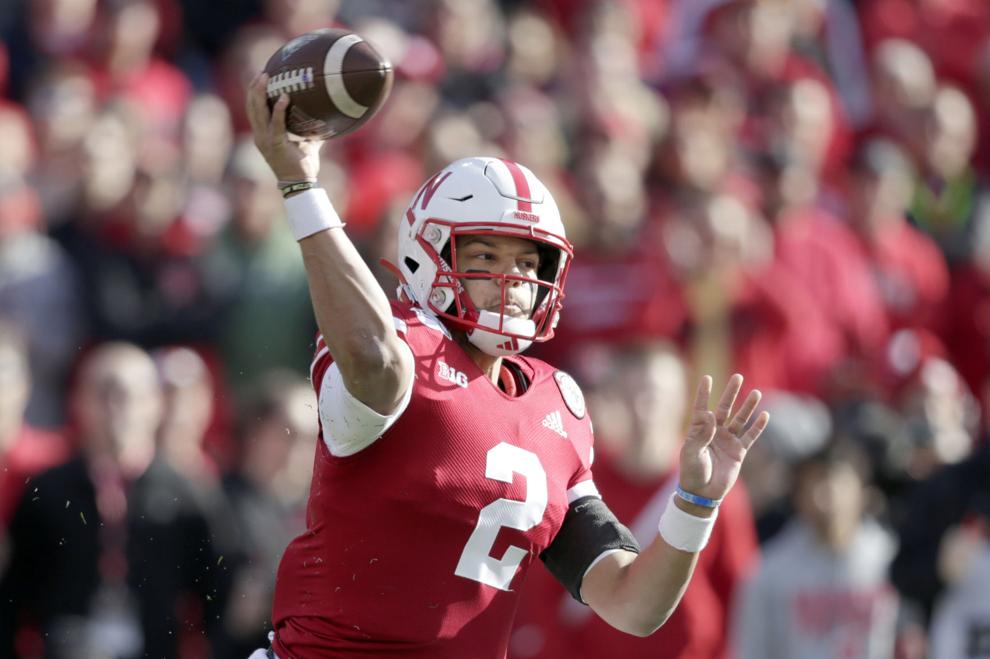 No.
When the Big Ten debuted its truncated schedule calling for nine games in nine weeks, the lack of open dates eliminated chances to reschedule games during the regular-season window. 
Nebraska requested that the Big Ten change its ruling about allowing non-conference games in an attempt to play a game against Tennessee-Chattanooga. The conference denied the request.
The canceled game against Purdue will also not be rescheduled. 
Does Illinois' team have COVID-19 cases after playing the Badgers?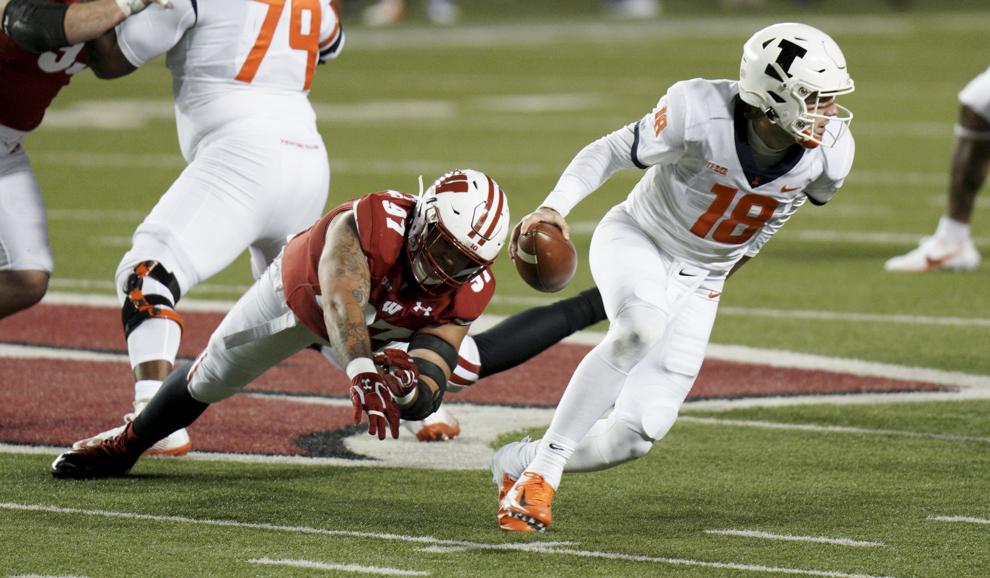 Yes.
Illinois announced Saturday morning that quarterback Brandon Peters and tight end Griffin Moore tested positive for COVID-19 on Thursday, Oct. 29. Both players will be out of game action for 21 days.
"Contact tracing also sidelined several other players for (Saturday) and next week's game against Minnesota," a release from the program read.    
Illinois lost its season opener 45-7 to UW at Camp Randall Stadium.
Will the Badgers play next week?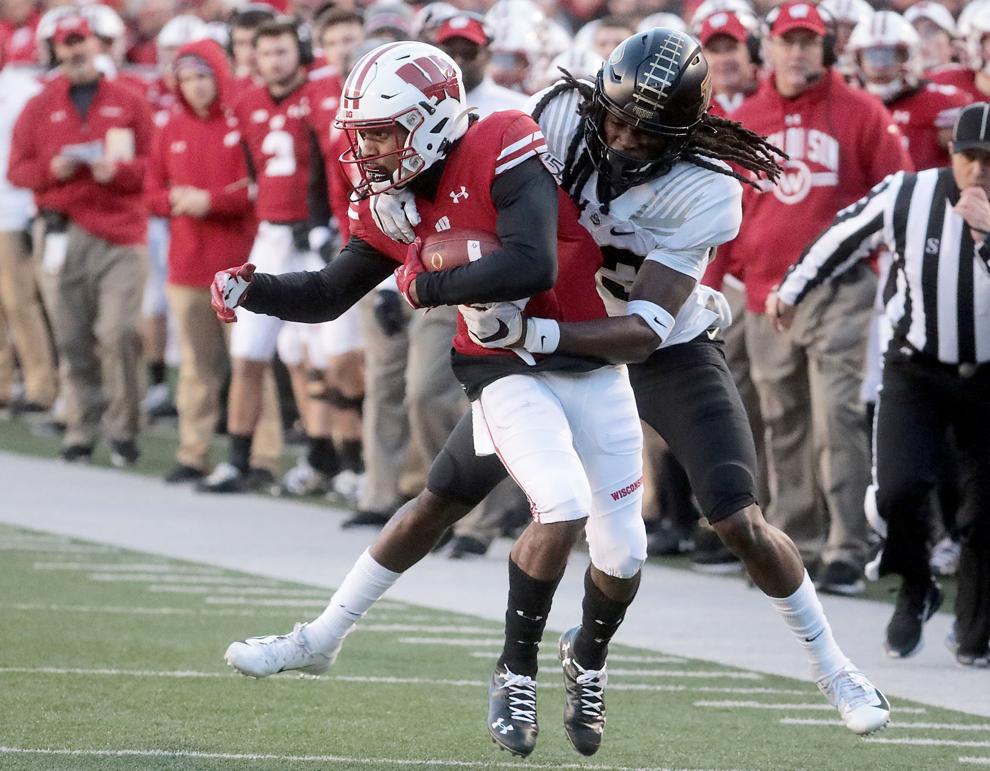 To be determined
UW is slated to play at Michigan on Nov. 14. If that game will be played is still being decided. 
The Badgers' pause on team activities was lifted on Nov. 6 and limited on-field conditioning work resumed. 
Why do the players who have contracted the virus have to sit out 21 days?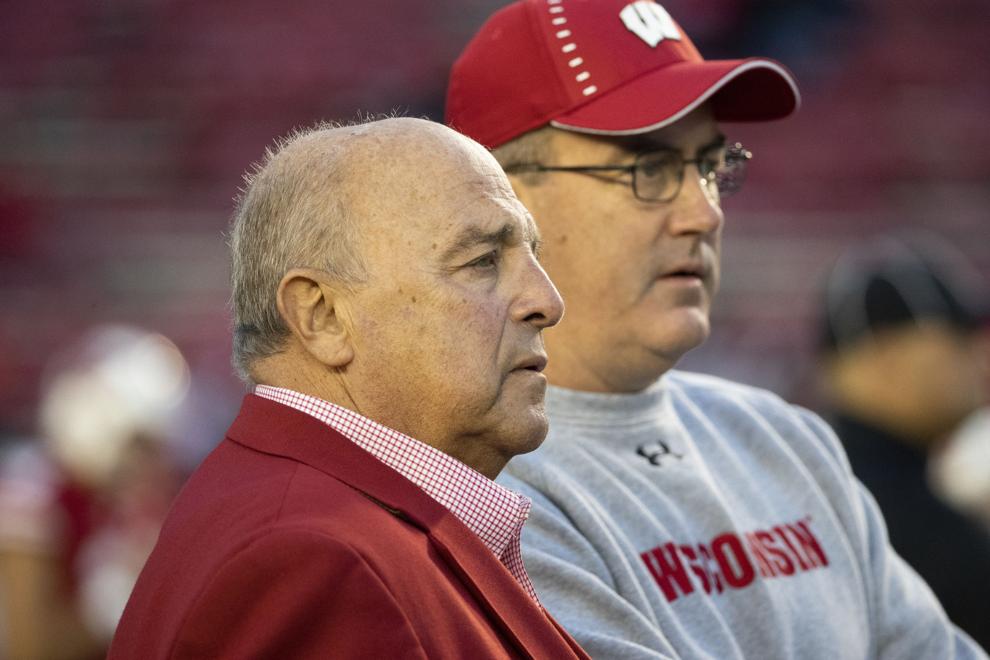 The Big Ten requires that players wait at least 14 days from their initial diagnosis to go through a cardiac screening that can clear them to start working back toward competition. The league also built in seven more days for players to build back toward competition after being cleared in the cardiac testing.
The 21-day break from game action is the longest league protocol among the Power Five conferences.
Jim Borchers, the team physician at Ohio State who was co-chair of the Big Ten's return to competition medical subcommittee, said experts told the conference that cardiac testing and evaluation couldn't start until two weeks after diagnosis.
However, this 21-day layoff has come under scrutiny this week.
A report published in the Journal of the American Medical Association found little evidence of myocarditis in COVID-positive college athletes who had mild or no symptoms. The report didn't recommend cardiac testing to the level the Big Ten is conducting.
Alvarez (above) told Sports Illustrated that the Big Ten should "reevaluate" the protocol.
Can the Badgers still make the Big Ten championship game?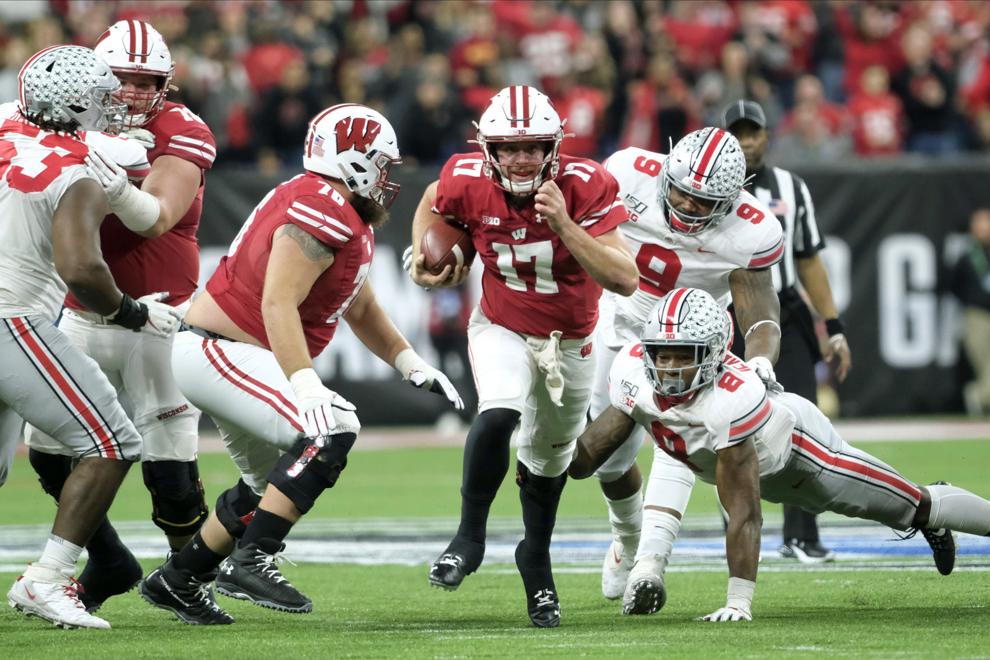 Yes, but they can't miss any more games.
The conference changed its divisional tiebreakers for this season, and those modifications will now be necessary considering at least two teams — UW and Nebraska — won't complete the eight-game regular-season slate.
According to a Big Ten policy put in place this season, "a team must play at least six games to be considered for participation in the championship game. However, if the average number of conference games played by all teams falls below six, then teams must play no less than two fewer conference games than the average number of conference games played by all teams to be considered."
How are the players doing? Are they symptomatic?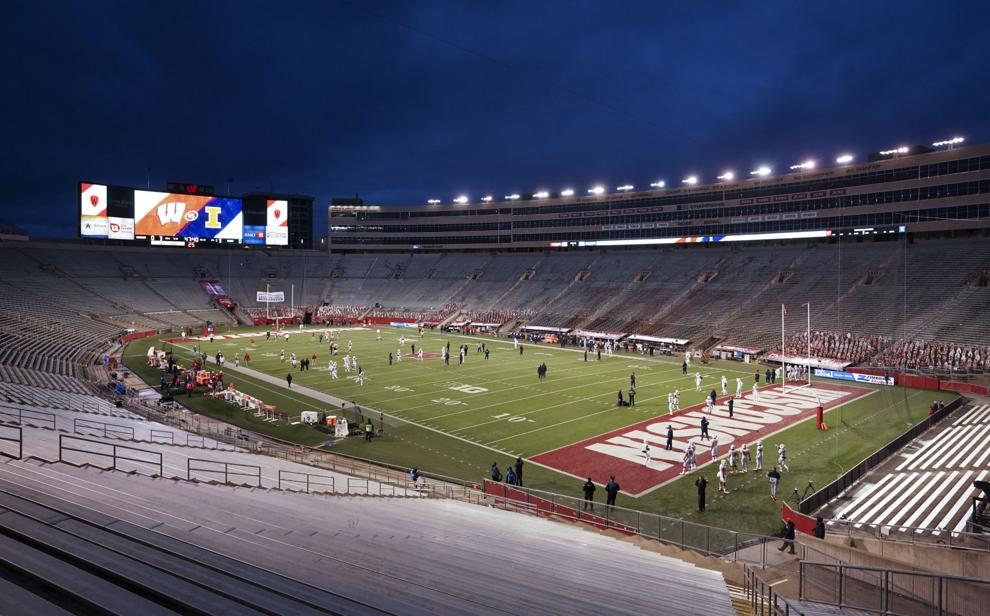 UW is not releasing updates regarding individual players' illness and has not said whether some or all have experienced symptoms of COVID-19. Michael Moll, the program's Chief Infection Officer for the Big Ten, said no players or staff members have had severe symptoms or required hospitalization.
During a Zoom call with reporters, Chryst said he felt fine physically and he completed his isolation period without symptoms. 
In an effort to stop the spread of the virus, players are isolating themselves in their living spaces. UW has secured hotel rooms to separate those who live together.