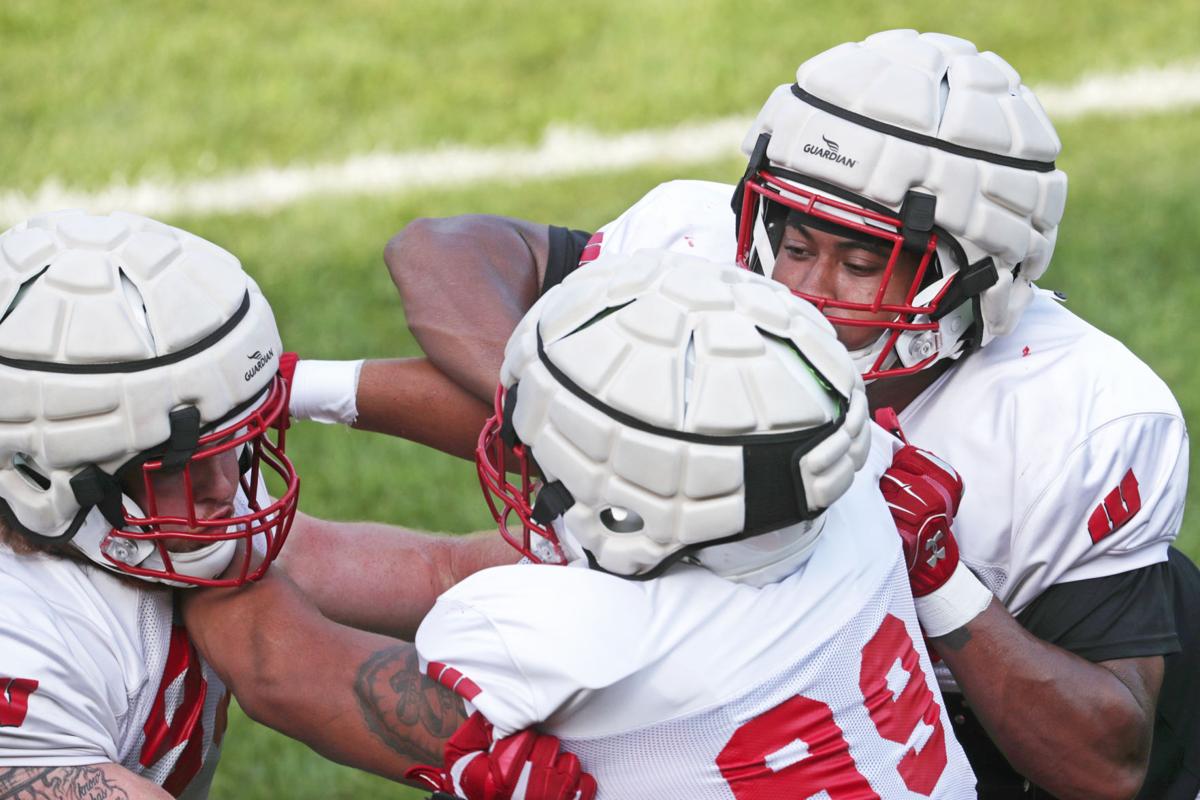 The University of Wisconsin defensive line had two questions it needed to answer as training camp neared.
The first was obvious — who was going to replace seniors Isaiahh Loudermilk and Garrett Rand at end after they manned those spots for two seasons? That answer has been found through the Badgers' 12th training camp, and we'll get back to that in a bit.
But the second question was more difficult to answer — how can the defensive line change its mindset from just doing its job to being game-wreckers? That's been the challenge defensive coordinator Jim Leonhard and first-year defensive line coach Ross Kolodziej have posed throughout the offseason.
"I think the mentality in that room got a little bit, 'Yeah, we got a lot of playmakers around us. We just got to do what we do,'" Leonhard said. "Well, I don't like that. I want those guys to have the mindset of being disruptive and making those plays themselves. Put the linebackers out of business, right? Don't let them get all the tackles."
Since the Badgers moved to a 3-4 base defense in 2015 under coordinator Dave Aranda, the line has been more focused on holding up blockers to allow linebackers to make plays. UW hasn't had a first-team All-Big Ten Conference defensive lineman since J.J. Watt in 2010.
But as Leonhard notes, he wants his defensive linemen this season to do more on their own. Senior Matt Henningsen, an expected starter at end, admitted he'd allowed his focus to be on occupying offensive linemen instead of attacking ball carriers. It's an unselfish attitude to be sure, but that attitude must change for the UW to challenge for a conference championship or beyond.
"Why can't I just throw the blocker aside and then try and get up field so the play cuts back and then the backer can fill up field for a TFL?" Henningsen said. "Or I can shed the block and make the TFL myself. That kind of stuff, that playmaking stuff, I'm trying to develop that a lot more."
Henningsen has shown in the past that he can make such plays, but he was limited to just more than a game of action last season before suffering a torn biceps that ended his season. Among defensive linemen returning from last season, only junior Isaiah Mullens had a tackle for loss, and it was a half of a tackle.
Kolodziej has stuck with the same three starters — Henningsen, Mullens and junior tackle Keeanu Benton — throughout training camp. The cast behind those three has rotated, but the second group most often features senior Bryson Williams, redshirt sophomore Rodas Johnson and redshirt freshman James Thompson Jr.
Using a rotation throughout camp has allowed Kolodziej and Leonhard to identify the group that's ready to travel with the team to road games and take the snaps at home games. Kolodziej wasn't sure last week how many defensive linemen will be make the travel roster, but he said he'll have to leave some deserving players off the list.
"I think those are great problems to have," Kolodziej said. "There's going to be some good football players that are not going to be eatin' chowder on Friday night with the team. And so hopefully that continues to motivate that group. Again, this isn't personal. It is based on your production. It's based on what you do every single day. Earn your keep."
Johnson is trying to earn his keep and earn regular snaps in the rotation for the first time in his career. Leonhard and Kolodziej both point to the speed Johnson possesses, his energy and his frame — 6-foot-2, 286 pounds — as attributes he brings to the table.
Using those to create plays in the backfield while still playing well enough against the run to be on the field has been a challenge for Johnson before this season.
"You don't get to do the pass (rushing) or the fun stuff until you stop the run," Johnson said. "It took me two years to learn, but coach K has helped me get that down to a 'T' and get my physical level up to par."
Thompson was earning praise from coaches last season as a true freshman and got into the team's first road game at Michigan. But he tore his Achilles on his first play and has had a long recovery, which forced him to miss spring practices. Kolodziej said he intentionally has limited Thompson's reps at times, attempting to be cautious in his return to the field, but Thompson has responded well to the physical rigor of camp.
His power and his long arms are two of his biggest advantages, Kolodziej said.
With the rest of the defense filled by returning starters or players who have started in the past, UW's defensive line knows eyes will be on it to keep the defense as good as it's been against the run — top-five finishes nationally in rushing yards per game each of the past two seasons. But the line needs to do so in its own way.
"I think the thing that's been coolest over this training camp is just seeing everyone kind of develop their own kind of play style, their own personality while they're on the field," Henningsen said. "Each of us has our own specific role, our own energy, our own flair that we have whenever we're out there."
---