The second call Mike Maskalunas got last Friday morning was one he's been waiting to receive for more than five years.
University of Wisconsin inside linebackers coach Bob Bostad was on the other end of the call telling Masklaunas, a sixth-year senior who started out as a walk-on, that he'd be getting the first start of his Badgers career against Penn State. There were a number of emotions hitting him at once — the excitement of the opportunity blending with the sadness and concern he felt regarding the reason he was getting the start.
His mind was still on the first call he received that morning. One from teammate Leo Chenal, who informed him that Chenal had contracted COVID-19 and was going to be out for at least two games.
"He was obviously very upset," Maskalunas said, "so I was just trying to support him over the phone. Just tell him that I got him and we're a team, we're going to pick each other up, all that stuff."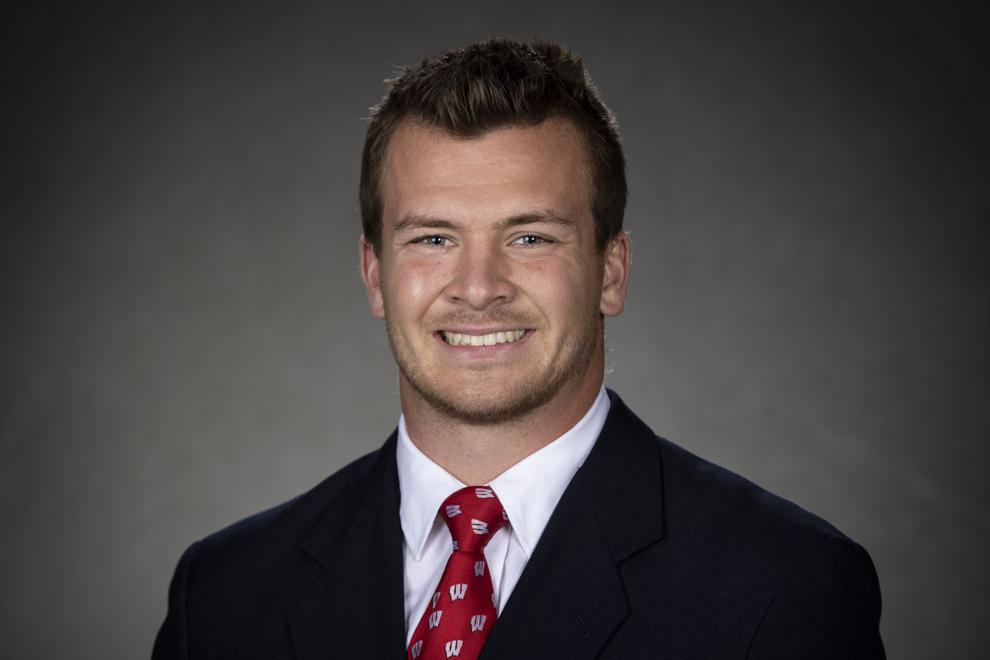 That Maskalunas' mind was on his friend and the team rather than himself is common. It's emblematic of Maskalunas' personality. These are the traits that have made him one of the leaders of No. 18 UW (0-1), which takes on Eastern Michigan (1-0) at 6 p.m. Saturday at Camp Randall Stadium. After posting two tackles, one for loss, against Penn State last week, those qualities also are why UW's players root for Maskalunas like they do when he gets his chances on the field.
"He's a guy who's earned everything in this program, and been in a lot of different situations, had a lot of different roles," UW defensive coordinator Jim Leonhard said. "Really from a young player on, you could see kind of the natural leadership. He draws people to him. He's always taking young guys, he's always doing extra with people to help them understand what the culture is, what the standards (are), what the expectations are."
Outside linebacker Nick Herbig was one of those young players last spring.
Herbig was an early enrollee with loads of potential but also a freshman more than 4,000 miles from his home in Hawaii and learning to adjust to college life and college football. Maskalunas' locker was in the same pod as Herbig's, and he watched over Herbig to make sure he stayed on track.
"He was on top of me, he made sure that I was at every workout, made sure I had my right shoes for the workout, made sure I was drinking my shake after," Herbig said about Maskalunas. "Always pushing me, always pushing the team as a whole.
"He's worked his butt off his whole life to be here. … It kind of brings tears to my eyes a little bit, seeing that (start) from Mikey. I'm so happy for him. He definitely deserves it."
Leader from the start
Chris Orr laughed as he admitted he wasn't aware his 2015 recruiting class had any walk-ons. The way UW operates, all players are treated the same and he didn't see the delineation. He eventually noticed that walk-ons usually were the quieter guys in the meeting room or on the practice field.
Maskalunas arrived the next year and broke that mold.
"I would say amongst the younger guys when I was there, you could see him correcting them and getting them up to the standard that we had at Wisconsin as far as your hard work, your discipline, handling your business off the field and knowing the ins and outs of playbook," Orr said.
"He was always striving to learn more. … He was pretty rare as far as his confidence to speak up."
Maskalunas was put on scholarship in the spring of the 2018 season, but finding a role on defense was difficult.
Maskalunas came onto a Badgers roster that was deep with future NFL players at the inside linebacker position. Orr, T.J. Edwards, Jack Cichy and Ryan Connelly formed a rotation over his first three years that was tough to crack. Jack Sanborn, Orr and Chenal then manned the inside linebacker posts the last three seasons.
UW coach Paul Chryst said Maskalunas navigated what can be a difficult role of being a leader without being a starter.
"I think he's one of those guys that's been all-in this whole time," Chryst said. "Doesn't matter what his role has been, he takes it serious. Prepares. A guy you know he's with you. I think that and he is a really good teammate. He really cares about people and he checks on people."
The work Maskalunas did attacking workouts and on special teams throughout his career added to his cachet. Maskalunas has been a four-phase special teams player — meaning he's on the punt, punt return, kickoff and kickoff return units — for parts of four seasons and appeared in 42 games.
Being a leader on special teams means leading groups of players across position groups and sides of the ball. Coaches trusting Maskalunas to help get players up to speed on special teams also factored into his influence on the team.
"That stuff doesn't just go over somebody's head," Sanborn said. "Everybody on the team sees it, coaches see it, players see it in meetings. When you have someone like that, you instantly get respect for everything they're doing."
Maskalunas also showed leadership this spring by being willing to take a step back and give up practice snaps to other players. The pandemic canceled UW's spring practices in 2020, meaning the Badgers had a crop of freshmen and redshirt freshmen who didn't get much practice or game time for a full year.
Bostad said Maskalunas allowing those players to get more work this spring added to the depth of the group and made the unit better.
"Talk about super selfless and a team guy, he was all for that," Bostad said.
Loyalty matters
While he appreciates the role he's had at UW, Maskalunas admits the thought of finishing his football career has come up.
He's shown enough in the moments he's gotten to play defensively and possesses a high football IQ to be able to play at a program without embedded starters or one looking for a veteran voice for their defense.
But any time the thought of transferring entered his mind, it was quieted by the love he has for the Badgers and Madison.
"I've always been really happy here with my coaches, my teammates, the culture," Maskalunas said. "This place is my home, so I just always wanted to say here.
"I feel like you see a lot of people wanting to find shortcuts or looking for ways to find quick recognition versus ... when you look at life, the biggest value you can get is when you really work, work, work and you stay loyal and you keep working and when it finally pays off, that's the best feeling. I think just staying loyal to this place and just finding a way to make it happen. I always try and talk about grit and any guys who are gritty are able to make things happen no matter what, no matter what adversity."
Maskalunas is expected to get his second career start Saturday and the role could be Maskalunas' for longer depending on Chenal's recovery.
But this chance has been a long-awaited reward for his work, and it validated his decision to stay for a sixth season despite already having a dual-major undergraduate degree in finance, investment and banking, and real estate and urban land economics.
"I've always been told as long as you have passion for this game, you've got to keep doing it," Maskalunas said. "So I still wake up and love going to practice, love coming to meetings, games every single day. And I'm happy doing it. So I'm going to keep trying to do it as long as I can."
---