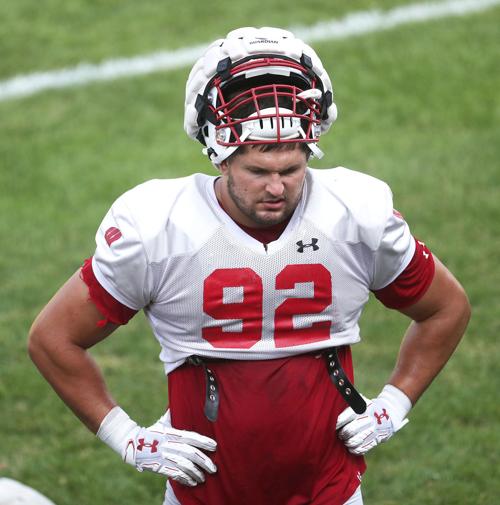 Ross Kolodziej holds a meeting with his University of Wisconsin defensive linemen early in the afternoon.
The purpose of that meeting is to review practice and to start correcting mistakes, then adding new elements that will be introduced in future practices. During this fall's training camp, Kolodziej has been greeted by a number of his players already in the room, already briefed on their miscues and ready to ask questions.
Senior Matt Henningsen leads that players-only session after the team's midday break, a sign the former walk-on from Menomonee Falls has taken ownership of the group and embraces the leadership role he's earned.
"He's doing a great job of driving that, making it more of a player-driven than a coach-driven type of room," Kolodziej said.
Olive Sagapolu once ran those meetings in the defensive line room while a young Henningsen took notes. Those sessions were invaluable for a redshirt player who had good instincts for the game and how to find the ball but needed lessons on how to use his physicality to get of blocks.
Henningsen sees guiding others the way Sagapolu did for him as his responsibility for the No. 12 Badgers' defensive line, a group with intriguing talent but short on game experience.
"I remember how grateful I was when he used to do that for me," Henningsen said. "I mean, he was a senior, right? He didn't have to do that. He was just showing me the ropes and trying to try and do whatever he could to help me develop into the player that he knew I could be.
"It's cool seeing people respond to that and getting to come up there with me and listen to what I have to say. So I'm just hoping that helps everybody evolve."
Henningsen is the right guy to be leading a study session. He finished his undergraduate degree in electrical engineering with a 4.0 grade-point average and is now pursuing his master's degree.
While Henningsen tries to give more of himself to others off the field, he's showing during practice that the Badgers can expect more from him between the lines this season.
He made history as a redshirt freshman in 2018 when he became the first freshman walk-on since at least 1990 to start a season opener, then played in each game that season and the next. His 2020 was ended early when he tore his biceps against Michigan, but he recovered quickly from the injury and practiced this spring.
Throughout training camp, Henningsen has flashed the powerful upper-body strength that makes him a difficult player to block and quickness to collapse a hole when he sees one. After years of being in a rotation at defensive end, Henningsen is in the starting lineup. He's challenged himself this offseason to add more disruptive plays to his game, whether they be tackles for loss, sacks or forced fumbles.
"I think one of the reasons why (former defensive line coach Inoke Breckterfield) started to put me on the field when I was so young was ball awareness," Henningsen said. "Even though I wasn't necessarily physically ready yet, I knew what was going on, I had good awareness of the ball. So then I've continued to develop my physical play in my technique throughout my time here. Now I'm just trying to make plays and make things happen."
Teammates have come to trust Henningsen's play and his knowledge of the defense.
"Knowing that most likely he's going to be right, just feeling that confidence … if I'm out there and I have a brain fart, I can just look over, 'HenDog, what am I doing?'" junior defensive tackle Keeanu Benton said.
Henningsen's experiences, along with his ability and willingness to share them with his teammates, earn him respect up and down the roster, according to coach Paul Chryst.
In what could be Henningsen's last season with UW, Chryst believes he will show a new side of his game this fall.
"I think Ross has done a really nice job of kind of setting the table, but I think Henny's done a great job of taking that (opportunity)," Chryst said.
"And I think if he continues to do that, I think we've got a chance to get our best version of Henny using his strengths, literally and kind of big-picture strengths. He's been really good for the room. And … people know it and it rubs off and, honestly, I think it helps the whole team."
---