Who has the edge when the Badgers battle Minnesota for Paul Bunyan's Axe and the Big Ten West title?
State Journal beat reporter Colten Bartholomew breaks down each phase of UW's matchup against Minnesota.
WHEN THE BADGERS HAVE THE BALL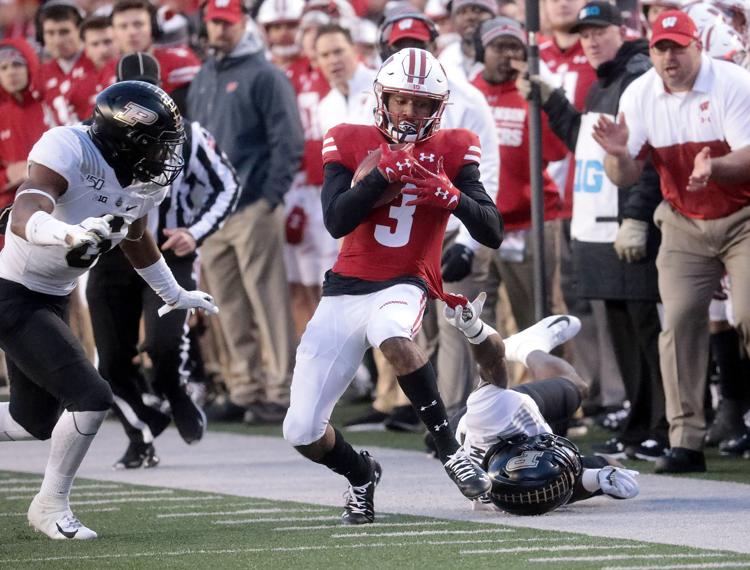 The Badgers' offense has been clicking since their late-season bye at the beginning of the month. Powered by a combination of scheme creativity to get playmakers the ball and outstanding production from Jonathan Taylor and the offensive line, UW has averaged 35.3 points and 520.3 yards of offense per game in November. Taylor has been on a tear, posting three consecutive 200-yard rushing games for the first time in his career. His 5,856 yards as a Badger are the most in any three-year span in Football Bowl Subdivision history.
UW used jet motion on 25 percent of their non-kneeldown snaps against Nebraska two weeks ago and 23.2 percent of their non-kneeldown snaps against Purdue. Kendric Pryor (above) tallied 56 rushing yards against Purdue, most of which came on a jet sweep that gained 49, and 47 receiving yards to post his first game with 100 or more scrimmage yards this season.
Outside of an interception in the second half, quarterback Jack Coan had one of his best games last week, going 15 of 19 for 203 yards and two touchdowns. Coan will need to take care of the ball against the Gophers' ball-hawking secondary, whose 14 interceptions are tied with Ohio State for the Big Ten lead and tied for seventh-most in the FBS.
Antoine Winfield Jr. has been Minnesota's top defender, leading the team with 76 total tackles and seven interceptions.
EDGE | UW
WHEN THE GOPHERS HAVE THE BALL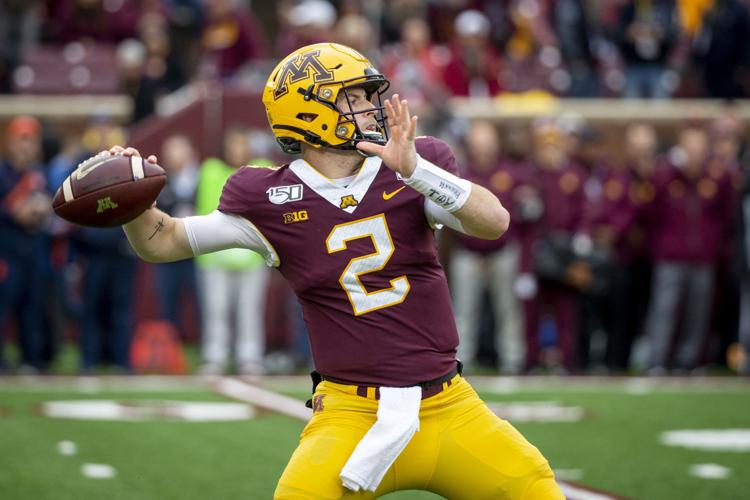 Tanner Morgan (above) wasn't projected to be Minnesota's starting quarterback, but when Zack Annexstad seriously injured his foot during training camp, Morgan took over. He's put together one of the best seasons by a quarterback in program history — his 2,679 passing yards are tied for the most in a season by a Gophers' QB, and his 26 touchdowns are a single-season program record. Morgan leads the Big Ten in passing, and has two top-tier wide receivers at his disposal.
Senior Tyler Johnson (1,025) and sophomore Rashod Bateman (1,023) are one of two pairs of teammates to have 1,000 or more receiving yards apiece this season, and each has 10 touchdowns. Johnson is 6-foot-2 and 205 pounds, while Bateman is 6-2 and 210 pounds, and their physicality at the point of the catch is tough to match.
A stout running game (184.7 yards per game) behind an offensive line that averages 6-foot-6 and 340 pounds only makes it more difficult to commit to slowing down Johnson and Bateman. Running back Rodney Smith has 1,063 yards on the ground. That massive line will test UW's pass rush, which had trouble getting to Purdue's Aidan O'Connell last week as he was quick to deliver passes.
Chris Orr leads UW with 64 total tackles and 11 sacks.
EDGE | MINNESOTA
SPECIAL TEAMS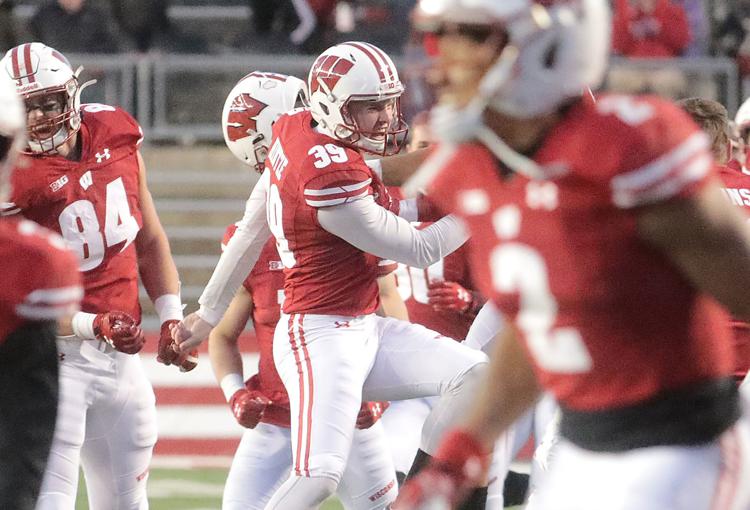 Zach Hintze (above) provided a special play on special teams for the Badgers last week when he booted through a 62-yard field goal to set a modern-era program record.
Anthony Lotti didn't have to punt against Purdue, as UW scored on seven possessions, lost four turnovers, and ran out the clock on its final drive last week. Kicker Collin Larsh is 7-for-9 on field goals and 16-for-16 on extra points in his last five games.
Minnesota uses a pair of freshmen kickers — Michael Lantz and Brock Walker — and they're a combined 9 of 13 on field goal tries this season. Less than half of Grant Ryerse's kickoffs have gone for touchbacks, so UW kick returner Aron Cruickshank should have chances to make an impact.
EDGE | UW
COACHING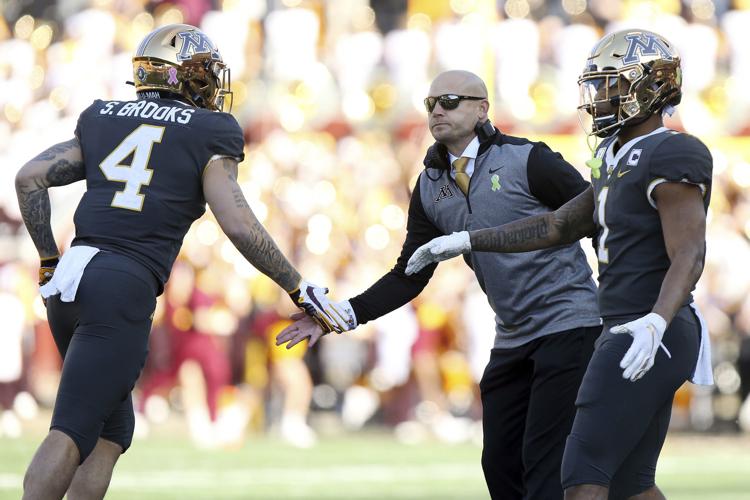 His catchphrases and relentless attitude are what draw headlines about Minnesota coach P.J. Fleck (above), but the job he's done with the Gophers this season is commendable. Minnesota is seven points per game better offensively this season over last, and its defense is 5.5 points per game better. The Gophers have won 12 of their past 13 games.
UW coach Paul Chryst got his team to right the ship after back-to-back losses to close out October. The Badgers' offense has been resurgent and created space on the ground to close out games with second-half touchdowns.
How UW's defense, led by coordinator Jim Leonhard, schemes to slow the Gophers' offense, and how the players execute that scheme will be the keys to the game for UW.
EDGE | UW
INTANGIBLES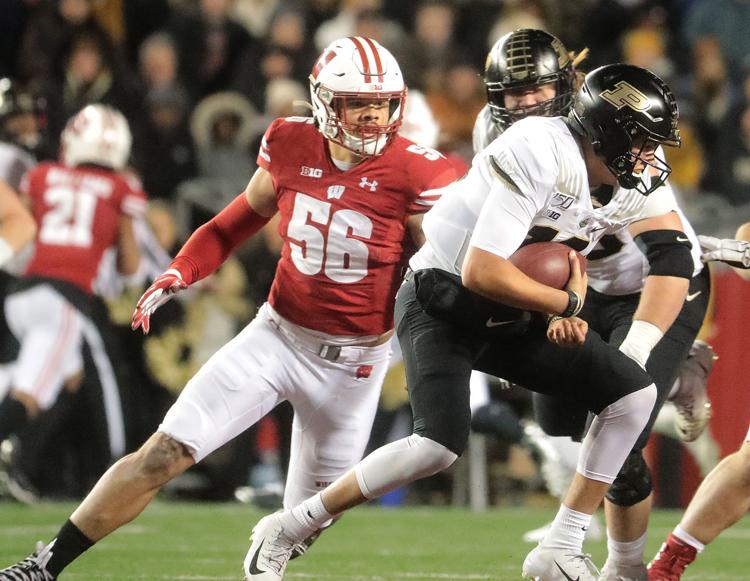 This will be one of the most hyped games of the season for either team. ESPN's College GameDay will be in Minneapolis for the first time, and the winner moves on to play Ohio State in the Big Ten Championship Game.
Badgers like Zack Baun (above) spoke about having a bad taste in their mouth from last season's loss to Minnesota, a game in which the Gophers tallied 201 rushing yards and scored three times on the ground.
Expect a loud TCF Bank Stadium to play a role, as it did when the Gophers beat Penn State at home earlier this year.
EDGE | PUSH
STATE JOURNAL'S PICK
Outside of Ohio State, this will be the Badgers' toughest game of the season. Minnesota's receivers are a major challenge for UW's secondary and the Badgers can't afford to have giveaways like they did against Purdue. This may come down to who has the ball last.
BADGERS 24, GOLDEN GOPHERS 21
THE NUMBER (UW)
676: Rushing yards for junior Jonathan Taylor in the last three games.
THE NUMBER (MINNESOTA)
20.1: Yards per catch for Rashod Bateman (above), which leads Big Ten receivers with more than 40 catches.
KEY STAT (OFFENSE)
Fourth-down conversion percentage: UW leads the nation at 84.6 percent conversion (11 of 13), a fact that could loom large in what figures to be a close game.
KEY STAT (DEFENSE)
Passing efficiency: Tanner Morgan is up to No. 6 in the FBS in passing efficiency, with a rating of 187.6.
Video: Badger Sports Report with Paul Chryst — UW 45, Purdue 24
Video: Badgers football Chapter 12: AXE