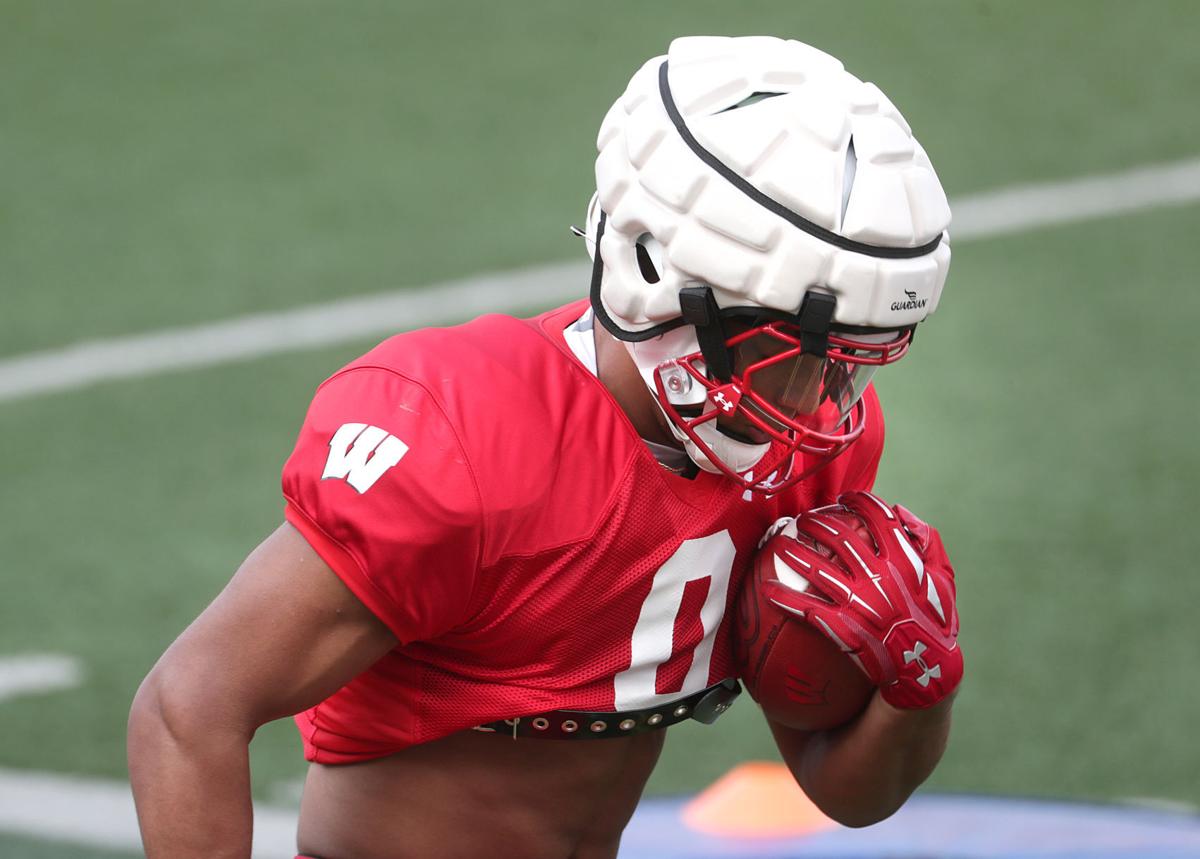 Looking the part never has been a problem for Braelon Allen.
The 6-foot-2, 240-pound running back for the 12th-ranked University of Wisconsin football team is as physically put together as a freshman can be. He moves both on and off the field with an easy power and efficiency.
Putting in the work isn't an issue for Allen, either. You've probably seen the weightlifting highlights on social media this offseason, videos showing the 17-year-old squatting more than 600 pounds or cleaning over 400. Listen to his coaches and teammates, and they essentially will promise Allen's day is coming and possibly soon.
Chances on the field may be hard to come by for Allen early in season, including Saturday's opener against No. 19 Penn State at Camp Randall Stadium. He still is learning the intricacies of being a college running back after spending the majority of his prep career focused on defensive positions.
"Coach (Gary) Brown's done a great job of really developing me just from raw, natural talent at the position," Allen said last week. "It all starts with the playbook, obviously, just knowing what I need to do. And then I guess just learning defenses, understanding blocking schemes, things like that. All that goes along with the position that I really had to learn, really, all over again."
Allen's path to Madison wasn't conventional. He should be two games into his senior season as a high schooler, but he chose to reclassify to 2021 to get his college career started sooner. That choice had him packing about 1.5 school years and a football season into the spring and summer months. On top of that, Allen was intensifying his training in preparation for the college game.
Myles Burkett, Allen's friend and the Badgers' 2022 quarterback recruit from Franklin, introduced Allen to Jonny Bridgewater, a sports performance coach who owns and operates a gym in Franklin. Burkett brought along Allen to a training session with Bridgewater and the pair immediately hit it off.
That relationship led to Allen traveling from his home in Fond du Lac to Bridgewater's gym, about a 90-minute drive, twice a week to train. Those sessions, especially the flexibility and mobility work before games this spring, helped Allen dominate his junior season en route to winning Associated Press Player of the Year honors in the state.
His dedication to his body and football took another step after his last high school season ended.
With his schoolwork mostly virtual due to the pandemic, Allen lived with Bridgewater for a little more than a month before he moved to Madison. Monday through Friday, Allen would wake up, start some schoolwork, get in a lift, attend virtual classes, spend time at Bridgewater's gym, train a second time, then finish his schoolwork. The days were consistently between 12 and 14 hours of school and training, giving Allen a taste of college football before he was enrolled at UW.
"Just the fact of how dedicated this kid was to conference calls with his counselor in Fond du Lac, making sure he was doing the right things, making sure things got turned in on time, was actually just kind of admirable to see," Bridgewater said. "He was on his computer and in the weight room with me. … That kid's work ethic is next to none."
A major difference for Allen when arriving at Madison was learning when he needed to give his body time to rest and recover.
"There's been a couple times where I've gotten kicked out the weight room," Allen said.
Allen will be featured on a sports reality show Bridgewater is developing with VrTuo Sports, which will show the development of athletes going from the high school to college level and from college to the professional ranks.
His willingness to grind has caught UW coach Paul Chryst's eye. While carries early in the season will be handled by junior Chez Mellusi and redshirt freshman Jalen Berger, Chryst sees Allen's dedication to the process of becoming a more complete player and said he'll be one of the true freshmen to play a role this season.
"I think that there's also kind of a learning curve for those guys that, if I didn't break it for a touchdown (it's not good)," Chryst said. "There's just a lot to learn. And I love his approach and how he goes about it."
The more experienced players in the backfield have been helpful in teaching the finer points Allen needs to learn, he said.
Allen was working with multiple special teams units during training camp, so he will be on the field in other ways than the tailback role early in his career. As his collegiate debut approaches, he's been trying to temper his excitement and keep his focus on developing and helping the Badgers as much as he can in whatever role he can.
"I know it's coming quick, but my mind still hasn't processed how quickly it's coming," Allen said. "Right now, I'm still trying to get my spot — earn carries and reps and stuff.
"Just showing that I can play and what I can do on the field. Running with power, just kind of trying to show guys that not only can I run the ball, but catch the ball out of the backfield, pass protect. Just showing them I'm an all-around back."
---
A game-by-game look at the Badgers' 2021 football schedule
WEEK 1: vs. Penn State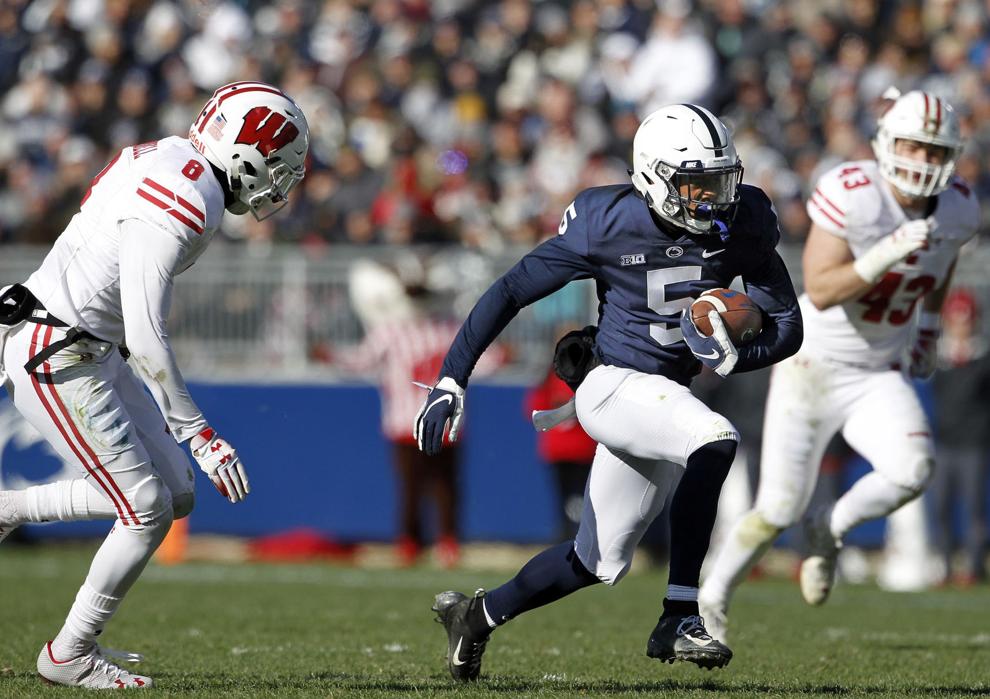 Date: 11 a.m. Sept. 4 on FOX
All-time series: UW trails 9-10
Last meeting: UW lost 22-10 in 2018
Key returner: WR Jahan Dotson posted five games of over 100 yards receiving and was a catalyst of the team's four-game winning streak to end last season.
Note: The Nittany Lions' losing season last year was their first under coach James Franklin and the program's second since 2004.
WEEK 2: vs. Eastern Michigan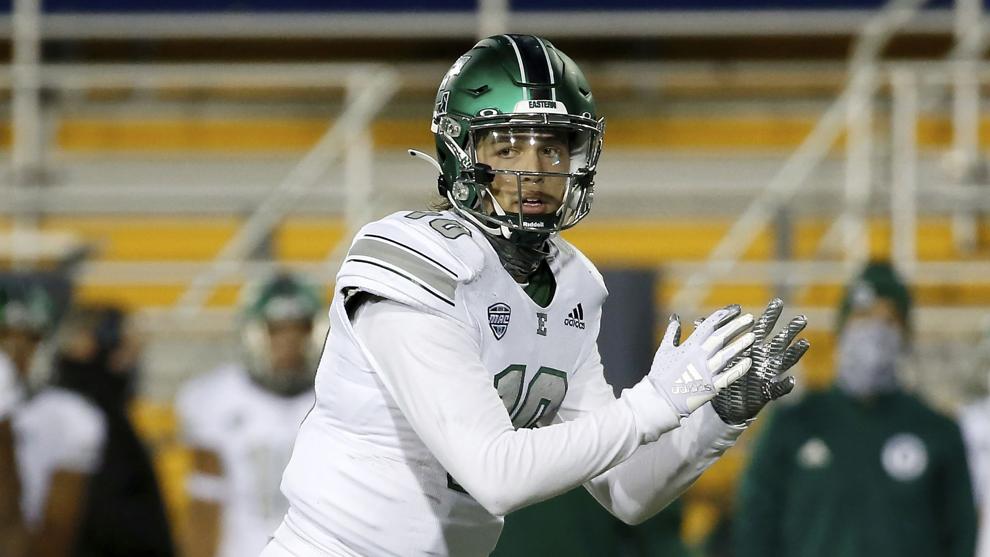 Date: 6 p.m. Sept. 11 on FS1
All-time series: UW leads 3-0
Last meeting: UW won 24-3 in 1996
Key returner: QB Preston Hutchinson averaged 277 yards per game last season.
Note: The Eagles have had two winning seasons since 2010.
WEEK 3: vs. Notre Dame (Soldier Field, Chicago)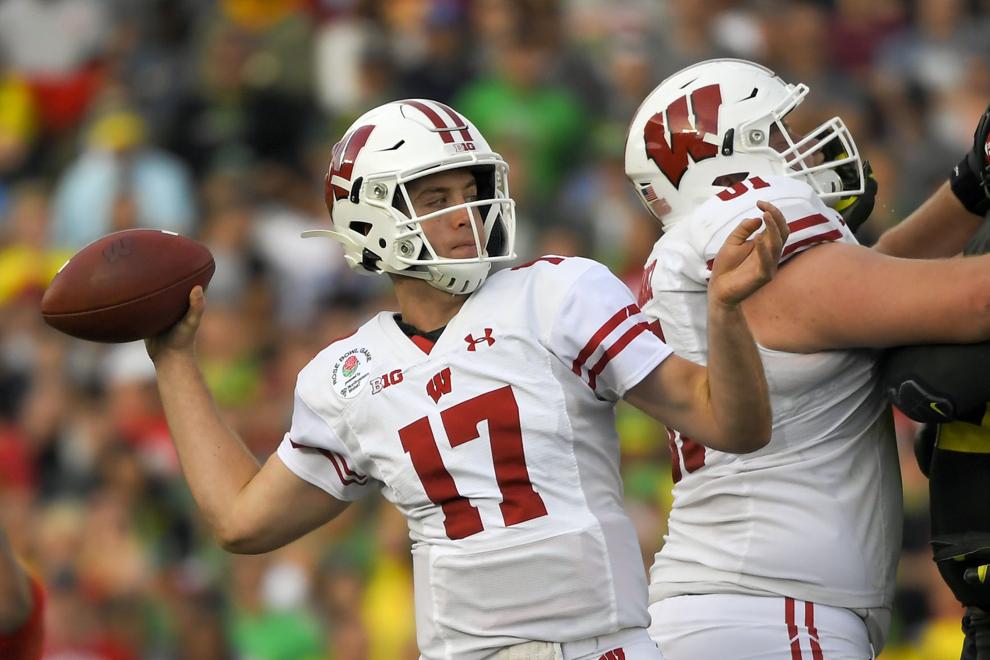 Date: 11 a.m. Sept. 26 on FOX
All-time series: UW trails 6-8-2
Last meeting: UW lost 31-7 in 1964
Key returner: Safety Kyle Hamilton, who led the Irish in tackles, had six pass breakups last season.
Note: Former Badgers QB Jack Coan will be in the running to be the starting QB for the Irish after transferring this winter.
WEEK 4: vs. Michigan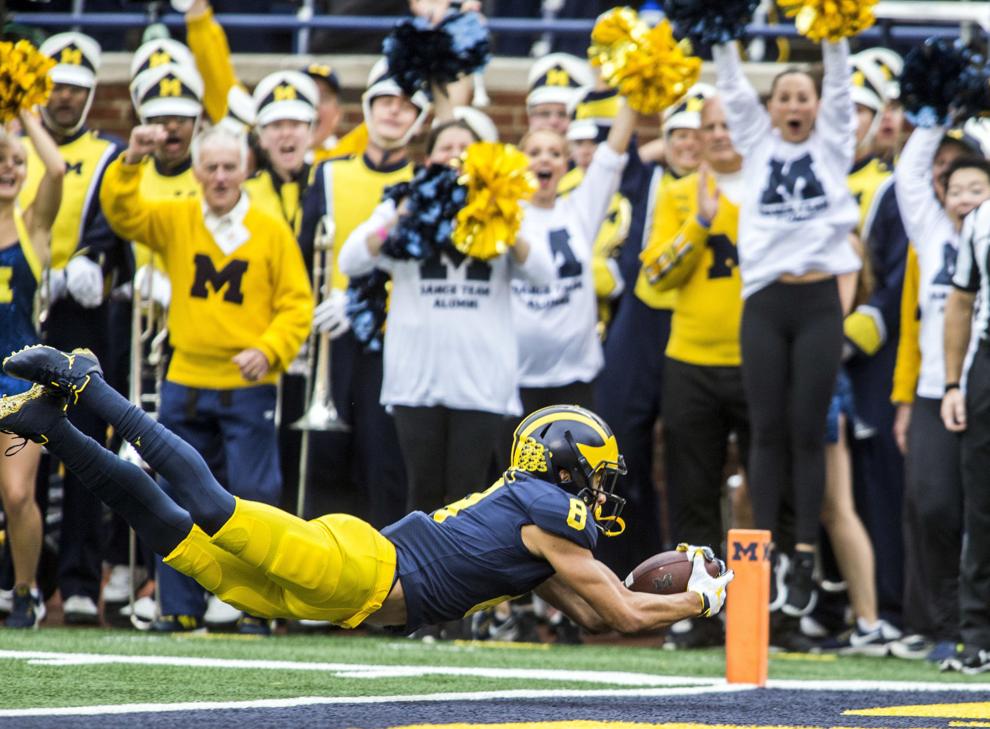 All-time series: UW trails 17-51-1
Last meeting: UW won 49-11 on Nov. 14, 2020
Key returner: WR Ronnie Bell was a bright spot on an offense that struggled with inconsistent quarterback play.
Note: Despite the Wolverines' 2-4 season, the program extended the contract of coach Jim Harbaugh and posted the second-best recruiting class in the conference.
WEEK 5: at Illinois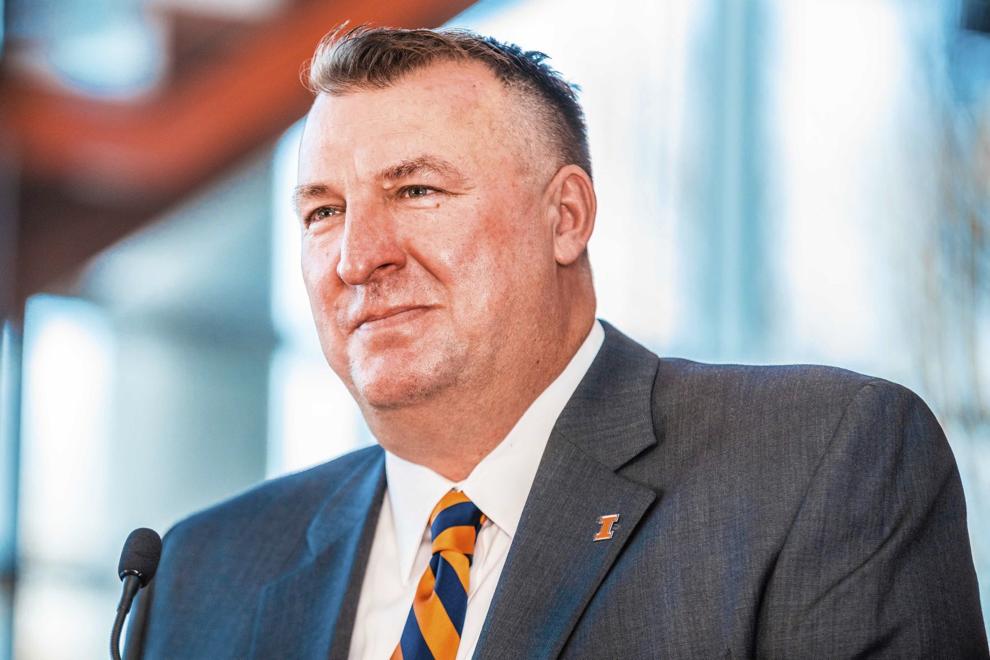 Date: 2:30 or 3 p.m. Oct. 9
All-time series: UW leads 43-37-7
Last meeting: UW won 45-7 on Oct. 23, 2020
Key returner: QB Brandon Peters, who gives the Illini some stability under center while they adjust to a new coaching staff. The Illini are looking to bounce back from a tough 2020 that included a COVID-19 diagnosis.
Note: First-year coach Bret Bielema, the former UW coach, has said he envisions a three-man front for the defense, a major shift that already has prompted the transfer of DE Owen Carney Jr.
WEEK 6: vs. Army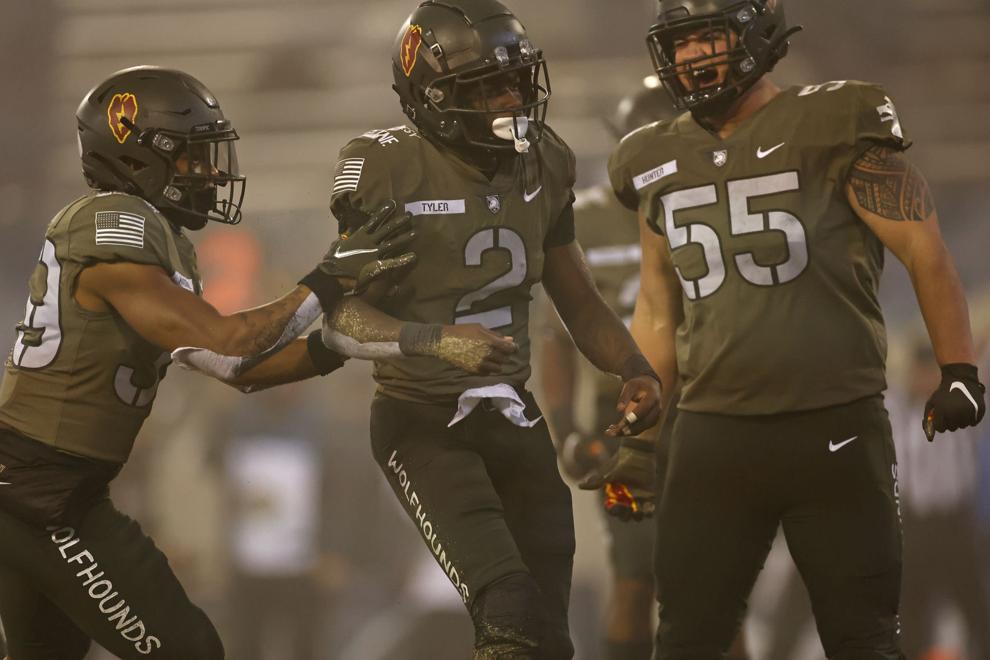 All-time series: First meeting
Key returner: QB Tyhier Tyler (above) led the Black Knights in rushing (578 yards) despite only playing in seven of their 12 games.
Note: This could be a difficult test for the Badgers, preparing for a triple-option attack in the middle of the conference season.
WEEK 7: at Purdue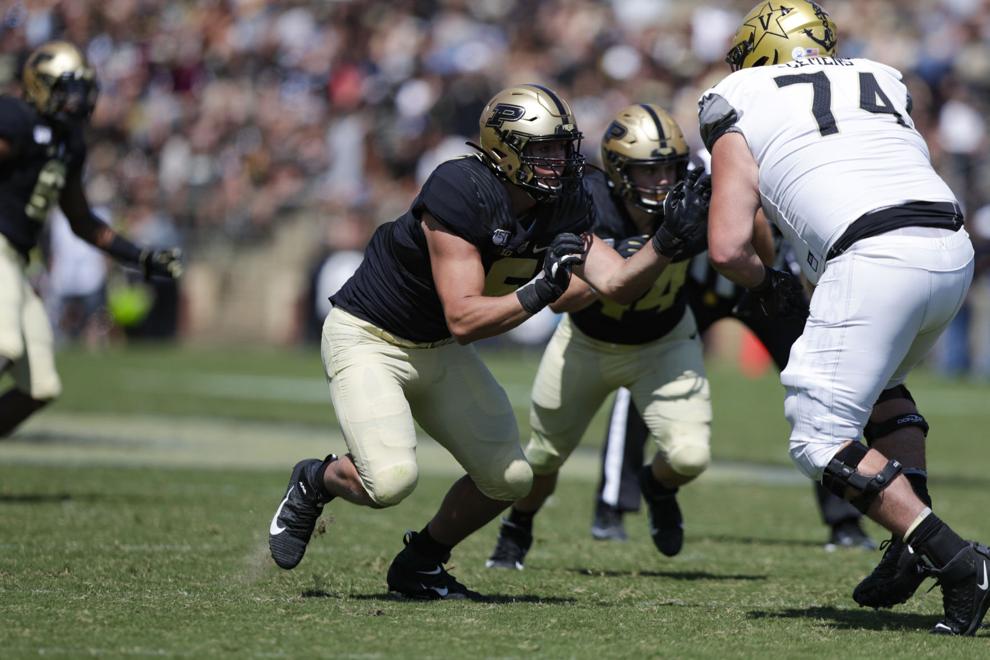 All-time series: UW leads 50-29-8
Last meeting: UW won 45-24 in 2019
Key returner: DE George Karlaftis (above), who was sidelined by injuries last season, is a potential game-wrecker off the edge. He helped land his younger brother Yanni Karlaftis, a four-star OLB who is the highest-ranked player in Purdue's class and was considering UW.
Note: Last season's game was canceled due to UW's COVID-19 outbreak, but the Badgers haven't lost to Purdue since 2003.
WEEK 8: vs. Iowa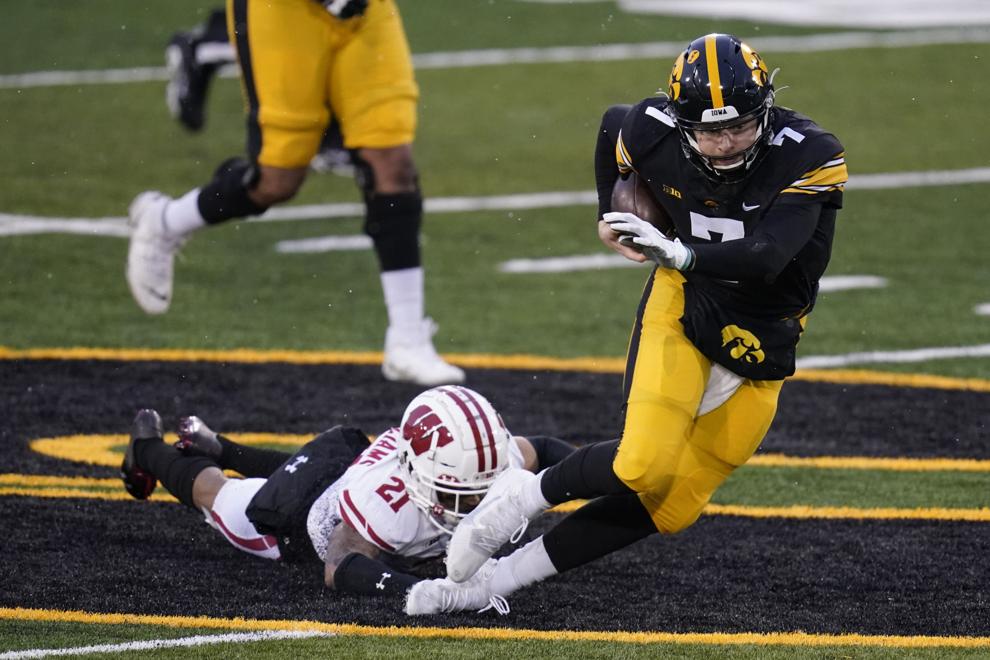 All-time series: UW leads 48-44-2
Last meeting: UW lost 28-7 on Dec. 12, 2020
Key returner: QB Spencer Petras made strides in first year as a starter, but with defense losing studs up front and the offense losing playmaker Ihmir Smith-Marsette, Petras will be asked to do more.
Note: Iowa's win over the Badgers at Kinnick Stadium was just their second in the rivalry since 2010.
Week 9: at Rutgers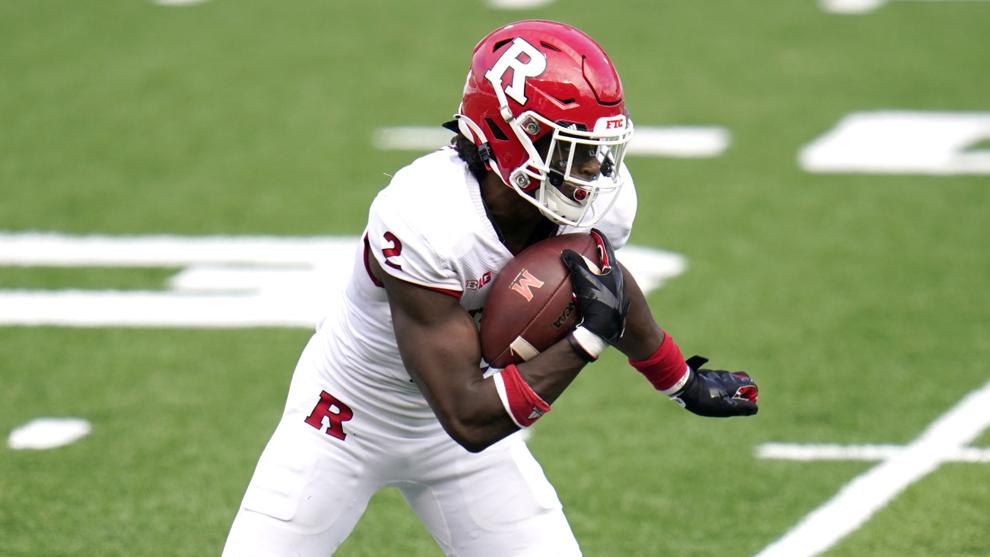 All-time series: UW leads 3-0
Last meeting: UW won 31-17 in 2018
Key returner: WR/KR Aron Cruickshank (above) — who transferred from UW last season — provided a number of big plays in the return game en route to winning the league's returner of the year award and was the team's second-leading receiver.
Note: UW has only surrendered 27 points in three matchups against the Scarlet Knights.
WEEK 10: vs. Northwestern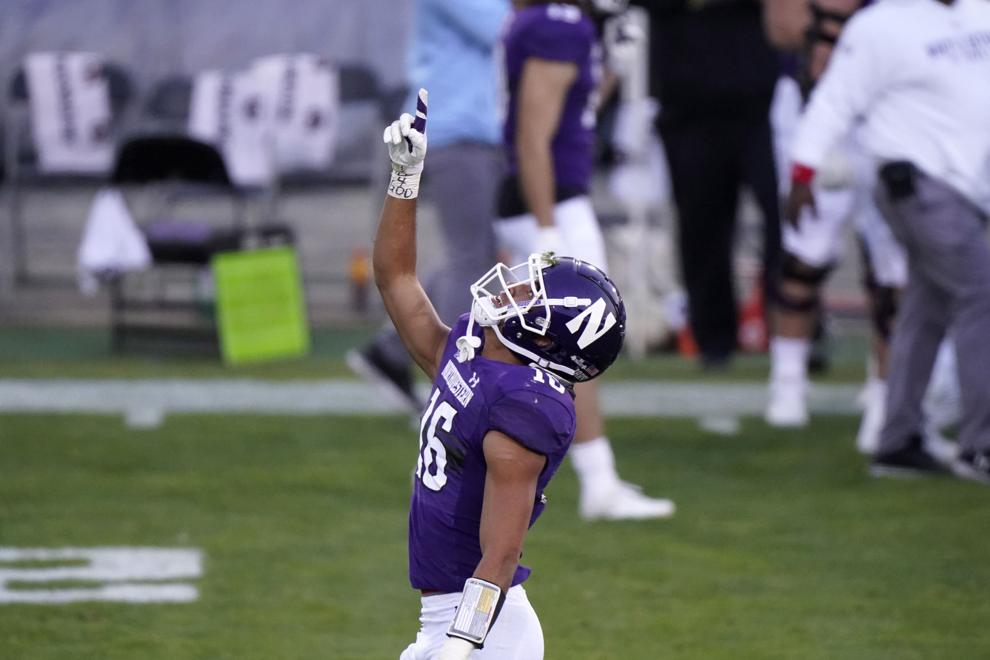 All-time series: UW leads 60-37-5
Last meeting: UW lost 17-7 on Nov. 21, 2020
Key returner: Safety Brandon Joseph (above) earned All-American honors as a freshman after tallying six interceptions, eight pass breakups and 56 total tackles.
Note: Longtime defensive coordinator Mike Hankwitz — a former assistant coach at UW — retired after last season.
WEEK 11: vs. Nebraska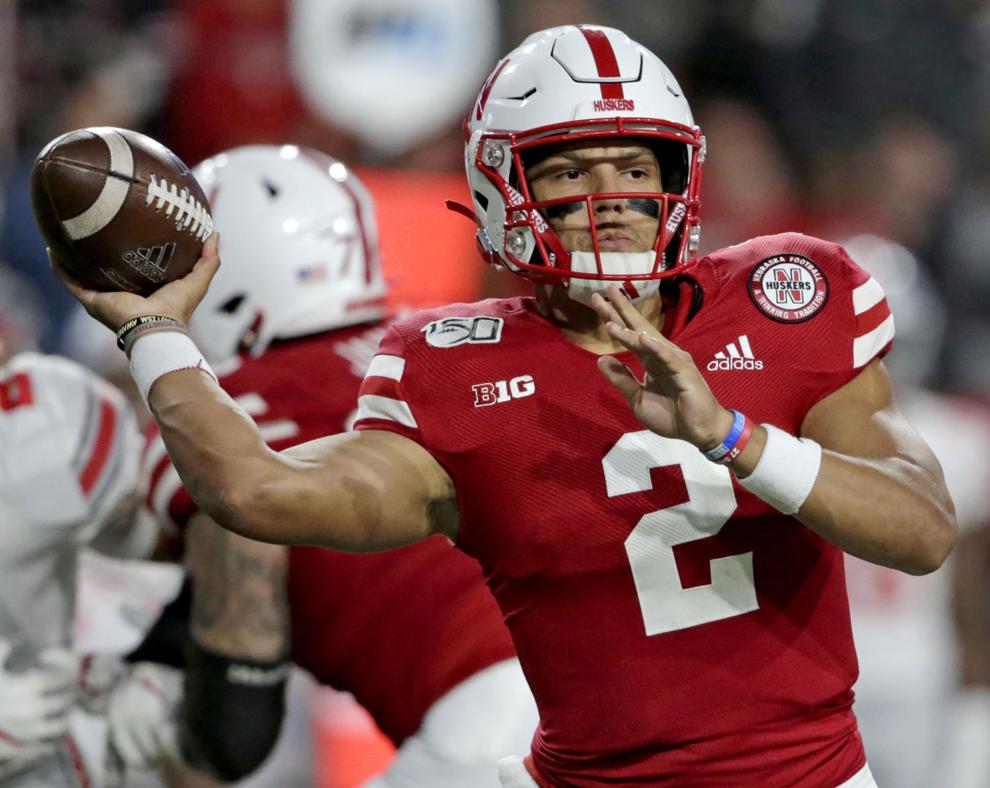 All-time series: UW leads 10-4
Last meeting: UW won 37-21 in 2019
Key returner: QB Adrian Martinez (above), who battled for his position with Luke McCaffrey last season, comes into the season as the presumed starter after McCaffrey announced he was transferring.
Note: UW has an 18-point average margin of victory over Nebraska in its seven-game win streak over the Huskers.
WEEK 12: at Minnesota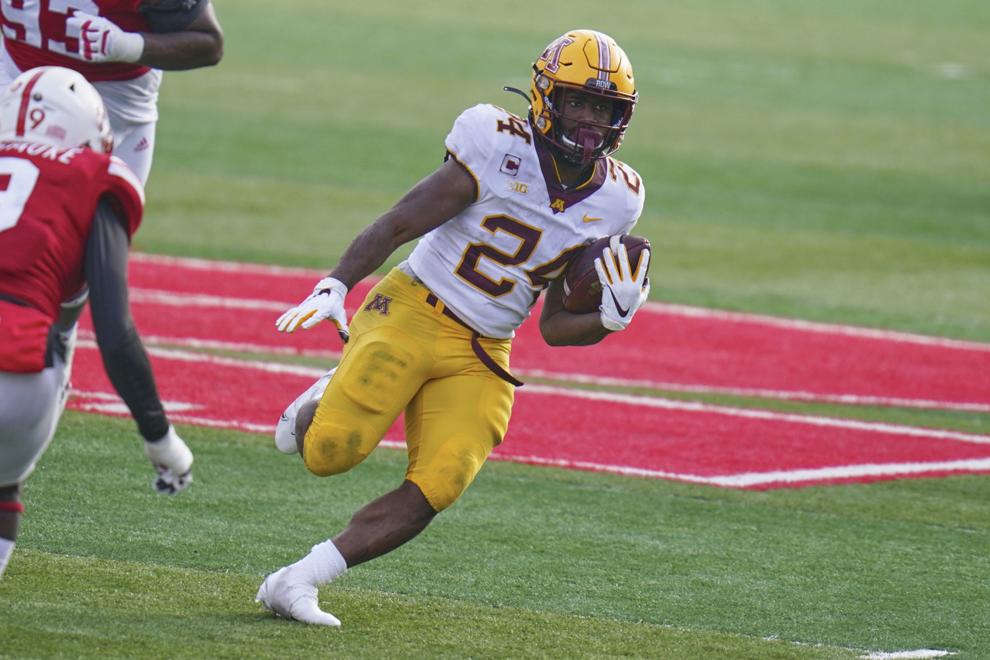 All-time series: UW leads 62-60-8
Last meeting: UW won 20-17 in OT on Dec. 19, 2020
Key returner: RB Mo Ibrahim (above), winner of the Big Ten's running back of the year award last season, scored 15 touchdowns and set multiple program records last season.
Note: The Gophers have attacked the transfer market hard, landing seven transfer players this winter.